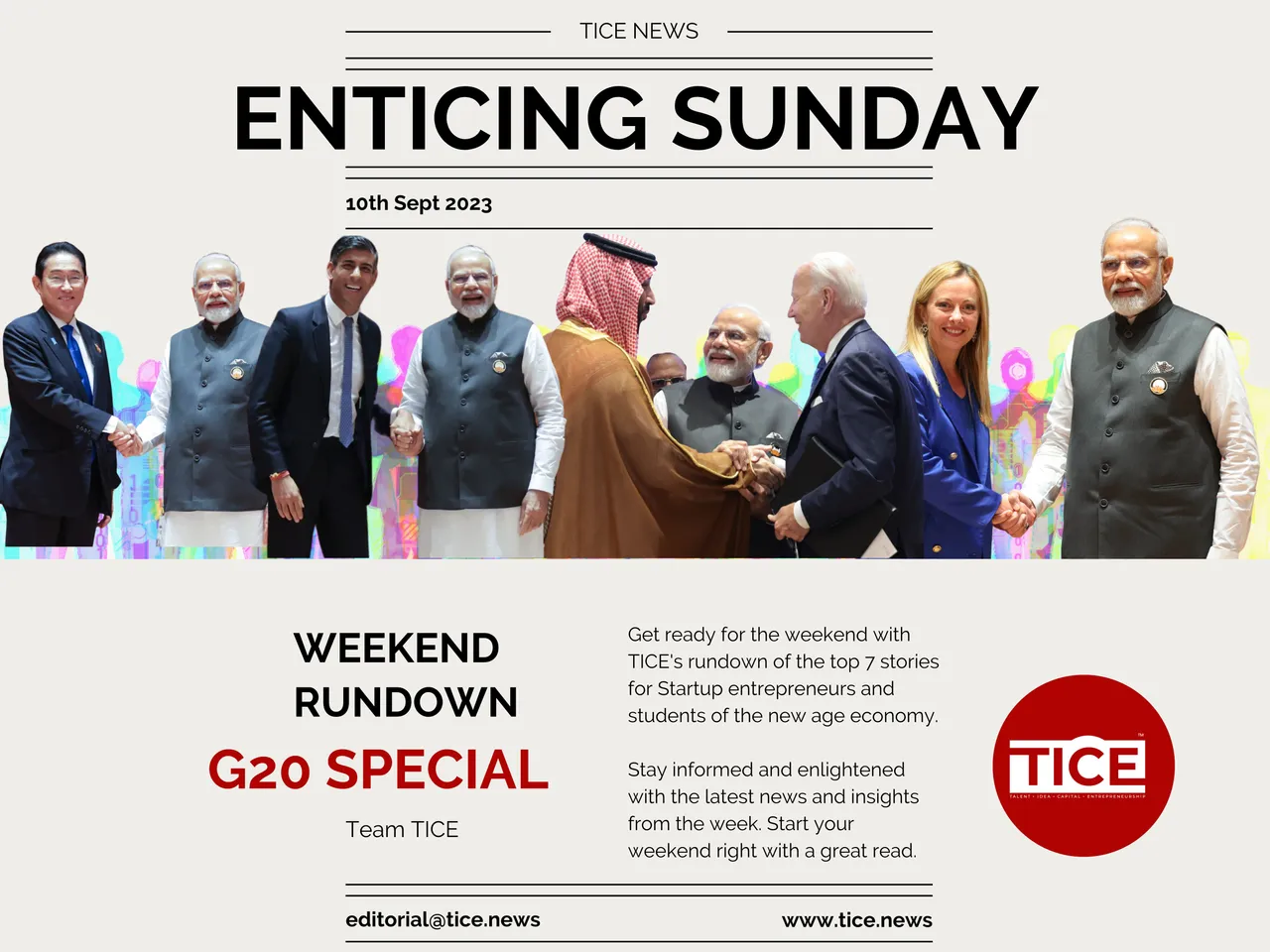 The Delhi G20 Summit is set to be a historic event, with Prime Minister Narendra Modi's commitment to holding over 15 bilateral meetings with world leaders. As the world watches, this summit promises to shape global relations and address critical issues. In this article, we delve into the details of the PM's schedule and the significance of these meetings, highlighting how this event underscores India's role on the global stage.
Click here to read full story.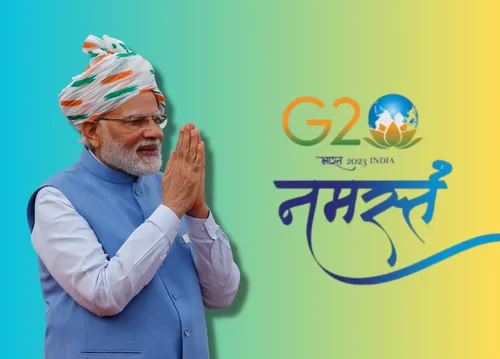 Prime Minister of Bharat, Narendra Modi, announced a historic achievement at the G20 Summit in New Delhi today, as leaders from the world's largest economies reached a consensus on the New Delhi G20 Leaders' Summit Declaration. This declaration, adopted on the first day of the summit, represents a significant milestone in addressing global challenges and fostering inclusive growth. PM Modi expressed his gratitude to the dedicated team that worked tirelessly to make this consensus a reality.
Click here to read full story.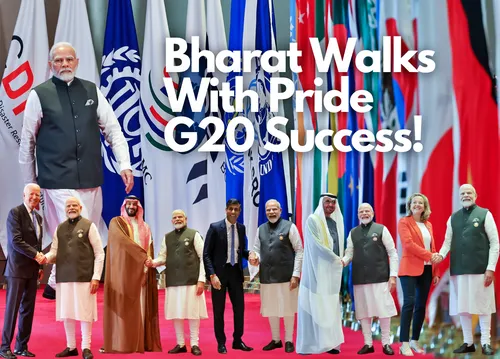 In a significant stride towards fostering innovation and strengthening their bilateral ties, India and the United States, in a joint statement, expressed commitment to enhance collaboration between startups, private equity and venture capital firms, corporate investment departments, and government officials from both nations. This move comes following a meeting between Indian Prime Minister Narendra Modi and US President Joe R. Biden.
Click here to read full story.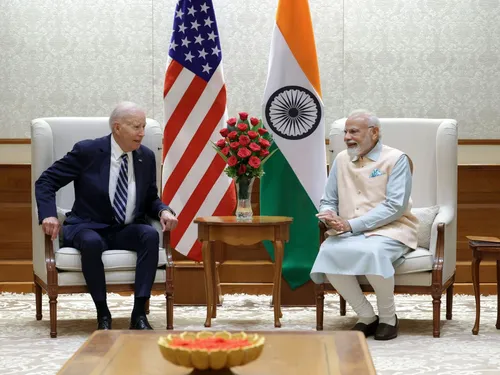 As the much anticipated G20 Summit begins at Bharat Mandapam in the national capital, Prime Minister Narendra Modi addressed the world's leaders where he welcomed prominent figures, including US President Joe Biden, UK Prime Minister Rishi Sunak, and other dignitaries from across the globe. In a symbolic gesture, Prime Minister Modi used of 'Bharat' on his G20 Summit plaque, reaffirming it as the official name for India.
Click here to read full story.
As the world turns its gaze toward India, the vibrant streets of Chandni Chowk are donning their finest attire to welcome foreign delegates attending the G20 Summit. Known for its rich history, eclectic bazaars, and mouthwatering street food, Chandni Chowk has long been a favorite hub for tourists and foreigners visiting the heart of New Delhi. However, this time, the bustling lanes are abuzz with a unique blend of culture and commerce, as they play host to an international delegation of diplomats and leaders.
Click here to read full story.
India, the jewel of the global startup landscape, is shining even brighter in its "Amrit Kaal," the era beyond 75 years of independence. This year, as India is host G20 presidency, the world's attention turns to the nation's thriving entrepreneurial spirit. The G20 Summit, often called the "Olympics of Diplomacy," brings together the world's major economies.
Click here to read full story.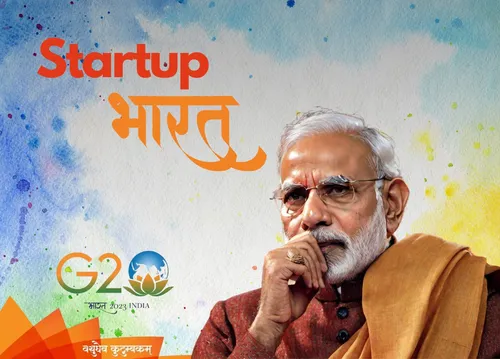 New Delhi is set to host the highly anticipated 18th G20 Heads of State and Government Summit, which will serve as the culmination of a year's worth of G20 processes and meetings. Under India's presidency, the G20 has achieved groundbreaking consensus on shaping the Digital Public Infrastructure (DPI) of the future. As part of this historic event, the Digital India Experience Zone has emerged as a key attraction, offering G20 delegates a hands-on experience of India's successful digital transformation and Digital Public Infrastructure initiatives.
Click here to read full story.
The eagerly anticipated G20 Summit kicks off today in New Delhi, with India poised to impress global delegates with its cutting-edge technology offerings. Among the standout innovations is GITA (Guidance, Inspiration, Transformation, and Action), a generative AI interface, akin to ChatGPT, being prominently featured at the international gathering.
Click here to read full story.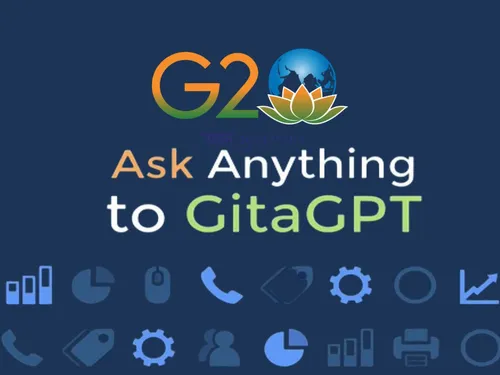 In his address on Human-Centric Globalisation: Taking G20 to the Last Mile, Leaving None Behind, PM Modi said 'Vasudhaiva Kutumbakam' – these two words capture a deep philosophy. It means 'the world is one family'. This is an all-embracing outlook that encourages us to progress as one universal family, transcending borders, languages, and ideologies. "As One Earth, we are coming together to nurture our planet. As One Family, we support each other in the pursuit of growth. And we move together towards a shared future - One Future - which is an undeniable truth in these interconnected times," PM Modi said.
Click here to read full story.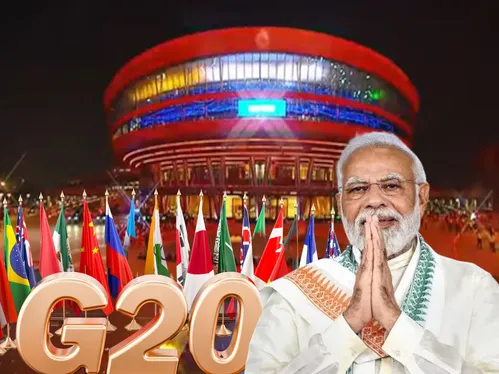 This is a time when not everybody sees eye-to-eye in this world. Russia is fighting Ukraine. The United States is uncomfortable with China. And President Xi is not attending the grand finale of the G20 Bharat Summit 2023 in New Delhi. But the scenario was not very different ten months ago when India stepped in as the President of the G20, comprising the 20 most promising economies globally, including the 7 most developed ones, the G7. As India takes on an increasingly prominent role in the world, serving as the President of the G20 group of leading economies for the current year, it faces the challenge of walking a diplomatic tightrope, managing a diverse group of 20 leading economies, including the G7.
Click here to read full story.