In his address on Human-Centric Globalisation: Taking G20 to the Last Mile, Leaving None Behind, PM Modi said 'Vasudhaiva Kutumbakam' – these two words capture a deep philosophy. It means 'the world is one family'. This is an all-embracing outlook that encourages us to progress as one universal family, transcending borders, languages, and ideologies.
"As One Earth, we are coming together to nurture our planet. As One Family, we support each other in the pursuit of growth. And we move together towards a shared future - One Future - which is an undeniable truth in these interconnected times," PM Modi said.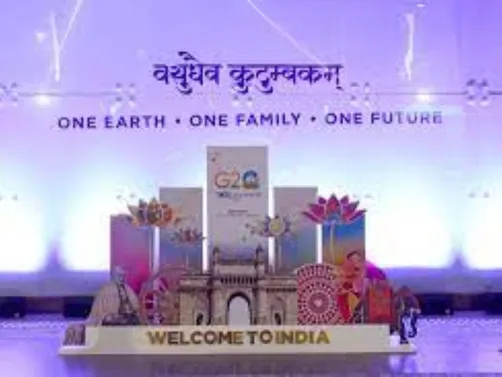 Shaping a Post-Pandemic World Order
PM Modi outlined three critical shifts in the post-pandemic world order. Firstly, a shift from a GDP-centric view to a human-centric perspective, highlighting the importance of human well-being. Secondly, the recognition of resilience and reliability in global supply chains, vital for global stability. Thirdly, a collective call for boosting multilateralism through reforming global institutions.
"Our G20 Presidency has played the role of a catalyst in these shifts. In December 2022, when we took over the Presidency from Indonesia, I had written that a mindset shift must be catalysed by the G20. This was especially needed in the context of mainstreaming the marginalized aspirations of developing countries, the Global South and Africa," PM Modi said.
As the G20 Summit gets underway in Delhi, penned an Op-Ed on India's G20 Presidency and how we have worked to further human-centric globalisation and ensure a collective spirit in furthering human progress. https://t.co/rNnNTBBPCP
— Narendra Modi (@narendramodi) September 7, 2023
Empowering Women and Bridging Gender Divide
"India is the fastest-growing large economy is no accident," PM said.
Prime Minister Narendra Modi emphasized India's remarkable economic growth and its commitment to fostering entrepreneurship. He highlighted the nation's simple, scalable, and sustainable solutions that have uplifted vulnerable and marginalized communities, paving the way for inclusive development. 
PM Modi's remarks came as part of India's G20 Presidency, where the focus has been on human-centric global progress and bridging various divides.
"From space to sports, economy to entrepreneurship, Indian women have taken the lead in various sectors. They have shifted the narrative from the development of women to women-led development. Our G20 Presidency is working on bridging the gender digital divide, reducing labour force participation gaps and enabling a larger role for women in leadership and decision-making," PM said.
Catalyst for Change
India's G20 Presidency has played a pivotal role in catalyzing these shifts. PM Modi stressed the importance of mainstreaming the aspirations of developing countries and the Global South. He highlighted the Voice of Global South Summit, involving 125 countries, and the push for the African Union's inclusion as a permanent member of the G20, demonstrating India's commitment to a more inclusive global order.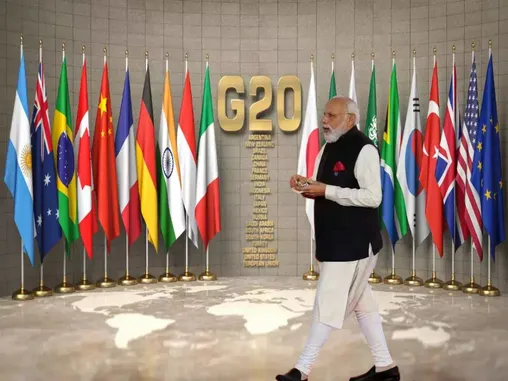 Accelerating Progress on Sustainable Development Goals (SDGs)
As the world faces interconnected challenges, PM Modi emphasized the need to accelerate progress on SDGs. He introduced the G20 2023 Action Plan, which will spearhead the G20's efforts in implementing these goals. India, with its rich history of harmonious coexistence with nature, is dedicated to climate action and sustainable development.
Climate Action and Innovation
PM Modi emphasized the importance of climate action in the context of global development. He highlighted India's initiatives, including the International Solar Alliance, the Global Biofuels Alliance, and efforts to promote clean and green hydrogen. He called for democratizing climate action and making it an accessible part of people's daily lives.
"We believe there is a need to move away from a purely restrictive attitude of what should not be done, to a more constructive attitude focusing on what can be done to fight climate change" he said.
Inclusivity in Technology
Technology is a transformative force, but it must be inclusive. PM Modi showcased India's achievements in leveraging technology to reduce inequalities. He highlighted digital public infrastructure (DPI) as a means to financially include the unbanked population and promote inclusive growth, offering global support through the G20.
People-Driven Diplomacy
PM Modi celebrated India's diverse and dynamic G20 Presidency, which has witnessed over 200 meetings across 60 Indian cities, hosting nearly 100,000 delegates from 125 countries. He emphasized that experiencing India's demography, democracy, diversity, and development firsthand has left an indelible mark on the G20 delegates.
A Pledge Matched with Actions
In closing, PM Modi reaffirmed India's commitment to making the global table larger, ensuring that every voice is heard, and every country contributes to a united world. He expressed confidence that India's actions during its G20 Presidency have matched its pledge for a more inclusive, collaborative, and prosperous global future.
Prime Minister Modi's address underlined India's role as a key driver of positive change and inclusivity in the global community, leaving a lasting impact on the G20's mission for a more interconnected and harmonious world.