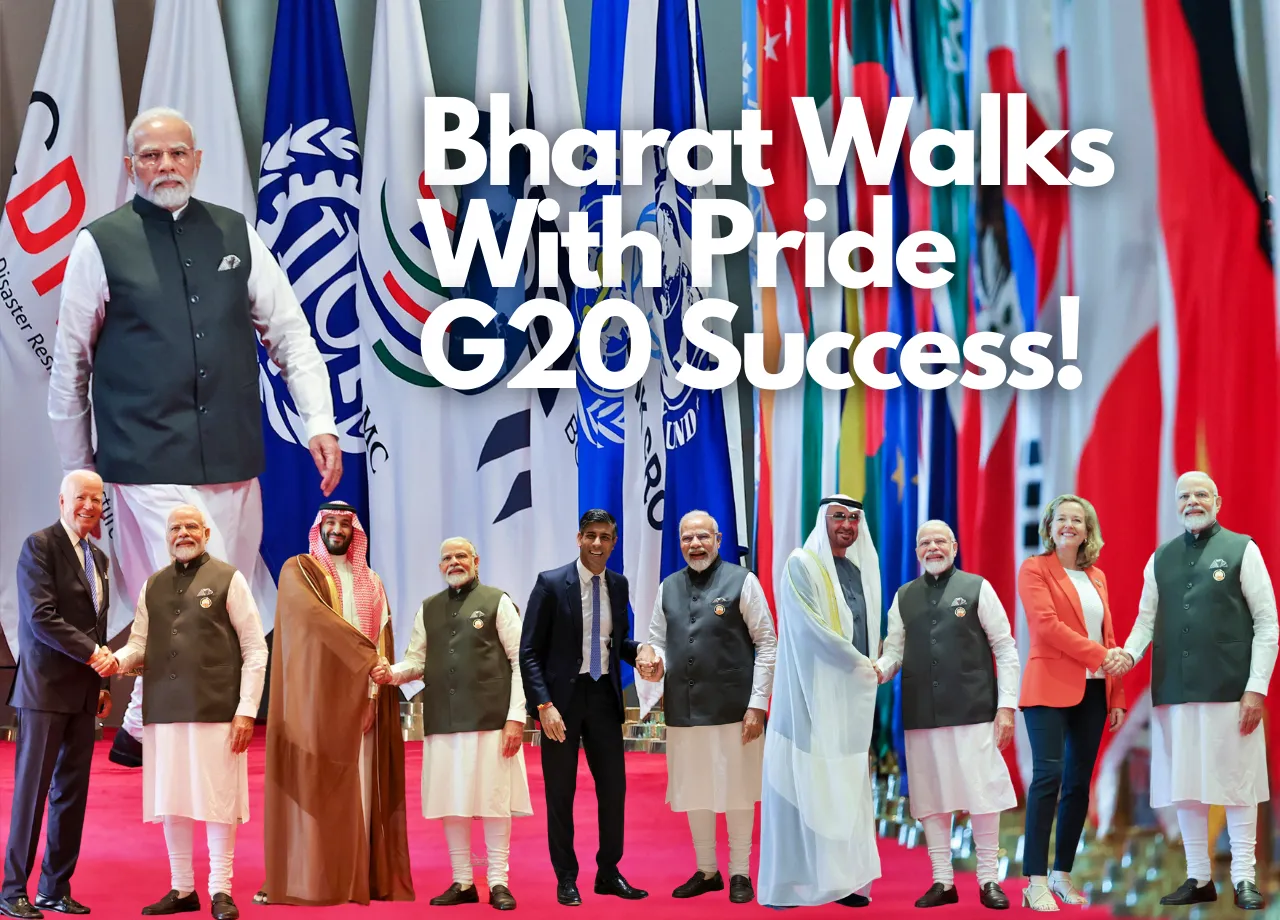 Prime Minister of Bharat, Narendra Modi, announced a historic achievement at the G20 Summit in New Delhi today, as leaders from the world's largest economies reached a consensus on the New Delhi G20 Leaders' Summit Declaration. 
This declaration, adopted on the first day of the summit, represents a significant milestone in addressing global challenges and fostering inclusive growth.  PM Modi expressed his gratitude to the dedicated team that worked tirelessly to make this consensus a reality.
A Hard-Fought Consensus
PM Modi shared the exciting news, stating, "I have received good news. Due to the hard work of our team, consensus has been built on New Delhi G20 Leaders' Summit Declaration. My proposal is to adopt this leadership declaration. I announce to adopt this declaration. On this occasion, I congratulate my Sherpa, ministers, who worked hard for it and made it possible."

He further reiterated his appreciation for the Indian team's efforts, saying, "I want to announce that there has been a consensus on New Delhi G20 Leaders' Summit Declaration. I announce that this declaration has been adopted."
On the sidelines of the Summit, a press conference was held to deliberate on the key decisions taken at G20 and highlight the initiatives announced.
Addressing the Press Conference, Minister of External Affairs, S Jaishankar said, " The declaration that leaders have agreed on focuses on inclusive growth and seeks to accelerate progress. G20 Declaration focuses on strong sustainable inclusive growth, envisages green sustainable path. G20 has contributed to making India world-ready and the world India-ready."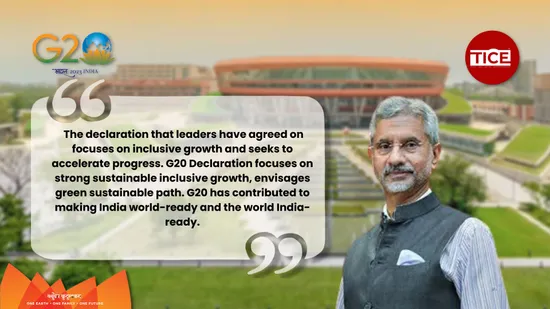 Finance Minister Nirmala Sitharaman said, "India's G20 presidency has worked on theme 'One Earth, One Family, One Future. It is clear in our mind that nobody should be left behind in our pursuit of global solutions. India's G20 presidency has crafted solutions that resonate with each member offering shared path forward for all."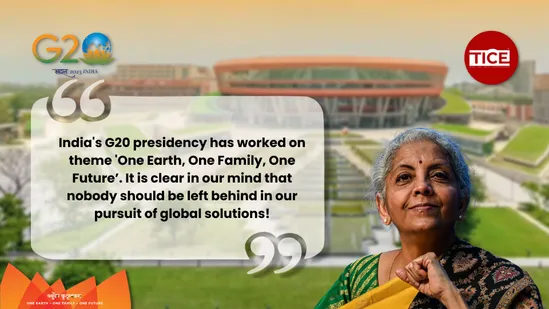 She said India assumed presidency at challenging time due to Geo-Political crisis. However, Indian G20 Presidency has walked the talk.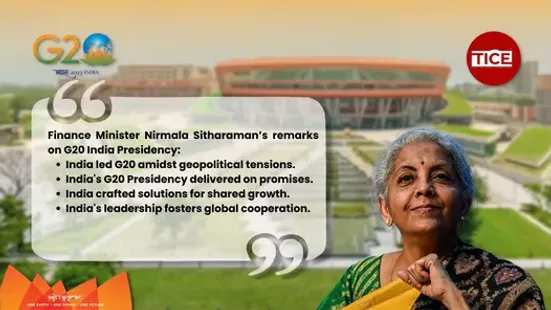 India's Global South Perspective
India's G20 sherpa, Amitabh Kant, highlighted India's commitment to representing the interests of the Global South and developing nations. He revealed that Prime Minister Modi had written to all leaders advocating for the inclusion of the African Union in the G20, a proposal that received a positive response from leaders, further strengthening India's stance on inclusive global governance.
Kant asserted, "The New Delhi Leaders' Declaration will be the voice of the global south and developing countries." This declaration signifies India's dedication to advocating for the interests of emerging economies.

Focus on Innovation and Digital Transformation
The G20 Members in the New Delhi Leaders' Declaration underscore the importance of innovation and digital transformation as key drivers of global growth. It recognizes the significance of start-ups and micro, small, and medium-sized enterprises (MSMEs) in spurring innovation and employment. The establishment of the Start-up 20 Engagement Group during India's G20 Presidency demonstrates a commitment to supporting these engines of growth.
Moreover, the declaration emphasizes the deployment of digital tools and technologies to create safe and resilient digital ecosystems while ensuring financial inclusion for all citizens. It promotes responsible and inclusive use of digital technology in agriculture and encourages the growth of Agri-Tech start-ups and MSMEs.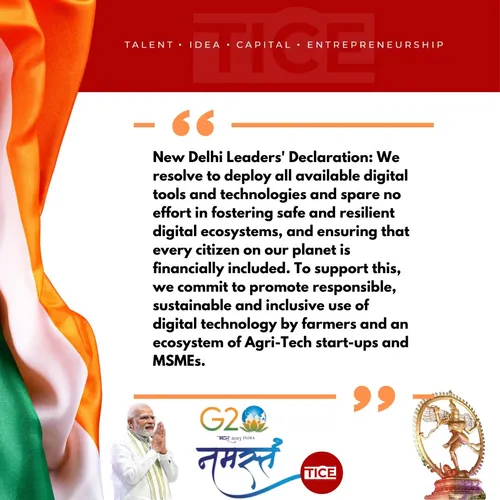 Responsible AI and Gender Equality
The declaration acknowledges the rapid progress of artificial intelligence (AI) and the potential it holds for the global digital economy. It underscores the need for responsible AI development, addressing human rights, transparency, fairness, accountability, regulation, safety, ethics, privacy, and data protection.
Additionally, the New Delhi Leaders' Declaration commits to promoting the full and meaningful participation of women in the evolving world of work. It focuses on closing the gender pay gap and ensuring women's equal access to decent work and quality jobs. The declaration also encourages investment in social protection and affordable care infrastructure to address disparities in paid and unpaid care work.
Women in Digital Economy
G20 members have agreed to promote and implement gender-responsive policies to create an inclusive and non-discriminatory digital economy for women-led and -owned businesses, including MSMEs. This initiative aims to improve women's livelihoods and income security, fostering a more equitable digital landscape.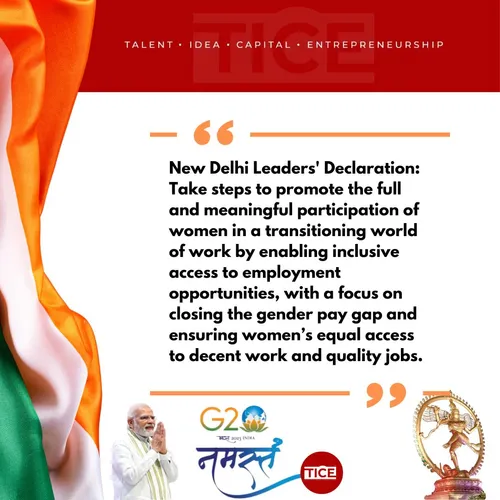 Financial Resilience and Regulatory Unity
The toolkit outlined in the New Delhi Leaders' Declaration is expected to enhance the operational resilience of financial institutions. It addresses challenges stemming from their increasing reliance on critical third-party service providers, including BigTechs and FinTechs, and seeks to reduce regulatory fragmentation across jurisdictions in the financial services sector.
Pre-Summit Efforts
India's G20 officials had expressed optimism about achieving a consensus on the declaration ahead of the summit. They conveyed their hope for a joint communique that would reflect the collective goals of the G20.
A Summit for the Global South
Prime Minister  Modi's leadership at the G20 Summit underscores India's commitment to addressing complex global challenges while representing the interests of the Global South. With leaders from around the world converging in New Delhi, the summit presents an opportunity to foster inclusive growth, address geopolitical concerns, and work towards a brighter future for all.
Over 220 G20-related meetings held across India showcased the nation's diversity and federal structure, further emphasizing the importance of this global gathering.
The summit, organized under the themes of "One Earth, One Family, and One Future," will serve as a platform for leaders to discuss critical issues and chart a path forward in an ever-changing world.
As India assumes its role as the host of this significant event, it reaffirms its commitment to global cooperation and progress, embodying the spirit of unity and collaboration that the G20 represents.
Download & Read Complete G20 New Delhi Leaders' Declaration From Here - https://t.co/AnU9u1IkHO#G20India2023 #G20Summit #G20Bharat #G20India #Entrepreneur #TICE #NarendraModi #G20NDLD pic.twitter.com/Gd0nqDFxKy

— TICE.NEWS (@TiceNews) September 9, 2023