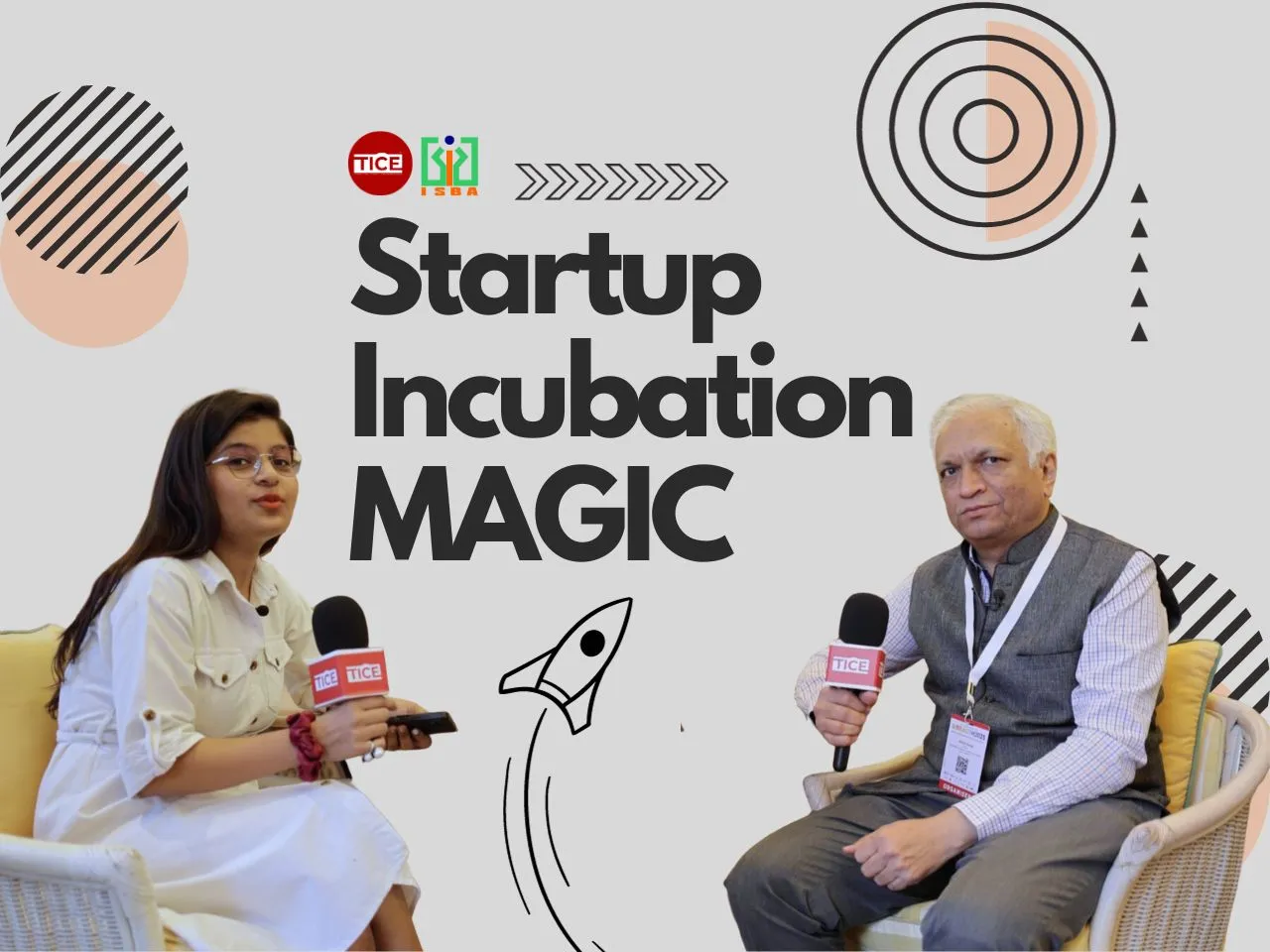 India, the world's third-largest startup economy, is experiencing an unprecedented surge in entrepreneurial endeavors. This remarkable growth trajectory solidifies India's position as a burgeoning hub of innovation and enterprise. While startups and entrepreneurs receive well-deserved accolades for their contributions to this remarkable journey, it is imperative not to overlook the unsung champions, the incubation centers, silently nurturing the foundation of this thriving ecosystem.
Undoubtedly, incubation centers stand as the unsung heroes of the Indian startup landscape. Recently during the 15th ISBACon held in Mumbai, we had the privilege of engaging with a visionary leader - Mr. Ashish Garde!
Presently, he is the Founder Director of of Marathwada Accelerator for Growth and Incubation Council (MAGIC) by Chamber of Marathwada Industries & Agriculture (CMIA). He is also  a governing board member of the Indian STEPs and Business Incubators Association (ISBA). But above all, he is instrumental in fortifying the startup ecosystem in Aurangabad and throughout the nation, by providing a nurturing platform for startups spanning diverse sectors. 
In this exclusive interview, Mr. Garde sheds light on the pivotal role of ISBA, the transformative impact of incubators, and the ever-evolving landscape of innovation in the Indian startup ecosystem. He also talks about how Marathwada Accelerator for Growth and Incubation Council (MAGIC) functions and incubates the startups!
So let's dive into this exclusive conversation with Mr. Garde!
Empowering Indian Incubators: ISBA's Mission
As the governing board member of ISBA, Mr. Garde plays a significant role in nurturing the growth of incubators across India. ISBA, an epic body with a two-decade legacy, serves as a catalyst for building the startup ecosystem in the country. The organization's primary initiatives include policy advocacy at both state and central government levels and capacity building for incubators. This includes programs designed to empower incubation managers and CEOs, ensuring that newly recruited talent is well-equipped to foster the growth of startups.
MAGIC: Where Innovation Takes Flight
Mr. Garde's role as the Director of MAGIC is instrumental in elevating startups in the Marathwada region. Marathwada Accelerator for Growth and Incubation Council (MAGIC) is a unique business incubator, affiliated with the Chamber of Merit for Industries and Agriculture (CMIA). It is India's first incubator hosted within the premises of a regional industry association, providing invaluable support to startups. All the activities of MAGIC Incubator are executed under the guidance & mentoring of 11 Member Board of Directors who are Entrepreneurs & domain experts in various domains & are members of Chamber of Marathwada Industries & Agriculture (CMIA).
Innovation: The Driving Force in Indian Startups
Innovation is the lifeblood of the Indian startup ecosystem, and Mr. Garde has been a witness to its transformative power. With the inception of Startup India, the landscape has rapidly evolved, fostering innovation at various levels. Innovators are emerging from grassroots, educational institutions, and even industry professionals. Their focus remains on addressing current problems, unmet needs, and creating new demand for a wide range of products and services.
Mr. Garde shares the inspiring journey of a young innovator incubated at MAGIC. This talented engineering college student took on the challenge of revolutionizing pesticide spraying in small farms. By designing a safer and more efficient solution, he went from being a college student with an idea to a successful entrepreneur. His product is now in high demand across 22 Indian states, and he has even secured export orders, with a revenue of nearly two crore in the last year.
MAGIC: Open to All Innovators, All Sectors
For those seeking to tap into the resources and guidance of MAGIC, Mr. Garde emphasizes their unique approach. The incubator welcomes innovative ideas from all domains, regardless of the individual's age or academic background. MAGIC supports these ideas at any stage of development, providing mentoring and infrastructure support. Furthermore, the organization actively collaborates with academic institutions to foster an entrepreneurial mindset among students, aiming to create more job creators than job seekers.
Parting Wisdom for Budding Startups
As an industry veteran, Mr. Garde leaves aspiring entrepreneurs with a valuable message. He urges them to identify the myriad problems around them and seek innovative solutions. These innovative solutions, he believes, hold the key to launching successful enterprises and contributing to the vibrant tapestry of Indian startups.
Join Our Thriving Entrepreneurial Community

Follow TICE News on Social Media and create a strong community of Talent, Ideas, Capital, and Entrepreneurship. YouTube  | Linkedin | X (Twittrer) | Facebook | News Letters