Startup incubators play a crucial role in nurturing and guiding aspiring entrepreneurs during their early stages. These institutions, often backed by significant experience in the innovation and business sectors, provide the much-needed support for fledgling businesses.
A Flourishing Ecosystem for Entrepreneurs
In India, the landscape of startup incubators has undergone a remarkable transformation, expanding from a modest count of 20 incubators in the early 2000s to a staggering 650 in 2023, with more on the horizon. This growth, though initially concentrated in the southern and western regions, is now spreading throughout the country, carrying with it the promise of catalyzing economic development and innovation. In this article, we explore the evolution of startup incubators in India and their contributions to the thriving startup ecosystem.
A Remarkable Growth Trajectory
Data from Traxcn reveals a staggering increase in the number of accelerators and incubators in India, with approximately 718 such institutions in existence. This remarkable growth showcases the evolving culture of startup incubation in the country. Over the last two decades, the number of incubators has grown fifteen-fold, largely driven by proactive incubation policy initiatives between 2008 and 2020. These incubators are hailed as prolific, expansive, and promising entities, actively contributing to India's vibrant startup ecosystem.
India's Impressive Incubation Landscape
India currently holds the third position globally in terms of the number of incubators, following the United States and China. By October 2020, this number had multiplied exponentially. To put it in perspective, there is approximately one incubator for every 150 startups in India.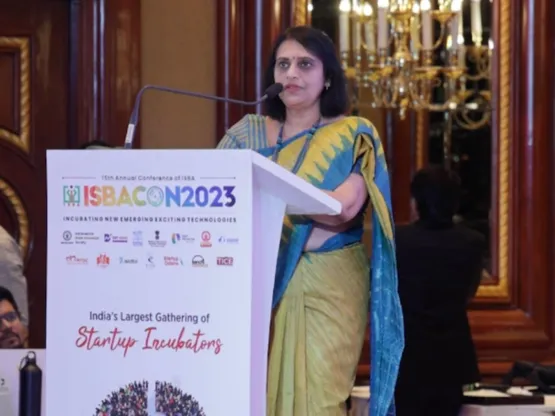 Dr. Anita Gupta, Head of the Climate Change & Clean Energy (C3E) Division at the Department of Science and Technology (DST), Government of India, highlighted the immense potential for innovation in the country.

She said, "India positions as the world's fifth-largest economy, boasting the third-largest education system and a burgeoning startup ecosystem.
Dr. Gupta envisions a future where startups will play a pivotal role in propelling India towards becoming the third-largest economy. Incubators, she believes, will have a significant part to play in this transformation.
"So the startups will have a greater role to play and given the situation, where India has a  diversity and the kind of challenges we have with the growing population and with the climate change. I think we are poised to be a very great force to reckon with and incubators will have a larger role to play. Just to share, the Department of Science technology has been in the forefront of driving the science and technology-based entrepreneurship in the country way back as our journey days back to over three decades," Dr Anita Gupta said. 
Dr Gupta said this while addressing ISBACON 2023 in Mumbai organized by the Indian Science and Technology Entrepreneurs Park and Business Incubator Association (ISBA). In the 15th edition of ISBACON, ISBA brought together 150 incubation center heads from all across the country, along with officials from both statement and central government to identify the potential challenges, share best practices in incubation, create awareness about government schemes and incentives. 
The Journey of Incubators in India
Reflecting on the evolution of incubators, Dr. Anita Gupta recalls the early days when convincing educational institutions to become breeding grounds for entrepreneurial ideas was a daunting task.
She said, "By 2015, a defining moment occurred when the Prime Minister launched the "Startup India" campaign, instilling confidence in the country's youth as catalysts for change. The government, along with various departments, initiated numerous startup activities, leading to a fifteenfold increase in the number of incubators over the past two decades."
Dr. Gupta, who has been actively associted with the educational institutes and incubators in the country to nurture innovation ecosystem, sets ambitious goals for the future, including the establishment of one incubator per district and increasing the number of incubators fivefold to 5,000 by 2030.
Dr Gupta suggested that just in the lines of One District, One Product programme, India can aspire for One District, One incubator goal and we should aspire to increase the number of incubators. 
"We should aspire to increase the number of incubators by fivefold to 5 thousand by 2030, so I think these could be the targets which we can really think of," Dr Gupta said.

She says, "Incubators should work like entities where innovators, entrepreneurs, and startups receive robust support, including mentoring and funding, to emerge from incubation as confident and investment-ready enterprises. COVID-19 pandemic had a transformative impact  on incubation programs, encouraging industry engagement at an early stage to ensure products meet market needs."
Dr. Gupta also highlighted the internationalization of incubators and startups, enabled by global cooperation.
Policy Evolution and Growth in Academic Incubators
The surge in incubators, particularly those affiliated with academic institutions such as the Indian Institutes of Technology (IITs), Indian Institutes of Management (IIMs), and universities, has played a pivotal role in India's incubation landscape. This trend can be attributed to the government's push to promote entrepreneurship and foster a nation of job creators. 
The Background of Evolution of Incubation Era
The institutionalization of incubation policies dates back to 1955, with the establishment of the National Small Industries Corporation (NSIC). In 1982, the National Science and Technology Development Board (NSTEDB) was founded by the Department of Science and Technology (DST), significantly boosting technology entrepreneurship.
Subsequent policies, including the Incubation Policy of the Ministry of Micro, Small and Medium Enterprises (MoMSME) and the Technology Incubation and Development of Entrepreneurs (TIDE) scheme by the Ministry of Electronics and Information Technology (MeitY), emphasized the commercialization of research and technology entrepreneurship. The Atal Innovation Mission (AIM), as the implementing body of the Startup India Initiative, has introduced a holistic approach to entrepreneurship, incorporating goals such as training entrepreneurs and building startup business models.
"The COVID-19 pandemic has provided us with valuable insights, and the same goes for our incubator startups. How can we translate challenges into opportunities? How can we effectively engage with the industry right from the initial concept stage, ensuring that the products meet market needs? All these lessons have profoundly influenced incubation, leading to the evolution and scaling up of non-incubation programs, better suited to market demands. As we move forward, we encourage greater collaboration between the industry and incubators. We believe that each incubator and industry should adopt one or two incubators, facilitating startups to validate their products according to market requirements. This represents a new, hybrid model that has emerged, thanks to the lessons learned from the COVID-19 pandemic. Previously, our incubation program was limited to physical incubation. The internationalization of incubators and startups is taking place as they connect through bilateral cooperation. All these developments are propelling incubation to the next level," Dr Gupta.
Nurturing a Thriving Startup Ecosystem
India's journey in the field of startup incubation shows a rapidly growing number of incubators and a supportive policy environment.
"Looking ahead, we anticipate significant progress in India's innovation landscape. The Department for Promotion of Industry and Internal Trade (DPIIT) and various other government departments will evolve and formulate even more enabling policies. I would like to extend my congratulations to the State Government of Maharashtra for being a pioneer and achieving top performance in state rankings. In terms of startup rankings, they are among the most dynamic and intelligent ecosystems, closely followed by Kerala and Karnataka, which are leading the way. Other states are also making significant strides. This entire ecosystem holds tremendous promise and has the potential to deliver substantial results in the coming years," Dr Gupta said.
The experts' vision and present scenario provides a promising outlook for the future, as India continues its evolution as a global innovation hub. The incubators of today are not just about nurturing startups; they are shaping the destiny of a nation eager to lead on the global stage.
Join Our Thriving Entrepreneurial Community

Follow TICE News on Social Media and create a strong community of Talent, Ideas, Capital, and Entrepreneurship. YouTube  | Linkedin | X (Twittrer) | Facebook | News Letters