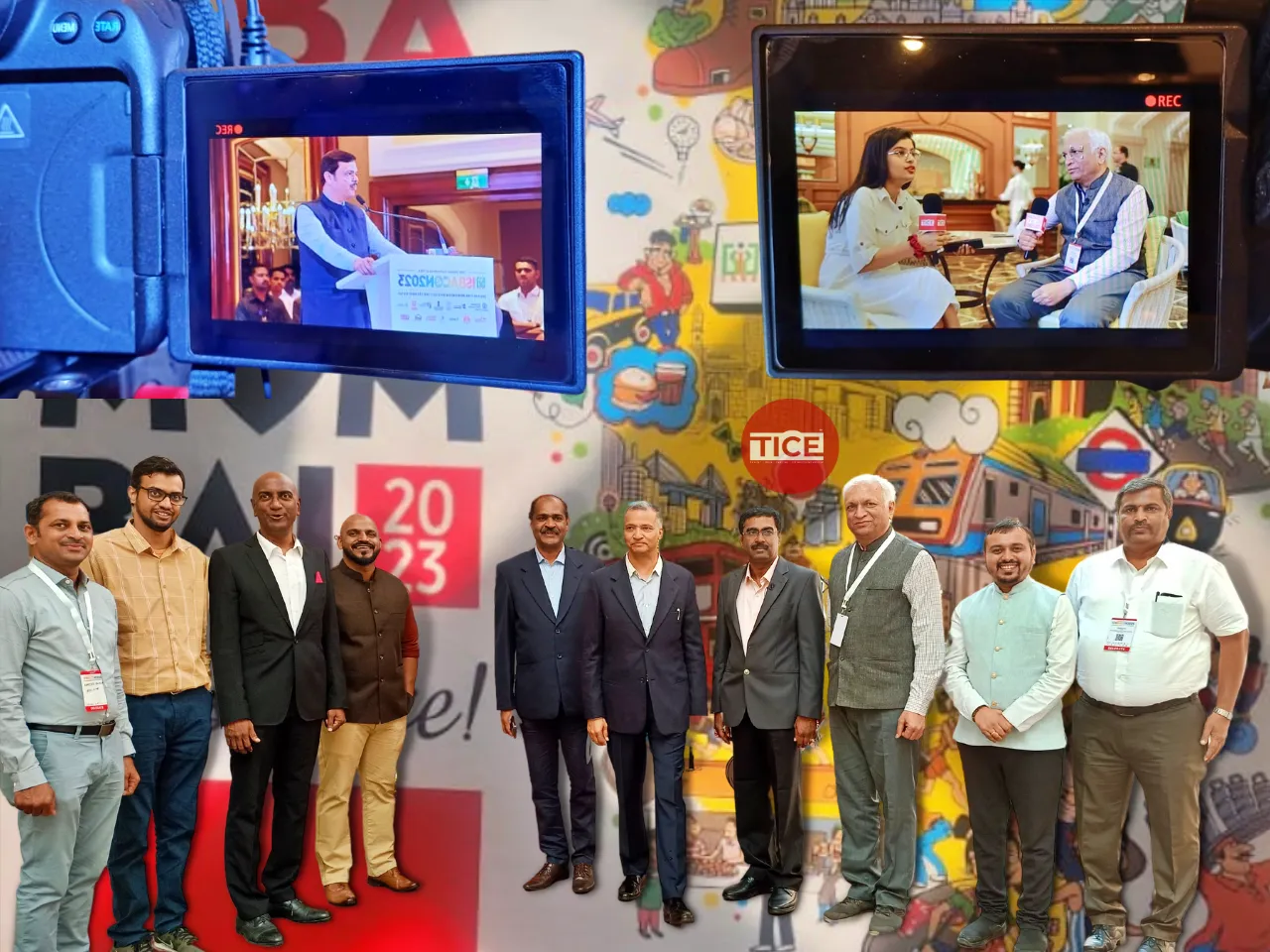 Mumbai, often referred to as the "Mayanagri," and which accounts for 26 out of 110 Unicorns in India witnessed a gathering of luminaries and influential stakeholders from the Indian startup ecosystem as they congregated for one of the most significant events of the year - ISBACON 2023. 
An annual conclave by ISBA, it brought together innovators and entrepreneurs under one roof to discuss, share, and explore the latest trends and opportunities in the ever-evolving startup landscape. TICE, India's premier platform for startup news, is proud to be the media partner for this spectacular event and brings you an exclusive glimpse into the highlights of the second day.
Deputy Chief Minister's Pledge: Powering ISBA's Dreams
A momentous occurrence on the second day of ISBACON 2023 was the presence of the Deputy Chief Minister of Maharashtra, Devendra Fadnavis. He extended his wholehearted support to the conference, vowing to address and facilitate the fulfillment of three crucial demands presented by Dr. K Suresh Kumar, the President of ISBA.
"This ISBA conference is happening at an opportune time and at an appropriate venue that is Mumbai, Maharashtra. Dr Suresh Kumar I would like to assure you that your put forth three demands or three wishes, I will take them to the appropriate authorities and will create an appropriate ecosystem so that all these three demands are taken care of," the Deputy CM stated. 
ISBA's Three Wishes: Requests for Startup Success
Dr. K Suresh Kumar, representing the interests of ISBA (Indian Business Incubation Association), passionately advocated for three key issues. He called for the ease of access for startups to conduct trials for biomedical beta devices and products in hospitals. In addition, he highlighted the challenges faced by startups in procurement and urged for the formulation of a Startup-Specific Procurement Policy. Lastly, Dr. Kumar emphasized the vital role of the corporate sector in ensuring the sustainability of incubation centers, seeking government intervention to connect corporates with these centers.
ISBA President Dr. K Suresh Kumar​ advocates for ease of access for Startups to conduct trials for biomedical beta devices, and products in hospitals. #startup #Maharashtra #Entrepreneurship #Innovation #Employment #startups #ISBACON2023@isba_org @TheStartupTN @iitbombay… pic.twitter.com/xRKPzrS3YF

— TICE.NEWS (@TiceNews) October 28, 2023
ISBA, a network of business incubators from across India, plays a pivotal role in promoting entrepreneurship and innovation, aligned with the objectives of both Central and State Government ministries. The annual ISBACON conference is a crucial platform for reviewing and shaping policy initiatives for the effective implementation of various schemes, leading to the growth of the startup ecosystem.
The 15th ISBA conference in Mumbai was themed "Incubation NXT– Incubating New Emerging eXciting Technologies (NEXT) for Exponential Growth."
Highlights From Day 2 of ISBACON 2023
The second day of ISBACON 2023 commenced with a session on "Leadership Traits to Create Leaders," moderated by Ganga Chitnis, Mentor-in-Residence at SINE IIT Bombay & SPJIMR, and featured the insights of K. Ramkumar, Founder of Kautilya Leadership Center.
Following this insightful session, attendees delved into a discussion on "Deep Tech Incubation - Opportunities and Challenges." Led by Nisha Mukund, CEO of CIIC, and moderated by Poyni Bhatt, CEO of SINE IIT Bombay, the session featured esteemed speakers, including Prof. Arindra Chowdhury, Co-Founder of InspeCity, Hitesh Sachdev, Head of Startup Engagement, Innovation, and Investment at ICICI Bank, and Tanuj Gigras from Nayam Innovations Pvt. Ltd. Poyni Bhatt, during the discussion, underlined the pivotal roles of funding and market access for any startup.
The day continued with a session on "Engagement with Corporate / Family Office, beyond CSR," under the coordination of Ismail Akbani from Mahindra e-Hub and moderated by Dr. Ganga Chitnis, Mentor in Residence at SINE-IITB & SPJIMR. The speakers, Dr. Farzan Ghadially, SENATOR INDIA at World Business Angels Investment Forum, and Sumeet Kabra, Director at RR Global, emphasized the significance of tapping into family-owned businesses for startup investments.
A thought-provoking Panel Discussion on "Incubator-Industry Connect" followed, facilitated by Sivashankar from SJCE-STEP and moderated by Madhu Vasanthy, Senior Director of Startup at CII. The panel featured industry leaders Mithun John from HDFC, Mandar Vartak, VP at Mahindra Group, Krishnakumar Badrinath, Executive Director at Boeing India Software Engineering, and Meghana Joglekar, GM at EXIM Bank, who shared their insights on the synergy between incubators and industry.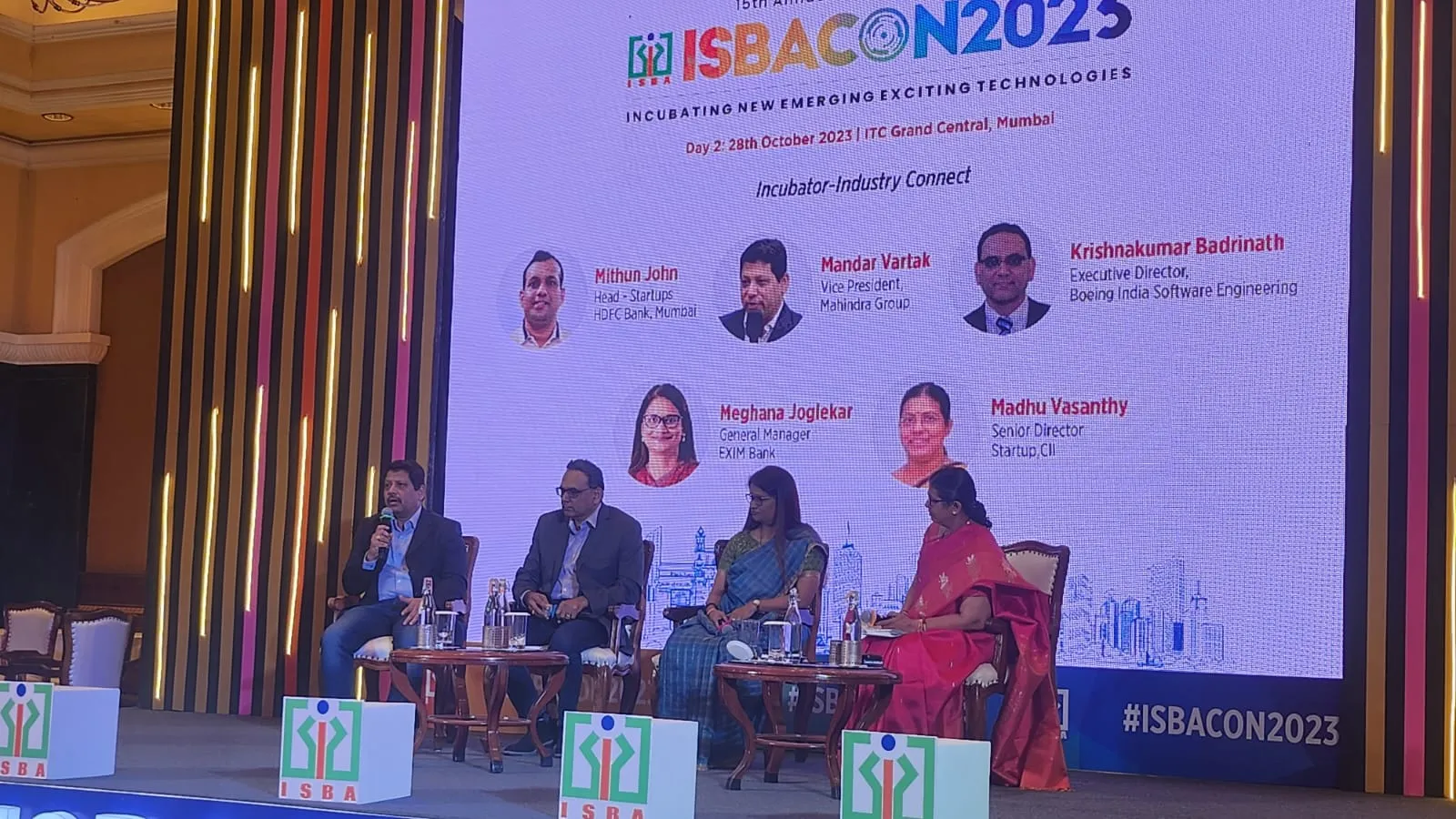 The event concluded with a vote of thanks delivered by Mr. Prasad Menon, Vice President of ISBA, expressing gratitude to all stakeholders for their contributions in organizing a successful 15th edition of the annual ISBA conference. Special recognition was given to Deputy Chief Minister Devendra Fadnavis for his presence and support, solidifying ISBACON 2023 as a remarkable milestone in India's startup ecosystem.
Mr Prasad Menon, Vice President, ISBA presented the Vote of Thanks for ISBACON 2023, thanking all the stakeholders for helping organize a successful 15th edition of the annual ISBA conference. He also thanked Devendra Fadnavis, the Deputy Chief Minister of Maharashtra for… pic.twitter.com/1WC6xnlHFu

— TICE.NEWS (@TiceNews) October 28, 2023
ISBACON 2023 has proven to be a confluence of innovative ideas, leadership insights, and collaborative efforts, setting the stage for the Indian startup ecosystem to thrive and prosper. With the support of government officials and industry leaders, the future of entrepreneurship in India appears brighter than ever.