In a bold move that will invigorate the startup landscape in India, Rogue Opportunities, an angel network headquartered in Gujarat, has plans to infuse over Rs 25 crores into startups across the nation over the upcoming year.
Since its inception in 2022, the organization has been on a mission to democratize angel investments and cultivate a thriving ecosystem for startups across the country.
Rogue Opportunities is run by a team of visionaries with diverse expertise, including four Chartered Accountants proficient in finance, valuations, due diligence, debt syndications, investments, compliances, and the intricate workings of the startup realm. The fifth founder, a seasoned serial entrepreneur who led the helm at BNI Ahmedabad, brings invaluable experience in business building and scaling.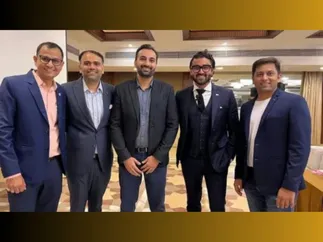 Bridging the Startup-Investor Divide
"At the core of our mission is the aspiration to bridge the gap between startups and investors. We aim to provide the essential funding and resources that are pivotal for their growth and ultimate success," stated Rogue Opportunities in an official statement.
Empowering Startups Nationwide
Dishank Shah, the Co-Founder of Rogue Opportunities, shared insights into their investment strategy, saying, "Our vision extends far beyond the confines of Gujarat. We are committed to empowering promising startups from every corner of India. Our passion lies in bolstering the brightest minds across the nation and propelling their innovative ideas to unprecedented heights."
By fostering strong partnerships with more than 200 angel investors and family offices within Gujarat, Rogue Opportunities boasts an average investment ticket size ranging from 50 lakhs to 1.5 crores. This range enables them to extend support to startups at varying developmental stages.
Gujarat Roots, National Impact: Collaborations with Investors Foster Diverse Support
While their roots are firmly planted in Gujarat, Rogue Opportunities has set its sights on expanding its influence beyond the state's boundaries. Their goal is to play a pivotal role in India's burgeoning startup ecosystem, effectively catalyzing entrepreneurship across the nation.
In addition to financial backing, Rogue Opportunities is devoted to delivering comprehensive mentoring services that facilitate the scaling of startups and ready them for subsequent funding rounds. This commitment to mentorship extends nationwide, as the organization takes on the role of a startup accelerator, actively nurturing emerging talent and fostering the spirit of entrepreneurship.
Catalyzing National Entrepreneurship
Despite its relatively short existence, Rogue Opportunities has already channeled more than Rs 12 crores into an eclectic array of startups. Some of the notable beneficiaries of their investments include ventures like Healthy Mills – the Savory, Knoksense, Ayushpay, Parkmate, and Crib.
As the startup landscape often faces periods of funding scarcity, commonly known as "funding winters," initiatives like Rogue Opportunities serve as a beacon of hope for startups struggling to secure investments during these challenging times.
With their substantial financial injections and dedicated mentoring services, Rogue Opportunities is poised to not only uplift individual startups but also contribute to the overall resilience and growth of the Indian startup ecosystem. As the organization's influence continues to extend across the nation, it is primed to play a pivotal role in shaping the future of entrepreneurship in India.