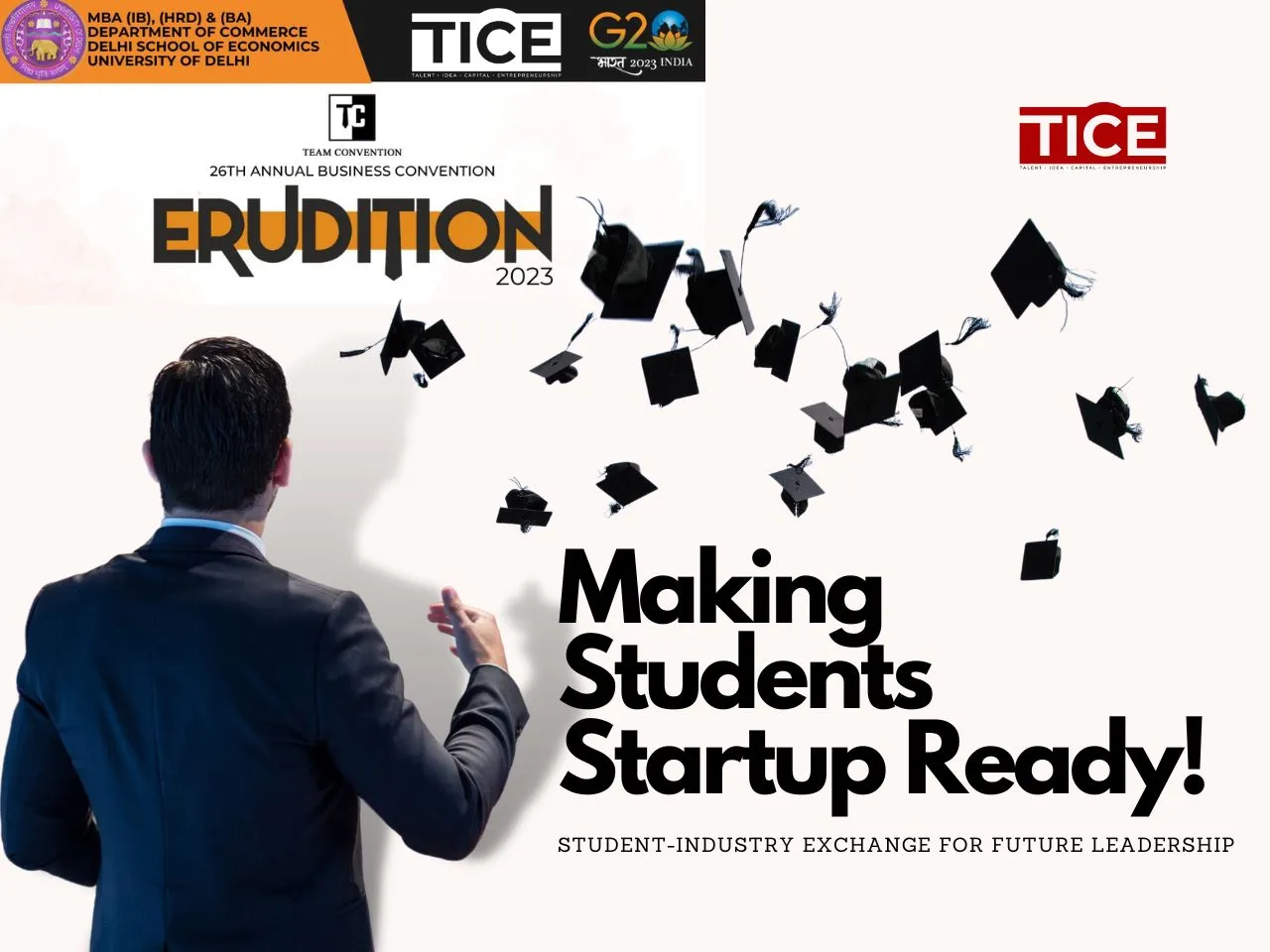 India, a nation steeped in history and cultural diversity, is taking center stage as a global leader, inspiring nations worldwide with its journey from colonial rule to democracy and rapid economic growth. The 26th Annual Business Convention, Erudition 2023, hosted by the Department of Commerce, Faculty of Commerce and Business at Delhi School of Economics, is set to celebrate India's inspirational leadership on the global stage, with the theme India's Inspirational Leadership at Global Stage: "Inspiring and Empowering the Next Generation of Leaders".
Erudition 2023 will be held on October 5-6, 2023 in New Delhi. TICE News is the media partner at the event.
India's Remarkable Journey to Global Leadership
India's ascent from colonial rule to independence and its transformation into one of the world's largest democracies and fastest-growing economies serve as an inspiration to nations worldwide. Its commitment to democracy showcases that diversity and unity can coexist harmoniously. With vibrant elections and peaceful transitions of power, India fosters political stability and inclusivity.
Economically, India's growth story is awe-inspiring. Boasting a robust IT and technology sector and a thriving startup ecosystem, India has become a global hub for innovation and entrepreneurship. The nation's ability to lift millions out of poverty while sustaining economic growth exemplifies its leadership in sustainable development.
Furthermore, India is dedicated to addressing global challenges, especially in climate change. It has committed to renewable energy and environmental conservation. India's promotion of yoga and traditional medicine highlights a holistic approach to health and well-being that resonates worldwide.
Erudition: Connecting Students with Industry Experts
Erudition, the flagship event of Delhi School of Economics' Commerce Department, provides students with direct industry exposure by learning from industry experts.
Shatrrundam Srivastav, the convener of the event, stated, "Erudition is the flagship event of DSE. It allows the students to get the direct industry exposure by learning from the industry experts. The reason why we hold this business conclave is to keep the MBA program dynamic. We believe that learning happens inside as well as outside the classroom."

Prof. (Dr.) Niti Bhasin, Programme Coordinator MBA IB, emphasized the event's role in preparing students for the industry, saying, "Erudition is a platform for our students to connect with industry experts and provides them the exposure they need to be industry-ready."

"In order to ensure that the event is a grand success, students of the department work tirelessly under the guidance of the faculty. Through effective management, swift decision making and drawing on faculty experience, they ensure a seamless and efficient conduct of the event. I extend my best wishes to the entire batch to make this year's Erudition a resounding success."
A Grand Event for Empowering Future Leaders
Prof. (Dr.) Ajay Kumar Singh, Head of the Department of Commerce and Dean of the Faculty of Commerce and Business at Delhi School of Economics, invited attendees to the convention. He stated, "I look forward to Erudition'23 becoming an enriching and elevating experience for all."
Erudition'23 is significant as it aligns with the celebration of the 75th Year of India's Independence and the centenary year of the University of Delhi (1922-2023).
The theme for Day 1 of the event is Aspirations of Yuva Bharat. On this day the speakers will discuss about India's emergence as a developed nation, the power of the young population in shaping the nation's future and what the young India aspires to achieve.
On Day 2, discussion would be held around Mentors in an Emerging Vishwaguru: India's role as a responsible global leader. The panellists and experts will deliberate upon the importance of mentorship in nurturing young talent and embracing Indian culture and values in a modern world.
Distinguished Guests and Keynote Speakers
Mr Ruhail Ranjan, Director Finance (Treasurer), BRICS Chamber of Commerce &
Industry will be the Chief Guest, Colonel Hemraj Singh w the key note speaker while Mr Bikas K Singh, Vice President & India Head, Government Affairs, SAP, and and Mr Vivek Mukherjee ( CHRO, Benetton Group) will be the distinguished Alumni at the event.
Mr. Manoj Singh, Managing Editor and CEO, TICE News, a veteran journalist and a keynote speaker at the event, will be deliberating on 'Mentors Guiding in an Emerging Vishwaguru: Guiding Young India to Leave a Mark on World Stag'. 
Other keynote speakers at the event include  Sougat Chatterjee, Managing Director of Abhay Ventures, Colonel Hemraj Singh, Co-Founder, AyushPay; Abhijit Das, International Trade Policy and WTO Expert; Neha Gupta, Director, Mergers & Acquisitions, Deloitte; Sanket Agarwal, Executive Director, CFO services, Alok Varshney, Rakesh Sinha, Sameer Mathur, Mahinder Seth, Shanashank Shekhar Sharma, Nitesh Arya, Anamika Yaduvanshi and Subhajit Bhattacharya.
Erudition 2023 promises to be an enlightening event, showcasing India's global leadership and empowering the next generation of leaders who will shape the future. The convention's celebration aligns with India's milestones, making it an event of national and international significance.