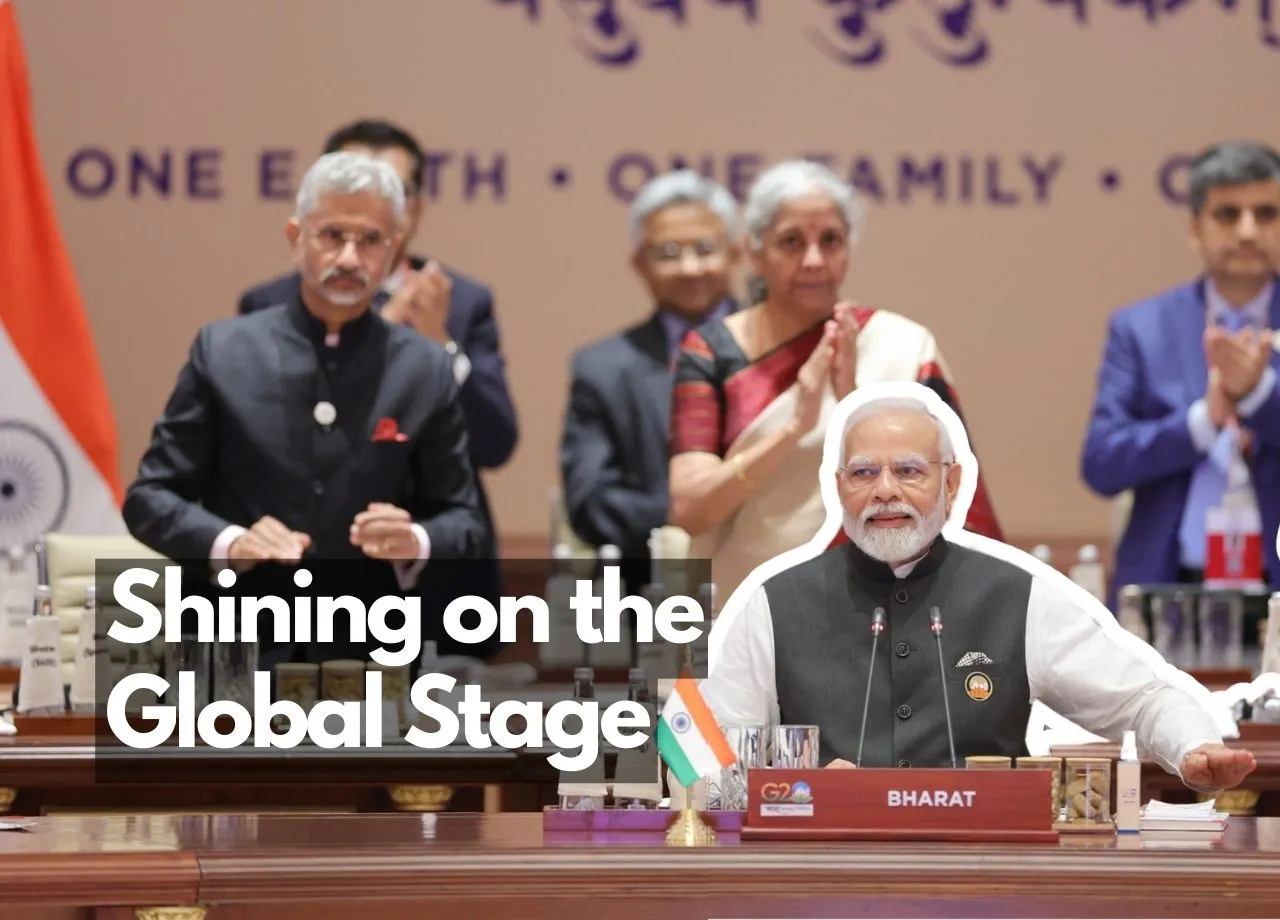 It has truly been the Bharat Moment at the G20 Leaders' Summit held in the national capital. The final outcome of Bharat's year-long G20 Presidency, with over 200 meetings held across all Indian States and Union Territories, has showcased Bharat's diplomatic prowess and strategic brilliance.
The summit resulted in various action-oriented deals, pacts, and cooperation agreements among global leaders.
India has made it a 'People's G20' pic.twitter.com/PpPGBdXn8C

— PMO India (@PMOIndia) September 9, 2023
Role In African Union's Inclusion: India's Diplomatic Brilliance
The inclusion of African Union within G20 group, effectively transforming it into the G21, has been a big further solidified Bharat's position as a champion of the Global South.
India's diplomatic prowess was evident not only in its role in achieving consensus on contentious clauses regarding Ukraine but also in welcoming the AU.
The African Union, represents 55 countries, over a billion people, and a total GDP of USD 7.573 trillion, was a long-overdue addition to the G20. Africa's vast resources and market potential make it a crucial player on the global stage.
It was due to Prime Minister Narendra Modi's proactive approach from the beginning of India's G20 Presidency when he convened the "Voice of the Global South" conference virtually.
He had been advocating from the beginning of G20 for the focus towards Global South and extended a personal invitation to the AU to join the Delhi summit. Despite initial hesitancy from some G20 states, it became challenging to oppose the AU's inclusion, solidifying India's position as a champion of the Global South. However, in the end the decision to AU into G20 got the nod from all the members.
Many Triumphs for Indian Diplomacy
Apart from the inclusion of the AU, the summit witnessed other significant achievements:
India's biggest achievent in the G20 Summit is 100% consensus on New Delhi Leaders' Declaration which has 83 paragraphs. This was the first time that all the members unanimously agreed to the declaration with no foot notes.
Productive discussions at the G20 Summit for a better planet... pic.twitter.com/rNSOOHpB5L

— Narendra Modi (@narendramodi) September 10, 2023
2. India-Middle East-Europe Economic Corridor
The announcement of the India-Middle East-Europe Economic Corridor marked a milestone in economic collaboration. This initiative involves multi-modal transport, digital infrastructure, and economic cooperation between India, the UAE, Saudi Arabia, EU countries like Italy, France, and Germany, as well as the United States. The terms of this initiative were seen as more equitable and compact compared to China's Belt and Road Initiative.
2. Global Biofuel Alliance
India's diplomacy shone in its effort to balance the interests of oil-producing countries and nations like India, heavily dependent on fossil fuels, while transitioning to clean energy. The announcement of the  Global Biofuel Alliance was a testament to India's deft diplomatic skills, with seven G20 countries, 12 non-G20 countries, and 12 international organizations joining the alliance.
3. Sabka Saath, Sabka Vishwaas – A Global Mantra Now
Prime Minister Modi's mantra "Sabka Saath, Sabka Vishwaas, Sabka Prayas, Sabka Vikas" is now being considered a global mantra complimenting India's G20 theme Vasudaiva Kutumbhakam.
Bharat has showcased the world a commitment to inclusive and resilient growth, progress on Sustainable Development Goals (SDGs), green development through Mission LiFE, technological transformation, public digital infrastructure, multilateral institution reform, women-led development, and international peace and harmony.
4. Bharat's Growing Influence In International Institutions and Forums
Bharat's emphasis on comprehensive global betterment reflects India's growing influence in international institutions and forums. India's active participation in multilateral events like the G20 highlights its role as a force for global good, contributing to regional and global stability, peace, and prosperity. Additionally, India's dedication to amplifying the voices and concerns of the Global South and developing nations underscores its leadership on the world stage.
A Recognition of India's Promise
Mitigating global trust deficit, furthering atmosphere of trust and confidence. pic.twitter.com/Yiyk5f7y9j

— PMO India (@PMOIndia) September 9, 2023
The G20 Leaders' Summit in 2023 was a moment in the sun for India's brilliant diplomacy. It carved India's role as the champion of the Global South and positioned it as a bridge between the North-South and East-West divides. The inclusion of the African Union, the establishment of the India-Middle East-Europe Economic Corridor, and the formation of the Global Biofuel Alliance were key achievements that showcased India's commitment to global cooperation, sustainable development, and strategic brilliance.
The G20 Leaders' Summit 2023 has not only left an indelible mark on India's diplomatic history but has also reinforced its position as a global leader dedicated to fostering a more inclusive and interconnected world. The theme of India's G20 Presidency, "One Earth, One Family, One Future," reflects the nation's commitment to global unity, prosperity, and shared progress.
Shared my thoughts during Session 3 of the G20 Summit. This Session focussed on the theme of 'One Future.' Emphasised on the need of the hour being to look beyond the idea of a Global Village and make the vision of Global Family a reality. pic.twitter.com/KcypGXdLsP

— Narendra Modi (@narendramodi) September 10, 2023