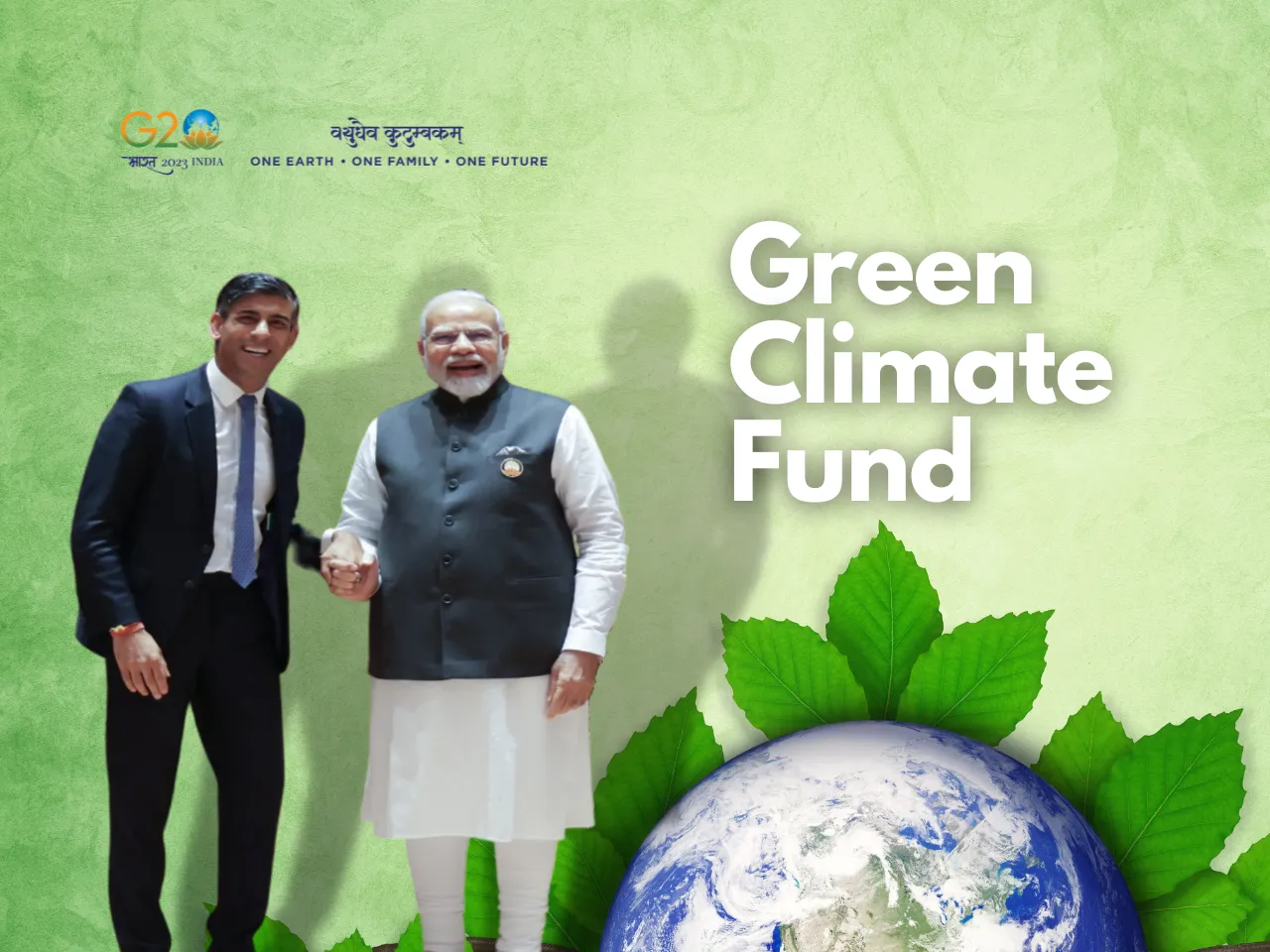 Bharat Prime Minister Narendra Modi underscored the critical need for global cooperation in combating climate change and funding the transition to sustainable energy systems at the G20 Leaders' Summit. Proposals, from shifting to "Green Credits" to launching the Global Biofuel Alliance, signal a commitment to bold and innovative solutions. Moreover, the substantial contribution by the UK to the Green Climate Fund highlight the global consensus on the urgency of addressing climate change. The world's battle against climate change has reached a pivotal moment, and countries are stepping up their efforts to combat this global crisis. 
G20 in India: A Platform for Climate Action
The  G20 summit in India served as a significant platform for addressing climate change on a global scale. Against the backdrop of pressing climate concerns, Prime Minister Narendra Modi recently emphasized the urgent need for global cooperation in addressing climate change and financing the transition to sustainable energy systems during the G20 Leaders' Summit.
"Keeping in mind the challenge of climate change, energy transition is a significant need of the 21st century world. Trillions of dollars are required for an inclusive energy transition. Naturally, developed countries play a very crucial role in this," Prime Minister Narendra Modi said. 
What is the Green Climate Fund?
The Green Climate Fund (GCF) is a financial mechanism established under the United Nations Framework Convention on Climate Change and the Paris Agreement. Its primary objective is to assist the international community in achieving both mitigation and adaptation goals related to climate change. The GCF plays a pivotal role in channeling funds to developing countries, enabling them to reduce greenhouse gas emissions and adapt to the adverse effects of climate change.
UK's Generous Contribution: A Step Forward
United Kingdom Prime Minister Rishi Sunak announced a groundbreaking climate aid commitment during the recent  G20 summit held in India. This commitment involves the UK pledging a staggering $2 billion to the Green Climate Fund (GCF), marking the most substantial single funding commitment ever made by the UK to combat climate change.
The UK's commitment to the Green Climate Fund is just one facet of the country's broader pledge to international climate finance. The UK Government has pledged approximately £11.6 billion ($4.46 billion) to support global efforts in combating climate change. This substantial financial commitment reflects the UK's determination to make a meaningful impact on the world stage in the fight against climate change.
The Global Impact of Green Climate Fund Contributions
The Green Climate Fund, often hailed as the world's largest climate fund, plays a critical role in helping developing nations achieve their climate-related targets. These targets encompass reducing carbon emissions, developing cleaner energy sources, and adapting to the challenges posed by a warming world. 
The Green Development Pact
PM Modi lauded the G20's adoption of the 'Green Development Pact,' reaffirming its commitment to sustainable and green growth. This pact signifies a collective commitment to shaping a more sustainable future for our planet. It reflects the growing consensus among world leaders that environmental conservation is not just a moral obligation but a necessity for our shared future.
G20's Collective Commitment
The G20 summit's declaration reiterated the member nations' commitment to scaling up sustainable finance to assist developing countries in reducing their carbon footprints. It's estimated that developing countries require a staggering $5.8-5.9 trillion before 2030 to meet their emissions reduction targets effectively. The G20's collective commitment to this cause sends a powerful message that climate action is a global priority.
"We commit to urgently accelerate our actions to address environmental crises and challenges including climate change. We recognize that the impacts of climate change are being experienced worldwide, particularly by the poorest and the most vulnerable, including in LDCs and SIDS. Mindful of our leadership role, we reaffirm our steadfast commitments, in pursuit of the objective of UNFCCC, to tackle climate change by strengthening the full and effective implementation of the Paris Agreement and its temperature goal, reflecting equity and the principle of common but differentiated responsibilities and respective capabilities, in light of different national circumstances," the G20 New Delhi Leaders' Declaration said. 
From Carbon Credits to Green Credits
Prime Minister Modi urged G20 countries to initiate work on a 'Green Credit Initiative,' promoting positive environmental efforts and encouraging constructive initiatives.
India itself has already taken significant steps in this direction, designing a "Green Credits Programme." This initiative aims to incentivize voluntary environmental actions undertaken by various entities, including individuals, private sectors, small-scale industries, cooperatives, forestry enterprises, and farmer-produce organizations.
A Call to Action: The Global Biofuel Alliance
PM Modi announced the launch of the Global Biofuel Alliance and urged G20 nations to join this initiative. His plea was clear: increase ethanol blending with petrol globally to 20 percent. This ambitious goal aligns with the broader mission to reduce the carbon footprint of transportation, a major contributor to greenhouse gas emissions.