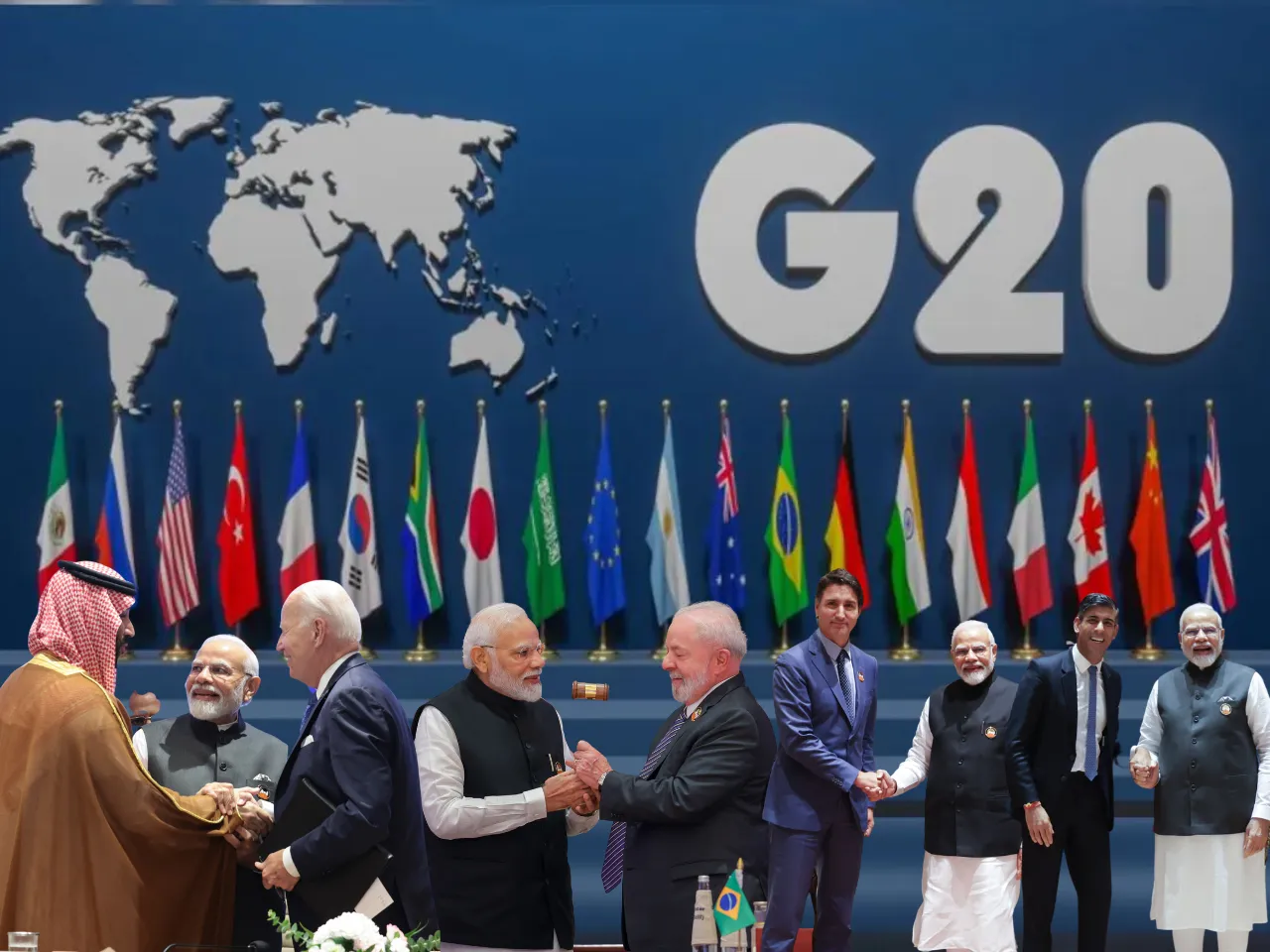 The world has been amazed by the incredibly successful G20 Summit under India's Presidency. The G20 Bharat Summit under India's Presidency has come to symbolize inclusivity, both domestically and internationally with the motto of 'Sabka Saath, Sabka Vikas, Sabka Vishwas, Sabka Prayas' given by Bharat Prime Minister Narendra Modi in the opening remarks of the G20 Summit Leaders' Meeting. 
PM Modi officially passed the ceremonial G20 Presidency gavel to Brazilian President Luiz Inacio Lula da Silva during the closing ceremony of the Leaders' Summit in Delhi on Sunday. However, PM Modi also announced that India would host an additional summit, to be conducted virtually, at the end of November. India assumed the G20 Presidency from Indonesia on December 1, 2022, and will retain it until November 30th.
Let's look at the major happenings that took place over the course of the two days of the G20 Summit held in New Delhi. 
G20 Summit Day 1 (September 9) 
PM Modi welcomed global leaders at Bharat Mandapam. They were 

personally greeted by Prime Minister Narendra Modi on the building's second level. During the customary photo-op, PM Modi shook hands with leaders in front of a backdrop featuring Odisha's Konark Wheel.

PM Modi, as G20 President, emphasized the global trust deficit and called on the world to transform it into trust and confidence. He noted that just as we conquered the pandemic, we can overcome the trust deficit challenge that emerged in its wake.
The G20 summit saw PM Modi using the nameplate "Bharat" instead of India.
At the G20 Summit in New Delhi, all participating nations reached a consensus on the New Delhi Leaders' Declaration, a comprehensive document with 83 paragraphs covering areas such as women's empowerment, finance, inclusion, green climate action, etc.

Under India's presidency, the G20 nations achieved consensus on the Ukraine conflict,

 after 150+ hours of negotiations, including China and Russia.
India unveiled plans for the India-Middle East-Europe Economic Corridor to rival BRI.
African Union became a G20 permanent member, the first expansion since 1999.

During their G20 meeting in New Delhi, Prime Minister Narendra Modi and British counterpart Rishi Sunak affirmed their commitment to swiftly pursue a significant free trade agreement (FTA) and make progress towards its realization.

India launched the Global Biofuel Alliance, urging G20 nations to join for 20% ethanol blending.
PM Modi proposed the 'G20 Satellite Mission for Environment and Climate Observation' and 'Green Credit Initiative' at the summit.

G20 leaders, during the Delhi summit, committed to tripling global renewable energy capacity and reaffirmed their 2009 pledge to reduce fossil fuel subsidies. They also agreed to double energy efficiency gains by 2030 and establish a green hydrogen innovation center through the International Solar Alliance to advance technology and market development for this future energy source.

India's G20 presidency theme, 'Vasudhaiva Kutumbakam – One Earth, One Family, One Future,' serves as a worldwide blueprint for sustainable, inclusive, and people-centered development, emphasized President Droupadi Murmu on Saturday. President Murmu also hosted a gala dinner for the G20 delegates. 
G20 Summit Day 2, (September 10)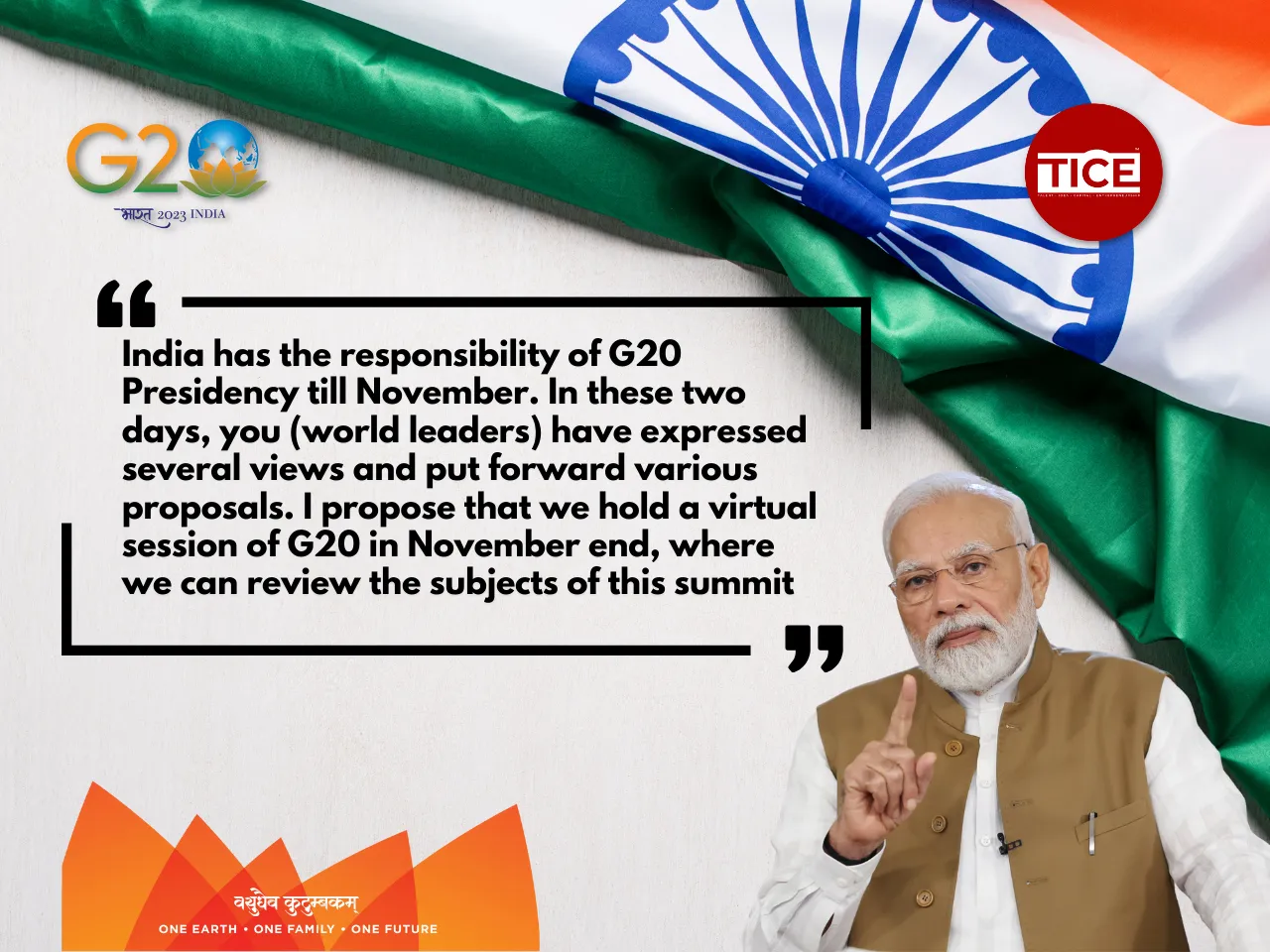 The day began with world leaders paying tributes at Mahatma Gandhi's memorial at Rajghat. 

UK Prime Minister Rishi Sunak and his wife Akshata Murty visited Swaminarayan Akshardham temple, arriving at 6:30 am and spending around 40 minutes to an hour at the site on Sunday morning.

The concluding session, "One Future," took place at Bharat Mandapam. Later, PM Modi engaged in bilateral meetings with leaders like Emmanuel Macron, Olaf Scholz, Justin Trudeau, Yoon Suk Yeol, Recep Tayyip Erdogan, and Azali Assoumani on matters of mutual interest.
PM Modi had a productive meeting with African Union Chairperson Azali Assoumani, congratulating the AU on joining the G20 as shared by him on X. They discussed strengthening cooperation in areas like shipping and trade, emphasizing Comoros' importance to India's SAGAR Vision.

PM Modi expressed concerns to Canadian PM Trudeau about extremist activities in Canada promoting secessionism and violence against Indian diplomats and communities. Modi emphasized the need for a relationship based on "mutual respect and trust" for India-Canada progress as per PIB.

PM Modi and German Chancellor Olaf Scholz reviewed their bilateral Strategic Partnership, focusing on defense, sustainable development, critical minerals, skilled personnel mobility, and education cooperation. Modi invited Scholz to India for the next Intergovernmental Commission meeting in the coming year as per PIB.

PM Modi and EU Commission President Ursula von der Leyen discussed the India-EU Strategic Partnership, Free Trade Agreement talks, climate change, LiFE, digital technology, and the Trade and Technology Council. They also emphasized the swift implementation of the India-Middle East-Europe Economic Corridor and explored solar projects within it as per PIB.

PM Modi and President Yoon Suk Yeol of South Korea discussed their Special Strategic Partnership, covering trade, defense production, semiconductors, EV batteries, and also talked about regional and global matters during their bilateral meeting as per PIB.

PM Modi met Nigerian President Tinubu at the G20 Summit, where Tinubu congratulated Modi on India's G20 Presidency success, thanked him for African Union's permanent G20 membership, and discussed bilateral cooperation in trade, defense, agriculture, fintech, and capacity building as per PIB.

PM Modi and Turkey's President Erdogan discussed enhancing trade and infrastructure ties, with Erdogan highlighting India as Turkey's top South Asian trade partner. Erdogan also praised the African Union's G20 membership, anticipating it would rejuvenate the group as per PIB.

PM Modi urged reforms in global organizations, citing the stagnant UN Security Council's permanent members. He emphasized adapting to changing times and called for global standards to regulate cryptocurrency during the G20 Summit's "One Future" session.

PM Modi proposed a virtual conclave in November to review the progress of initiatives undertaken during India's Presidency.

The G20 Leaders' Summit 2023 ended with PM Modi transferring the Presidency to Brazil's President Lula da Silva, who will take over from December 1. PM Modi expressed confidence in Brazil's leadership to advance shared G20 objectives. 
Construindo um Mundo Justo e um Planeta Sustentável. Esse é o lema da presidência do Brasil no G20. Ações que nos guiam nas ações do governo federal no nosso país e agora à frente do G20.

📸 @ricardostuckert pic.twitter.com/OTPK1BjJS1

— Lula (@LulaOficial) September 10, 2023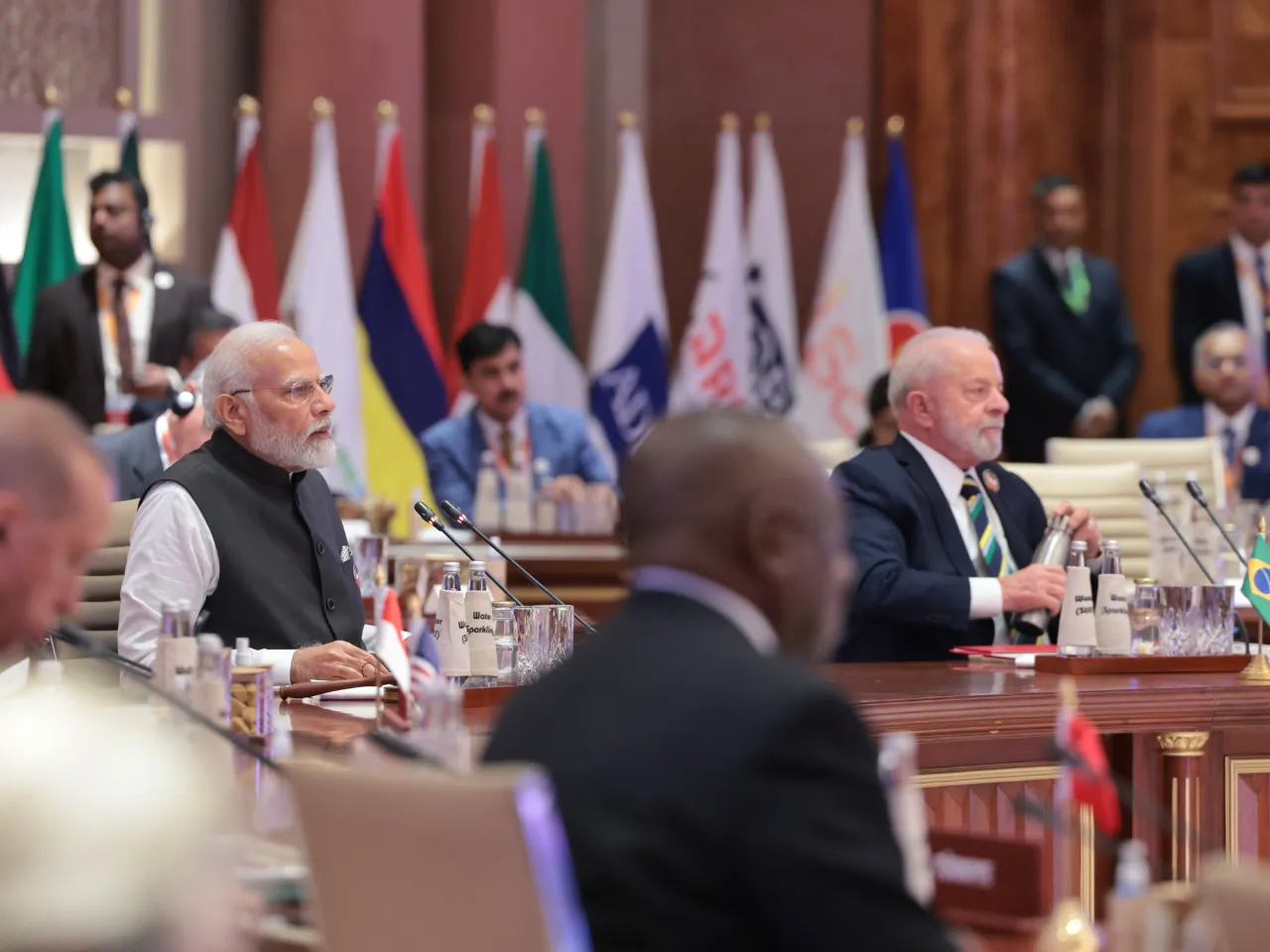 In his final remarks PM Modi emphasized the need for global reforms, including those in the United Nations, to align with changing realities, stating that failure to adapt leads to irrelevance.
"It's nature's law that those who don't change with times lose their relevance. As you are aware, India holds the G-20 Presidency till November. There are still two and a half months left. In these two days, all of you have put forth many things, given suggestions, made many proposals. It is our responsibility to once again look at the suggestions that have come forward, to see how thier progress can be accelerated. I propose that we hold another virtual session of the G-20 Summit at the end of November. In that session we can review the topics decided during this summit. Our team will share the details of all these with you all. I hope you all will join in this. With these words, I officially conclude this G-20 Summit. May the path toward One Earth, One Family, One Future be pleasant. स्वस्ति अस्तु विश्वस्य! Which means there let there be hope and peace in the entire world. With the well-wishes of 140 crore Indians, I express our sincere gratitude to all of you," PM Modi concluded.