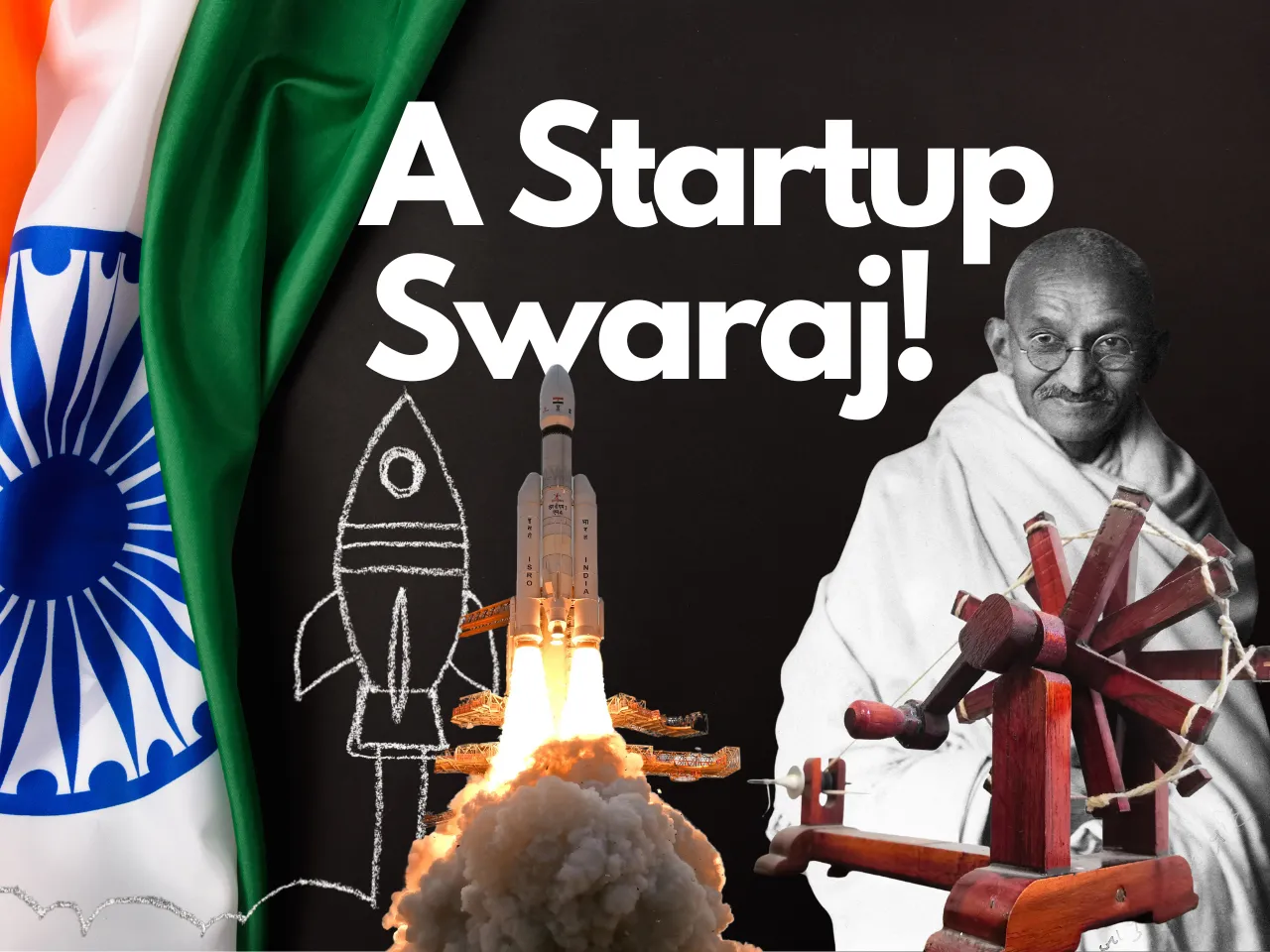 As the world celebrates Gandhi Jayanti, the idea of the Gandhian Economy and the modern-day capital-driven economy has become a point of discussion and deliberation. Was Mahatma Gandhi against capital? Was he at loggerheads with entrepreneurship and industrialists? The answer is a big 'No.' Gandhi Ji had a deeper understanding of economics than many perceive today. His concept of 'Gram Swaraj,' often described as opposing a capitalist economy, was all about empowering entrepreneurship at the grassroots level. 
Celebrating Entrepreneurship at the Grassroots on Gandhi Jayanti
At the heart of Gandhi's concept of Gram Swaraj lies the vision of a society's comprehensive growth, placing individuals at the centre of the economic system. Gandhi emphasised the importance of the village economy and prosperity as a response to the challenges posed by urbanisation and urban poverty, which led to various socio-economic issues, including moral corruption within society. In this regard, Gandhi envisioned economic development at the grassroots level, putting forward the idea of Gram Swaraj. Today, this vision finds resonance in the startup landscape, especially in India's smaller towns and cities. In today's world, where India stands among the top five global economies and is on the verge of becoming the third-largest economy, Gandhi's concept of Gram Swaraj and self-reliance retains significant relevance, albeit in a different form.
Startup Swaraj: Reshaping Small Towns for Entrepreneurial Success
Gandhi in his idea of Gram Swaraj tried to solve problems of rural areas such as migration, unemployment, access to livelihoods, education and health services. A country as vast as India, with a population of 1.4 billion people, cannot achieve true self-reliance unless we empower our small towns and cities to be more self-reliant in terms of entrepreneurship. This involves providing them with all the necessary elements of a Startup Ecosystem, namely Talent, Ideas, Innovation, Capital, and an Entrepreneurial mindset. India, referred to as Bharat, remains a viable ground for implementing Gandhi's 'Gram Swaraj' as 'Startup Swaraj' in tier 2 and tier 3 cities, as well as small towns. The Economic Survey 2022-23 shows how 'Startup Swaraj' has picked up in India as 48% of Indian Startups are from Tier II, III Cities. 
Local Solutions, Global Impact: Startup Swaraj in India
Mahatma Gandhi's development approach aimed at national reconstruction by revitalising rural regions, emphasising self-sufficiency, harmony, education, employment, and revenue generation. In today's context, as India emerges as a hot spot for startups, tier 2 and tier 3 towns are emerging as the next startup destinations for new businesses and innovation. The 'Starup Swaraj' approach is solving local problems locally, generating small-scale employment opportunities at the micro level. These Swaraj Startups are providing solutions at scale in diverse sectors such as healthcare, education, homegrown, agriculture, which is the foundation of Gandhi's idea of Gram Swaraj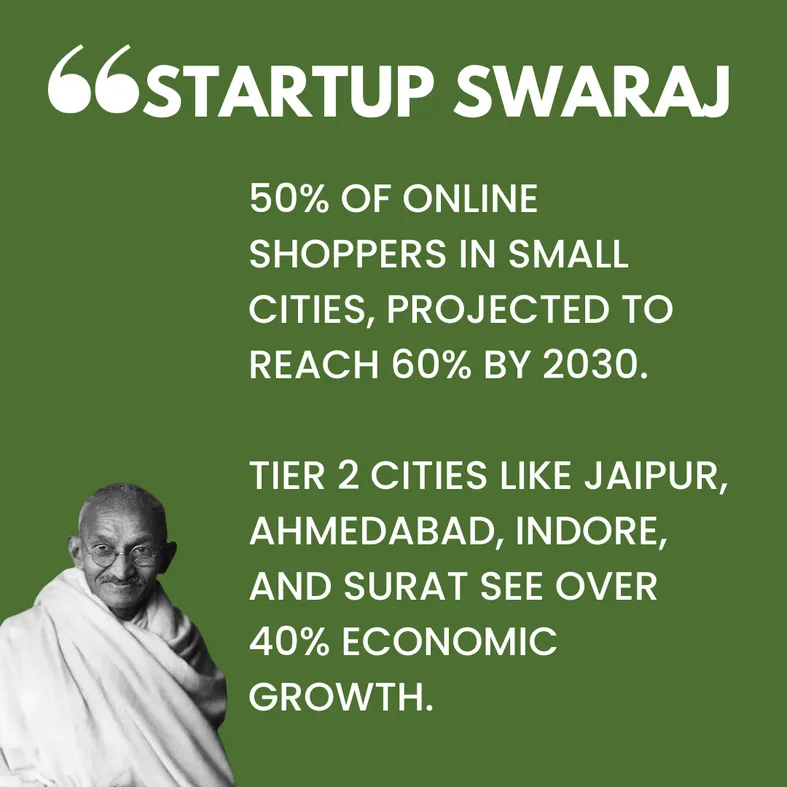 Empowering India: Startup Swaraj's Role in Aatmnirbhar Bharat
The Startup Swaraj is not only helping the 'Gram' but also the country to grow self reliant or Aaatmnirbhar. The ongoing tech revolution witnessed in Tier 2 and Tier 3 cities are fuelling the country's economic growth and driving socioeconomic transformation on a global scale. improved infrastructural support, quicker internet, favourable working conditions, better transport communication, and accessibility to an immense pool of talent have all been significant contributors to start-up boosts in small cities. 
Rooted in Gandhian Vision: Gram Swaraj's Relevance in Indian Entrepreneurship
In today's India, startups embrace Gandhi's 'Startup Swaraj'. These startups in tier 2 and tier 3 cities actively involve communities, customise solutions for local needs, and efficiently use local resources. They address local challenges in healthcare, agriculture, and education. Gandhi's idea of promoting rural employment through village industries resonates with these startups. They use technology to reach a global audience while adhering to Gandhi's belief in supporting local initiatives. The values of inclusivity and diversity, essential to Gandhi's Gram Swaraj, are evident in startups that create opportunities in smaller cities. These modern startups align with Gandhi's principles, giving priority to local needs, resources, and empowering the community.