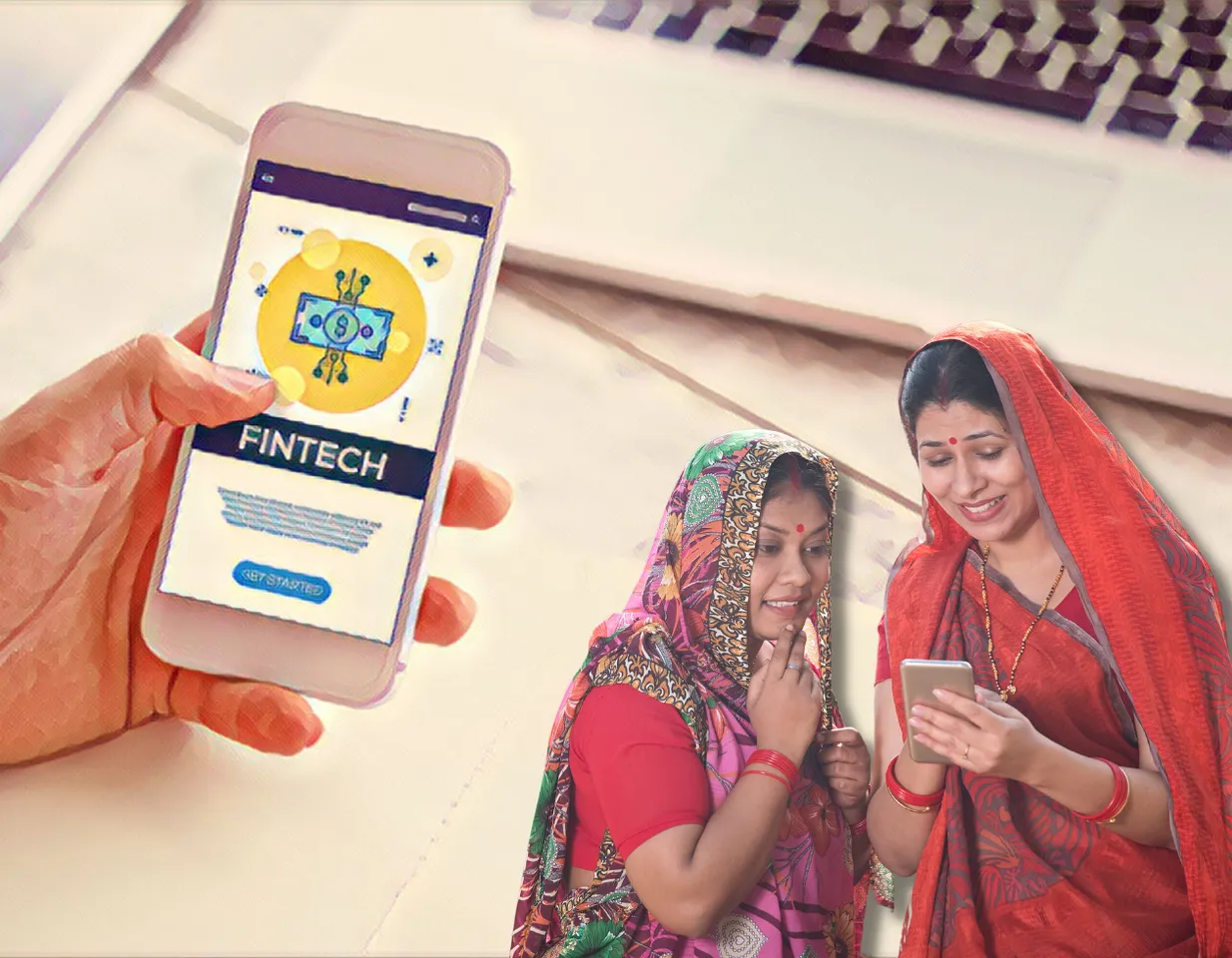 A remarkable aspect of the FinTech revolution in India is its profound impact on gender equity and financial inclusion for women. In the year 2022, a noteworthy milestone was achieved when 42% of the entities registered with the Department for Promotion of Industry and Internal Trade (DPIIT) as FinTech startups had at least one woman director leading them. This statistic is a striking contrast when compared to the broader corporate landscape represented by the NIFTY500 companies, where a mere 18% had women directors at the helm.
According to the report titled 'Growing Inclusion in India: The FinTech Way,' a collaborative effort by Startup India, DPIIT, and BCG, FinTech companies are poised to play a pivotal role in further enhancing inclusion in the country. As of May 15, 2023, India boasts over 99,000 DPIIT-recognized startups spanning 673 districts and 57 different sectors, with more than 3,000 of them belonging to the FinTech sector.
Rise of Fintech in India
The rise of FinTech in India is not a mere coincidence. It's supported by substantial evidence. India has emerged as one of the world's largest FinTech hubs, boasting more than 10,000 FinTech companies and a cumulative funding of USD 17.9 billion since 2020. This robust growth underscores the sector's potential to drive financial inclusion across the nation. 
Financial inclusion is a critical component of a nation's growth story. India, under the leadership of Prime Minister Narendra Modi, aspires to become a USD 40 Trillion economy by 2047. One of the key pillars supporting this ambitious goal is "Inclusion for all." Over the past decade, India has witnessed remarkable progress in this regard, thanks to effective government reforms, the development of a robust tech ecosystem, and a renewed focus on Micro, Small, and Medium Enterprises (MSMEs) and entrepreneurship.
Financial Inclusion for Women
One remarkable aspect of this FinTech  revolution in India is its impact on gender equity and financial inclusion for women. In 2022, 42% of entities registered with DPIIT as FinTech startups had at least one woman director. This statistic represents a four-percentage-point advantage over NIFTY500 companies, where only 18% had women directors.
Sankul Capital, for example, has been at the forefront of empowering women in rural areas by providing flexible loans. This initiative aligns with the broader goal of enhancing financial inclusion for women in India.
Beyond the Numbers
The statistics alone don't tell the full story. Companies registered with DPIIT as fintech startups have set a new benchmark for women's equity. Notably, 48% of FinTech startups with at least one woman director hail from beyond Tier-I cities. This growth is substantial, with a 44% increase from 2013 to 2022, compared to the 31% growth observed in Tier-I cities.
The broader ecosystem is also actively working towards increasing equity for women. Initiatives like SEWA's literacy programs for women and RBI Innovation Hub's Swanari program are making significant strides in this direction. Moreover, e-commerce players are creating new entrepreneurship opportunities for women.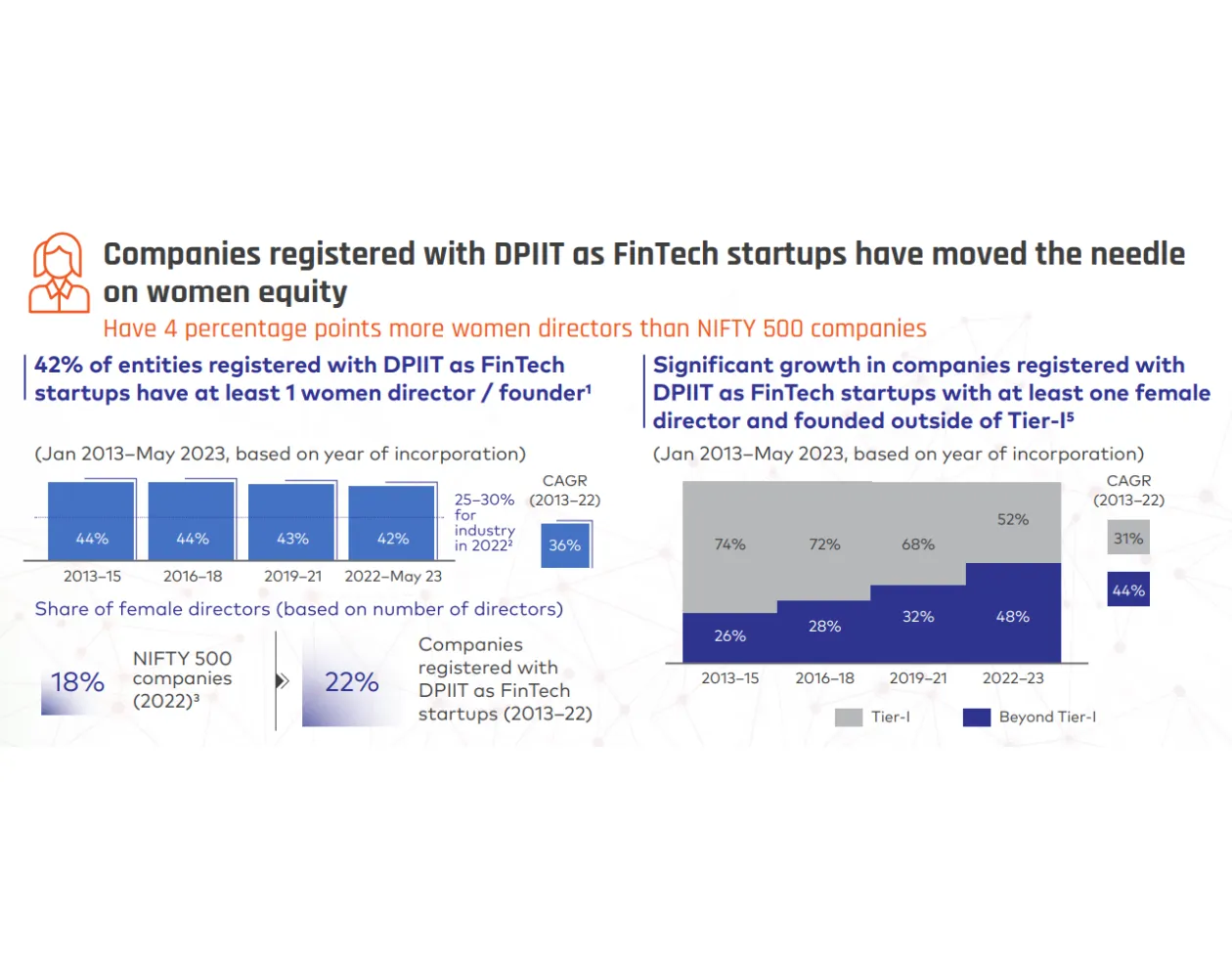 Driving Factors for Women's Participation in FinTech
Several factors have fueled the participation of women in the FinTech sector:
Skilling: The upskilling of women through various programmes and schemes has resulted in more women participating in the FinTech revolution. Platforms such as Women Entrepreneurship Platform (WEP) by NITI Aayog offers a platform for women to access funding and incubation opportunities. Telangana's WE Hub serves as a state incubator for woman entrepreneurs, providing funding, incubation, and support.
"Women entrepreneurship and FinTechs form a dynamic partnership…drives social change and inspires the next generation of leaders. WE Hub has become a breeding ground for transformative FinTech ideas," Deepthi, CEO, WEHub Telangana.
Literacy and Connectivity: The percentage of women with higher education has increased from 12% to 32%. Approximately 47% of active internet users in India are females, enabling easier access to information and opportunities.
Funding: One of the major reasons that have led to the accelerated participation of women are funding schemes designed and curated especially for woemn. Initiatives like SIDBI in 2016 allocated INR 1,000 Crores for women-led startups. The Credit Guarantee Scheme offers coverage up to 85% for women, compared to the standard 75%.
The Broader Ecosystem's Contribution
Beyond FinTech companies, the broader ecosystem is actively working to drive literacy and financial access for women:
Enhancing Financial Literacy for Women
SEWA, India's first and largest trade union of self-employed women, has trained over 11,000 women in various financial literacy courses.
SEWA, in collaboration with the Better Than Cash Alliance, has developed a 10-point plan for digital financial inclusion of women, focusing on designing affordable financial products and harnessing e-commerce opportunities.
RBI Innovation Hub's "Swanari" TechSprint Program
This flagship program of RBIH aims to conceptualize, develop, and support innovations in technology that enhance access, usage, and quality of financial services for all women in India.
Empowering Women in Tier-II/III Cities
Companies like Meesho are actively empowering women and promoting entrepreneurship in smaller towns and cities. The majority of their entrepreneurs fall within the 18–45 age group, and a substantial 70% come from Tier-II markets.
The role of FinTech in driving financial inclusion in India is undeniable. As India continues on its path to becoming a USD 40 Trillion economy, the FinTech sector, along with supportive government initiatives and a proactive ecosystem, will continue to be a beacon of hope, paving the way for a more inclusive and prosperous India.