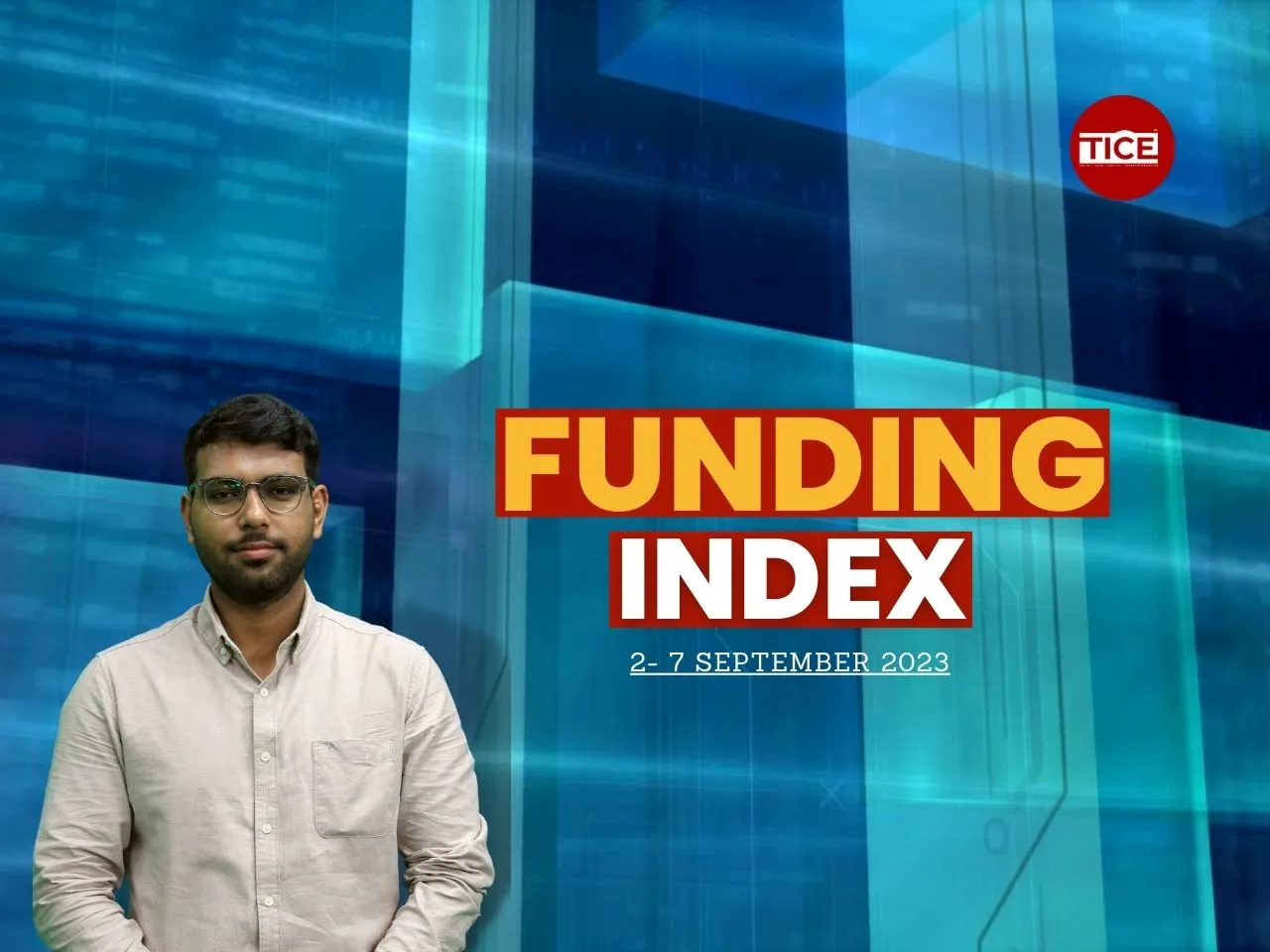 The funding data of Indian startups from August 26 to September 1, 2023, provides valuable insights into the funding landscape. In this period, several startups secured funding across various funding types, including Seed, Series A, Series B, Series E, and Conventional Debt. Let's delve into the key findings and highlight the significant aspects of the report.
As per the data compiled by TICE Startup Funding Index, a total of 19 startups raised funding (including undisclosed funding rounds) between August 26 to September 1. The total funding amount raised by Indian startups come close to $250M (excluding undisclosed funding rounds). The funding raised this week is a major improvement as compared to last weeks' funding raised by the Indian startups. However, what could be concerning is the fact that Zepto, the quick commerce startup raised $200M to become this year's 2nd Unicorn after Zyber. The remaining 18 starups could raise close to $50M (excluding undisclosed funding rounds). 
Top Startups with the Highest Funding Raised:
Zepto: Mumbai's quick-commerce delivery startup, Zepto raised $200 million in its Series E funding round, valuing the company at $1.4 billion. This marks Zepto's total funding to around $560 million across various rounds. Notably, the funding round welcomed new investors like StepStone Group and Goodwater Capital, along with continued support from existing backers, including Nexus Venture Partners, Glade Brook Capital, and Lachy Groom, among others. Zepto competes with industry players like Instamart, Blinkit, and Dunzo.
MediBuddy: MediBuddy, the digital healthcare platform, has secured an additional $18 million in funding from its current investors, Quadria Capital, Lightrock, and TEAMFund. This equity infusion will fuel the company's strategic expansion efforts. Following its $125 million Series C funding in February 2022, this latest investment strengthens MediBuddy's position to pursue its ambitious growth plans in the coming three years, according to the company's statement.
SatSure - A provider of satellite Earth observation data and analytics, recently concluded a Series A funding round totaling $15 million in equity and venture debt, led by Baring Private Equity Partners (BPEP), India, and Promus Ventures. New investors Omidyar Network India and xto10X joined the round, alongside existing supporters Force Ventures, Luckbox Ventures, and IndigoEdge Advisors. The funds will aid SatSure in its ambitious plan to launch four high-resolution optical and multispectral satellites by Q4, 2025, while also facilitating expansion across the US and Asia-Pacific regions. SatSure's satellite imagery and AI-driven decision intelligence services offer valuable insights to industries such as agriculture, banking, and critical infrastructure, enhancing profitability, operational efficiency, and policy decision-making.
Major Developments of the Week:
The Indian government under the Grant for Research and Entrepreneurship across Aspiring Innovators in Technical Textiles (GREAT) will provide a grant of up to INR 50 Lakh to startups to promote technical textiles in the country.

Venture capital (VC) firm gradCapital launched its second fund with a total size of $6 Mn to invest in student startups.
Ola has integrated an 'ONDC Food' feature into its app, initially accessible exclusively to its employees, following several months of experimentation. This development follows CEO Bhavish Aggarwal's recent announcement of the company's intention to join ONDC, with specifics yet to be disclosed.

BYJU'S has accumulated unpaid vendor dues of approximately INR 45 to INR 50 Crores, including Salesforce, Tableau, and Tooljet, over the past two months. This delay in payments has led to the loss of access to crucial data management tools for BYJU'S employees as per media reports. Earlier, top executives also quit the edtech giant. 

In August 2023, UPI achieved a significant milestone by processing over 1,000 crore monthly transactions, marking a 2.8% month-on-month increase from July 2023. These transactions were valued at INR 15.18 lakh crore, slightly down by 1% from the previous month. This achievement comes within seven years since UPI's inception in 2016, with the NPCI aiming for 100 crore daily transactions in the near future.

Amazon is partnering with Indian Railways and Indian Post to establish a dedicated shipping corridor for its sellers, aiming to expedite nationwide deliveries. They also plan to enable $20 billion in exports from over 2 million digitized SMEs in India while launching multi-channel fulfillment for D2C businesses to utilize Amazon's infrastructure.

Google has brought its generative AI features to Indian Search, enabling users to switch between English and Hindi and listen to results. Additionally, dedicated ad slots will continue to display Search ads on the page.

The Global IndiaAI 2023 summit will be hosted by the Ministry of Electronics and Information Technology (MeitY) in October, seeking to boost investment in India's AI startup ecosystem, unite global and domestic AI players, and catalyze innovation in the country's AI landscape.
Startup Name

Founding Year

Funding Type

Funding Raised

Investor 

Zepto 
2021
Series E
200M

StepStone Group, Goodwater Capital, Nexus Venture Partners, Glade Brook Capital, and Lachy Groom

Upraised
2019
Seed
30.2K

Pontaq VC

Scrap Uncle 
2019
Pre-Seed 
447K

Bestvantage

Facets.cloud
2021
Venture Debt
4M

Led by 3one4 Capital

MyWays
2019
Seed
96.8K
Realtime Angel Fund,

YourNest, Spearhead Capital, 9Unicorns and AccionVenture Lab

CredRight
2016
Series B
9.7M
Michael and Susan Dell Foundation
ShipEase
2020
Series A
1M

Inflection Point Ventures

MediBuddy
2013
Series C
18M

Quadria Capital, Lightrock, and TEAMFund

Azadi Records
2017
Seed
Undisclosed
Undisclosed
MrMed
2020
Seed
500K

Tamil Nadu Infrastructure Fund Management Corporation Limited

GPU Network
1998
Seed
500K
Momentum 6 & Alphablockz
SatSure
2017
Series A
15M

Baring Private Equity Partners (BPEP), India and Promus Ventures

Promptora
2023
Seed
Undisclosed
Undisclosed
Aryastha Life Sciences
2023
Series A
Undisclosed

Vessella Group

Heyo Phone
2021
Angel
500K

Aakash Chaudhry, co-founder of Aakash Educational Services (Aakash-Byju's), Amit Chaudhary, co-founder of Lenskart and Dinesh Gupta, co-founder of Busy Accounting

Rupid
2022
Seed
Undisclosed

WeFounderCircle's accelerator program 

EvolveX
MagTapp
2018
Seed
121K
Existing Angel Investors
SpaceBasic
2017
Seed
Undisclosed
Undiscosed
Ecowrap
2017
Seed
Undisclosed

JITO Incubation and Innovation Foundation