Byju's, the Indian edtech giant, is making strategic moves to navigate its financial troubles. In a recent development, Byju's has onboarded risk and financial advisory firm, Kroll, to protect the mortgaged assets of the Indian edtech's Singapore unit and its majority-owned subsidiary, Great Learning Education. 
This decision follows Byju's defaults on loan installment repayments, prompting secured creditors to exercise their security rights.
Byju's Spokesperson told TICE News, "We are working with our partners, including Great Learning management and TLB lenders, for a potential divestment at optimal value. This will allow Great Learning's future growth as an independent company."
Kroll Steps In to Safeguard Mortgaged Assets
Kroll, in a news release, revealed that it was appointed to oversee the protection of the charged assets belonging to Great Learning Education Pte Ltd and Byju's Pte Ltd. Cosimo Borrelli, Kroll's global co-head of restructuring, and Jason Kardachi, Kroll's Singapore and Southeast Asia lead, will spearhead this critical effort.
Crisis Management for Byju's
The creditors of Byju's have turned to Kroll to secure the assets of the Indian edtech company's Singapore unit and the majority-owned subsidiary, Great Learning Education. A primary goal of this appointment is to safeguard the assets and businesses owned by Great Learning and Byju's Pte Ltd. Notably, the operations of Great Learning and Northwest Education remain unaffected, with all courses and programs continuing as usual.
Byju's spokesperson indicated that the edtech firm is actively collaborating with partners, including Great Learning management and lenders, to explore the potential divestment of the subsidiary. This move aims to optimize its value and, in turn, foster Great Learning's future growth as an independent company.
The Byju's Loan Saga Timeline: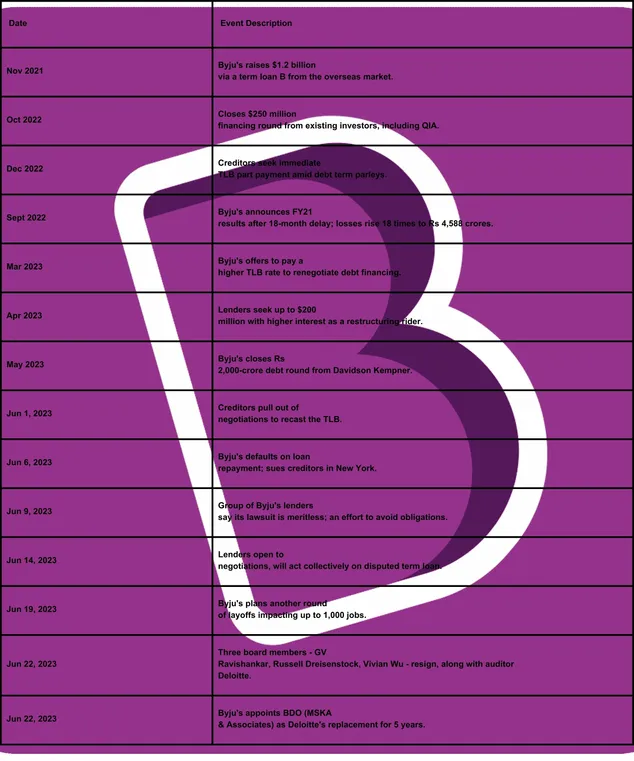 Great Learning's Journey with Byju's
Northwest Education, a Singapore-based executive education company, was acquired by Great Learning, a Byju's-owned professional learning company, for USD 100 million in May 2022. The acquisition was a strategic step in expanding Byju's offerings beyond the K-12 and test-prep segment.
Byju's Struggles to Repay Debt
Byju's has been actively seeking asset sales, including Great Learning and Epic, in an effort to generate cash to repay a substantial $1.2 billion term loan. The acquisition of Great Learning by Byju's in 2021, in a deal worth $600 million, was intended to diversify its offerings.
This financial struggle resulted in a legal battle between Byju's and lenders in the United States, triggered by Byju's default on interest payments related to the $1.2 billion term loan.
A Tentative Agreement and Financials Await
Media reports have indicated that Byju's has tentatively agreed to restructure its loan pact with lenders. In September, Bloomberg reported Byju's offer to repay the entire $1.2 billion term loan B to lenders within six months. However, the final agreement is contingent on the sale of group assets and the anticipated release of long-awaited FY22 financial statements.
Byju's, headquartered in Bengaluru, is set to present an audited version of its financials to its board, advisory council, and key investors, including Peak XV Partners and Prosus, in the second week of October.
Organizational Restructuring Amidst Challenges
Byju's is concurrently executing an organizational restructuring plan, which includes reducing its headcount by approximately one-third, amounting to 4,000-4,500 job cuts. These layoffs come on the heels of Arjun Mohan's appointment as the new chief executive of Byju's India business on September 20, 2023.
The edtech giant remains at the center of financial turbulence, as it endeavors to realign its resources and resolve its looming debt crisis.
Join Our Thriving Entrepreneurial Community

Follow TICE News on Social Media and create a strong community of Talent, Ideas, Capital, and Entrepreneurship. YouTube  | Linkedin | X (Twittrer) | Facebook | News Letters