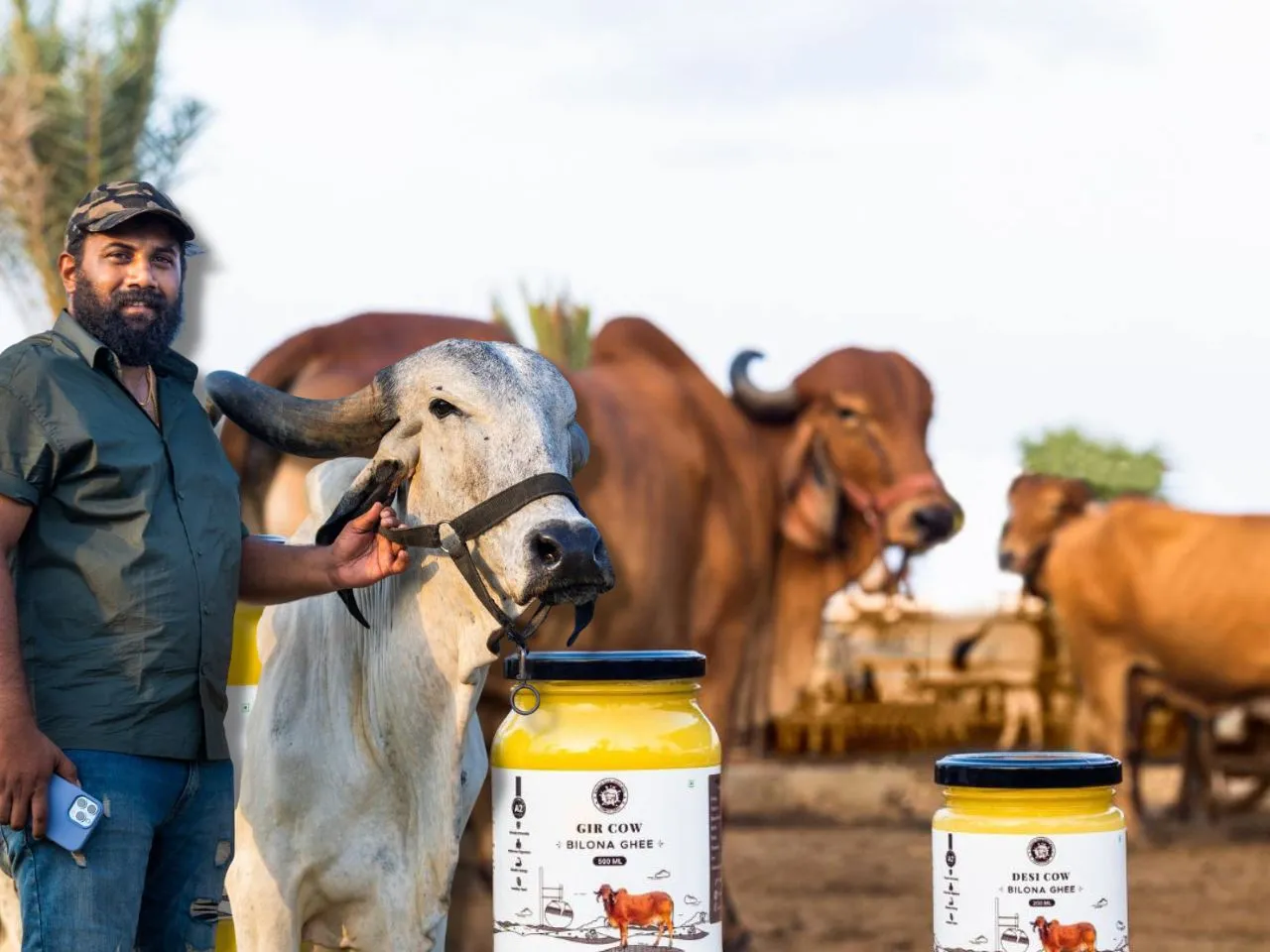 Bilona Ghee, a traditional form of Indian clarified butter, has been gaining popularity in recent years for its health benefits and unique production process. Unlike regular ghee made from cream, Bilona Ghee is made by churning curd made from raw A2 cow milk. This process not only preserves the natural nutrients and enzymes present in the milk but also results in a richer, creamier texture and flavor.
Hebbevu Fresh, co-founded by Amith Kishan G S & Ashrith Kishan G S, is a direct-to-consumer startup brand in India that specializes in Bilona Ghee and other organic dairy products. With a deep passion for agriculture and a mission to uplift the lifestyle of people in the agricultural sector, the Kishan brothers launched Hebbevu Fresh to revolutionize the Agro Reality Industry.
Read More: How MicroNsure Is Disrupting Microinsurance Space?
The Birth of Hebbevu Fresh
Hebbevu Fresh was launched in February 2020, just before the world was hit by the COVID-19 pandemic. The startup was founded with the aim of delivering natural and organic produce at an affordable price directly to the consumers. The Kishan brothers noticed a big gap in the door-to-door delivery of these products and saw an opportunity to bridge that gap with their own brand.
Their vision for Hebbevu Fresh was not only to scale real estate for agricultural use but also to create a better ecosystem of delivering organically farmed produce and fresh dairy products to the consumers. They wanted people to know the source of the food they were consuming and the owners of the land to know who was actually buying the produce they were growing.
The Bilona Ghee Revolution
One of the core products of Hebbevu Fresh is Bilona Ghee, which has gained immense popularity in India in recent years. The Kishan brothers understood the need for desi cows in pure natural farming and started with dairy in the first place. They began with just six desi cows, but their herd has now grown to over 600 cows, producing over 1200 liters of milk every day. They candidly call them #HumansOfHebbevu as they cater to the needs of the entire Bangalore city's milk market.
Read More: Entrepreneur Speak: How do you cut down on your power bills?
Apart from being delicious, Bilona Ghee is also known for its numerous health benefits. It is rich in vitamins, minerals, and healthy fats and has been used in Ayurvedic medicine for centuries to promote digestive health, improve immunity, and nourish the body.
Empowering Women in Agriculture
Hebbevu Fresh is not just about producing high-quality organic products. The brand is also committed to empowering women in the agriculture sector. For every kilogram of A2 Ghee produced at Hebbevu Fresh, one woman from the village gets an employment opportunity. In this way, the Kishan brothers have helped a total of 3000+ women and this number is only escalating.
The Future of Hebbevu Fresh
Hebbevu Fresh has quickly gained popularity across India, serving over 3 lakh customers and scaling at a growth rate of 50 percent year on year. 
The brand's revenue has already reached 11 crores for FY 21-22, and they are expecting to surpass 20+ crores in FY 22-23. Their ultimate goal is to make India healthy by connecting people to ancient wisdom and the benefits of old age techniques. With their passion for agriculture and commitment to producing high-quality organic products, Hebbevu Fresh is poised to become a global leader in the Agro Reality Industry.