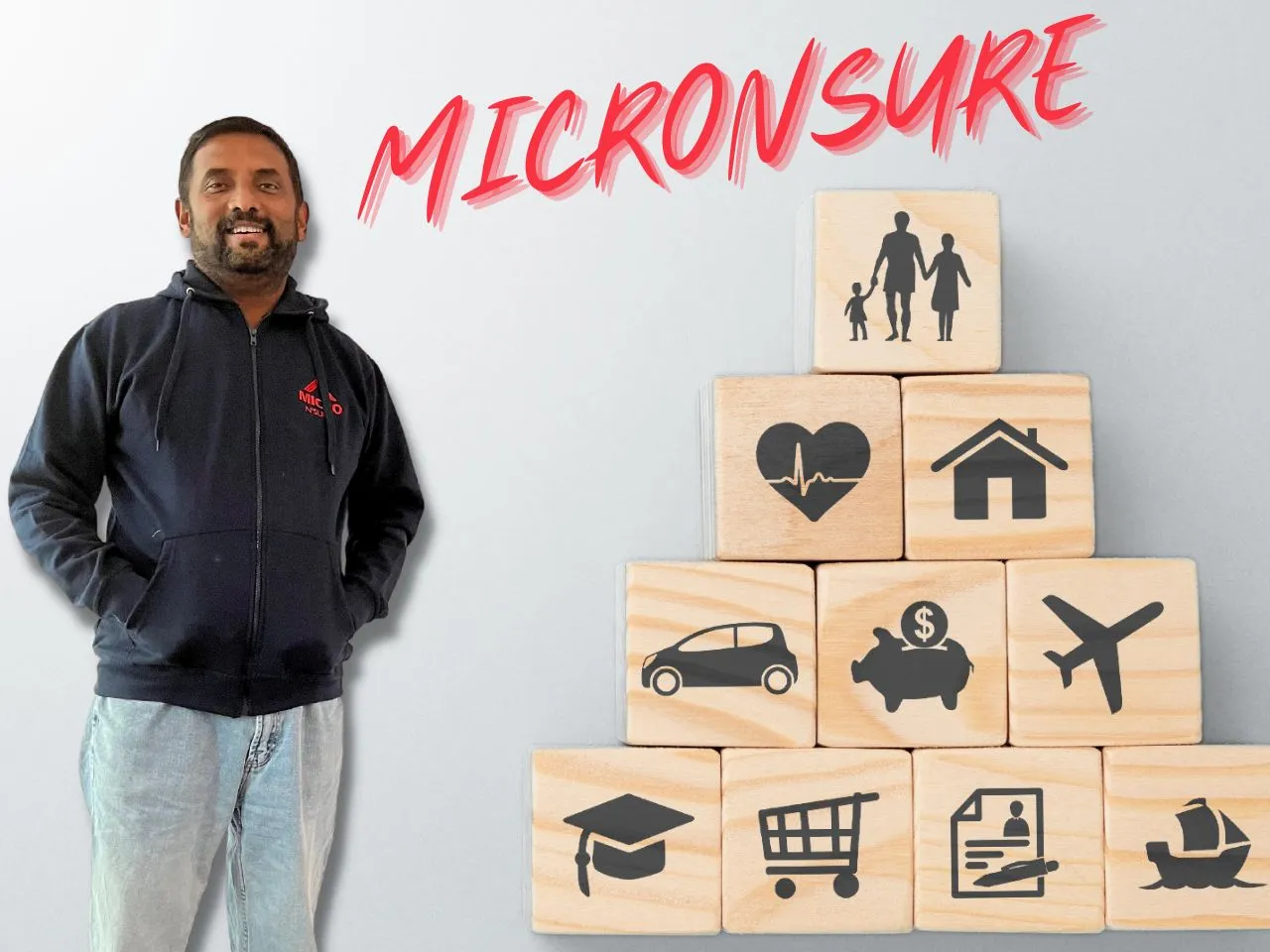 In the world of insurance, one startup is shaking things up and making a difference in the lives of those who need it most. 
MicroNsure, a technology-driven microinsurance company, has been making waves in the industry with its innovative approach to insurance for the economically vulnerable. With national recognition and a prestigious award from Start up India and DPIIT, MicroNsure is proving that big things can come from small beginnings. 
We got into a one-on-one conversation with Kamalakar, founder and group CEO at MicroNsure. He shares the idea behind this microinsurance startup, their startup journey  and growth so far. 
Read on for an inside look at the journey, achievements, and startup story of this Hyderabad-based startup."
The Idea Behind MicroNsure

Explaining the idea behind their startup, Kamalakar tells, in India, there exists a massive protection gap of close to 90%, leading to uninsured economic losses and loss of lives. A large portion of the population with low disposable income lacks insurance protection due to the absence of government schemes and the right insurance plans offered by traditional insurance. 
"This is where MicroNsure comes in, a company committed to securing the lives and livelihoods of these economically vulnerable sections of society,"
"Partnering with insurers, MicroNsure designs sustainable and affordable need-based microinsurance products that are delivered using technology through institutions working in these segments of the society. "
The insurance products are designed and delivered through MicroNsure's proprietary technology platform, offering insurance protection to the populations and protecting them from being pushed into poverty because of the 5 D's (Death, Destitution, Disease, Disability and Dismemberment).
The Journey So Far
MicroNsure is a dynamic and fast-growing start-up in the microinsurance segment, currently present in 6 states in India. The company's association with partners has grown from a dozen in 2020 to 200 relationships as of today, and they have insured 1 million lives. The journey so far has been an enriching one, and the company aims to achieve the largest market share in the microinsurance segment in India.
The start-up was funded in its initial stages by the founders themselves. In 2022, MicroNsure raised personal investment from a marquee investor and is open to further investments to expand their business. 
The start-up faced several challenges in its early stages, including lack of insurance knowledge and understanding amongst the target group, difficulties in getting the right documentation, regulatory issues, and finding and retaining the right talent with a know-how of technology.
Expanding Across India and the World
MicroNsure currently operates in 6 states in India, including Andhra Pradesh, Telangana, Kerala, Tamil Nadu, Gujarat and Rajasthan. The company aims to expand to the rest of the states in India in the next few years and penetrate developing areas across the world, shared Kamalakar.
Marketing Strategy
Further, sharing their marketing strategty to promote their services, Kamalakar tells, "MicroNsure's business model combines three essential aspects of the microinsurance supply chain to provide end-to-end service to its partners." 
"The company leverages technology to manage processes efficiently and effectively, offers consulting services to insurers and institutions, and acts as a broker to get regulatory approvals and distribute need-based products."
Recognition and Awards
MicroNsure's efforts towards bringing inclusive insurance to the economically vulnerable have not gone unnoticed. The start-up has received national recognition and a national award from Start-up India and DPIIT, a proud moment for the entire team.
"With its cutting-edge technology and innovative approach, the company is poised to bridge the insurance protection gap and secure the lives and livelihoods of the economically vulnerable. The future looks bright for MicroNsure, and the company is ready to take on new challenges and make a real impact in the world of microinsurance," noted Kamalakar.