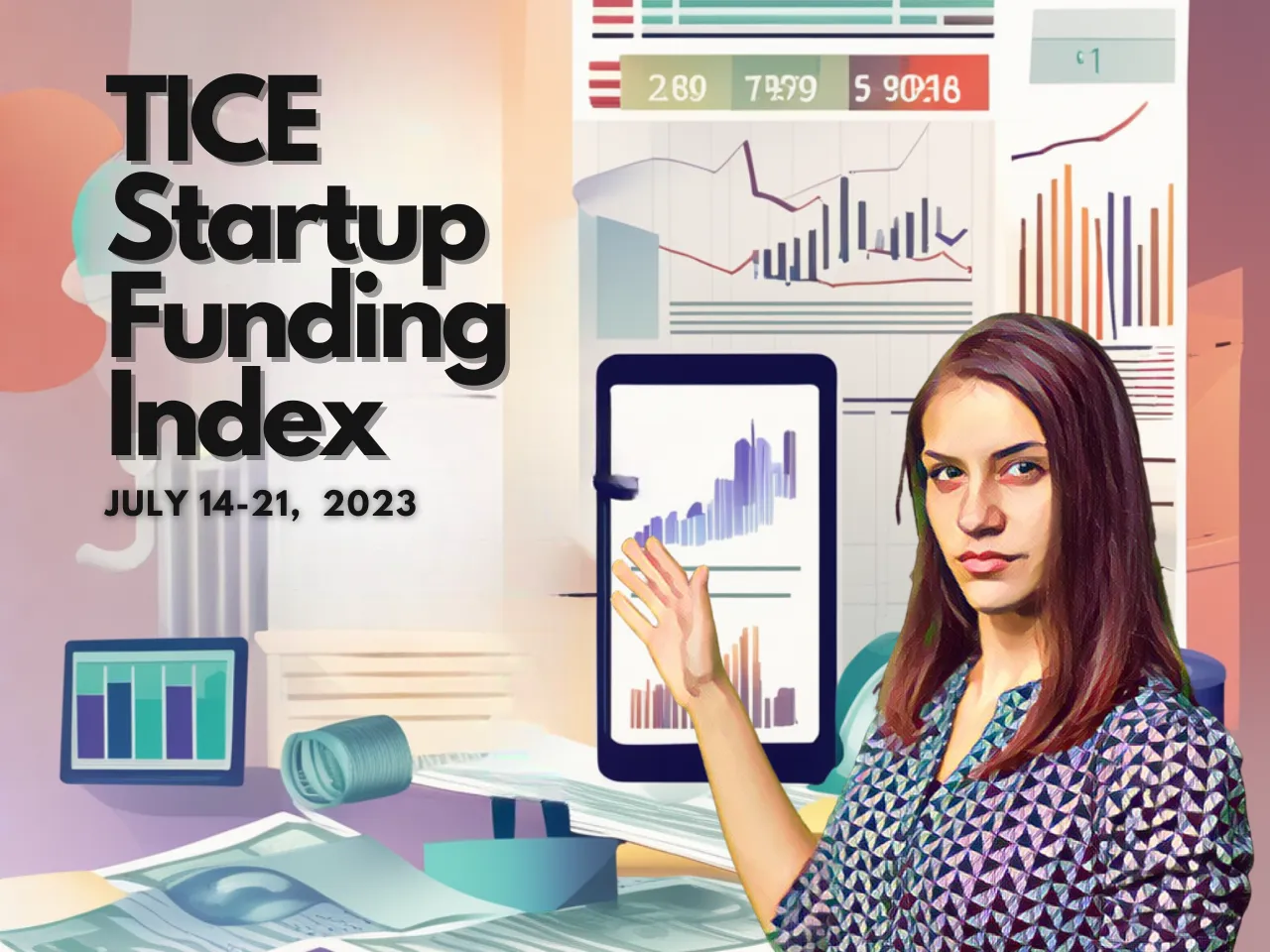 The funding data of Indian startups from  July 14 to July 21, 2023, provides valuable insights into the funding landscape. In this period, several startups secured funding across various funding types, including Seed, Series A, Series B, Series E, and Conventional Debt. Let's delve into the key findings and highlight the significant aspects of the report.
As per the data compiled by TICE News, a total of 19 startups raised funding (including undisclosed funding rounds) between July 14 - July 21. The total funding amount raised by Indian startups comes to $108.77M (excluding undisclosed funding rounds). 
Top 3 Startups with the Highest Funding Raised:
Renewbuy, an insurtech startup, secured $40 million in funding from Dai-ichi Life Holdings, a Japanese insurance major, as part of its ongoing series D fundraising, valuing the firm at approximately $364 million, with Dai-ichi Life Holdings obtaining around 11 percent stake.
Furlenco, the furniture rental startup raised $36.5 million from Sleepwell. The company was founded in 2012 by 
Ajith Karimpana. 
Ati Motors, an autonomous industrial robots maker, secured $10.85 million in Series A funding led by True Ventures, with participation from existing investors Blume Ventures, Exfinity Ventures, and MFV Partners. Founded in 2017 and now under the leadership of Saurabh Chandra, the company specializes in manufacturing autonomous robots for industry use, and streamlining warehouse automation.
Startup Acquisitions This Week:
Fashion startup Styched has acquired online casual sneaker startup Flatheads for an undisclosed amount.
Bureau, a fraud detection startup, not only raised an extended Series A funding round this week but also completed the acquisition of Y-Combinator backed identity verification startup inVOID.
Y Combinator-backed Decentro has acquired Mumbai-based SaaS fintech platform Neowise Technologies for an undisclosed amount in a cash and share deal.
Plus91Labs, a cloud consulting and IT service, has acquired Pixely, a company specializing in customized solutions for the Southeast Asian market.
Major Headlines This Week:
Reliance Brands is currently in talks to acquire Bollywood actress Alia Bhatt's children's wear brand, Ed-a-Mamma, for an estimated INR 300 – 350 Cr.
Troubled quick commerce startup Dunzo is seeking to raise $20 Mn from its existing backer Reliance Retail.
Ravi Lambah, sovereign fund Temasek's India head and head of the investment group, stated that the fund intends to invest $9-10 Bn in India over the next three years.
Beleaguered PharmEasy is in discussions to raise INR 2,000 Cr - INR 3,000 Cr to repay the loan it took from Goldman Sachs.
Name of the Startup

Founding Year

Funding Type

Funding Raised

Investors

Ati Motors
2017
Series A
10.8M
True Ventures, Athera, Blume, Exfinity Venture Partners, MFV Partners
Metabook XR
2019
Seed
Undisclosed
EvolveX, We Founder Circle, Bhawna Bhatnagar, Neeraj Tyagi, Vikas Aggarwal
Superbottoms
2014
Angel
Undisclosed
Alia Bhatt
Louis Stitch
2019
Unattributed
609K
Space Teleinfra
DusMinute
2017
Series B
1.4M
IPV, Bandana Kankani
Blitz
2020
Seed
3M
India Quotient,

Better Capital, Titan Capital, and First Cheque. Renowned investors like Kunal Shah, Farid Ahsan, Abhinav Jain, Rahul Dash, Prabhkirandeep Singh, Ishendra Agarwal, Kalpak Chhajed, Arjun Vaidya, Gaurav Pushkar, Piyush Kedia, and Anshoo Sharma

BhujiaLalji
2021
Seed
Undisclosed
BIKAJI
factors.ai
2018
Seed
3.6M
Stellaris Venture Partners,

Elevation, Emergent Ventures, Kris Rudeegraap, Sreedhar Peddineni, Khadim Batti, Deepak Anchala, and Krish Mantripragada.

Solethreads
2019
Series A
3.7M
Fireside Ventures, DSG Consumer Partners, Saama Capital
Hustle Energy Drink
2022
Seed
1.34M
Parth Ventures,

Vijay Shekhar Sharma, Keki Mistry, Vishesh Khurana, Vidur Talwar, and Anirudh Somani.

RenewBuy
2015
Series D
40M
Dai ichi Life Group
Jayem Automotives
1960
Unattributed
Undisclosed
Tube Investments of India
Just Learn
2020
Seed
198K
-
Regrip
2021
Angel
Undisclosed
Suniel Shetty
Redesyn
2016
Series A
426K
Real Time Accelerator Fund
Furlenco
2012
Series D
36.5M
Sleepwell
Stimuler
2022
Seed
1M
-
PrikusTech
2018
Seed
6.2M
-
Aayush Bharat
2020
Seed
Undisclosed
JITO Incubation & Innovation Foundation