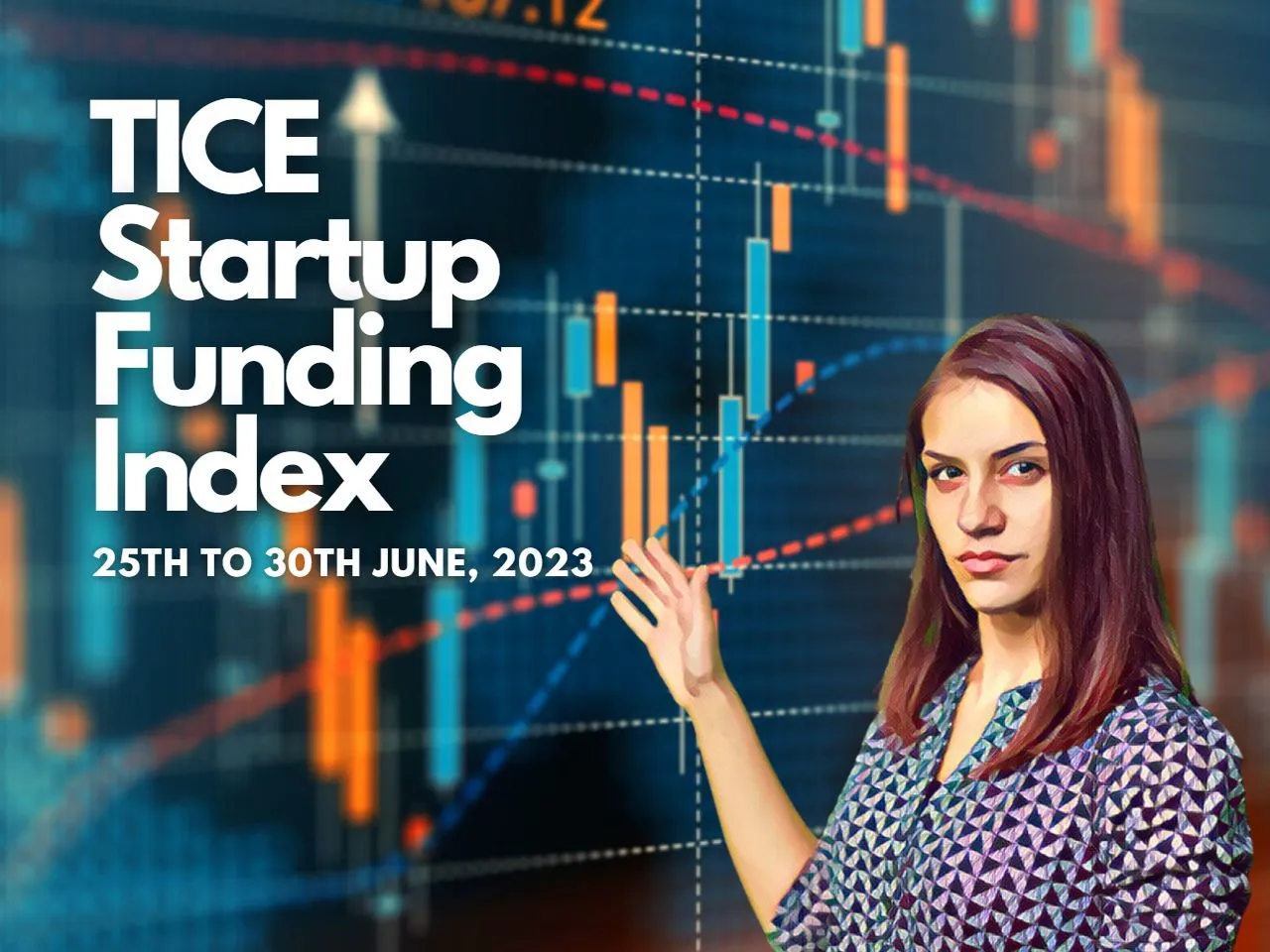 The funding data of Indian startups from June 24 to June 30, 2023, provides valuable insights into the funding landscape. In this period, several startups secured funding across various funding types, including Seed, Series A, Series B, Series E, and Conventional Debt. Let's delve into the key findings and highlight the significant aspects of the report.
As per the data compiled by TICE News, a total of 21 startups raised funding (including undisclosed funding rounds) between June 25 - June 30. The total funding amount raised by Indian startups comes to USD 351.77 million (excluding undisclosed funding rounds). 
The funding raised by Indian startups in the last week of June is a significant improvement from the funding raised in the last month (USD 138 million). 
Top 3 Startups with the Highest Funding Raised:
Avaada: Avaada, founded in 2009, has raised a significant amount of funding, totaling $233 million in a Series A round. This substantial investment indicates strong investor confidence in the company and its business model.
Orchid Pharma: Orchid Pharma, established in 1992, has secured funding of $48.8 million in a post IPO round. This demonstrates continued investor interest in the pharmaceutical industry and Orchid Pharma's growth potential in the market.
Billion: BillionElectric founded in 2020, offering E-Mobility as a Service (eMaaS), recently revealed its expansion into the Indian market. The company has successfully raised $10 million in a seed funding round. This funding will be strategically allocated towards two important ventures: the introduction of electric tarmac buses at Bengaluru International Airport and the creation of a heavy electric vehicle (EV) truck platform for mid-mile transportation.
Startups with Seed Funding and Other Rounds:
Seed Funding Only:
FINAYO: Founded in 2022, Finayo secured undisclosed seed funding from iAngels.
Reloy: Reloy, established in 2015, received seed funding of 878K from BlueLotus.
Qlan: Qlan, founded in 2021, secured seed funding of 200K from Marwah Sports.
Scapia: Scapia, established in 2022, raised 9 million in seed funding from Matrix Partners India.
Zippee: Zippee, founded in 2021, received seed funding of 1.6 million from Haldiram.
BluJ Aero: BluJ Aero, established in 2022, secured 2 million in seed funding from Endiya Partners.
Spice Story: Spice Story, founded in 2019, received angel funding of 85.9K from Namita Thapar.
Oben Electric: Oben Electric, established in 2020, raised 4.88 million in seed funding from Stride Ventures.
JetHR: JetHR, founded in 2012, secured 5.1 million in seed funding from Exor.
Billion: Billion, established in 2020, received 10 million in seed funding.
Rannkly: Rannkly, founded in 2019, raised 185K in seed funding from 100X.VC.
Mainstreet: Mainstreet, established in 2017, received 2 million in seed funding from Gruhas.
Tegro: Tegro, founded in 2008, secured undisclosed seed funding from Polygon Ventures.
Other Rounds of Funding:
Koskii: Apart from seed funding, Koskii also raised 7.44 million in a Series A funding round from Baring Private Equity Partners India.
Orchid Pharma: In addition to post-IPO funding, Orchid Pharma received 48.8 million from MIT in another round.
Watch Your India: Watch Your India, founded in 2015, secured 2.2 million in a Series A funding round.
Avaada: In addition to their Series A funding, Avaada raised 233 million from GPSC in another round.
Karma Healthcare: Karma Healthcare, founded in 2014, received undisclosed funding in a Series A round from Innospark.
Insights from the funding report: 
Funding Landscape: The data indicates a healthy funding landscape for Indian startups, with various rounds of funding, including seed funding, Series A, and post-IPO investments.
Diverse Investors: The startups attracted a diverse range of investors, including venture capital firms, private equity partners, and individual angel investors, demonstrating the growing interest and confidence in the Indian startup ecosystem.
Established Startups: The presence of startups founded in the 1990s, such as Koskii and Orchid Pharma, highlights the longevity and resilience of these companies in attracting funding and sustaining growth.
Emerging Sectors: The funding data provides insights into the sectors attracting investments, such as pharmaceuticals, renewable energy (Avaada), and e-commerce (Koskii).
Strong Seed Funding: The number of startups that have received seed funding showcases the availability of early-stage capital and the willingness of investors to support promising ideas and business models.
Funding Insights: Indian Startups Raise $351.77 Last Week of June, Avaada Leads the Way
| | | | | |
| --- | --- | --- | --- | --- |
| Name of Startup | Founding Year | Funding Type | Funding Raised | Investors |
| FINAYO | 2022 | Seed | Undisclosed | iAngels |
| Reloy | 2015 | Seed | 878K | BlueLotus, DGC Venture |
| Koskii | 1992 | Series A | 7.44M | Baring Private Equity Partners India |
| Qlan | 2021 | Seed | 200K | Marwah Sports, CIIE, Faad Network |
| Scapia | 2022 | Seed | 9M | Matrix Partners India, Tanglin Venture Partners, Keki Mistry |
| Orchid Pharma | 1992 | Post IPO | 48.8M | MIT, Societe Generale, Quant, Carnelian, 238 Plan Associates |
| Watch Your Health  | 2015 | Series A | 2.2M | Conquest Global Ventures |
| Avaada | 2009 | Series A | 233M | GPSC |
| Zippee | 2021 | Seed | 1.6M | Haldiram, FounderBank Capital, Piper Serica, Ashneer Grover, Kunal Shah, Peyush Bansal, Prashant Pitti, Aakash Anand. |
| BluJ Aero | 2022 | Seed | 2M | Endiya Partners, Ideaspring Capital, Rainmatter |
| Spice Story | 2019 | Angel | 85.9K | Namita Thapar |
| Lendingkart | 2014 | Conventional Debt | 24.4M | EvolutionX Debt Capital |
| Oben Electric | 2020 | Seed | 4.88M | Stride Ventures, IREDA, Mumbai Angels, We Founder Circle |
| JetHR | 2012 | Seed | 5.1M | Exor, Italian Founders Fund, Luca Ascani, Dario Brignone, Alberto Dalmasso, Max Ciociola, Luca Ferrari, Luca Foresti, Diego Piacentini, Matteo Pichi, Giorgio Tinacci |
| Billion | 2020 | Seed | 10M | - |
| Rannkly | 2019 | Seed | 185K | 100X.VC, Riziliant |
| Karma Healthcare | 2014 | Series A | Undisclosed | Innospark, 1Crowd, Innovative Directions, Social Innovation Circle, Aanshi Healthserv, Sunil Mishra |
| Mainstreet | 2017 | Seed | 2M | Gruhas, Sujeet Kumar, Deepinder Goyal, Nikhil Kamath |
| Aditya Birla Capital | 2007 | Post IPO | Undisclosed | - |
| Tegro | 2008 | Seed | Undisclosed | Polygon Ventures |