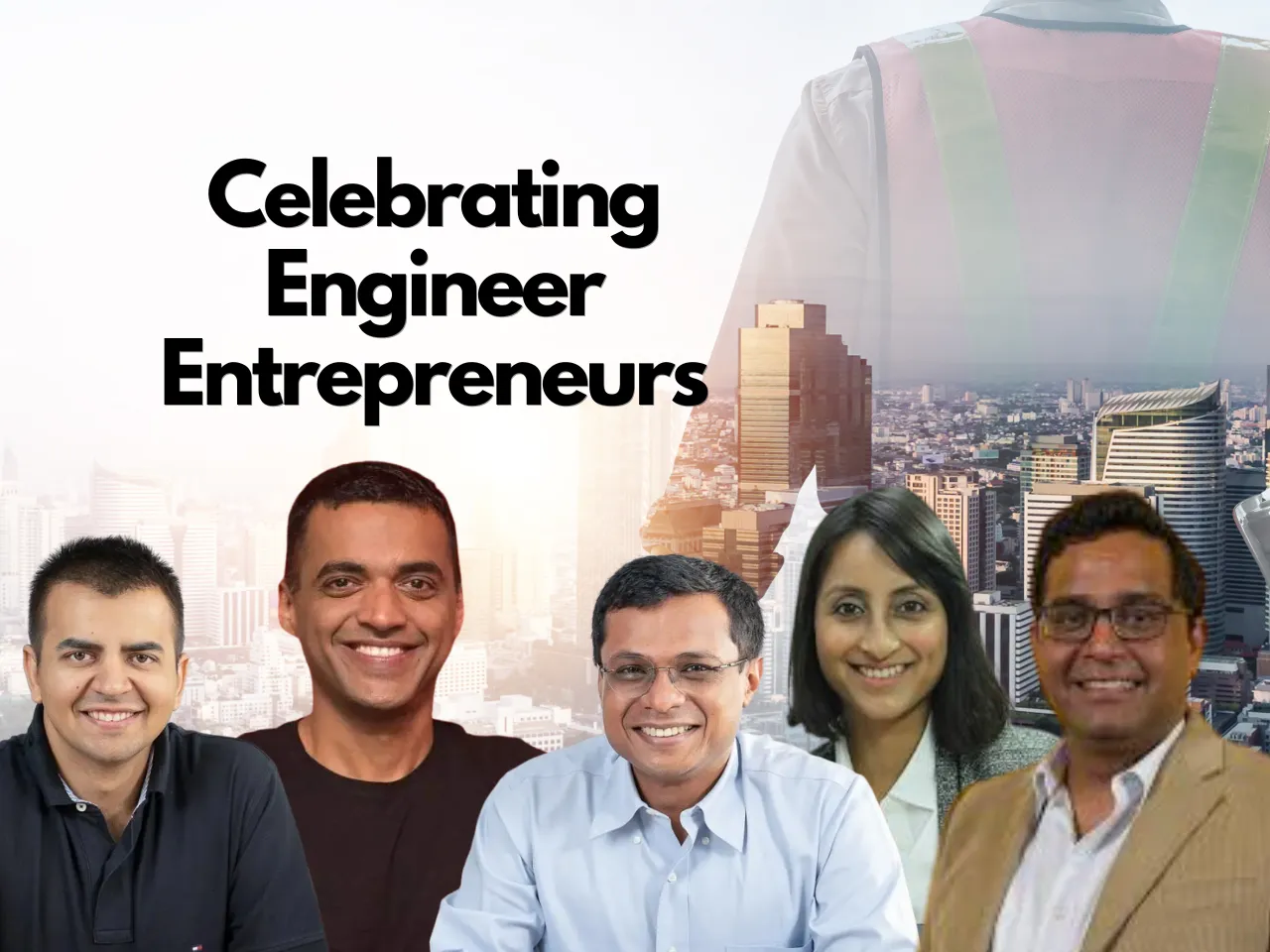 Albert Einstein once said scientists investigate that which already is; engineers create that which has never been. Quite a few of the startup founders in India are from engineering backgrounds and have created a disruption in the field of entrepreneurship. Engineers, traditionally associated with technical roles, are increasingly embracing entrepreneurship. This paradigm shift has led to the emergence of several successful startups, challenging the status quo and making a mark on the global stage.
Engineers Fuel Entrepreneurial Spirit in India
India boasts a unique distinction of producing more than a million engineers annually. While many of them aspire to secure cushy jobs in multinational corporations, a select few dare to dream bigger – they aspire to become successful entrepreneurs. The journey from being an engineer to a successful entrepreneur is not for the faint-hearted. It demands vision, passion, tenacity, adaptability, and an unwavering self-belief. On the occasion of National Engineers' Day, which is celebrated across India to celebrate the birth anniversary of M Visvesvaraya, we take a look at the engineers who have created successful startups. 
Sachin Bansal: The Flipkart Pioneer
From Amazon Employee to E-commerce Mogul
Sachin Bansal, a name synonymous with success, embarked on his entrepreneurial journey alongside Binny Bansal. Their story began at IIT Delhi, where they were students. Fate reunited them at Amazon, where they honed their skills. In a bold move, they quit their comfortable jobs to start Flipkart, an e-commerce platform, at a time when online shopping was a foreign concept to most Indians. Their hard work and unwavering belief paid off when Walmart acquired Flipkart for a staggering $16 billion.
Bhavish Aggarwal: Driving the Ola Revolution
A Visionary in the World of Ride-hailing
Bhavish Aggarwal, a graduate of IIT Bombay, took a different path. After a brief stint at Microsoft, he founded Ola Cabs. His journey began with a personal experience, a cab ride that left him dissatisfied. This single experience ignited his entrepreneurial spirit, leading to the creation of Ola, a ride-hailing giant. Bhavish's ability to spot opportunities and address real-world problems has propelled Ola to great heights.
Vijay Shekhar Sharma: The Paytm Trailblazer
Overcoming Odds and Building a Financial Empire
Vijay Shekhar Sharma, an alumnus of Delhi College of Engineering, faced numerous obstacles on his path to success. Financial difficulties and language barriers couldn't deter his determination. He founded One97, the company behind Paytm. Today, Paytm is a household name in India, with even Warren Buffet recognizing its potential and investing in the company.
Deepinder Goyal: Navigating the Food-Tech Landscape with Zomato
Simplifying Food Ordering Worldwide
Deepinder Goyal, an IIT Delhi graduate, noticed a common problem during his time at Bain and Company - the time-consuming process of ordering food. This observation led to the creation of Zomato. Although the company faced early setbacks, Deepinder's adaptability and resilience allowed Zomato to thrive, becoming a global leader in the food-tech industry.
Richa Kar: Empowering Women with Zivame
Redesigning the Lingerie Shopping Experience
Richa Kar, an engineer from BITS Pilani, was working for SAP in the US when she identified a gap in the Indian market - the lack of access to quality lingerie brands. Despite societal barriers and skepticism, Richa founded Zivame, a brand that has redefined lingerie shopping in India. Today, her company is valued at more than Rs 600 crore.
The journey from an engineer to a successful entrepreneur is paved with challenges and uncertainties. However, the stories of Sachin Bansal, Bhavish Aggarwal, Vijay Shekhar Sharma, Deepinder Goyal, and Richa Kar are inspiring examples of what can be achieved with unwavering determination and a clear vision. These individuals have not only disrupted industries but also contributed significantly to the Indian startup ecosystem.
As you embark on your entrepreneurial journey, remember that success is not guaranteed, but the lessons from these pioneers can serve as a guiding light. With the right blend of innovation, persistence, and adaptability, you too can make your mark in the dynamic world of startups.