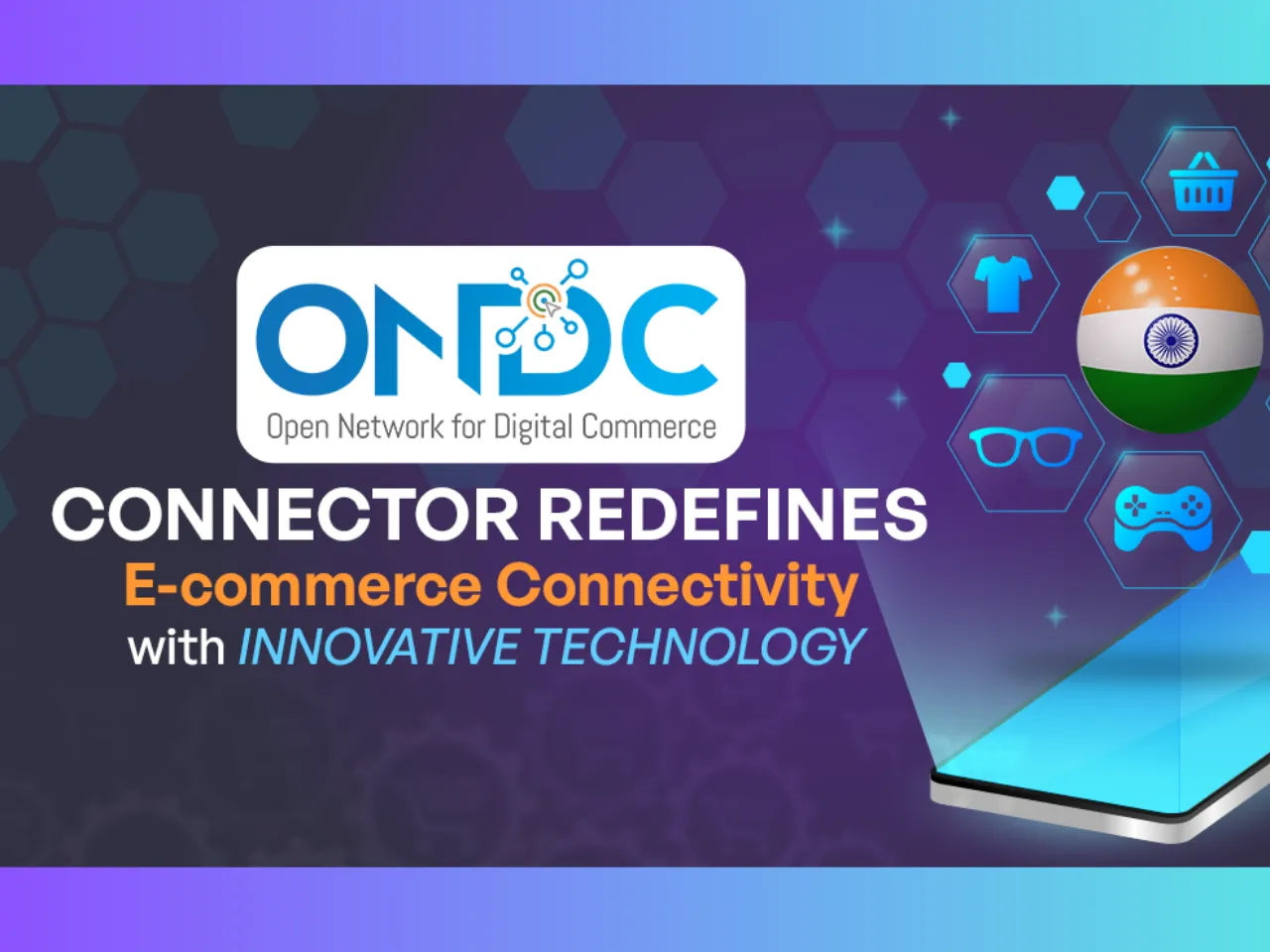 The Open Network for Digital Commerce (ONDC) Connector emerges as a game-changing force in the rapidly evolving landscape of digital commerce, where technology has taken the reins of shopping and selling.
Steered by the unwavering support of the Government of India, the ONDC Connector is poised to redefine how businesses and startups traverse the intricate pathways of the digital marketplace, fostering seamless transactions and propelling a new era of interconnected e-commerce.
A Paradigm Shift in E-Commerce
In the bygone era, online shopping experiences often felt disjointed and isolated. However, the ONDC Connector ingeniously tackles this challenge head-on by serving as a digital conduit that bridges the gaps between various digital storefronts. This innovative approach tears down the barriers that once hindered fluid transactions, offering a unified space where commerce can thrive across a diverse range of applications and platforms.
How can ONDC Connector help buyers and sellers?
The trailblazing technology of the ONDC Connector transcends the limitations of disparate platforms, facilitating transactions between buyers and sellers irrespective of their chosen digital landscapes. It stands as a technological bridge, seamlessly connecting an array of digital storefronts and effortlessly enabling transactions across multiple platforms and applications.
With an impressive network comprising 37 participants, including industry behemoths like PhonePe, Hindustan Unilever, and ITC, the ONDC Connector has achieved the commendable feat of creating a dynamic ecosystem that champions inclusivity and fosters fair competition.
The Phenomenal Growth of ONDC
The growth trajectory of ONDC has been nothing short of extraordinary. Boasting a thriving network of over 1,00,000+ merchants and active participation from more than 45 entities spanning across 273 cities, ONDC stands as a testament to its commitment to leveling the playing field for businesses of all sizes. This expansion has ushered in a transformative era in India's digital commerce landscape, fundamentally altering the way businesses collaborate and operate in the online realm.
Empowering Businesses: ONDC's Equalizing Role
An exceptional facet of ONDC lies in its profound ability to level the playing field for micro, small, and medium enterprises (MSMEs), along with small traders. This accomplishment is made possible by ONDC's adept utilization of open protocols, simplifying connections across a multitude of business segments, including mobility, grocery, food delivery, hotel booking, and travel. This proactive initiative stands as a driving force behind the prosperity of businesses across all scales, fostering innovation and nurturing a landscape that thrives on fairness and healthy competition.
Arishekar N, Sr. Director of Marketing and Growth, said, "ONDC is at the forefront of helping brands thrive in the digital space. To ensure seamless integration, at SellerApp, we help Shopify sellers to onboard to the ONDC network, streamline their operations, access a wider customer base, and benefit from the network."
Streamlined Integration through SellerApp
SellerApp, a data analytics company dedicated to supporting e-commerce sellers and Consumer Packaged Goods (CPG) brands, plays a pivotal role in ensuring the smooth integration of businesses onto the ONDC network. By providing comprehensive market intelligence and business monitoring tools, SellerApp empowers these entities to harness the full potential of e-commerce through seamless integrations.
Integration Process to Connect Shopify Store
Businesses can leverage a seller application like SellerApp to connect their Shopify store to the ONDC network. 
Connect Your Shopify Store:

Begin by establishing a connection between your Shopify store and the SellerApp platform. This foundational step ensures that your online store can effectively leverage SellerApp's advanced tools.
Update the Product Catalog:

SellerApp enables you to effortlessly synchronize your product catalog, ensuring accurate representation across both platforms. This synchronization simplifies the management of your product inventory.
Efficient Inventory Management:

Gain unprecedented control over inventory management with SellerApp's capabilities. Monitor stock levels, oversee product variants, and receive real-time updates for seamless inventory management.
Streamlined Order Processing:

SellerApp streamlines the complexities of order processing. Handle order fulfillment, track shipments efficiently, and enhance customer experiences through timely updates.

Performance Insights and Reports:

Beyond integration, SellerApp offers valuable performance insights and detailed reports. These analytics empower informed decision-making, helping you optimize your business strategies.
Paving the Path for E-Commerce Excellence
The ONDC Connector is a transformative force that is poised to revolutionize the approach businesses adopt towards e-commerce. Its ability to seamlessly interconnect diverse digital landscapes unlocks unprecedented opportunities for businesses to not only survive but thrive in the intensely competitive digital commerce arena.