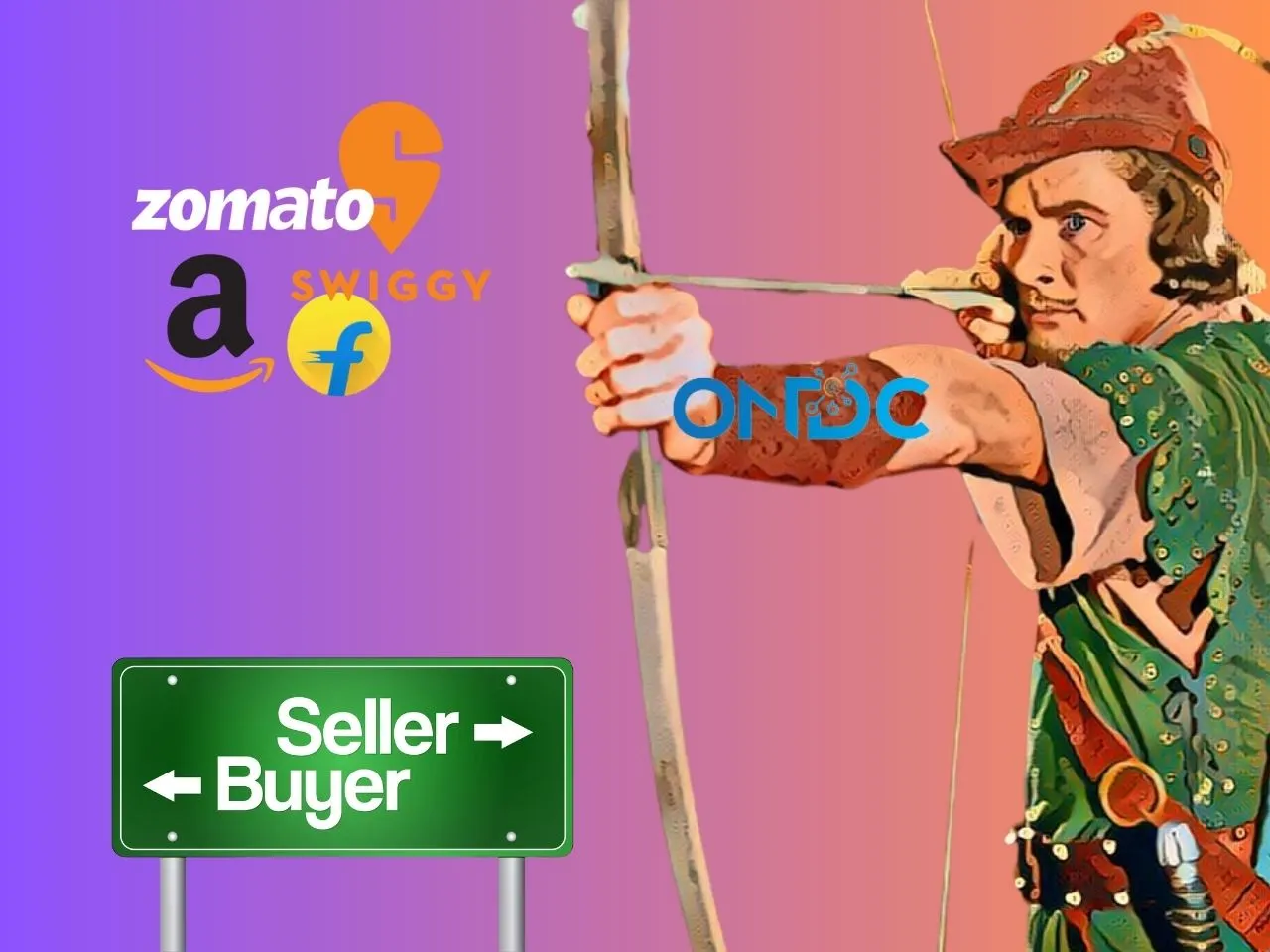 Are you ready to witness the next big thing in the world of E-Commerce? Move over Swiggy and Zomato because the ONDC platform is here to take over! This platform is making waves and gaining popularity faster than Quicksilver on a caffeine high. 
ONDC: Bridging the Gap and Redefining E-Commerce
With its promise to cut the middle man and offer affordable prices, it's like the Robin Hood of online shopping. Plus, it's a win-win for sellers too, as they can earn some serious moolah without giving away huge commission to middle men. It's like the ultimate team-up between Iron Man and Captain America, working together to defeat the evil forces of overpriced E-Commerece services. Get ready to experience the future of online shopping, ONDC style. 
In this article, we will delve into the intricacies of ONDC, explore its differences from GeM (Government e-Marketplace), understand who can leverage these platforms, discover the advantages for businesses, and contemplate the future of ONDC.
What is ONDC?
ONDC is a pioneering initiative launched by the Government of India to create a robust digital infrastructure for the country's e-commerce ecosystem. It aims to bring together various stakeholders such as manufacturers, retailers, logistics providers, and consumers on a single platform, fostering transparency, efficiency, and ease of doing business. By leveraging the power of technology, ONDC empowers businesses to seamlessly connect, collaborate, and conduct transactions in a secure and reliable environment.
ONDC: The Ultimate Disruptor in the World of Digital Commerce
ONDC is a pioneering initiative that aims to reimagine and transform digital commerce in India. It is being established as a first-of-its-kind open network, built on open protocols and open-source specifications. With the objective of enabling wide-scale participation by digital commerce ecosystem players, ONDC is set to create an open, inclusive, and competitive marketplace that promotes interoperability and fosters innovation.
The primary goals of ONDC are multi-faceted, encompassing various aspects of digital commerce. It aims to be scale efficient, facilitating population-scale adoption of digital commerce in India. By promoting interoperability among platforms and software applications, ONDC seeks to establish a seamless ecosystem that empowers businesses of all sizes.
The Rise of ONDC: Challenging Swiggy and Zomato
ONDC, the rising star in the realm of digital commerce, is fearlessly entering the battlefield against established giants like Swiggy, Amazon, Zomato, and more. But what sets ONDC apart and gives it a fighting chance against these formidable opponents?
From Robin Hood to Iron Man: ONDC's Quest to Reshape E-Commerce
One of the key advantages of ONDC lies in its ability to offer affordable prices to customers. While platforms like Swiggy, Amazon, and Zomato may charge hefty commissions from sellers, ONDC cuts the middleman and eliminates these excessive fees. As a result, customers can enjoy products and services at more pocket-friendly prices, putting the power back into their hands. It's like David taking on Goliath with a slingshot full of irresistible discounts!
Empowering Businesses: ONDC's Advantage of Affordability
Unlike the top platforms that often squeeze sellers with high commissions, ONDC offers a lifeline to businesses. By eliminating or significantly reducing these commission cuts, ONDC allows sellers to earn a considerable profit and thrive in the highly competitive e-commerce landscape. It's a bit like Rocky Balboa, an underdog boxer defying the odds and punching his way to success.
Promoting Transparency and Fairness: ONDC's Battle Cry
ONDC's battle cry is transparency and fairness. While some top platforms may have faced criticism for hidden fees, biased search results, or questionable practices, ONDC aims to be a shining beacon of trust and equity. It promotes a level playing field for all participants, encouraging healthy competition and fostering an inclusive marketplace that rewards quality and value. Think of it as a Jedi knight fighting against the dark side of opaque business practices.
Unlocking the Power of ONDC: The Next Big Thing in E-Commerce
ONDC doesn't just compete with these platforms; it aims to revolutionize the entire e-commerce ecosystem. By bringing together manufacturers, retailers, logistics providers, and consumers on a single platform, ONDC creates a connected network that enhances efficiency, collaboration, and ease of doing business. It's like assembling a team of superheroes from different universes to join forces and save the day!
Embracing Innovation: ONDC's Disruptive Approach to Digital Commerce
In the battlefield of innovation, ONDC is not one to back down. It encourages the exploration of new ideas, fosters collaboration, and pushes the boundaries of digital commerce. While top platforms may have established their dominance, ONDC strives to be the disruptor, the Deadpool of e-commerce, injecting freshness and novelty into the industry..
How to Use ONDC? 
The easiest method to use ONDC is to visit the ODNC website as sellers or buyers. One can also use the Paytm App and search ONDC services in the search bar. Various options to use the ONDC services pops up such as ONDC Food, ONDC Grocery, ODNC Home Store Etc. 
Understanding GeM: India's Government e-Marketplace
In today's fast-paced digital world, where technology connects people and businesses across the globe, the Government of India has taken a significant stride forward with the introduction of the Government e-Marketplace, commonly known as GeM. This innovative online platform has revolutionized public procurement, offering a streamlined and transparent approach that facilitates seamless transactions between government buyers and sellers.
GeM, initiated by the Ministry of Commerce and Industry in 2016 serves as a one-stop solution for all government procurement needs. It provides a digital platform where government departments, organizations, and public sector units can procure a wide range of goods and services, ranging from common-use items to specialized products. GeM aims to enhance transparency, efficiency, and speed in the procurement process, fostering fair competition among registered suppliers.
Differentiating ONDC and GeM: Purpose and Audience
While both ONDC and GeM cater to the e-commerce domain, they serve different purposes and target distinct audiences. GeM is a dedicated online marketplace established by the Indian government specifically for public procurement. It focuses primarily on facilitating government departments and agencies in procuring goods and services from registered vendors. GeM streamlines the procurement process, ensures transparency, and promotes fair competition among sellers.
On the other hand, ONDC operates as an inclusive digital ecosystem that extends beyond government procurement. It encompasses a broader spectrum of businesses, enabling manufacturers, wholesalers, retailers, and service providers to connect and transact seamlessly. ONDC emphasizes fostering a vibrant and competitive digital marketplace for all stakeholders, empowering businesses of all sizes to thrive in the e-commerce landscape.
Leveraging ONDC and GeM: Opportunities for Businesses
ONDC and GeM present tremendous opportunities for various entities to harness the potential of digital commerce. Both platforms are open to businesses across sectors, including manufacturers, retailers, service providers, and e-commerce enablers. Small and medium enterprises (SMEs) can particularly benefit from these platforms as they gain access to a larger customer base, improved visibility, and simplified processes.
By registering on ONDC or GeM, businesses can showcase their products and services to a wider audience, expand their reach, and establish credibility. These platforms provide a level playing field, enabling smaller enterprises to compete with larger players, thereby fostering healthy market competition. Moreover, ONDC and GeM integrate secure payment gateways, efficient logistics, and robust dispute resolution mechanisms, ensuring a seamless end-to-end experience for buyers and sellers.
Integration with Emerging Technologies: ONDC's Future Innovations
As ONDC gains momentum and attracts more stakeholders, the ecosystem is expected to expand significantly. More businesses, service providers, and government entities are likely to join the platform, creating a vibrant and interconnected digital commerce community. This expansion will contribute to a wider range of products and services available to consumers, fostering competition, innovation, and economic growth.
To stay at the forefront of digital commerce, ONDC is likely to integrate emerging technologies that can enhance the user experience and drive efficiency. Technologies such as artificial intelligence (AI), machine learning (ML), blockchain, and Internet of Things (IoT) can be harnessed to automate processes, improve security, enable personalized recommendations, and provide valuable insights to businesses and consumers.
Also Read: ONDC Seller: Step-by-Step Guide to Joining the Open Network