In an endeavor to enhance understanding and awareness surrounding Intellectual Property Rights (IPR), the Jammu and Kashmir Entrepreneurship Development Institute (JKEDI) partnered with 'Innove Intellects' to conduct a comprehensive online awareness program. This initiative, executed under the banner of the National IP Awareness Mission (NIPAM), aimed to cultivate knowledge and expertise in this vital domain.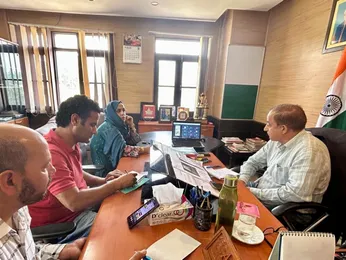 Fostering Intellectual Property Awareness
Underlining the significance of Intellectual Property Rights (IPR), Ajaz Ahmad Bhat (IAS), Director of JKEDI, emphasized how these rights empower individuals to make informed decisions about safeguarding their intellectual creations. Bhat lauded the importance of such initiatives, characterizing them as transformative measures capable of nurturing an environment of innovation. He asserted that the cultivation of a culture wherein intellectual property plays a foundational role is crucial for the entrepreneurial landscape of Jammu and Kashmir.
Mr Ajaz Ahmad Bhat (IAS), Director, JKEDI, "As a institute/ nodal agency we already have come up with compendium of scheme to make people aware about various government initiatives. In addition our teams at district level are continuously conducting mass awareness are grassroot level for startups and entrepreneurship development."

"First measure is the provide - information about the startup; then providing incubation support and guidance; financial support; market linkage; and exposure visits etc," he added.
Enthusiastic Participation and Keynote Speaker
The awareness program garnered enthusiastic participation from numerous innovators, aspiring entrepreneurs, and startups from the region. The event's keynote speaker, Mrs. Pooja Kumar, Founder and Director of Innove Intellects LLP, brought over 15 years of experience in the field. As a Registered Patent Consultant and a Start-up facilitator endorsed by the Government of India, Mrs. Kumar has amassed invaluable expertise.
Intellectual Property Rights: The Pillars of Innovation and Creativity
Kumar underscored that Intellectual Property Rights are more than mere legal constructs; they form the bedrock of innovation and creativity. In her detailed address, she covered a range of IPR facets, including Design, GI (Geographical Indication) registration, patents, trademarks, and trade secrets. The session also delved into the intricacies of the IPR filing process, the necessity of filing for IPR protection, and the protocols for reporting IPR violations. The interactive nature of the session encouraged active participation from attendees, who posed relevant questions and engaged in meaningful discussions.
Empowering Startups and Innovators
JKEDI has a history of conducting startup mentorship programs, equipping aspiring entrepreneurs and startups with the essential tools for success in today's innovation-driven world. This collaborative endeavor not only imparts foundational knowledge of Intellectual Property Rights but also establishes the groundwork for a dynamic culture of entrepreneurship and innovation within the region.
Navigating the Path Forward
By arming startups with newfound insights and understanding of Intellectual Property Rights, the program empowers them to navigate the intricate terrain of protecting their intellectual assets. This knowledge not only safeguards their creations but also propels their ventures toward greater success.
The collaboration between JKEDI and 'Innove Intellects' marks a pivotal step toward fostering innovation, creativity, and entrepreneurship in Jammu and Kashmir. As participants gain deeper insights into the realm of Intellectual Property Rights, the region is poised to witness a surge in innovation-driven startups and ventures.
The comprehensive online awareness program on Intellectual Property Rights organized by JKEDI, in partnership with 'Innove Intellects', serves as a beacon illuminating the path to intellectual protection, innovation, and economic growth in the region. With participants now armed with a robust understanding of IPR, a new era of creativity and entrepreneurship is on the horizon for Jammu and Kashmir.