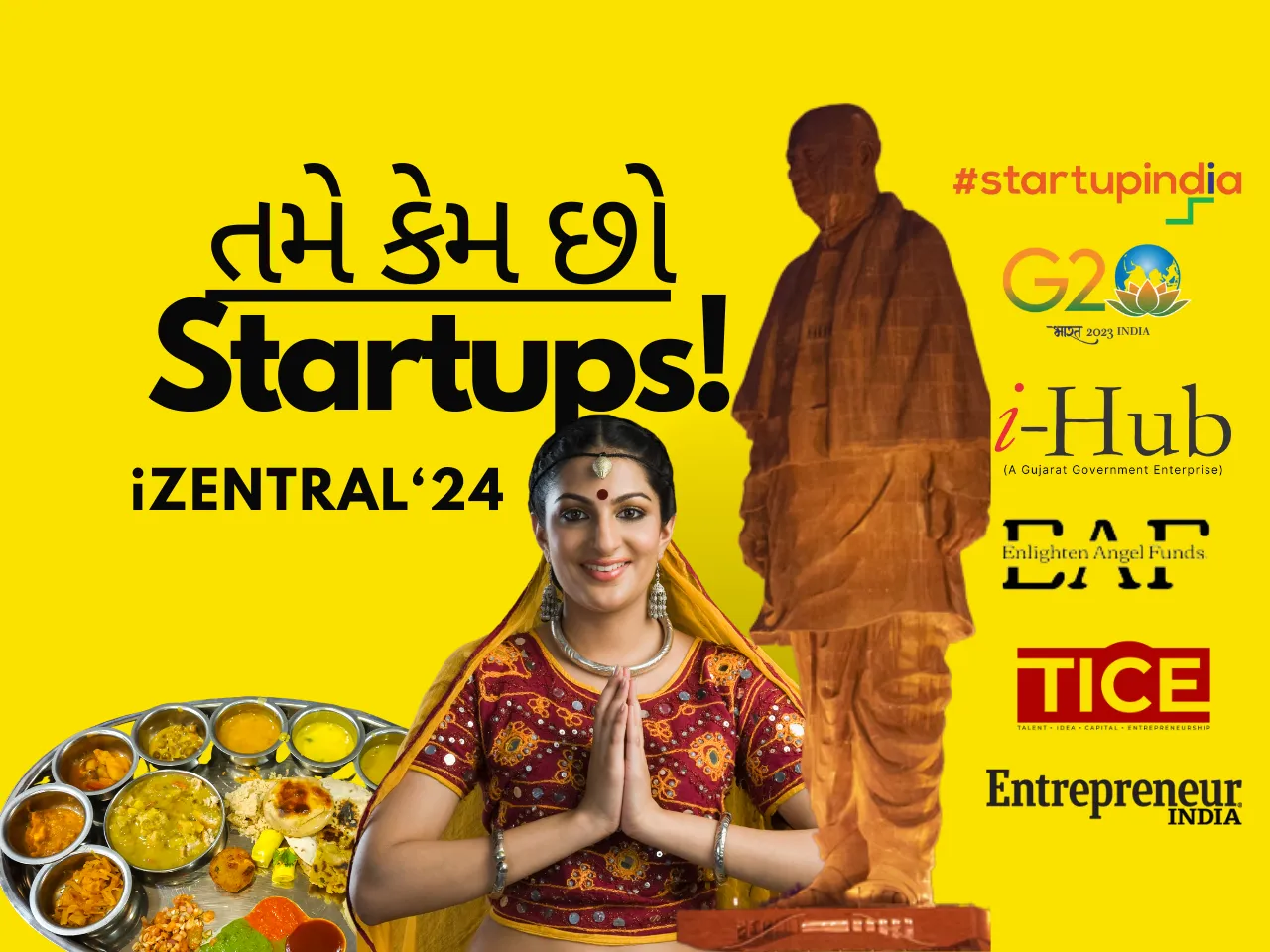 Fostering entrepreneurial growth, Enlighten Angel Fund is gearing up to host i-Zentral'24, Asia's largest startup festival. Scheduled for February 22-24, 2024, at i-hub, Ahmedabad, this three-day extravaganza promises to unite entrepreneurs, mentors, investors, and industry experts from diverse backgrounds.
TICE News (www.tice.news) is the media partner at the event.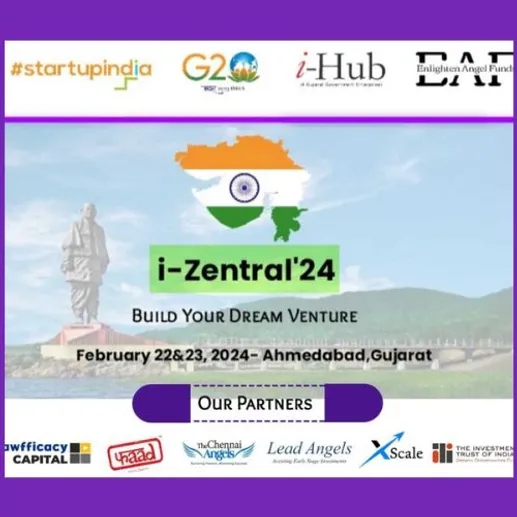 A Global Conclave Without Boundaries
i-Zentral'24 is a unique global annual event aimed at developing entrepreneurial ecosystems. Breaking free from traditional constraints, the festival is entirely agnostic of factors such as sector, age, gender, caste, colour, nationality, or location. The focus of the event is on building a vibrant startup ecosystem that knows no borders.
Koushik Shekhar, a senior official of the i-Zentral organizing team, emphasized the festival's vision and aim stating, "At i-Zentral'24- Entrepreneurs Derive the plan, Device the ideas and Disrupt the Market and that's why we call it as 3D's of ecosystem. I-Zentral'24- provides a platform for startups to valuate the ideas through various sessions and pitch process. With three levels of curation, we bring the best of deals for investors interest and co-invest. Along with acceleration from best of experts." 
The event aims to provide grant opportunities, funding, acceleration, and expansion avenues for startups across various stages and sectors. i-Zentral'24 is also expected to facilitate startup entrepreneurs with ease of access to starting up, mentorship, market access, funding, and expansion opportunities.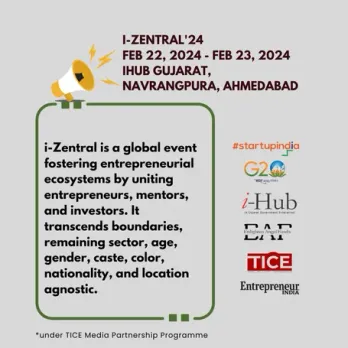 i-Zentral'24: A Global Magnet for Startups and Investment Giants
i-Zentral, the annual startup ecosystem event is expected to draw over 3000+ startups across three days. The festival boasts the participation of 150+ global investors, including 75+ venture capital firms, 20+ family offices and fund houses, 10+ entities from the BFSI sector and 8 State Nodal Agencies. Over 500 startups hailing from India, Singapore, Malaysia, the Middle East, the USA, and Canada are set to converge at this grand spectacle.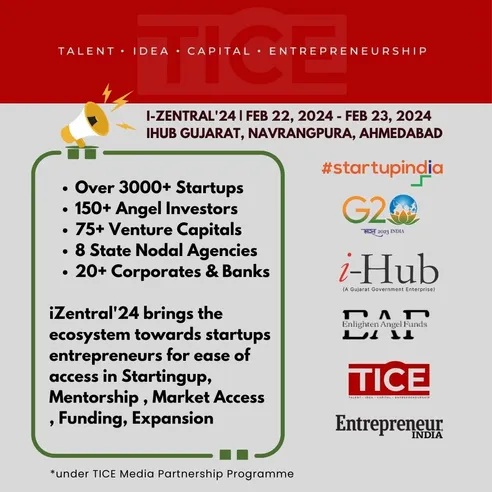 Join the startup revolution at i-Zentral'24, presented by @enlightenvc in collaboration with @AtalNit.

This PAN India event boasts 2000+ footfall, 150+ venture capital firms, 100+ angel investors, 1000 startups, 15 banks, and 8 state nodal agencies.@AIMtoInnovate #aicnalanda pic.twitter.com/dQ0A2VBlT4

— AIC-Nalanda Institute of Technology Foundation (@AtalNit) November 15, 2023
i-Zentral'24: Asia's Startup Carnival
This year's edition, i-Zentral'24, is poised to be the biggest startup festival in Asia, with an expected footfall of over 2000 participants. Held as a startup conclave in i-hub Gujarat, the festival welcomes entrepreneurs and stakeholders from around the world to engage in a blended environment of physical and virtual interactions. The goal is clear – to position i-Zentral as Asia's, and eventually the world's, premier startup ecosystem.
How Will The Startups Be Evaluated?
There will be a three-level evaluation for the startups.
Level 1: Academic institutions such as IIMB NSRCEL, ECell IIM Kolkata, AIC-Nalanda Institute of Technology foundation, ACIC-GIETU, and AIC-BIMTECH will evaluate over 5000+ startups, shortlisting the top 500.
Level 2: The top 500 startups will undergo evaluation by various venture capital companies, fund houses, family offices, experts, angel investors, and banks to curate a list of the top 100, garnering funding interests.
Level 3: The final 100 startups will be curated by a panel of experts to form the Super 30, advised for grants to state nodal agencies and venture fund houses. These top 30 startups will pitch in the grand finale on February 22-23, 2023, at i-hub, Ahmedabad, Gujarat.
The announcement of the top 100 startups will be done on December 05, 2023. Virtual pitch days for the top 100 will take place on December 07, 2023, with the final closure on December 19, 2023. The unveiling of the Super30's results will be done on January 16, 2024, followed by an acceleration virtual master class on January 18, 2024, leading up to the grand finale on February 20, 2024. 
How to Be A Part of i-Zentral?
To be part of one of India's largest startup carnivals, interested individuals can register and find more information here. For general inquiries, visit Enlighten Angel Fund's official website or reach out via email at 2i@enlightenvc.online. The registration for the event can be done through: https://enlightenvc.online/i-zentral/
Join Our Thriving Entrepreneurial Community

Follow TICE News on Social Media and create a strong community of Talent, Ideas, Capital, and Entrepreneurship. YouTube  | Linkedin | X (Twittrer) | Facebook | News Letters