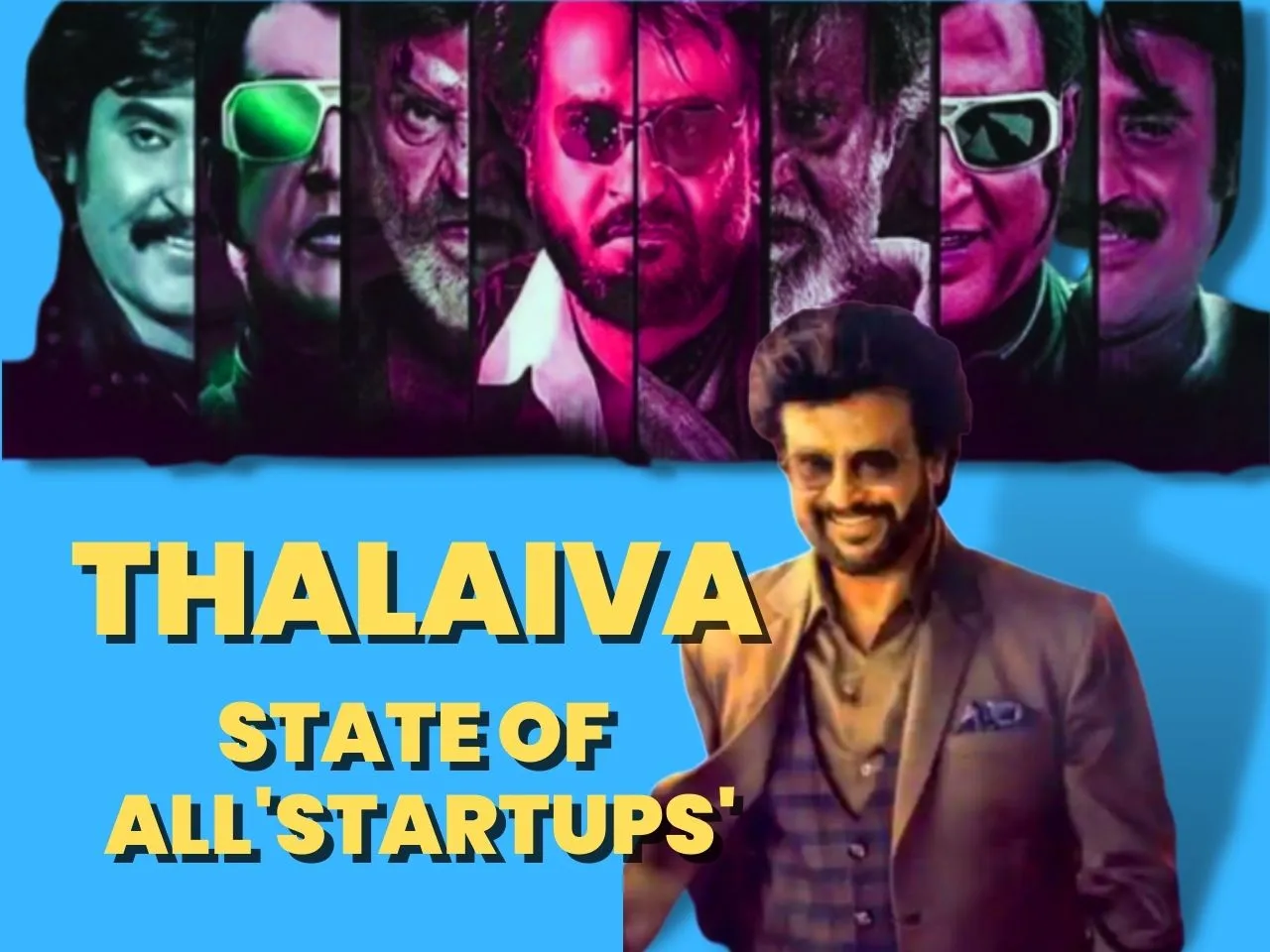 Everyone remembers the 1992 rags-to-riches flick - Annamalai - where a simple man with humble resources builds a powerful and successful business. This story of the Thalaiva Rajnikanth movie Annamalai is now being replicated on the soil of Tamil Nadu and can be seen as an inspiration for the bustling startup culture in the state. 
While the movie Annamalai rocked the screen back in the 90s, real-life startups are becoming the Thalaiva and turning that narrative into a reality. A home to over 2,700 registered startups, the new-age Annamalais are revolutionsing the business environment of the state. From agriculture to healthcare, fintech to edtech, artificial intelligence to space - there is hardly any area where these upstarts can be ignored. 
Annamalai's of Today
While Annamalai had his adventures entrepreneurial journey back in 1992 in the reel, many real life Annamalais have grown in the state over the last two decades.  One such example is Zoho - a startup founded in 1996 by Sridhar Vembu and Tony Thomas in Chennai, India. This is just one famous example, there are many startups that are making wonders in the state of Tamil Nadu. 
Agnikul, Treat at Home, Prodapt Solutions, Pando and Aquaconnect are some other notable startups that are taking the lead not just in Tamil Nadu but the whole of India towards newer Innovations.
The Agnikul Annamalai
Agnikul, for example, is a startup which is bringing space within everyone's reach. In 2016, Agnikul existed just on paper and in dreams. But thanks to its founders who worked hard to make it a reality. In 2017, Agnikul Cosmos was formally incorporated as a company in Chennai and moved into the National Center for Combustion R&D at IIT Madras, Chennai, India. In 2018 it became a part of the Airbus Accelerator and first set of igniters and single injector element based thrusters. With right support from the investors and government incubation centers, Agnikul successfully fired a single piece 3D printed engine - Agnilet and achieved steady state in 2021.
This is just one, according to the latest industry data, the state is home to more than 2700 registered startups. Interestingly, Tamil Nadu has recorded a consistent growth in the startup sector ever since the launch of Startup India programme in 2016. While the state had only 252 startups in 2017, the number has reached 1,103 in 2021. If we talk about the year-on-year numbers, the state had 252 startups in 2017, 448 in 2018, 602 in 2019, 755 in 2020 and 1,103 in 2021, stated the DPIIT data. 
Factors That Are Boosting Startup Ecosystem In The State
The entrepreneurial spirit and the drive to innovate, which are the core aspects of the startup culture in Tamil Nadu, are inspired by many other factors too.
Some important aspects that influence the startup culture in Tamil Nadu is the presence of a large number of engineering and technology institutes in the region. These institutes produce a large number of highly educated and skilled individuals who are well-suited to starting and running technology-driven businesses. Additionally, the state has a large population of working-age individuals and a relatively high literacy rate, which provide a large pool of potential employees and customers for startups.
Tamil Nadu government also plays an important role in promoting entrepreneurship in the region through various initiatives such as the Tamil Nadu Innovation Council, and the Tamil Nadu Industrial Guidance and Export Promotion Bureau, which provide funding, mentorship, and other resources to help entrepreneurs start and grow their businesses.
Presently, the state has developed a diverse and dynamic startup ecosystem which includes, Tamil Nadu government's initiatives like TANSTIA, and T-TBI (Tamil Nadu Technology Business Incubator) and also incubation centers like IIT Madras Research Park, and many others.
Global Tamil Angels 
Taking the startup legacy ahead, recently Tamil Nadu's honorable Chief Minister M.K. Stalin stood before a gathering of entrepreneurs, investors, and visionaries and unveiled a revolutionary new platform that would change the course of business in the state forever.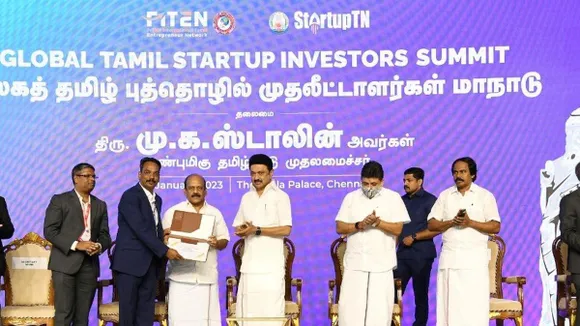 With great fanfare, he announced the launch of the Global Tamil Angels platform, a revolutionary new tool for connecting the brightest and most ambitious start-ups of Tamil Nadu with investors from the Global Tamil Diaspora. This powerful new platform, developed by Start-upTN, would offer investors from around the world a window into the dynamic and innovative businesses that were emerging in the state, and enable them to make investments that could help these companies reach their full potential.
Mr. Stalin unveiled the platform at the "Global Startup Investors Summit" in Chennai, an event jointly organised by Tamil Nadu Startup and Innovation Mission and FeTNA International Tamil Entrepreneur Network. 
The Global Hotspots for Startups in TN
Startup TN, the organization dedicated to promoting and supporting startups in the state, has reported that a staggering 65% of registered startups are based in the city of Chennai alone, with 15% more sprouting in Coimbatore. But this is just the beginning, as the organization is now creating ecosystems for startups in four key hubs across the state: Chennai, Erode, Tirunelveli, and Madurai.
Each of these hubs is a hive of activity, buzzing with ideas, energy and innovation. They are hotbeds of creativity and talent, where entrepreneurs are coming together to collaborate, share knowledge and support one another. It's a community like no other, united in their determination to create something truly revolutionary, to change the world and make their mark on history.
These hubs are the beating heart of the Tamil Nadu startup scene, and they're the driving force behind a new wave of innovation that is poised to take the state, and the world, by storm. This is the future of Tamil Nadu, and nothing can stand in its way.
The Unending Startup Stories Of TN
The startup story of Tamil Nadu doesn't end here. There are many other startups that are shaping up the startup ecosystem in the state while leaving pan-India marks. 
For example, Caratlane - an online Jewelry company founded in 2008 and changed  the way people shop for jewelry forever. With its grand collection of solitaire gems and unique designs, CaratLane quickly captured the hearts of jewelry enthusiasts. The company's ability to directly source from vendors eliminated the cost of inventory and real estate, making it possible for CaratLane to offer their customers high-quality products at an affordable price.
As CaratLane's popularity grew, the company found itself at the crossroads of destiny, when in 2016, the Titan group acquired a majority stake in the company. This partnership brought the weight of Titan's reputation and resources to the table.
The association with TATA sure, a reliable insurance provider, was another major reason for CaratLane's massive success in such a short period. It provided a sense of security and trust that made customers feel confident in purchasing a lifetime investment like jewelry.
But the state's success in the start-up ecosystem is not limited. The city has become a hotbed of activity for young entrepreneurs of all backgrounds, looking to build their own businesses in a competitive, but welcoming environment. And as more and more success stories emerge from this vibrant city, the state has a Thala startup in every business category.