Russian President Vladimir Putin showered accolades upon India during a recent event in Sochi, Russia, where he commended India's G20 Presidency stating that the Indian leadership was able to find... balance, including in the declaration. Putin also said that India is becoming stronger every year under the leadership of PM Modi."
Putin expressed his support for India's aspirations for a seat on the UN Security Council, highlighting the nation's increasing influence on the global stage.
Russian President Praises India's G20 Presidency; Says India is becoming stronger every year@PMOIndia @KremlinRussia_E @BJP4India @narendramodi @g20org #Russia #Trending #Putin #PMModi

Source: Kremlin pic.twitter.com/xvfxM3x3mw

— TICE.NEWS (@TiceNews) October 6, 2023
G20 Summit: India's Triumph and Putin's Praise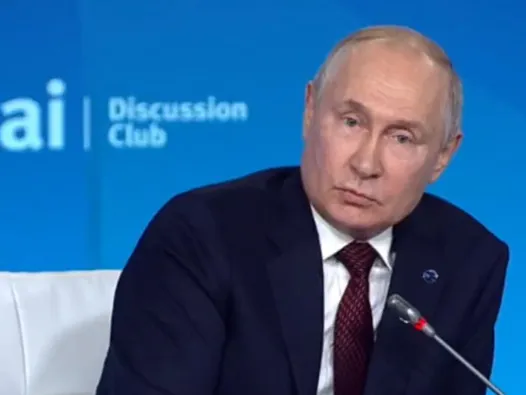 At the Valdai International Discussion Club's 20th annual meeting, Putin praised India's leadership of the G20 Summit. He stated, "As for the work of the G20, without any doubt, that is the success of the Indian presidency and personally for PM Modi, that was a success. The Indian leadership was able to find... balance, including in the declaration."
The Russian President's remarks underscored the effectiveness of India's diplomatic efforts during its G20 presidency.
India's Independent Global Role
Putin also lauded India for its independent stance on the global stage. He stated, "I would like to say that the Indian leadership is independent and strongly nationally oriented. They (the West) try to portray those who are not willing to blindly follow these Western elite groups as enemies. They have used this approach with various countries, including China, and tried to do this to India in certain situations."
The event in Sochi drew a diverse crowd of 140 experts, politicians, and diplomats from 42 countries spanning Eurasia, Africa, North and South America, highlighting the international significance of Putin's remarks.
Putin's Diplomatic Approach: No Need to Create Problems for Friends
Responding to a question about his absence at the BRICS Summit in South Africa and the G20 Summit in India, Putin adopted a pragmatic approach, stating, "Why do I need to create some problems for friends during the organization of these events? We are adults, and we understand that if I come, some political campaigns will start, which will be aimed at undermining the summit." This statement underscores Putin's desire to maintain positive relationships with his counterparts.
Support for India's UN Security Council Bid
In addition to his praise for India's G20 achievements, Putin expressed support for India's pursuit of a seat on the UN Security Council. He emphasized the importance of countries with substantial global influence having representation in the Council. Putin highlighted India's significant population of 1.5 billion people, robust GDP growth exceeding 7 percent, and the remarkable expansion of its high-tech exports.
"What countries am I talking about? India — 1.5 billion people. Over 7 percent GDP growth. High tech exports are growing exponentially. It is becoming stronger every year under the leadership of PM Modi," he said.
India's Rising Influence Recognized by Russia
Russian President Vladimir Putin's enthusiastic support for India's G20 leadership and its bid for a UN Security Council seat underscores the recognition of India's growing clout in international affairs. As Prime Minister Narendra Modi continues to navigate India's path on the global stage, Russia's endorsement serves as a testament to India's rising influence and diplomatic prowess.
Join Our Thriving Entrepreneurial Community

Follow TICE News on Social Media and create a strong community of Talent, Ideas, Capital, and Entrepreneurship. YouTube  | Linkedin | X (Twittrer) | Facebook | News Letters