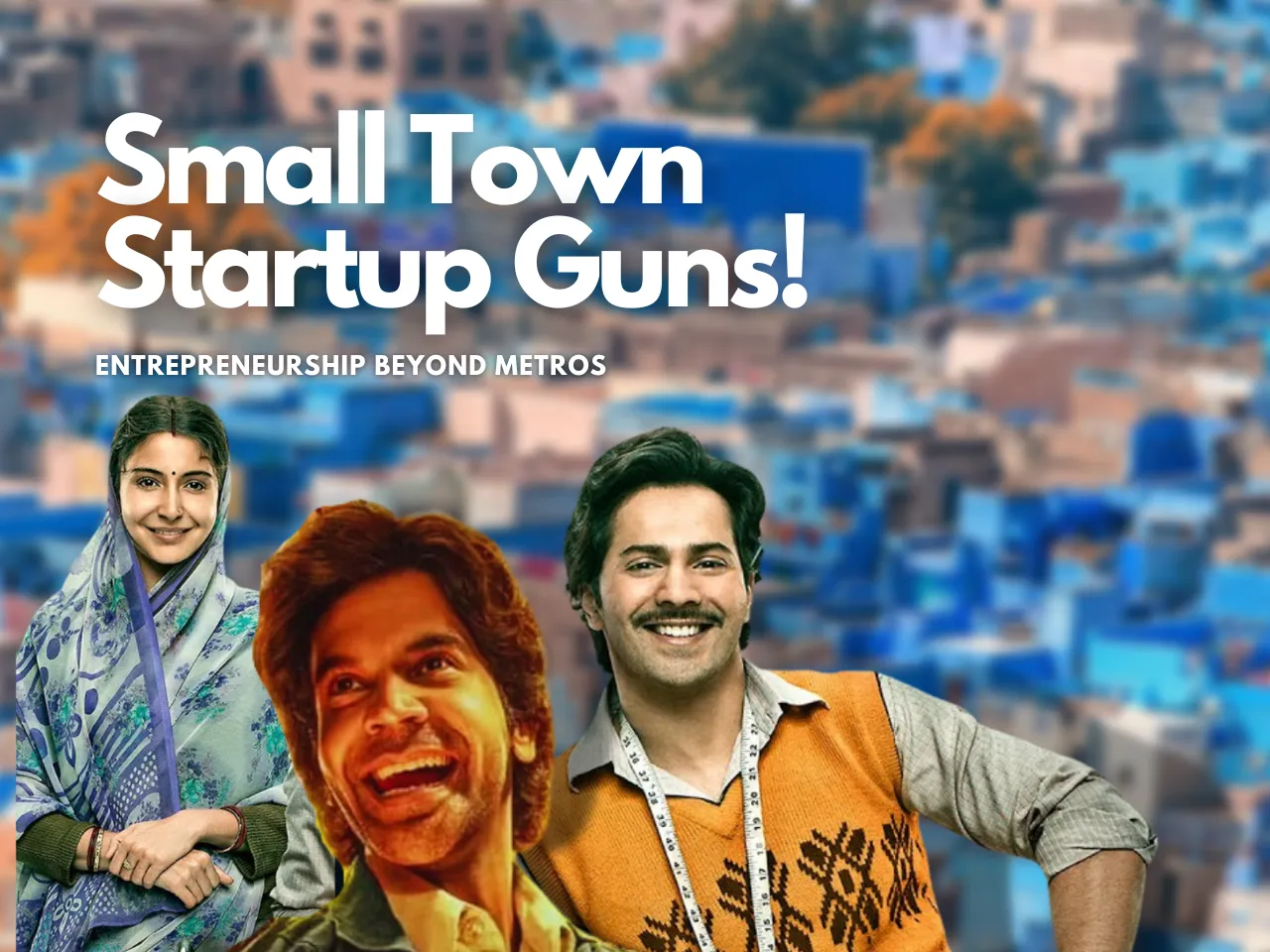 The Parliamentary Standing Committee on Ecosystems of Startup to benefit India has called upon the government to identify and nurture underperforming Tier 2 and Tier 3 cities, along with rural areas, to bolster the startup ecosystem. This move aims to drive economic development and employment generation across these regions, bridging the gap between urban and non-metropolitan areas.
The Untapped Vast Potential in Lesser-Known Startup Hubs
India's startup landscape boasts an impressive 47% of recognized startups located in Tier 2 and Tier 3 cities. These startups have not only registered their presence but have also been instrumental in introducing groundbreaking technologies and innovative solutions to address persistent social challenges. However, many cities and adjoining rural areas near the tier 2 & 3 cities are often overlooked in favour of their counterparts. Despite their potential, the startups from these areas face limited active participation within the broader startup ecosystem.
Mr Anil Joshi, Managing Partner, Unicorn India Ventures, told TICE News, "The startup registration across India has shown good traction. The startups registered or operating from Metros have better visibility or access to the investor community due to close proximity, whereas the startups from tier 2&3 cities lack similar advantages. However some of the state governments have taken initiative to engage investors actively either by startup events or fund of fund schemes, which has provided much needed support to startups. I am sure many more states will follow the successful engagement model of better performing states and make the startup ecosystem vibrant for startups in tier 2 &3 cities."
Talking to TICE News, Mr Pankaj Gupta, President, Industries Association of Uttarakhand, says, "There are issues with startups in tier 2 & 3 cities due to lack of facilities. Even if the startups want to take-off their business, they are unable to do so. Lack of opportunities basically make them die at the beginning only.  There are no proper incubation centres, funding issue, support from the government and institute side is missing.

"We need to have good incubation centres in these cities, mentoring and handholding needs to be done on regular basis and funding needs to be boosted. More funding support is needed for tier 3 cities than tier 2 and tier 1 cities. Ecosystem including the market needs to be put in place for the startups in these cities. The institutes like IIT Roorkee and other institutes needs to come up to nurture and handhold these startups then the startups in these cities will definitely look forward," he added.
Does Government Initiatives Yield Partial Success?
Acknowledging the efforts of the government in supporting entrepreneurship beyond major cities, the Parliamentary Panel report highlights the need to expand these initiatives further. While government efforts have propelled the growth of the startup ecosystem in select Tier 2 and Tier 3 cities, there remains a significant untapped potential in other regions. The ongoing technological revolution has amplified economic growth and global transformation, yet the benefits of these advancements are yet to reach all corners of the nation.
"The Committee commends the government's endeavours to decentralise and extend the startup ecosystem beyond major districts. However, it emphasises the importance of further expanding this outreach to include all Tier 2 and Tier 3 cities that currently lack active participation in the startup sector," highlights the report.
Mr Lalit Mahajan, Chairman, Federation of Industries Jammu tells TICE News, "The startups that are coming with innovative ideas don't have any investors. After inventing the products, they don't have the commercialization and marketing support. The central and the state government should come forward to support the supports in terms of marketing and funding. If these startups don't get financial support, how will they grow. 

In the G20 Meetings we suggested the government to facilitate one to one meeting of the local startups with the international investors who came for broader exposure opportunities. In Kashmir recently a startup converted a car into solar car but then nothing happened. In Bhaderwah in Jammu, a lot of innovation work was done on Lavender production but these startups also couldn't do anything due to lack of marketing support, Mr Mahajan adds.

"Dr Jitendra Singh takes a lot of initiative in these, so it's sour request the state government to get the angel investors in Tier 2 & 3 cities here, get MoU signed, develop incubators for pilot projects, bring startups and other stakeholders on same platforms. JKEDI should take the startups to national and international exhibitions and display the products of our startups there. Unless the state government provides handholding support to the startups, they cannot grow," suggest FOIJ Chairman.
Non- Metro Startup Boost Will Push for Inclusive Economic Growth
The Parliamentary Panel's recommendations emphasize the importance of inclusive economic growth through the expansion of startups in neglected regions. This expansion is predicted to unlock a host of advantages, including increased employment opportunities for local talent, utilization of latent skills, cost-effective operations, sustainable development, localized innovation, economic diversification, and improved infrastructure, ultimately benefiting local communities and the entire nation.
"The Committee is of the view that expanding startups to these regions would foster inclusive economic growth, create employment opportunities for local talent, utilisation of untapped skills, promote cost-effective operations, encourage sustainable development, drive localized innovation, diversify the economy, and enhance infrastructure for the benefit of local communities and the nation 9 as a whole. The Committee, therefore, recommends the Department to identify underperforming Tier 2 and Tier 3 cities, along with other rural areas," says the report.
Holistic Measures for Empowerment
To realize this vision, the Committee proposes a multi-pronged approach. It calls for the identification of underperforming Tier 2 and Tier 3 cities, alongside rural areas, to target efforts effectively. Furthermore, the Department is advised to launch an outreach campaign promoting startup initiatives in these regions. Access to funding and mentorship networks, tax incentives, subsidies, improved infrastructure, robust internet connectivity, and regulatory reforms are cited as essential measures to drive startup growth.
Par Panel Calls For Creating Awareness for Growth
The Committee calls for awareness campaigns aimed at educating potential entrepreneurs about available policy initiatives. These campaigns will serve as a bridge between opportunities and aspiring entrepreneurs, guiding them towards leveraging the support available for their startup ventures. Such campaigns are pivotal in disseminating information and encouraging proactive participation in the startup ecosystem.
The Unsung Success Stories From Small Towns
There has been the rise of some successful startups in Tier 2 and Tier 3 cities. Notable examples include Razorpay, Robosoft, Cardekho, Jugnoo, and BonV, demonstrating the untapped potential within these regions.
Can Tier 2&3 Startups Address Local Challenges at Scale?
These startups have the potential to address local challenges at scale, ranging from healthcare and education to agriculture and financial services specific to their regions as well. A Government reports highlight that over the last six years, startups have generated 7.68 lakh jobs in India.
Youth Leading the Charge
Digitization has empowered the youth, with an increasing literacy rate enabling widespread access to digital platforms. This shift has enabled Tier 2 and Tier 3 startups to participate, but challenges in accessing information and services persist. However, the influence of e-commerce platforms and social media is steadily increasing in smaller cities, as highlighted by a BCG report projecting nearly 60% of online urban shoppers to be from these regions by 2030.
Par Panel Recomendations: A Pathway to Inclusive Growth
The Committee's recommendations reflect the growing realization that the future of India's startup ecosystem lies beyond the metropolitan areas. With successful startups emerging from lesser-known cities, the stage is set for a virtuous cycle of innovation, employment generation, and economic growth. As these startups tackle unique local challenges, they contribute to the nation's modernization, employment generation, and broader economic diversification. The government's continued commitment to nurturing these startups is poised to reshape India's economic landscape for the better.
Govt's Initiatives to Address Challenges Faced by Entrepreneurs in Non-Metro Cities
The Parliamentary Panel report says that since the launch of the Startup India Initiative, the Government has implemented various programmes on a pan-India basis to address the challenges faced by entrepreneurs and has made an active effort towards decentralising the initiative in reaching startups beyond major districts. Sustained efforts in this direction have resulted in programmes being rolled out to address challenges such as funding, mentoring, outreach, market access, etc., especially in Tier 2 and 3 cities.  
The flagship funding schemes namely, Fund of Funds for Startups (FFS), Startup India Seed Fund Scheme (SISFS) and Credit Guarantee Scheme for Startups (CGSS) support startups across the country at various stages of their business cycle.
A major objective of the Startup India Yatra is to reach Tier 2 and 3 cities of India to search for entrepreneurial talent and to help develop the ecosystem around them. Entrepreneurs are scouted from non-metropolitan cities and provided with a platform to pursue their aspirations through incubation and mentorship from renowned institutions and fulfill the need for such resources in their region.
Under the National Startup Awards (NSA), recognition and support is provided to startups emerging from both metro cities and beyond major districts. NSA, 2022 included 'Impact in Rural Areas' and 'Startups from North-East and Hilly States and UTs' as part of its 20 categories. Across the editions, winners and finalists have emerged from cities such as Kangra in Himachal Pradesh, Pauri in Uttarakhand, Kamrup in Assam, Faridabad in Haryana among many others.
Under ASCEND (Accelerating Startup Caliber and Entrepreneurial Drive), sensitisation workshops on startups and entrepreneurship were conducted for all eight North Eastern States towards creating a robust startup ecosystem in these States.