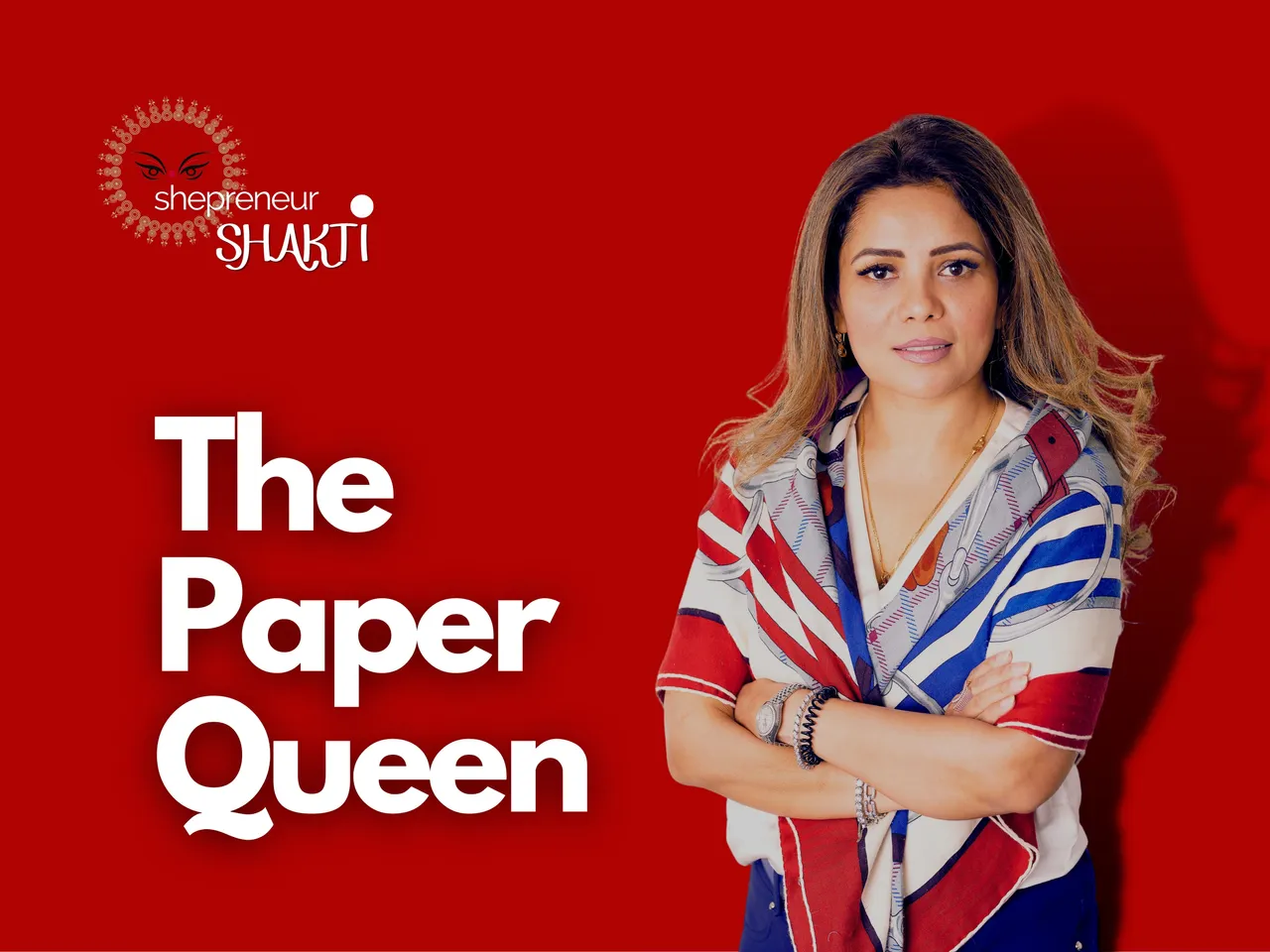 Meet our Shepreneur Shakti - Dr. Poonam Gupta OBE, the founder and Chief Executive of PG Paper, an international paper company operating in over 60 countries. Let us tell you that Poonam led a successful Scottish Chambers Task Force to India in 2019.  She has been recognised as one of the '100 Most Influential in UK-India Relations' by India Inc Group. Poonam is currently Chair of the UK India Manufacturing Council, FICCI, the largest and oldest apex business organisation in India.  
In this enticing story, we'll take a closer look at Poonam's inspiring journey to entrepreneurship, her philanthropic work, and her thoughts on generating new ideas and becoming a successful entrepreneur.
From Kitchen to Global Paper Company: Poonam's Entrepreneurial Journey
Poonam's startup journey began in 2002 when she arrived in Scotland with an MBA in international business but no work experience. Instead of waiting for someone to employ her, she started her own business from her kitchen in Kilmacolm, trading redundant waste materials. She quickly learned that there is always a market for goods when you buy at the right price - the fundamental pillar of PG Paper's subsequent success. Today, Poonam is one of the most recognised entrepreneurs in the UK and beyond, committed to further building PG Paper worldwide, expanding into new fields of business but also passing on her knowledge and experience to a new generation of entrepreneurs.
Philanthropy and Social Responsibility: Poonam's Commitment to Giving Back
Poonam believes that with success comes social responsibility, and charitable work runs like a seam throughout her life and work. She is a benefactor of many local, national and international charities; with a particular focus on woman-centric issues, disadvantaged children, gender equality and animal conservation. In recognition of her service to charity and business, she was awarded the Order of the British Empire (OBE) in the Queen's New Year Honours List in 2016.
Poonam led PG Paper's India Covid Appeal providing much-needed oxygen concentrators throughout India during the country's deadly second Covid wave, helping an estimated 10,000 hospital patients across the country. She sourced over 3,000 oxygen concentrators, delivering and distributing them to NGOs, hospitals, and Covid centres around India in a concerted effort to meet the country's urgent need for oxygen.
Importance of Education in Personal and Entrepreneurial Growth
Poonam also shared her thoughts on education and its role in personal and entrepreneurial growth. Poonam believes that education is one of the most important assets that a person can possess. A good education equips individuals with the necessary knowledge, skills, and mindset to succeed in various aspects of life. Poonam acknowledges that there are successful entrepreneurs like Bill Gates who did not have much formal education. However, she appreciates the efforts and dedication of those who have pursued their entrepreneurial journeys despite a lack of education. At the same time, Poonam believes that education can play a crucial role in an entrepreneur's success. A formal education provides a strong foundation in business principles, finance, marketing, and other essential areas.
Also, she emphasizes that education does not stop with formal schooling. Lifelong learning is necessary for personal and professional growth. It involves continuously seeking new knowledge, skills, and experiences that can help individuals adapt to changing circumstances and remain competitive in the market.
Generating New Ideas and Being a Successful Entrepreneur: Poonam's Insights
Poonam believes that finding a gap in the market is key to entrepreneurship. She founded PG Paper 18 years ago after identifying a gap in the paper market. Poonam and her team work hard at keeping up to date with changes within the paper and packaging industry, and PG's research department produces regular reports and updates on changing market conditions. Poonam also places value on the importance of talking to people and networking across her various business and charity interests. She believes that critical and creative thinking is incredibly important in problem-solving, along with flexibility and persistence.
The Three Elements of Success
According to Poonam, there are three important elements to success. Firstly, the ability to spot an opportunity, which she did the day she started PG Paper. Secondly, the ability to troubleshoot and solve problems, which requires critical and creative thinking, flexibility, and persistence. Finally, consistently working hard and putting in the hours is crucial for success.
Homemaker and Successful Entrepreneur: Poonam's Key to Maintain Work-Life Balance
Poonam and her husband Puneet work together at PG Paper, and their time with their daughters is very precious. She believes that making quality time for each other is incredibly important, especially when running a global company. As her daughters reach the stage of deciding on their future careers, she hopes to have inspired them to follow their own passions and path.
Watch Our Exclusive Conversation With Dr. Poonam Gupta OBE only on TICE TV:
Stay tuned with us to know more enticing stories of Shepreneurs from all across the country!