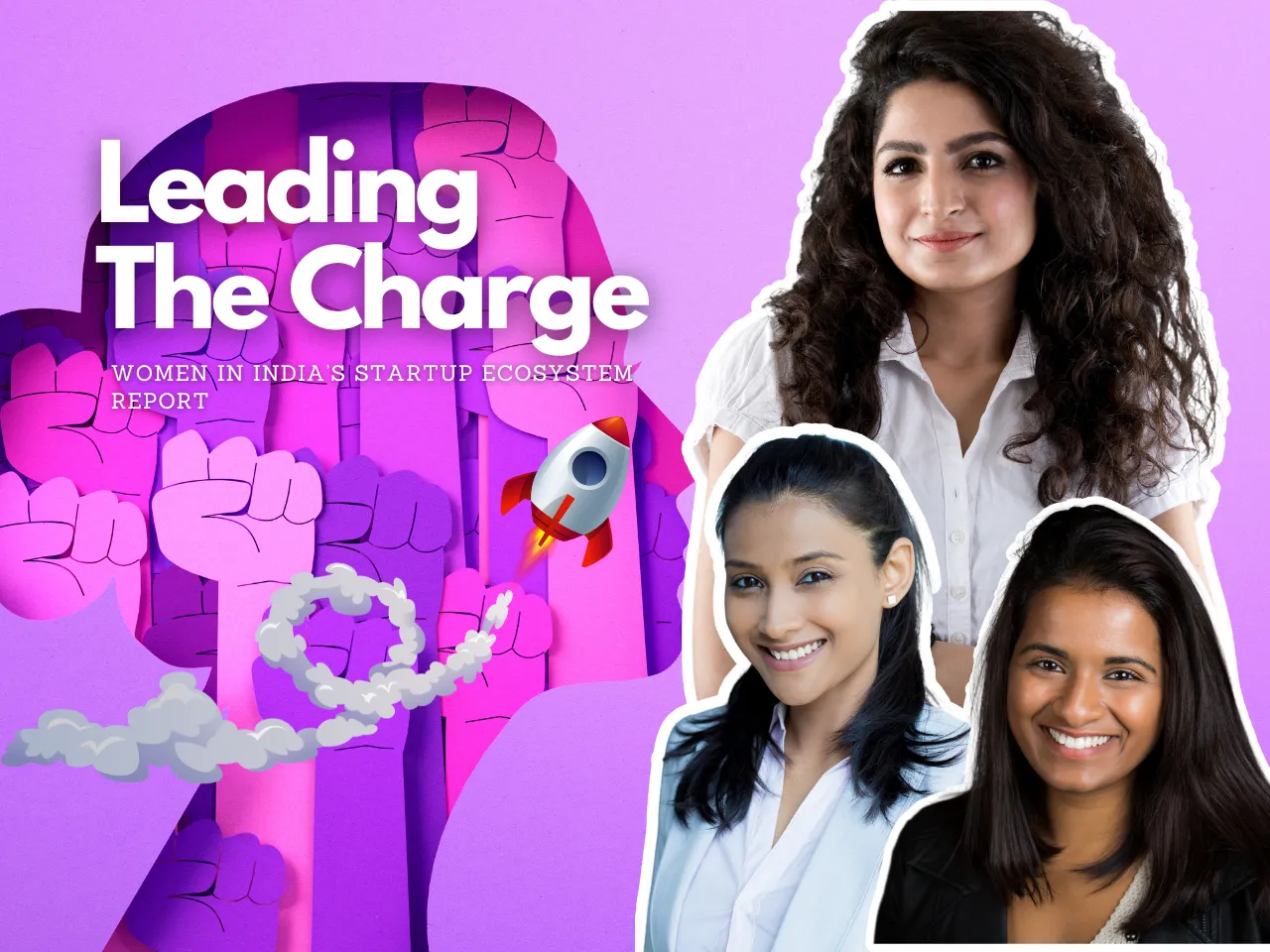 India's startup ecosystem has seen remarkable growth in the past five years, and what's even more exciting is the surge in female entrepreneurs making their mark.
According to the 'Women in India's Startup Ecosystem Report' (WISER), women-led startups have flourished, now constituting 18% of the country's burgeoning startup landscape. In this article, we'll delve into this remarkable transformation, the rise of unicorn startups led by women, the changing investment landscape, and the leadership dynamics within these startups.
The data in the WISER report is drawn from the active participation of more than 200 startups, including well-known names like Urban Company, Meesho, and Zomato. This reflects the growing interest and support for women-led businesses within India's entrepreneurial community. Collaborative efforts are vital in furthering the success of these startups.
The Evolving Landscape
Back in 2017, India was home to around 6,000 startups, but only 10% were led by female founders. Fast forward to 2022, and the number of startups has soared to an impressive 80,000, with women-led startups claiming a significant 18% share of the market. This substantial growth signifies a dynamic shift in India's entrepreneurial culture.
 "As an HR practitioner with over 25 years of experience, I've witnessed the recurring themes of 'talent shortage' and 'the war for talent' being posed as potential challenges for businesses. It's perplexing, considering our position as one of the world's most populous and reasonably well-educated nations. To top it off, there's the stark reality of our ranking among the lowest in Female Labor orce Participation. However, this is our moment to transform the narrative and harness the potential of our demographic to our advantage! It's exciting to see the startup ecosystem taking the lead in driving this change, paving the way for a more diverse and inclusive workplace," Suman Gopalan Ex-CHRO, Freshworks & Advisory Council Chair, ACT For Women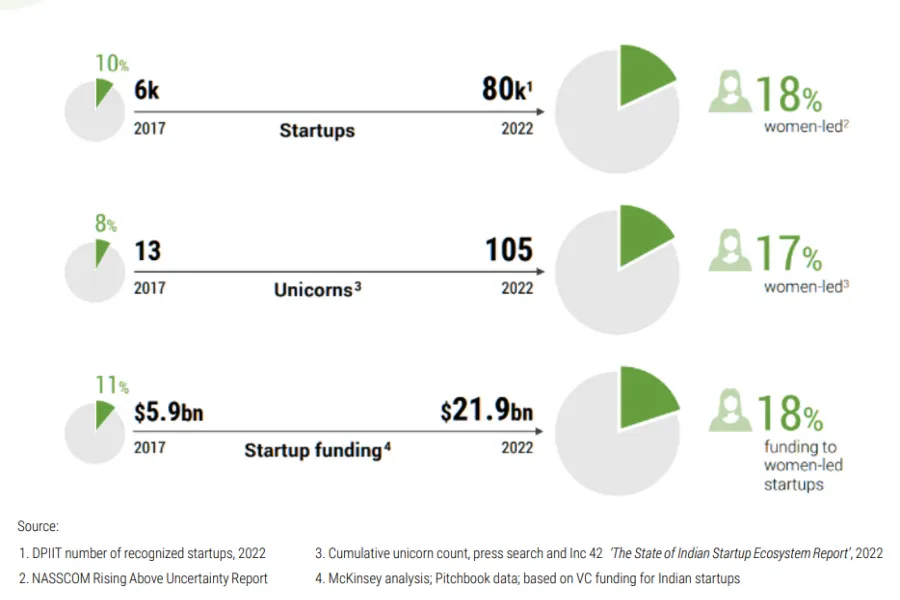 Unicorn Startups: A Rising Phenomenon
The WISER report brings attention to the surge in unicorn startups, with 105 achieving this prestigious status in 2022 compared to just 13 in 2017. Notably, the percentage of women-led unicorn startups has seen substantial growth, jumping from 8% to 17%. A unicorn startup is one valued at over $1 billion in the venture capital arena, reflecting the exceptional work done by these women-led ventures.
As of October 3, 2023, India boasts an impressive tally of 111 unicorns, collectively valued at a staggering $349.67 billion. Notably, 45 of these unicorns, with a combined valuation of $102.30 billion, entered the scene in 2021. Furthermore, 22 unicorns, amounting to a total valuation of $29.20 billion, emerged in 2022, adding to India's flourishing startup ecosystem as per the data shared by Invest India. 
Investment Landscape Transformation
In 2017, venture capital funding for Indian startups amounted to $5.9 billion, with only 11% allocated to women-led startups. However, by 2022, total VC funding had soared to $21.9 billion, and the proportion directed towards women-led startups had risen to 20%. This shift underscores a positive change in the investment landscape, enhancing the prospects of female entrepreneurs.
Women in Leadership Roles
The WISER report accentuates the ascent of women in leadership positions within startups, setting them apart from their counterparts in corporate enterprises. The data reveals that startups outperform traditional businesses, with 32% of women in managerial roles compared to 21% in corporate settings. This disparity becomes even more pronounced at the CXO level, where corporates have just 5% of women in leadership roles, while startups boast 18%. Moreover, startups founded by women display a significant trend, with 2.5 times more women in senior roles compared to those founded by men.
What challenges do Women face in the Indian Startup Ecosystem?
Women in startups face challenges in attaining director-level positions, with only 5 in 10 reaching such roles, highlighting the need for further support and initiatives.
Despite the significant progress, the report notes that there is still work to be done. After a decade in their careers, 8 out of 10 men in startups occupy director-level positions or higher, whereas only 5 in 10 women attain such roles. This highlights the need for continued support and initiatives to bridge this gender gap.
The rise of women-led startups in India is an inspiring success story that reflects the changing dynamics of the country's startup ecosystem. The growth in the number of startups, the rise of unicorn startups, increased investment in women-led ventures, and the growing presence of women in leadership roles are all positive indicators of this transformation. While there's still room for improvement, the future looks promising for female entrepreneurs in India.
Join Our Thriving Entrepreneurial Community

Follow TICE News on Social Media and create a strong community of Talent, Ideas, Capital, and Entrepreneurship. YouTube  | Linkedin | X (Twittrer) | Facebook | News Letters