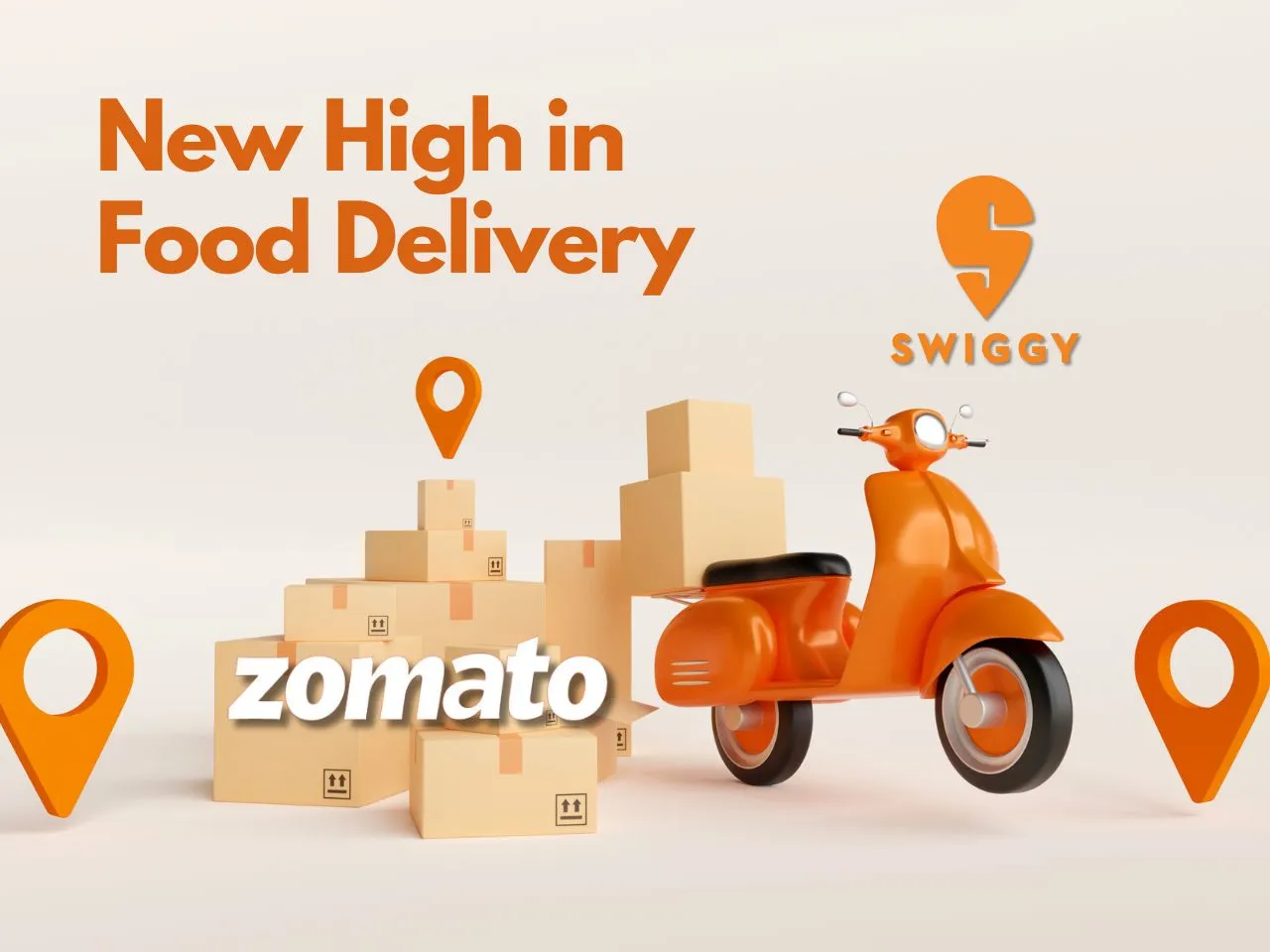 In the realm of India's booming food delivery industry, both Zomato and Swiggy have captured headlines with significant updates. Zomato's latest move involves a strategic partnership with IRCTC, while Swiggy is making waves with an upward revision in investor valuation and an increase in delivery fees by Rs 3.
India boasts the world's fourth-largest railway network, operating more than 22,593 trains daily and catering to a staggering 24 million passengers. This expansive railway system is recognized as one of the largest globally under single management. In a bid to enhance the dining experience for these passengers, IRCTC has partnered with the food delivery giant, Zomato, offering passengers the freedom to choose their preferred meals.
Connecting Railway Passengers with Zomato
The Indian Railway Catering and Tourism Corporation Ltd (IRCTC) has made a significant move in improving the culinary experience for rail travellers by joining hands with Zomato, one of India's leading food delivery startups. This partnership aims to expand food options available to passengers through IRCTC's E-Catering segment.
To kickstart this innovative collaboration, IRCTC has introduced a Proof of Concept (PoC) at five major railway stations: New Delhi, Prayagraj, Kanpur, Lucknow, and Varanasi. Passengers at these stations can now seamlessly order and receive pre-ordered meals via the IRCTC E-Catering portal, facilitated by Zomato's services.
IRCTC said, "This is to inform that in view of widening the range of options available to rail passengers for ordering food of their choice under IRCTC's E-Catering segment, IRCTC has tied up with M/s. Zomato Limited for supply and delivery of preordered meals through IRCTC's E-catering portal as a Proof of Concept (PoC) in the first phase at five Railway stations i.e. New Delhi, Prayagraj, Kanpur, Lucknow & Varanasi."
Enhancing Dining Experience For Passengers 
This strategic alliance is poised to bring about a transformation in the dining experience of rail travellers. With a more extensive array of food choices and a user-friendly ordering system, passengers can look forward to a more enjoyable and comfortable journey. The partnership ensures that passengers have the convenience of ordering the food of their choice, making rail travel not just efficient but delightful.
Invesco Increases Valuation of Swiggy
In another development that is making waves in the food delivery startup sector, Invesco, a prominent US-based fund manager, has revised the fair value of Swiggy, a leading food and grocery delivery platform in India. Invesco had previously reduced the valuation of Swiggy twice in the last four months, but it has now pushed up the fair value.
According to recent filings, Invesco, which led a USD 700 million round for Swiggy in January last year, valued the company at USD 7.85 billion as of July 31, 2023. This valuation represents a 42 percent increase from the previous assessment but is still 30 percent lower than the valuation in January 2022.
Swiggy, much like its competitors in the food delivery sector, had seen a slowing market after a period of rapid growth, prompting valuation adjustments. The recent valuation brings Swiggy's worth closer to rival Zomato, which had a valuation of around USD 7.7 billion as of July 2023. However, Zomato's valuation has seen a boost of over 30 percent since then, now exceeding USD 11 billion due to improved financial performance.
It's worth noting that the valuation of private companies often aligns with the performance of their publicly listed counterparts, which suggests that Swiggy's valuation may continue to rise as it enhances its efficiency and financial health.
Swiggy Hikes Food Delivery Fee 
Swiggy, which has been eyeing a potential IPO in 2024, has taken several measures to bolster its financial health.

Earlier this year, the platform introduced a platform fee of Rs 2 per order. Now, it has increased this fee to Rs 3 for its food delivery service. This move comes as Swiggy faces heightened competition in the food delivery industry and strives to achieve profitability.

 

The decision to increase the platform fee is likely to draw mixed reactions from customers, as many already perceive delivery charges as relatively high. The additional fee, although aimed at bolstering the company's financial position, may result in food delivery becoming more expensive for consumers.

While Swiggy remains focused on refining its business model and preparing for a potential IPO, the competitive dynamics in India's food delivery sector continue to evolve. With the IRCTC-Zomato partnership and Swiggy's valuation adjustments, the industry is experiencing shifts that will shape its future.
Join Our Thriving Entrepreneurial Community

Follow TICE News on Social Media and create a strong community of Talent, Ideas, Capital, and Entrepreneurship. YouTube  | Linkedin | X (Twittrer) | Facebook | News Letters