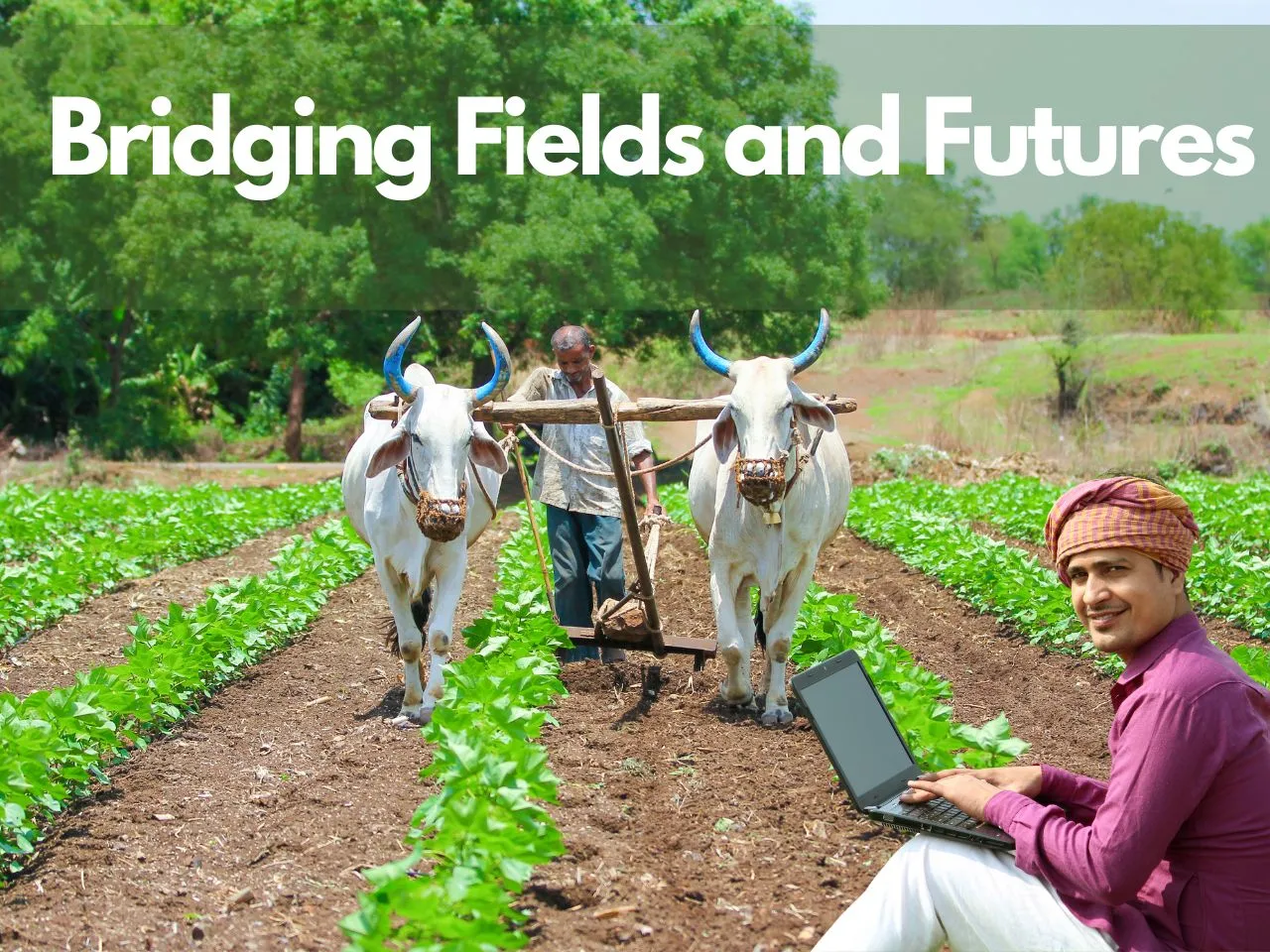 India is primarily an agricultural country and the agritech startups have the potential to solve problems related to supply chain management, improper infrastructure and inability of farmers to access a wider range of markets. Although the emergence of startups focusing on the agriculture sector has the potential to be a significant game-changer for the nation, merely 5.18% of the startups are in the agriculture sector.
A Parliamentary Panel has expressed concerns about the low representation of such startups in the overall startup ecosystem.
The Parliamentary Standing Committee Report on Ecosystem of Startups to Benefit India has recommended that additional efforts should be made to expand the presence of agri-based startups in the country by providing them with increased funding opportunities and support through guidance and mentorship.
Seeds of Innovation: Cultivating Solutions
The emergence of agritech startups comes as a breath of fresh air for the agrarian society. These startups are providing farmers with tools to increase their income through sustainable and technology-driven practices.
By enabling farmers to bypass traditional constraints, they are ushering in a new era of prosperity. These innovative solutions have the potential to bridge the gap between rural and urban economies, paving the way for a balanced national growth trajectory.
Concerted Efforts Needed To Bolster Presence of Agri-Based Startups: Par Panel
Despite the promising strides made by agritech startups, their presence in the broader startup landscape remains disproportionately small. Out of a staggering 98,119 recognized startups in the country, a meagre 5,088 (5.18%) operate in the agriculture sector. This discrepancy has raised concerns, prompting the Parliamentary Standing Committee to recommend a concerted effort to bolster the presence of agri-based startups. The report calls for enhanced funding opportunities, as well as mentorship and guidance, to nurture these budding enterprises.
Cultivating Collaborations for Success
To ensure the exponential growth of agritech startups, the report underlines the importance of collaborative efforts. By fostering partnerships with technology providers, incubators, and research institutions, the startups can access cutting-edge tools and expertise. This collaborative ecosystem will enable startups to innovate at an accelerated pace, addressing challenges with a multidisciplinary approach and creating a win-win scenario for all stakeholders involved.
Growing the Agri-Startup Landscape
Recognizing the potential impact of agritech startups, the government has taken steps to nurture this sector. The "Innovation and Agri-entrepreneur development" program launched by the Department of Agriculture and Farmers Welfare under the Rashtriya Krishi Vikas Yojana Remunerative Approaches for Agriculture and Allied Sector Rejuvenation (RKVY-RAFTAAR) scheme has laid the groundwork for fostering agri-based startups.
Financial assistance to the tune of Rs. 75.25 crore has been extended to nearly 1,176 agri-startups under the RKVY initiative, focusing on a spectrum of domains including precision agriculture, agro-processing, post-harvest technologies, and more.
                             Focus area-wise agri-startups supported under RKVY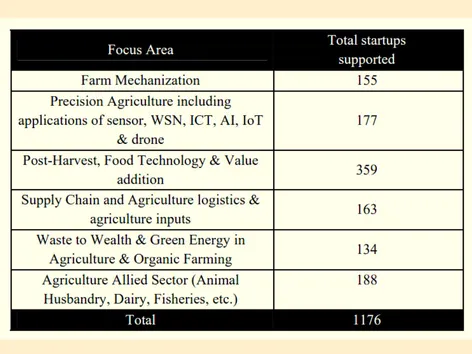 A Paradigm Shift: Technology as the Catalyst
The increasing penetration of smartphones coupled with the rise of agritech startups has acted as a catalyst for the swift adoption of technology in the farming sector. This convergence of technology and agriculture is steering the sector towards smarter, more efficient practices. Internet of Things (IoT), data analytics, artificial intelligence, and remote sensing are being harnessed to enhance productivity, optimize resource allocation, and empower farmers with data-driven decision-making tools.
Efforts Should Be Made To Encourage Adoption of Advanced Technologies
The Committee has called for efforts to be made "to encourage the adoption of advanced technologies, such as (IoT, data analytics, artificial intelligence, and remote sensing to improve productivity, optimise resource utilisation, and enhance decision-making in agriculture. This can be achieved through collaborations with technology providers, incubators, and research institutions."
The agriculture sector contributes 16.5% to India's gross domestic product (GDP) and employs 43% of the Indian workforce.
In the year 2021 agritech startups raised close to USD 684 Million across 47 deals. In total, the agritech sector raised USD 1 Billion in funding between 2014 and 2021.
The government's initiatives, coupled with recommendations from the Parliamentary Standing Committee, signify a proactive approach towards nurturing this sector. As agritech startups continue to grow, their impact could well extend beyond economics, ushering in a green revolution that encompasses innovation, sustainability, and prosperity.