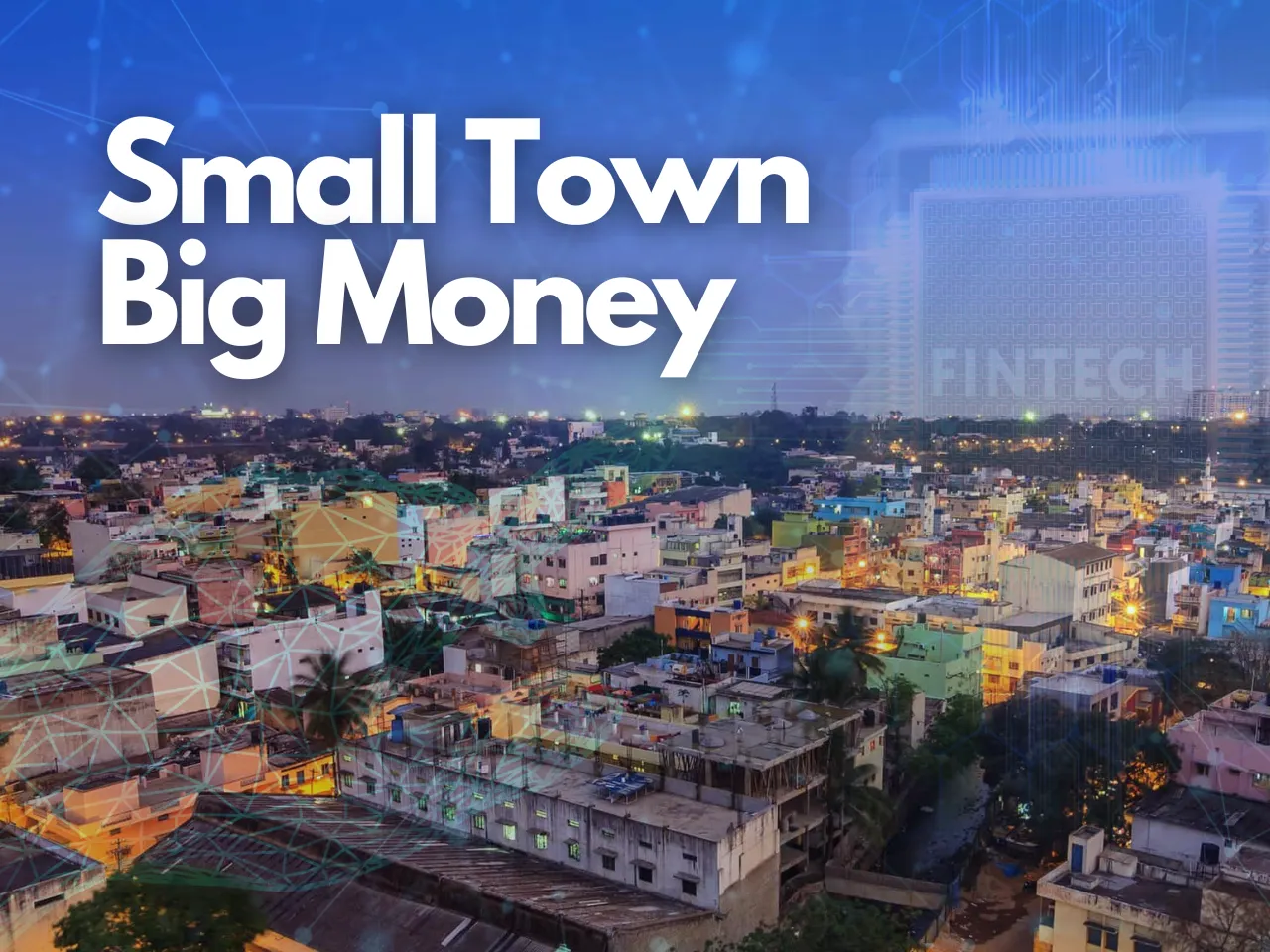 FinTech, a term blending "financial" and "technology," has been a game-changer in India's economic landscape. A report published collaborately with Startup India, DPIIT and BCG mentions how the fintech sector in India is not only driven by Tier-I cities but the leaders are fintech startups emerging from Tier-2 and Tier-3 cities. In this article, we delve deep into the emergence and expansion of fintech startups across the nation, shedding light on the key players, driving factors, and the critical role they play in financial inclusion.
The Indian FinTech ecosystem has witnessed a remarkable surge in recent years, contributing significantly to the nation's economic growth. One striking statistic is that 90% of FinTech startups in India have emerged from just ten states. Maharashtra, Karnataka, Uttar Pradesh, Gujarat, and Tamil Nadu lead the pack in this FinTech revolution. But what exactly is propelling this growth?
Government Support: The Catalyst
One of the primary drivers of FinTech's ascent is the unwavering support from the Indian government, particularly through the Startup India initiative and DPIIT schemes. These initiatives have provided the necessary infrastructure and regulatory framework, fostering innovation and entrepreneurship. Enhanced exposure to digital and financial literacy has played a pivotal role in nurturing the FinTech ecosystem. As more Indians become digitally savvy and financially aware, the demand for FinTech services has skyrocketed.
Beyond Tier-I Cities: A Paradigm Shift
The growth in FinTech startups beyond Tier-I cities has been nothing short of phenomenal. In 2013-2015, only 22% of DPIIT-recognized FinTech startups originated from beyond Tier-I cities. Fast forward to 2022-23, and this number has surged to an astonishing 46% as per the report titled Growing inclusion in India: The FinTech way. This is indicative of the expanding influence and reach of FinTech in India.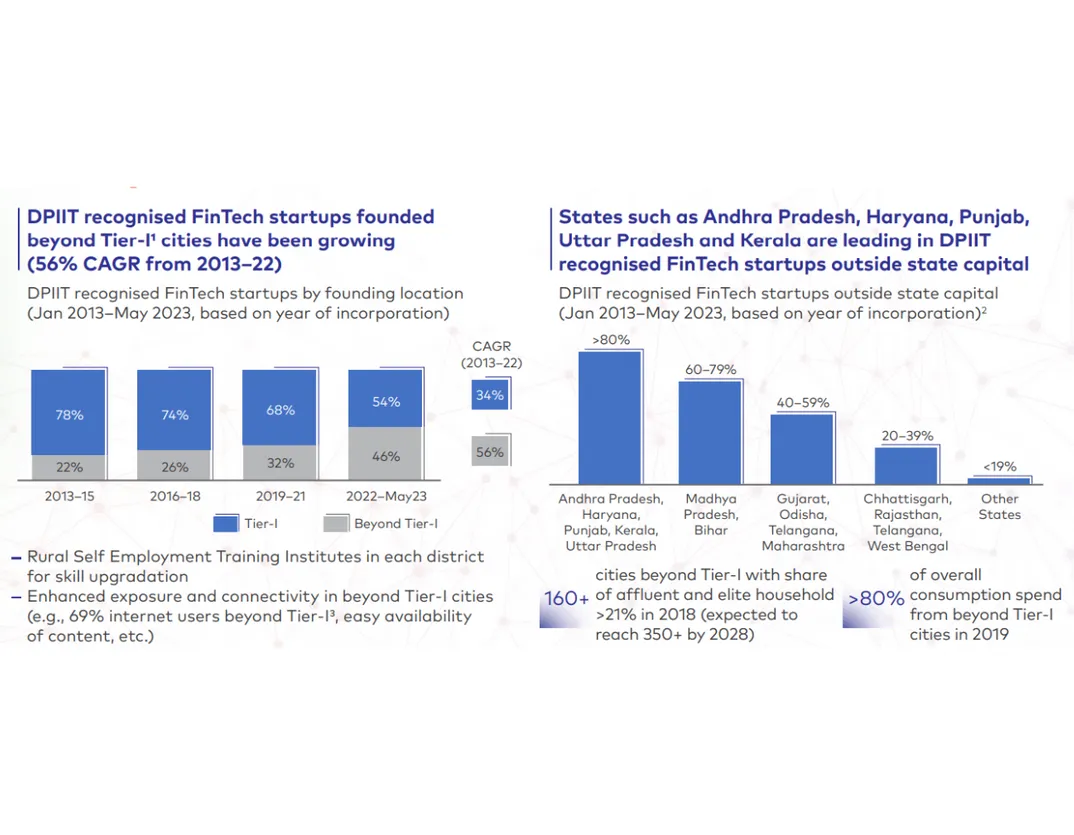 Inclusion Efforts by FinTechs
One of the most remarkable aspects of this growth is the inclusivity that  FinTechs have brought to the table. For instance, in 2020, a staggering 71% of FinTech personal loans originated from beyond Tier-I cities. This showcases the pivotal role these startups play in catering to the credit requirements of underserved regions. For players like PhonePe, a significant portion of their user base comes from Tier-II cities and beyond. This aligns with their vision to democratize progress and create scalable platforms for use in 'Bharat,' the heart of rural India.
Beyond Tier-I in 2022-23
The growth trend of DPIIT-recognized FinTech startups founded outside Tier-I cities continues to rise, with a remarkable 46% surge in 2022-23. States like Andhra Pradesh, Haryana, Punjab, Uttar Pradesh, and Kerala have emerged as leaders in this movement.
Incubators as Drivers
Apart from government support and increased literacy, the establishment of incubators in renowned institutions has played a pivotal role. Entities like the Society for Innovation and Entrepreneurship in IIT Bombay, the Center for Innovation Incubation and Entrepreneurship in IIM Ahmedabad, and the Foundation for Innovation and Technology Transfer in IIT Delhi have fostered a culture of innovation and entrepreneurship.
The Untapped Potential
Considering the growing presence of FinTechs in Tier-II and Tier-III cities, the potential for further expansion in states like hilly north, north-east regions, Bihar, and Odisha remains vast. This uncharted territory presents immense opportunities for both entrepreneurs and investors.
Revolutionizing Payments
FinTechs have not only catered to the credit requirements of underserved regions but have also revolutionized the payments landscape. The advent of the Unified Payments Interface (UPI) has made digital transactions seamless, even in Tier-II and beyond cities.
India's FinTech ecosystem is thriving, driven by government support, increased digital and financial literacy, and a commitment to financial inclusion. With more startups emerging from beyond Tier-I cities, this growth is set to continue. The role of FinTechs in democratizing progress and revolutionizing financial services cannot be overstated. As we look ahead, it's clear that the FinTech revolution in India is here to stay, promising a brighter, more inclusive financial future for all.