The Indian space industry has celebrated significant accomplishments in recent years. These include the successful deployment and safe return of Chandrayaan-3, India's inaugural mission to investigate the lunar south pole. The introduction of the Indian Space policy earlier this year allows the entry of Indian private entities such as startups into the sector.
The Indian space sector has over 100 space tech startups, according to a report by EY (Ernst & Young Global Limited) with a plethora of opportunities still present for space startups. The Indian space industry represents only 2% of the global market as mentioned in the Nasscom report.
A report titled Exploring Opportunities For Indian Downstream SpaceTech from Nasscom seeks to assess the market potential of the downstream segment in the space sector in three key satellite application areas: Remote Sensing/Earth Observation, Positioning, Navigation, and Timing (PNT), and Satellite Communication, with a five-year estimate reflecting current conditions and considering factors like commercial viability, impact, and technological feasibility. 
The Key Findings of the Report:
Downstream segments in the space value chain have the potential to generate significant commercial value.
Earth observation market to expand significantly.
The satellite communication market is evolving, with traditional areas like broadcasting and internet services coexisting with untapped markets such as inflight connectivity, logistics, and OTT, while the DTH market is expected to maintain a consistent potential of over $12 billion in the next five years.
Indian space technologies serve a dual purpose, with a focus on intelligence, surveillance, reconnaissance, strategic communications, guidance, and space security, benefiting both defense and civilian infrastructure development.
The Indian space ecosystem can be broadly categorized into three main segments:
Upstream: This segment involves the manufacturing, launch, and operation of space assets.

Downstream: In this category, the focus is on utilizing data and insights obtained from space to address Earth's problems through various applications.

Auxiliary Segment: This includes non-core service areas within the space sector and products or services that are derived from space technologies and find application in other sectors.
Out of these three segments, the downstream segment is expected to grow the most and be worth USD 610 billion by 2031 as per the Nasscom Report.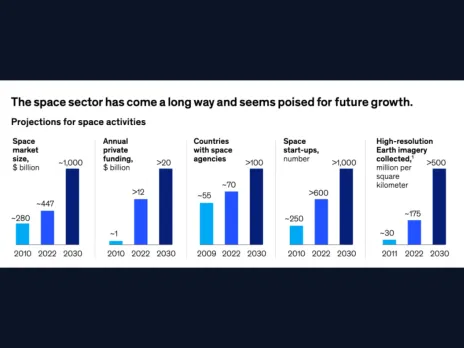 The image above represents the Projections for space activities which has data from the year 2010 to 2030. The Space Annual market private size was approximately $280 Billion in 2010 and is expected to rise to $1000 Billion. The Annual Private Funding was less than $1 billion in 2010 but is expected to rise to more than $20 Billion by 2030. The no of countries with space agencies was 55 in 2009 but is expected to rise to more than 100 by 2030. The high-resolution Earth imagery collection capability is also poised to expand to 500 kilometers by 2030. 
What is the worth of the Space Sector globally?
In recent years, the global space sector has shifted from government control to a dynamic collaboration between public and private entities. This transformation is fueled by technological advancements, including reusable tech and small satellites, leading to a resurgence in the industry, innovative startups, and novel business models
The space market has grown to approximately $447 billion—up from $280 billion in 2010—and could grow to $1 trillion by 2030 globally as per the World Economic Forum. 
Indian Spacecraft Startups
| | |
| --- | --- |
| Name of the Company | Number of Space Crafts Launched till Date |
| Pixxel | 2 |
| Azista BST Aerospace | 1 |
| Digantara | 2 |
| Dhruva Space | 3 |
| Antaris, XDLINX Labs and Anant Technologies | 1 |
Sectors with Massive Growth in the Indian Space Sector:
Indian space startups could see massive growth in the following use cases in the near future and reap the benefits by working on the below use cases.
Earth Observation/Remote Sensing applications and services
Satellite Communication applications and services
Positioning, Navigation, and Timing (PNT) applications and services
Space applications and services for strategic purposes
With the establishment of organizations such as ISpA, it has become relatively easy for startups to join the Indian space industry and work on various problems.
What is ISpA?
ISpA is a non-profit organization aiming to foster collaboration and development in India's Private Space Industry, serving as a liaison between the government and the private sector. It promotes knowledge sharing and self-reliance in space-related fields to position India as a prominent global player, facilitating cooperation and growth among industry stakeholders.  
What are the Challenges Ahead for  Indian Space Startups?
Supply-demand mismatch: A significant issue that pervades the industry is the disparity between the technology and resources available and the requirements for data, particularly in terms of frequency, quality, and accessibility. 
Saturation of certain sections of the value chain: In India's early foray into the space sector, the emphasis was on launch manufacturing, but with a growing number of players in this area, the focus is shifting to other upstream services like mission operations, SSA, in-orbit servicing, and end-of-life servicing for sustained revenue generation.
Bridging the Gap: One of the key challenges in the Indian space technology market is the need for specialized data aggregation and analytics companies that can derive valuable insights from multi-source data, as the cost of cloud-based analytics is expected to increase, presenting opportunities for government or market-driven cost-efficiency initiatives.
Value for money: Justifying Return on Investment (ROI) in the space sector is particularly challenging due to the high costs of placing and operating resources in space, including small satellites in Low Earth Orbit (LEO); thus, standardizing satellite specifications, developing new business models, and identifying legitimate use-cases such as defense and insurance, where government support can alleviate concerns, are essential as the sector expands.
The Indian space industry stands on the brink of a transformative moment that could redefine the entire sector. The Indian Space Policy of 2023 has outlined the key aspects of this transformation, with a significant role expected from non-government entities.