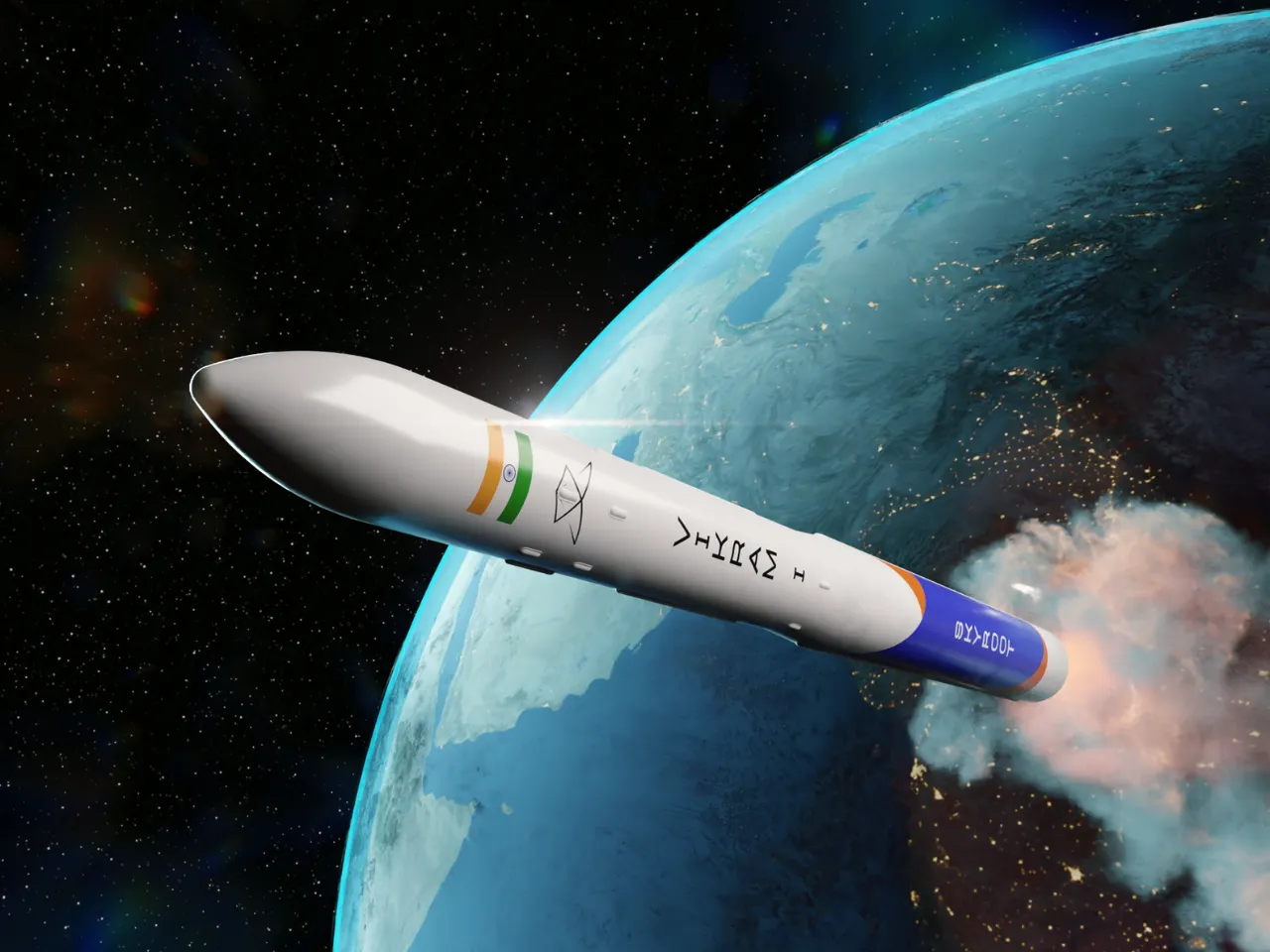 The space race has welcomed the Indian start-ups, and Hyderabad based space tech start-up Skyroot Aerospace is gearing up for another launch. Following their ground-breaking achievement of being the first private company in India to launch a rocket into space last year, the startup has now announced that it has successfully test fired Dhawan-II, a 3D-printed cryogenic rocket engine which will be used in the Vikram II rocket.
Dhawan II was tested at Solar Industries Propulsion Test Facility in Nagpur, Maharashtra.
What is Dhawan-II, The 3D-Printed Cryogenic Rocket Engine?
Dhawan-II is a cryogenic rocket engine that was successfully test fired by Skyroot Aerospace. It is unique because it is manufactured using 3D-printing technology, which is a revolutionary technique for producing complex and customized designs with high accuracy. The engine is named after Satish Dhawan, a renowned Indian rocket scientist who was instrumental in the development of the country's space program. 
Cryogenic rocket engines are designed to work in extremely low temperatures and are therefore ideal for space missions that require long-term operation in a vacuum. The successful test firing of Dhawan-II is a significant achievement for Skyroot Aerospace and a significant step forward for the Indian space industry.
Why is Dhawan-II Important?
The engine will be used in the upper stage of their Vikram II rocket, that is slated for launch in 2024. However, before that, Skyroot Aerospace is aiming to commence their commercial operations with Vikram-I, slated to launch later in 2023.
Last year, India tested its first privately developed rocket with a successful suborbital launch that marked a step forward in the country's push to develop a commercial space industry.
What Are The Uses Of 3D-Printed Cryogenic Rocket Engine?
3D-printed cryogenic rocket engines have several potential uses in space exploration and other industries. Cryogenic rocket engines, which use propellants that are stored at extremely low temperatures, are essential for many space missions that require high thrust and efficiency.
In a press release, Skyroot Aerospace has explained that their cryogenic rocket engine uses liquid natural gas (LNG) and liquid oxygen (LoX) as propellants, both of which require storage and operation temperatures below -150°C (cryogenic). 
According to the start-up, these propellants are considered environmentally-friendly and "green burning" compared to other propellants like solid, semi-cryogenic, and hypergolic propellants that are commonly used in the rocket industry.
Skyroot further explained that fully cryogenic engines are well-suited for the upper stages of a rocket because they enhance the rocket's payload-carrying capacity. This development is significant as it could have a positive impact on the environment and revolutionize the rocket industry, as environmentally-friendly propellants could potentially reduce the harmful effects of rocket launches on the environment.
Why Dhawan-II Is A Major Milestone In Space Sector?
Naga Bharath Daka, co-founder and COO of Skyroot Aerospace, said, "This is a major milestone for our cryogenic propulsion program, which will enhance the payload capacity of Vikram series of space launch vehicles making them more modular so as to meet wider customer requirements."
Veteran rocket scientist V Gnanagandhi, who leads liquid and cryogenic propulsion at Skyroot, explained that through this test they were able to get valuable data for next generation cryogenic engine technology that uses LNG as fuel.
Who Is Skyroot Aerospace?
Skyroot Aerospace is a Hyderabad based space-tech startup founded by two former scientists of the Indian Space Research Organisation (ISRO) in 2018.
In the year 2020, Prime Minister Narendra Modi and Finance Minister Nirmala Sitharaman introduced significant reforms to open up the Indian space sector to private companies. 
Skyroot Aerospace, the National Award winning startup, was the first Indian private company to sign an agreement with ISRO to utilize its launch and testing facilities.
CoFounders of Skyroot Aerospace -Pawan Chandana and Bharath Daka- once said their mission is to democratize Space access by building affordable, reliable and responsive launch vehicles. They have team of 70+ rocket engineers and they have been actively developing the Vikram series of launch vehicles for the past few years. They are the first Indian private company to test fire multiple rocket propulsion systems.
Last year, the start-up raised $51 million (Rs 403 crore) in a Series-B financing round led by Singapore headquartered GIC. Rothschild & Co India were the financial advisors for this funding round.