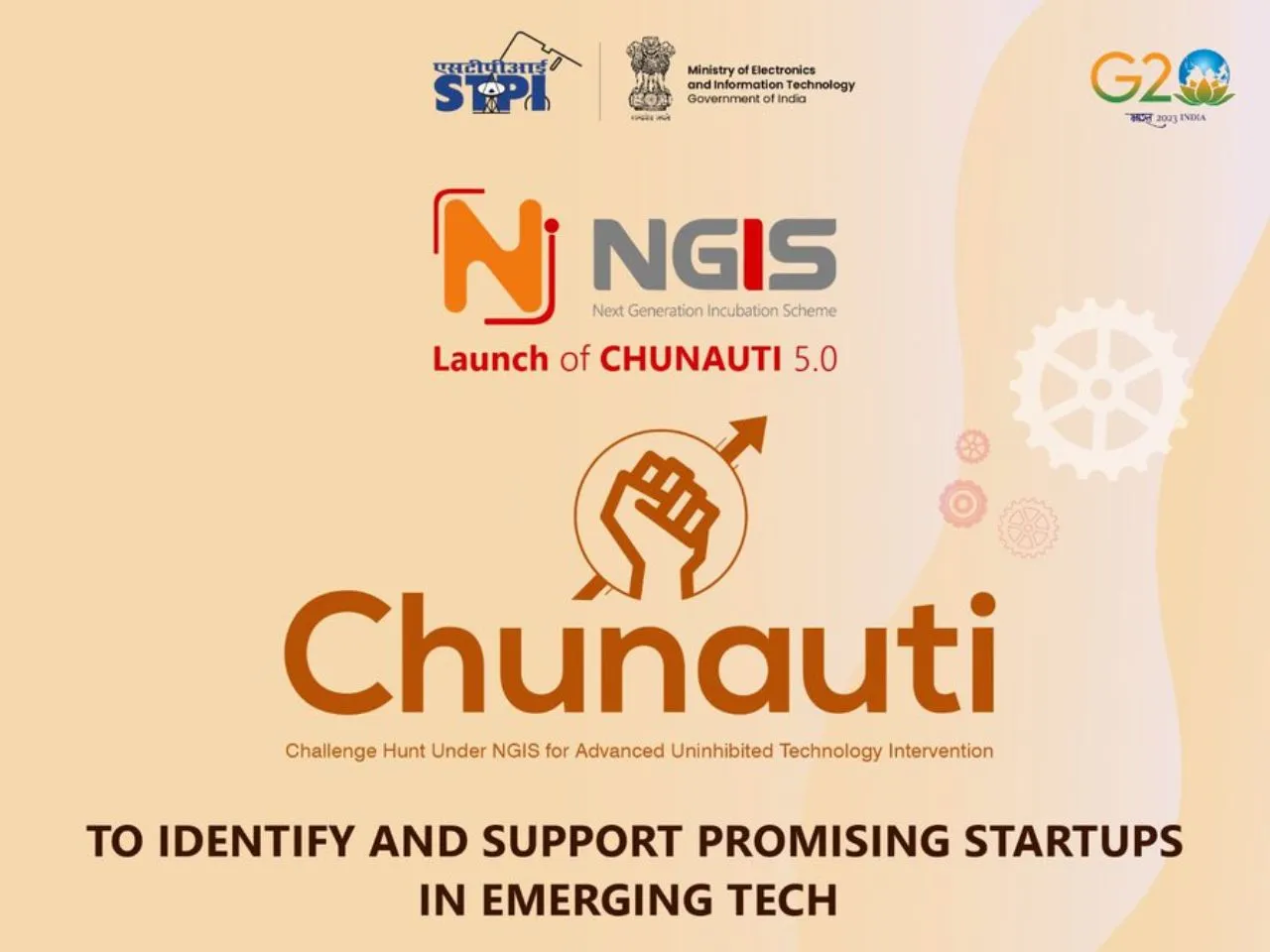 The Ministry of Electronics and Information Technology (MeITY) is launching a new challenge for startups in emerging tech from tier 2 and tier 3 cities. The challenge, called Chunauti, is being launched under the Next Generation Incubation Scheme (NGIS) and is set to begin on May 1, 2023.
What Is Chunauti 5.0?
 Chunauti – Challenge Hunt Under NGIS for Advanced Uninhibited Technology Intervention aims to identify and support promising startups in emerging tech. The programme is designed to provide 360-degree support to tech startups from tier 2 and 3 cities. The challenge is a series of online challenges under STPI's NGIS for supporting tech startups in various domains for 12 locations across India, especially in tier 2 and tier 3 cities.
What Is STPI?
Software Technology Parks of India (STPI) is an autonomous society set up by the Ministry of Electronics and Information Technology (MeitY), Government of India in 1991. Its objective is to encourage, promote, and boost software exports from India. STPI CoEs have mentors who are experts in their fields. They offer hand-holding support and provide end-to-end guidance to tech entrepreneurs and startups emerging from tier 2 and 3 cities in its 22 domain-specific CoEs.
How Will The Startups be Awarded?
NGIS is a futuristic incubation scheme that offers comprehensive support and services to technology startups from various STPI incubation facilities pan-India under one common umbrella. It is being operationalized from across 12 STPI Centres, namely Agartala, Bhilai, Bhopal, Bhubaneswar, Dehradun, Guwahati, Jaipur, Lucknow, Prayagraj, Mohali, Patna, and Vijayawada.
 NGIS has a dedicated facility for security and vulnerability assessment of products. It provides benefits of pan-India mentor pool, knowledge sharing, co-learning, and networking, and continuous capacity building and skill enhancement through seminars, workshops, and trainings.
The Chunauti Challenge
The fifth Chunauti challenge is being conducted, and the last four editions were very successful. As many as 14 challenges were conducted in the last four editions, in which 417 startups were selected. Financial incentives were provided to as many as 272 startups.
To become a beneficiary of NGIS, startups can participate in the All India Start-up Challenges/Hackathons. The programme is aimed at providing the necessary support and guidance to startups in emerging tech from tier 2 and 3 cities.
The initiative is set to provide much-needed impetus to the startup ecosystem in India. The programme aims to identify and support promising startups that have the potential to bring about a significant change in the world of emerging tech. With NGIS, STPI is all set to provide startups with the necessary tools and resources to succeed in a highly competitive market. The government's focus on promoting startups is a step in the right direction and will go a long way in creating a conducive environment for startups to grow and thrive.