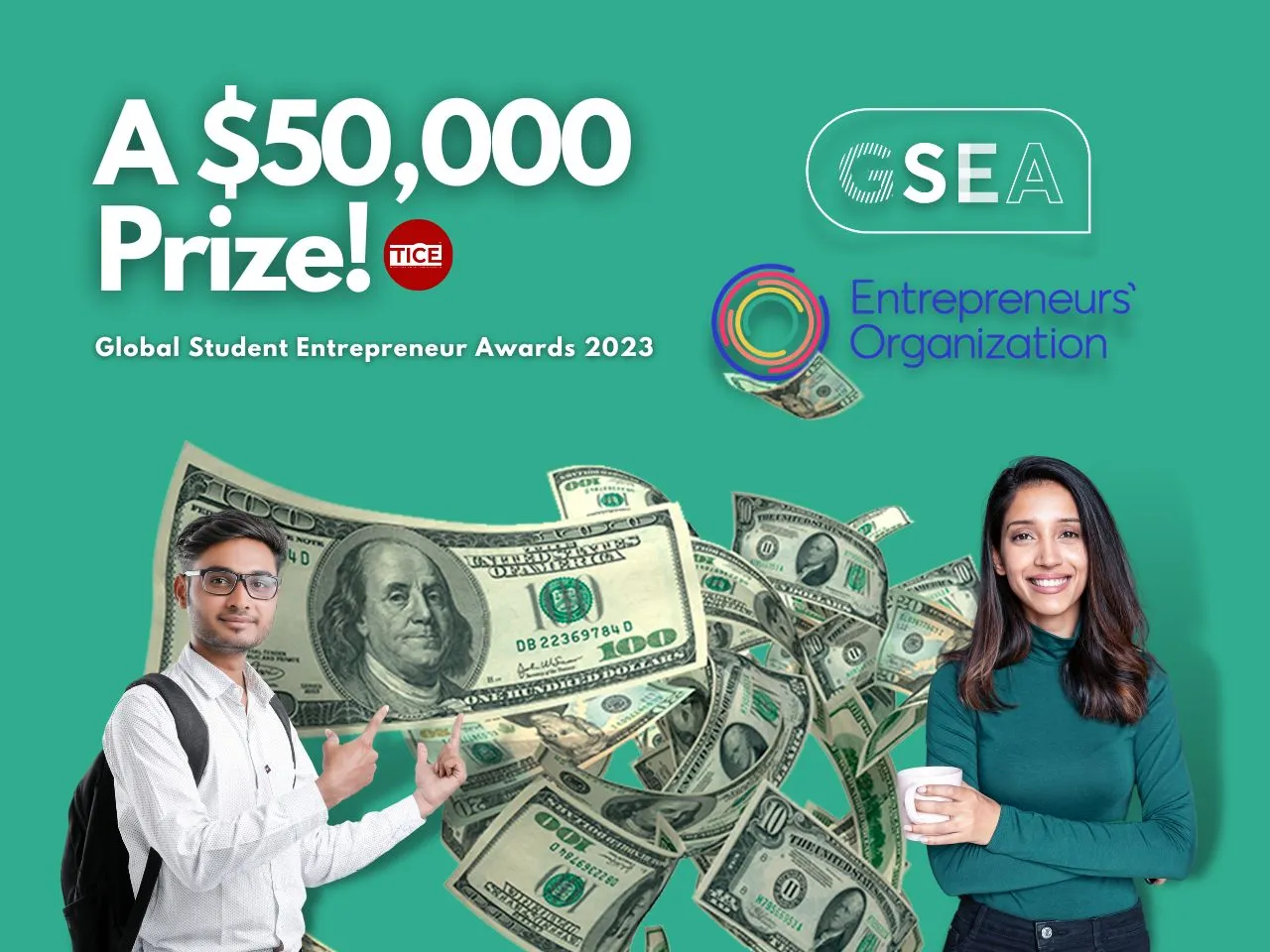 Entrepreneurship has become a prevalent term in today's world, with young students already venturing into their own business journeys with innovative Startup Ideas. While books like "Rich Dad Poor Dad" by Robert T. Kiyosaki and Sharon Lechter have played a significant role in instilling an entrepreneurial mindset, students require more than just literature. Recognising this need, TICE and Entrepreneurs Organisation have partnered up to provide knowledge, mentorship, and opportunities to India's young and budding entrepreneurs. In the midst of this collaboration, the Global Student Entrepreneur Awards (GSEA) emerges as a prestigious platform, offering not only global recognition but also a remarkable $50,000 prize for the winners.
Student Entrepreneurs Startup Ideas for Global Recognition and a $50,000 Prize!

with GSEA
The Global Student Entrepreneur Awards (GSEA) is an extraordinary opportunity for college and university students who not only attend classes but also own and operate their own startup businesses. This international competition attracts aspiring student entrepreneurs from all corners of the globe, providing them with an invaluable platform to showcase their talents. By participating in GSEA, students stand a chance to secure the grand prize of $50,000, gain recognition on a global scale, and earn the esteemed title of Global Champion. The GSEA is a springboard for success, offering unparalleled opportunities for young entrepreneurs to thrive.
Jital Shah, Managing Partner at Sanghar Group and Founder and CEO at ELAI AgriTech said, "GSEA is a great platform to network peers and learn from them in today's world where in real world experience sharing is most important for scaling up!"
From Students to Global Champions: Exploring The EO Global Student Entrepreneur Awards
The EO Global Student Entrepreneur Awards (GSEA) takes center stage as the premier international contest exclusively designed for student business owners and operators. This highly esteemed competition unites nominees from diverse backgrounds in a series of local and national contests, all leading up to the much-anticipated GSEA Global Finals. The primary objective of GSEA is to offer vital support to student entrepreneurs, providing them with mentorship, recognition, and valuable connections necessary for taking their businesses to greater heights of accomplishment. GSEA serves as a gateway for students to transform their entrepreneurial dreams into a reality.
Ready to Compete? Eligibility and Registration Process for GSEA2023 Revealed
For those aspiring to participate in GSEA2023, meeting certain criteria and completing the registration process are essential steps. GSEA is the pinnacle of global competitions for students juggling their studies and business ventures. As an applicant, you will engage in friendly rivalry with fellow student entrepreneurs worldwide through a series of local and national contests, all with the ultimate aim of qualifying for the prestigious Global Finals.
GSEA2023: The Path to Success for Student Entrepreneurs
Sudeep Goenka,Member Experience Director, EO South Asia said, "GSEA (Global Student Entrepreneur Awards) can be a transformative experience for young entrepreneurs, igniting their entrepreneurial spirit and potentially creating a positive impact on both their nation and mankind as a whole. The recognition and support received through GSEA can empower individuals to pursue their entrepreneurial dreams and make a difference in their communities and beyond."
To be eligible for GSEA2023, you must be an undergraduate or graduate student enrolled in any college or university. Additionally, you should possess a minimum of six months' experience as the owner and operator of your own business. This requirement ensures that participants have the necessary entrepreneurial experience to make the most of their GSEA journey.

 

Once you meet these eligibility criteria, you can embark on the registration process for GSEA2023. This remarkable opportunity allows you to present your entrepreneurial skills and talents on a global stage, opening doors to unparalleled success and recognition.
TICE and Entrepreneurs Organisation Join Forces to Empower India's Budding Entrepreneurs
TICE, in partnership with GSEA, will bring you more knowledge content and context for this prestigious opportunity for student entrepreneurs, colleges, and institutes interested in participating and partnering with the Entrepreneurs Organisation. Keep following this space for upcoming stories on The Global Student Entrepreneur Awards 2023.
To Participate in the Contest Apply Here: https://gsea.org/GSEA/GSEA/Apply.aspx?hkey=4aa8f2bd-1008-4b06-be32-9551431b9699