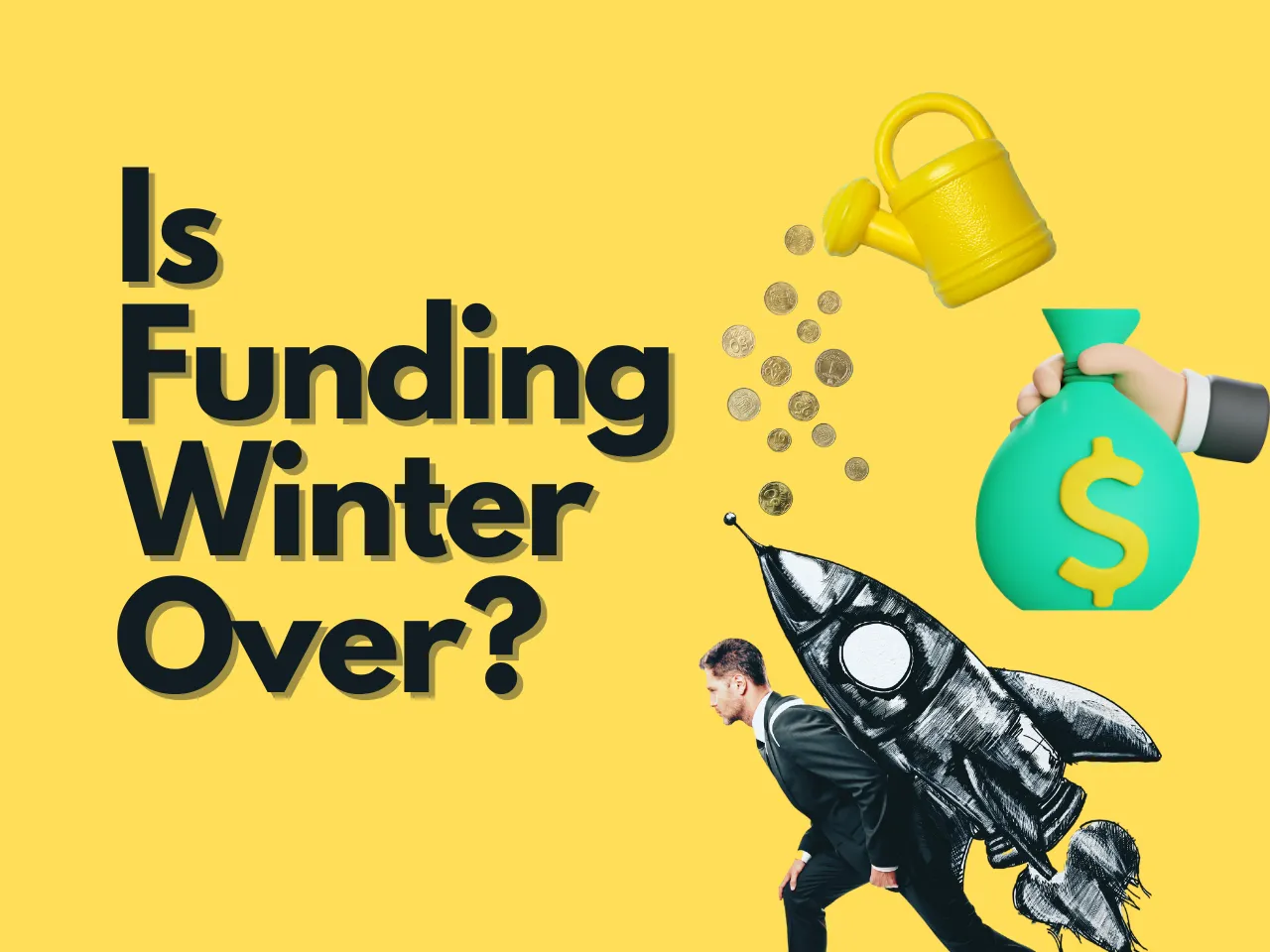 The landscape for startups has endured a chilly period marked by tightened investor budgets and a noticeable deceleration in the once fervent momentum that defined this sector. However, beneath this frosty exterior, a subtle yet unwavering current of optimism persists.
A report from Redseer provides an illuminating perspective that signals a hopeful end to the funding winter. Their insight envisions the ongoing funding constraints as a mere prelude to a more vibrant and robust future in India's public and private funding domains.
Evolution of India's Startup Landscape
The transformation witnessed within the Indian startup ecosystem over the past five years is undeniably remarkable. Fueled by the digital revolution, it has sparked an unprecedented surge in startup activity. Commencing from a humble assembly of around 10,000 registered startups in CY18, this number catapulted to a remarkable 90,000 by CY22.
This exponential escalation has not escaped the astute observation of investors. Drawn by the substantial potential and opportunities within the Indian digital landscape, the investor count has experienced a twofold increase. Moving from 400 in CY18 to an impressive 900 in CY22, it reflects the heightened interest and confidence in the sector's prospects.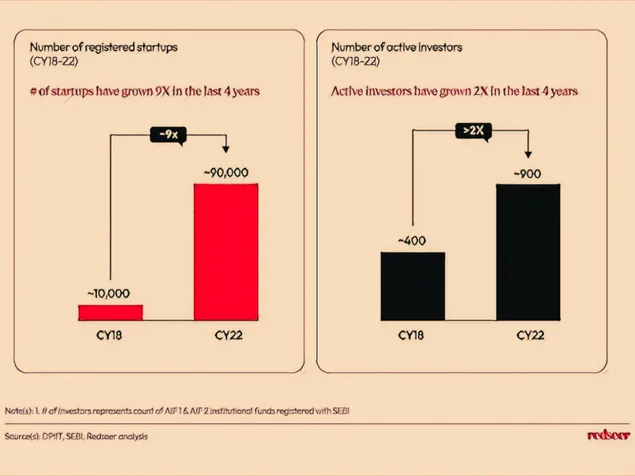 Global Funding Pool Diversification
As India hurtles along its rapid trajectory of digitization, numerous sectors hum with burgeoning opportunities and groundbreaking innovations. Be it healthcare, education, FinTech, or eCommerce, a feverish rush of activity and ingenuity is palpable. These fresh and pioneering solutions not only find traction within India's borders but also beckon the interest of investors worldwide.
Gone are the days of foreign investment being confined to a handful of primary sources. Today, the investment landscape showcases a diverse and intricate tapestry. Contributions flow generously from regions as varied as the USA, EU, UAE, Japan, and China. This multifaceted global attention firmly underscores the stature of Indian startups as significant global players, securing substantial portions of both worldwide and APAC funding as per the Redseer report.
Beyond the Chill: A Glimpse of Hope
In the midst of the funding winter's chill, it's crucial to recognize that cold phases frequently act as moments of consolidation and introspection. Time brings transformations, and just as inevitably as winter unfolds, the dawn of funding optimism is within sight.
"I think it will probably be 9 to 12 months before the market environment stabilises. I believe that growth investing will pick up then as there is a lot of capital available to be invested," Hemant Taneja, MD & CEO General Catalyst. 
"We are essentially course correcting from liquidity driven investing in 2021. High qualityinvestors have enough dry powder to back companies with sound fundamentals. It's just a Bangalore winter after all and we will see good companies raising large funds," Dipanjan Basu, Co-Founder & Partner, Fireside Ventures.
Passing of the Startup Funding Winter?
Even amidst the current situation, investor outlook remains notably positive. According to a recent survey conducted by Redseer, almost fifty percent of investors maintain an optimistic stance regarding the funding landscape, envisioning a revitalization within the upcoming 6-12 months. This interval is seen as a chance to fine-tune strategies, assess market prospects, and gear up for the promising times ahead. Impressively, a remarkable 17% of respondents display even greater confidence, anticipating the resurgence of funding opportunities in under six months' time.
"There has never been a better time to invest in India and there has never been a better time to startup in India," Rajan Anandan, Managing Director, PeakXV Partners. 
Envisioning the Future: 2023 and Beyond
The course of startup investments, though influenced by short-term economic factors, frequently follows a steadier long-term pattern. Historical data corroborates this observation. Despite the unparalleled challenges posed by the pandemic, there was a substantial surge in startup funding during CY21, with investments soaring to an impressive $42 billion. However, this surge experienced a minor dip in CY22, largely attributed to macroeconomic pressures.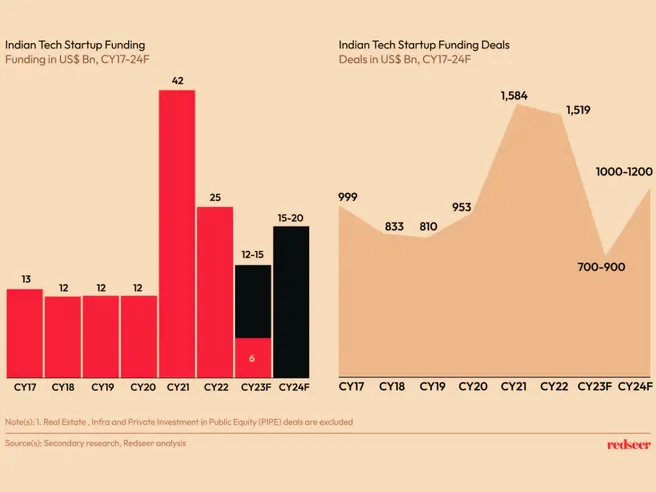 The numerical projections indicate a potential reduction in funding ranging from $12-15 billion for CY23. This, however, aligns with the enduring trends observed since CY17. Looking ahead, 2024 holds the promise of a brighter perspective, with an anticipated healthy growth potential ranging between $15-20 billion. The resilience of the startup sector is further emphasized by the consistent enthusiasm for early and growth-stage funding. A remarkable 90% of all agreements since CY17 have been focused on seed or early-stage investments, underscoring unwavering investor trust in the potential of novel enterprises and inventive concepts.
As investments rise and fall, akin to the unpredictable nature's dance, the foundation of India's startup ecosystem stands strong and resolute. The season of challenges and introspection is destined to transform into a sequence of possibilities. Fueled by the determination exhibited by startups and fortified by unwavering investor zeal, the entrepreneurial panorama of India is on the brink of a captivating and prosperous tomorrow.