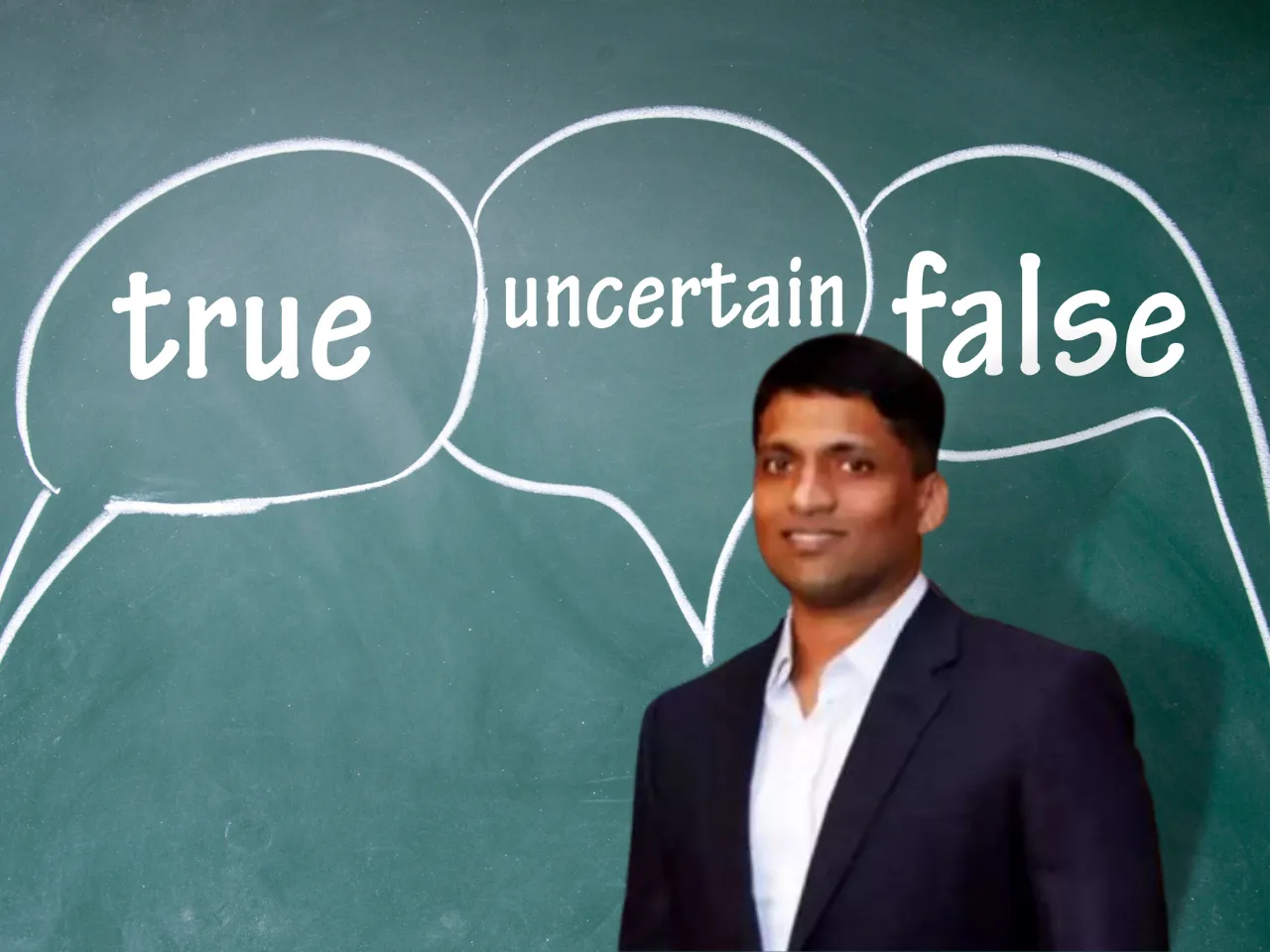 Byju's, the edtech giant, has emerged as a captivating enigma, entangled in a web of controversies that have only added to its intrigue. From its awe-inspiring ascent, reminiscent of a shooting star, to the recent swirl of allegations, the trajectory of this educational startup has been nothing short of a rollercoaster ride. Born from a modest seed of an idea, Byju's blossomed into a full-fledged unicorn, standing tall in the digital landscape.


In the ever-evolving landscape of education, some individuals rise to the occasion, forever altering the way knowledge is imparted. Byju Raveendran, a name now synonymous with groundbreaking edtech and controversies, embarked on his journey in 2009, sending ripples through the conventional education system. As an investigative journalist delving into the early days of Byju Raveendran's foray into the world of edtech, we unveil a captivating narrative that chronicles his visionary efforts and the birth of one of India's largest edtech startups.
What was Byju Raveendran's First Company? 
Byju Raveendran's tryst with edtech began in 2009, marked by the launch of his inaugural venture, Noesis. The name itself, borrowed from Greek philosophy, mirrored the intellect-driven pursuit he was about to embark upon. Within the virtual corridors of Noesis, Byju portrayed himself as zealous, extraordinary, and peerless – qualities that would soon define his edtech empire.
Formative Alliances: Times of India Partnership and the EdTech Revelation
In a strategic move that would shape his trajectory, Byju partnered with the prestigious Times of India in August 2009. The result was a computer-based mock CAT exam, an experiment that would illuminate the immense potential of edtech. The triumph of this endeavor became the cornerstone of Byju's understanding of edtech's vast scope, setting the stage for a transformative journey.
When did Byju met Divya Gokulnath?
Beyond the confines of traditional mentorship, Byju found his equal in a remarkable student named Divya Gokulnath. A fearless rebel who embraced life's spontaneity, Divya's synergy with Byju was undeniable. Their union in 2009 transcended the personal, leading to a profound partnership. Divya, now celebrated as a co-founder of BYJU'S, was an instrumental force in shaping the startup's destiny.
What is the net worth of Byju Raveendran and Divya Gokulnath?
Divya, along with her husband, joined forces to establish the online education platform known as Byju's. In the initial stages, Divya took on the role of an educator, appearing in instructional videos. Her personal wealth amounts to an impressive Rs 4500 crore. As a family, their combined net worth reaches approximately 3.3 billion dollars, equating to a staggering Rs 25000 crore.
When did Byju Raveendran start WE Global?
As the years progressed, Byju's aspirations evolved, leading to the rebranding of his venture to WE Global in 2011 – WE signifying the Winning Edge that this visionary entrepreneur sought to provide. The freemium model was a cornerstone of this transformation, enabling students to access mock tests for free and experience the value before committing.
Empowering Education: The Freemium Model's Flourish
Byju's audacious approach extended beyond mere mock tests. He offered students a chance to attend free workshops, an offer unheard of in the industry. Even after enrollment, Byju's commitment to student satisfaction remained unparalleled. A vow of full refunds, a promise that had never been invoked, reflected his unshakable belief in the quality of his offerings.
When was Think and Learn Pvt. Ltd. founded? 
By 2011, Byju's audacious vision prompted a pivotal shift. The transformation from WE Global to Think and Learn Pvt. Ltd. marked a defining moment in the evolution of the edtech juggernaut we know today as BYJU'S. This move laid the foundation for the grand edtech empire that would soon emerge.
Venturing into the Future: Manipal Group's Investment
In a fateful turn of events, 2012 saw BYJU'S raising its maiden venture capital round – a monumental $10 million infusion from Manipal Group. This investment injected momentum, propelling the startup into uncharted territory, setting the stage for unprecedented growth and innovation.
Tech-Infused Learning: Tablets and Beyond
2013 witnessed a transformational leap for BYJU'S. While they had already revolutionized learning through VSAT streaming, a strategic partnership with Samsung introduced tablets as potent tools for education. This bold move opened new avenues, making learning more accessible and interactive than ever before.
Empowering the Learners: A Range of Offerings
BYJU'S diversified its offerings, catering to a wide spectrum of learners. Their courses, priced from 5,000 to 60,000 rupees annually in 2013, struck a balance between affordability and quality. This pricing strategy democratized education, enabling students from diverse backgrounds to access top-notch learning resources.
Monolithic Marvel: The BYJU'S Metamorphosis
In 2015, BYJU'S embarked on a branding evolution that would cement its position as an edtech giant. The transition from BYJU'S Classes to the monolithic BYJU'S marked a defining moment of recognition and consolidation. The app's launch further propelled BYJU'S into the digital era, amplifying its reach and impact.
Byju's: A Controversy Magnet 
Everything was going well for the edtech startup until allegations of unfair practices and claims of toxic work environment started doing the rounds on the internet. Then came valuation cuts, layoffs, and raids by the ED in late April. Byju Raveendran reportedly broke down in tears in April when a probe agency raided the Bengaluru offices of the company and linked the world's most valuable education-technology startup with possible foreign exchange violations. It has lately been the poster child for controversies. 
@PMOIndia @BYJUS @rashtrapatibhvn @ClassTechTips @tweetdivya @shahbhartiya @ByjuRaveendran I want Indian govt please help me and other employee today due to byjus I want to end my life thier is no option plzz help plzz byjus pay my salary my variable pay please share @LinkedIn pic.twitter.com/VJowHZSeSq

— Akansha Khemka (@KhemkaAkansha) July 26, 2023
Byjus vs Aakash
Byju Raveendran's edtech powerhouse, Byju's, finds itself entangled in fresh turmoil as a significant share swap agreement with prominent medical coaching center Aakash Educational Services unravels. The once-promising deal has taken an unexpected turn, with the founders of Aakash Educational Services retracting their commitment to the agreement. Byju's swift response to this development involves issuing a legal notice to the Aakash Educational Services founders, contesting their withdrawal from the previously established and unconditionally accepted share swap arrangement.
Remarkably, this setback follows just two years after Byju's notable acquisition of Aakash Educational Services, a landmark transaction valued at Rs 7741 crore. In this transformative deal, Byju's parent company, Think and Learn Pvt Ltd, emerged as the holder of 43 percent of shares, while Byju Raveendran personally claimed an additional 27 percent stake, firmly establishing Byju's position as the predominant stakeholder within the organization.
Byju Raveendran's voyage from Noesis to BYJU'S stands as a testament to the unyielding power of innovation and the tenacity of a visionary. The early days of this edtech luminary, marked by audacious experiments, daring partnerships, and unwavering commitment to education, laid the foundation for a monumental edtech saga but