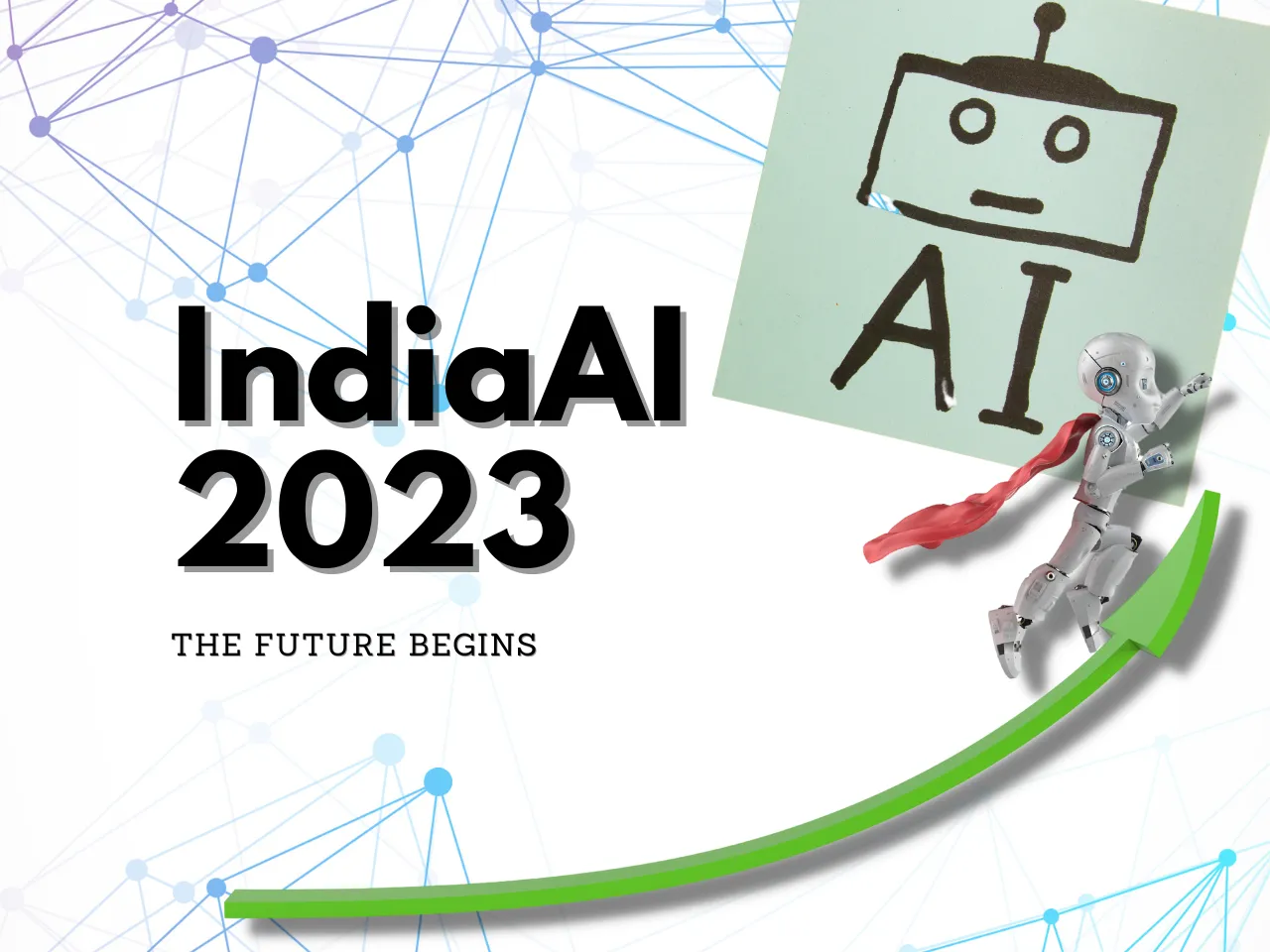 India has been working to boost its Artificial Intelligence (AI) capabilities to innovate and integrate the technology to harvest its benefits. The nation has been working at full throttle to accelerate the growth of AI. A report released by the Ministry of Electronics and Information Technology (MeitY) named IndiaAI 2023: Inaugural Expert Group Report reveals that it had set up seven expert groups to collectively brainstorm on the vision, objectives, outcomes, and design for each of IndiaAI's pillars.
The Working Groups have submitted the first edition of IndiaAI report which lays out the fulcrum of India's AI strategy that was envisaged by Prime Minister Narendra Modi.
The report mentions a scheme to further bolster the Indian AI startups in the country. 
The IndiaAI Scheme: A Game Changer in AI Innovation
The MeitY Startup Hub (MSH) has taken the lead by introducing the "IndiaAI" scheme, allocating a substantial budget of Rs 945 Crores for five years, from the overall allocation of Rs 3000 Crores. This ambitious scheme's primary objective is to discover, support, nurture, and expedite the success of AI startups. A key emphasis of the scheme is to foster collaboration among AI startups, government entities, and corporations to promote and scale up new technology and innovation.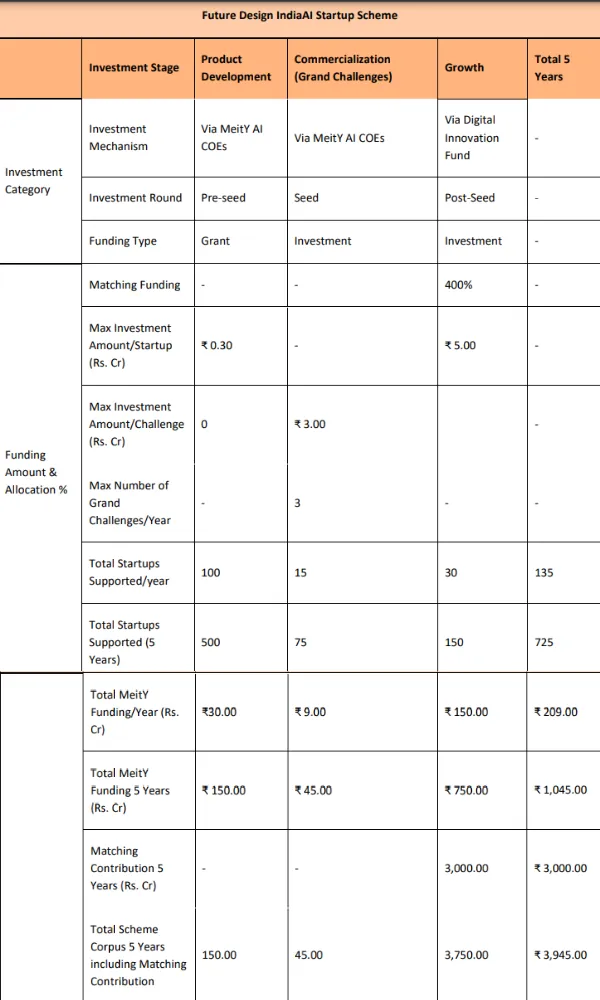 How IndiaAI Scheme Supports Startups?
MeitY, through the IndiaAI startup support scheme, aims to provide support to around 725 AI startups. This support includes incubation, accelerators, matching funding, and a fund-of-funds basis. These initiatives are expected to strengthen innovation, entrepreneurship, and economic growth, particularly in the fields of emerging and niche technology areas.
"The IndiaAI scheme funding is designed to unlock the enormous potential of India's startup ecosystem, to catalyze AI-led innovation, by providing necessary support at different stages in a startup lifecycle like product development, business development, and growth stage, to support them in translating ideas to reality. Financing AI Innovation shall unlock the Indian startup ecosystem's potential to rise as a leader in Artificial Intelligence," the report mentioned. 
Who can benefit from the Scheme? 
Beneficiaries include all the stakeholders engaged in the creation, promotion, and acceleration of the startup ecosystem in India. Some of the key stakeholders who shall be benefited from the scheme are as follows:
• Students, Faculty, and academic institutions
• Budding entrepreneurs
• AI Startup companies and their employees
• Incubators, COEs, and accelerators
• Mentors and investors
• Micro, Small & Medium Enterprises (MSMEs) seeking innovative solutions from AI startups
• Corporates engaged in innovation-based growth
Eligibility for AI Startups:
● Financial incentives and design infrastructure support will be extended to domestic startups.
● Startups shall be defined as per the DPIIT notification dated 19th February 2019 or extant norms.
● Startups should be primarily working on AI technologies across any areas of Vision, Language, Text, Large datasets
and building products that solves a large problem using AI.
● The approved applicants that claim incentives under the scheme shall retain their domestic status (i.e. more than 50% of the capital in it is beneficially owned by resident Indian citizens and/or Indian companies, which are ultimately owned and controlled by resident Indian citizens) for a period of three years after claiming incentives under the scheme
What are the different Grant Stages for Startups? 
The IndiaAI scheme's funding is strategically designed to unlock the vast potential of India's startup ecosystem, catalyzing AI-led innovation. It offers vital support at various stages of a startup's lifecycle, including product development, business expansion, and growth stages. 
Product Development Stage - For startups in the product development stage, the AI Ignition Grant Program is introduced. This program will extend support to 500 AI and deep-tech startups with a grant of Rs 30 Lakhs each. This support aims to assist innovators and budding entrepreneurs in transitioning from ideation to the minimum viable product stage. The grants will be channeled through MeitY's existing incubation support centers located in Tier-1, Tier-2, and Tier-3 cities, promoting inclusive and sustainable growth across India.
Commercialization Stage - The commercialization stage of the IndiaAI scheme introduces three grand challenges, each offering a reward of Rs 3 Crores. These challenges span across various sectors, including agriculture, health, cybersecurity, and weather forecasting. Over the course of five years, 15 challenges with a total budget of Rs 45 Crores will be conducted, further fueling innovation and entrepreneurship.
Growth Stage - In the growth stage, the Fund of Funds is proposed to support around 150 startups over a period of five years through daughter funds. The Government of India will act as the anchor investor, providing a total budgetary support of Rs 750 Crores over the same five-year period. The investment manager of the fund/funds/VCs will be tasked with raising Rs 3000 Crores or more. MeitY's contribution per startup will be a maximum of Rs 5 Crores.
India's AI Story
The artificial intelligence (AI) sector is on a rapid ascent, with global spending on AI solutions expected to reach a staggering $407 billion by 2027. The IndiaAI scheme aims to impact and consolidate around 725 tech startups over the next five years, creating an inclusive AI startup ecosystem that represents the aspirations of Indian entrepreneurs and contributes to the country's development.
IndiaAI's visionary approach will transform India into a global AI leader. With substantial funding, strategic support, and a commitment to nurturing startups, this program has the potential to birth the next 100 AI unicorns in the country, setting the stage for a new era of technological advancement and economic growth.
Join Our Thriving Entrepreneurial Community

Follow TICE News on Social Media and create a strong community of Talent, Ideas, Capital, and Entrepreneurship. YouTube  | Linkedin | X (Twittrer) | Facebook | News Letters