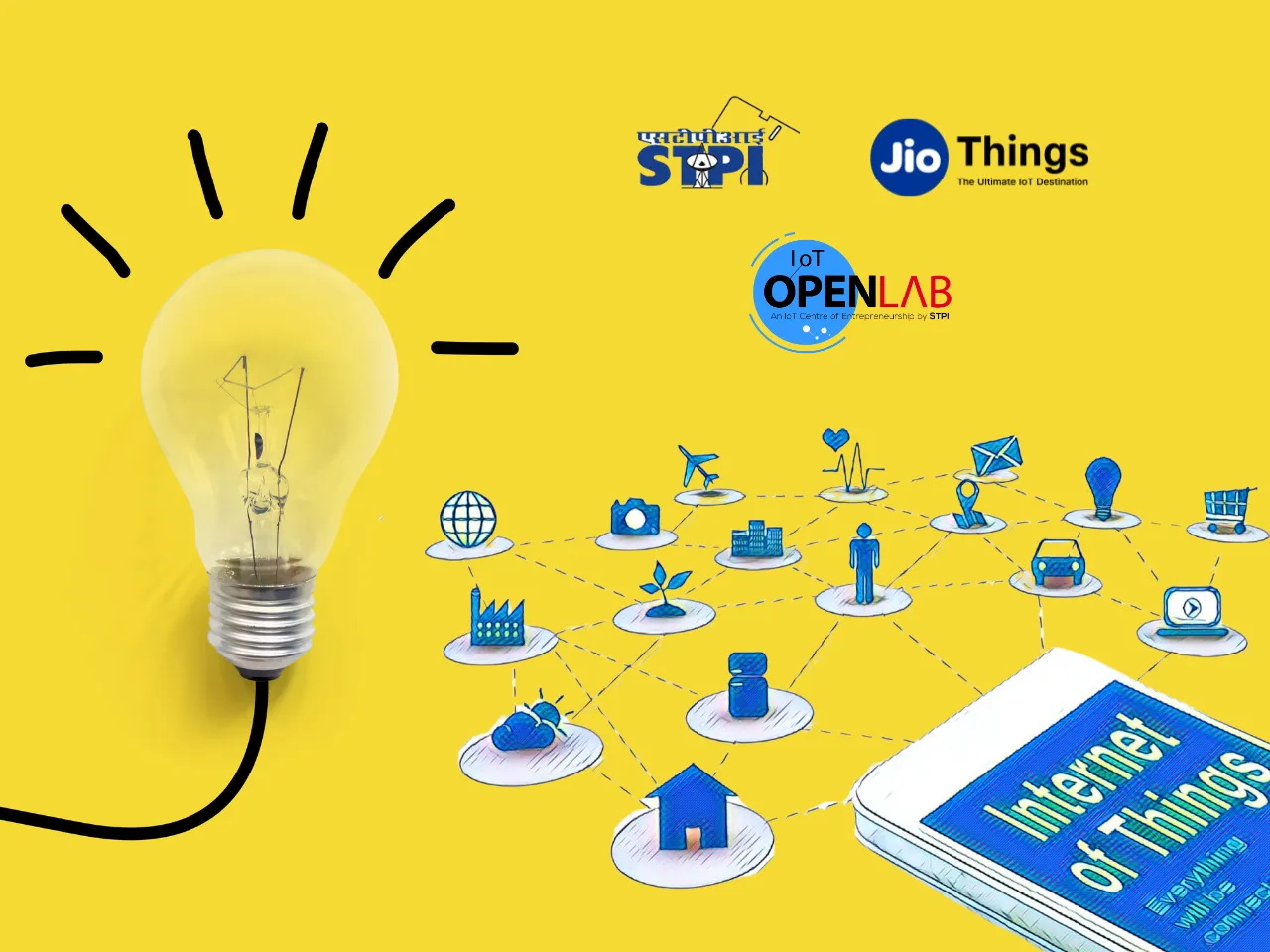 The Internet of Things (IoT) stands as a pivotal innovation that has the potential to revolutionize the way we live. IoT seamlessly connects everyday objects to the digital world, enabling them to communicate, gather data, and interact autonomously. This interconnectivity offers a multitude of benefits, ranging from enhanced convenience and efficiency in our daily tasks to smarter decision-making powered by real-time insights. From smart homes that adjust to our preferences to predictive maintenance in industries, IoT's transformative power holds the key to making our lives easier, more connected, and ultimately more empowered.

In a bid to adapt IoT and foster startups working around it, STPI (Software Technology Parks of India) and Jio Things Pvt Ltd. (JTL) have collaborated for the BuildForBharat IoT Start-Up Challenge, ushering in an era of innovation and creativity for start-ups. This dynamic initiative beckons entrepreneurs to ideate, craft, and actualize innovative solutions tailored for the next billion consumers and businesses.
What is the BuildForBharat challenge? 
The heart of the BuildForBharat initiative beats with the rhythm of empowering start-ups to develop outstanding products and amplify their presence through various digital avenues on the Jio Platforms. Leaning on Jio's unrivaled technological prowess, robust platform, visionary leadership, expansive network, and dedicated individuals, this endeavor propels start-ups toward success.
In the embrace of BuildForBharat, start-ups will find themselves enveloped in a cocoon of mentorship and guidance spanning the realms of Technology, Product Strategy, User Experience (UX), Go-to-Market (GTM) strategies, Business Models, Marketing, Monetization Strategy, Product Design, Customer Acquisition, Retention, and Growth.
The Journey Ahead: BuildForBharat IoT Startup Challenge
Diving into the heart of the BuildForBharat IoT Startup Challenge, participants can anticipate immersive experiences, comprehensive workshops, and impactful one-on-one mentoring sessions. By addressing the paramount challenges articulated by start-ups, we seek to align them with domain experts from both  Jio and the industry, forging a path to surmount these obstacles together.
Eligibility Criteria: Who Can Participate?
This challenge extends its arms to Indian start-ups operating in the domain of IoT.  Start-ups registered with  DPIIT under Start-Up India are encouraged to participate in the program to seize this opportunity.
The start-up's legal structure could take the form of:
A Private Limited Company as defined by the Companies Act, 2013,
A Registered Partnership Firm under section 59 of the Partnership Act, 1932,
A Limited Liability Partnership under the Liability Partnership Act 2008,
Individual Academicians, Researchers, Educators, and Entrepreneurs.
Furthermore, the start-up must not have been registered for more than a decade from the current date. As for the annual turnover, it should not exceed Rs. 100 crore for any financial year since its incorporation.
Charting the Course: Focus Areas
The BuildForBharat IoT Startup Challenge unfurls a captivating tapestry of focus areas that will captivate the ingenuity of participants. These focus areas encompass:
A. Smart Assets
Track and Trace
Condition Monitoring
Indoor and Outdoor Automation
Industrial IoT (IIoT)
B. Smart Mobility
Fleet Management
Vehicle Diagnostics
Connected Cars
Cell-Based Tracking
C. Smart Utilities
Smart Energy Metering
Smart Water Metering
Smart Gas Metering
What is the Selection Process?
The selection process embarks on a journey encompassing three pivotal phases:
Phase-1: Application Invitations - Start-ups are invited to submit their applications through a dedicated online portal.
Phase-2: Initial Scrutiny and Shortlisting - A stringent assessment of the top 20 start-ups takes place, scrutinizing their ideas, proofs of concepts, and potential solutions.
Phase-3: Showcasing and Selection of Winners - The ultimate phase involves demonstrating the solutions and presenting them before a discerning panel. The most promising innovations are selected as winners, embarking on a journey of build and deployment.
What is the last date to apply?
Embark on your journey to the BuildForBharat IoT Startup Challenge by clicking here. 
Application Submission End Date: 30th September, 2022
What are the benefits of the BuildForBharat challenge?
The BuildForBharat challenge unrolls a tapestry of offerings that encompass various facets of support and growth:
Monetary Rewards: The pinnacle of recognition awaits with a total prize purse of INR 10 Lakh, distributed across the first, second, and third prize winners.

Guidance and Workshops: Dive into unparalleled mentorship with a spectrum spanning Product Mentorship, Engineering Mentorship, In-Person Tech Workshops, and the expansive Jio community.

Technical Advancements: A comprehensive IoT Kickstarter Pack awaits, offering cutting-edge technology amounting to approximately INR 16 Lakh. Ready-to-use plug-and-play spaces, access to tools and equipment, dedicated technical support, and so much more.

Market Penetration and Outreach: Forge connections with customers and partners, bask in premium advertising campaigns across Jio Platforms, and enjoy exclusive market access.

Innovation Incentives: Start-ups receive an IoT Kickstarter Pack, paving the way for a tech-infused journey into IoT, thanks to NB-IoT and 5G technologies.
What is IoT?
The Internet of Things (IoT) refers to a groundbreaking technological paradigm that interweaves the physical and digital worlds, enabling everyday objects to communicate, share data, and act intelligently. In essence, IoT transforms conventional items—ranging from household appliances to industrial machinery—into smart entities that can gather, transmit, and process information autonomously. This interconnected ecosystem holds the promise of enhanced efficiency, real-time insights, and improved decision-making, ultimately paving the way for a more connected and intelligent world.