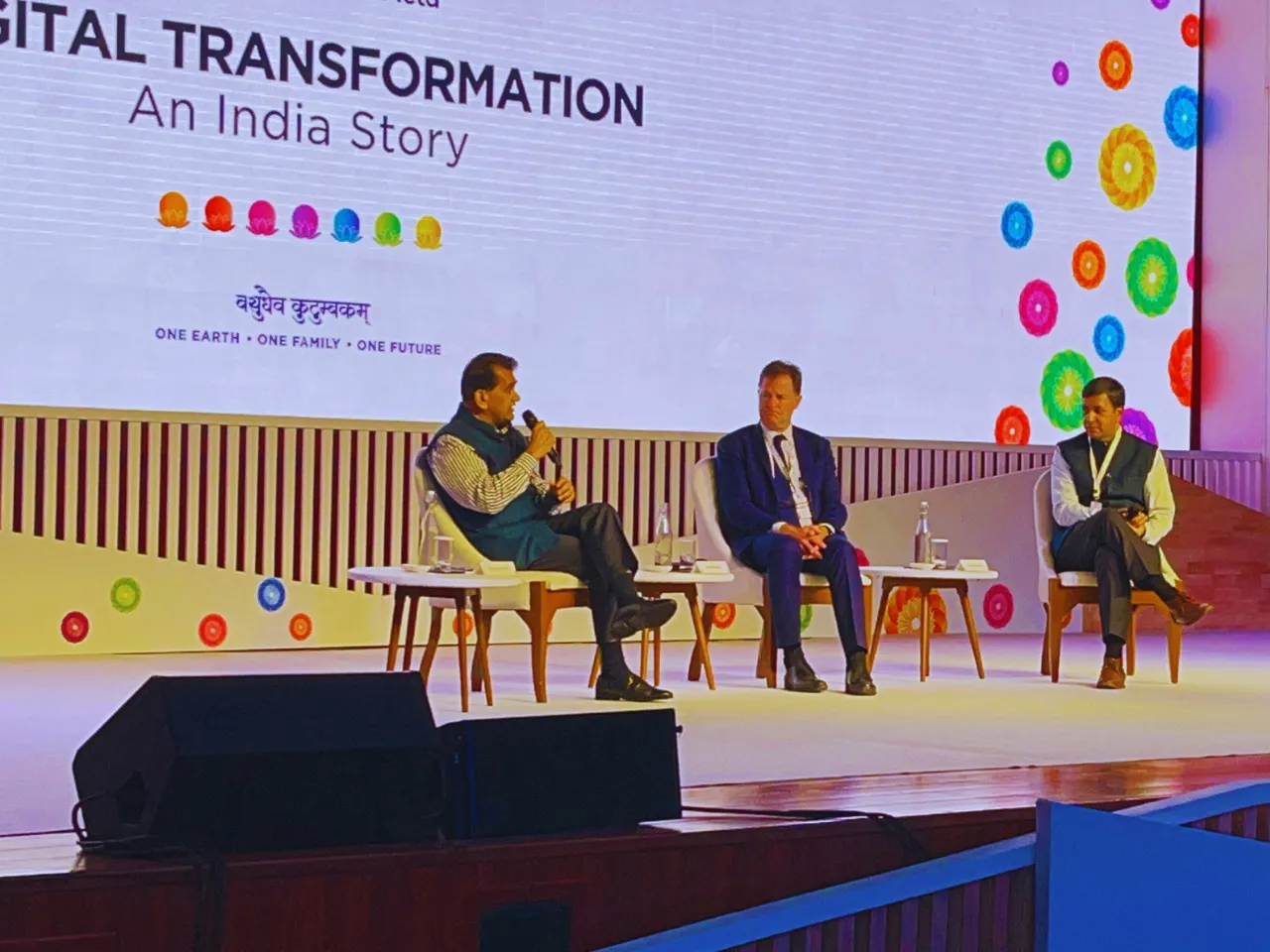 In a momentous event, that highlighted the Digital Transformation of India through the DPI (Digital Public Infrastructure) and showcased Digital India, Mr. Amitabh Kant, the G20 Sherpa for India, spearheaded discussions on "Digital Transformation, An India Story," with  Nick Clegg, President Global Affairs of Meta and talked about the groundbreaking blueprint for a digital revolution that has the potential to transform economies worldwide. The event showcased India's exemplary progress in building a robust digital public infrastructure (DPI) model, focusing on public interest rather than merely being digital.


Wealth Creation through DPI: A Game-Changer for India
At the event, Mr. Amitabh Kant proudly announced that India had successfully opened a staggering 520 million bank accounts between 2015 - 2017, with a remarkable 46% share in the world's fast payment transactions. The strategic DPI-driven approach significantly reduced customer acquisition costs, allowing companies like Jio to acquire an astounding 280 million customers at an impressive $35 per customer, a feat that remains unmatched in America, where the cost hovers above $100.
"Every single Indian has a digital identity. So we're close to 1.4 billion digital identities. Between 2015 to 2017 we opened up close to about 520 million bank accounts. So 55% of the bank accounts were opened in India. Every second bank account was opened in India. Then there was a huge movement to actually link these bank accounts with the digital identity and the mobile number. And therefore this enabled people to use their mobiles to make fast payments. And India today does about 46% of the fast payments in the world. We do about 11x more fast payments than what Europe and the USA do. We do about 4x more than what China does," Mr Amitabh Kant said. 
A major catalyst for India's economic growth has been the emergence of unicorn startups like Zerodha, which now holds a staggering 30% share in India's stock market, contributing substantially to the nation's wealth creation. 
"The other thing that happened in the case of India was that starting with fast payments, you had a digital infrastructure that was so enormous on the back of an open-source model that it enabled a number of our startups to do innovation on credit. You have new unicorns which started actually doing wealth creation. And this spread out to entire three cities, rural areas. So you had a range of new companies, young unicorns, and a company like Zeroda today controls about 30% of India's stock market, one single startup controlling 30% of India's stock market spreading out into Tier two, three cities. It's the ability to really move out and do transactions in less than 30 seconds. And that is how a huge massive revolution is taking place in wealth creation through the stock market and the spread of stock markets across the rural and Tier 2-3 cities," he further stated. 
The Global Challenge: Fostering Inclusive Digital Infrastructure
While India has propelled itself forward with DPI, there remains a pressing global challenge. A staggering 133 countries lack fast payment systems, and over 4 billion people do not possess a digital identity. Furthermore, a staggering 2 billion individuals still lack access to basic banking services. Addressing this challenge was a primary focus of the G20 summit.
"The important challenge is to understand that the world today has about, you know, in the context of the global south it's important to understand that 4 billion people do not have a digital identity. Close to about 2 billion people do not even have a bank account. 133 countries in the world do not have a fast payment. The challenge for the world is that while India has moved ahead in many ways there's no global governance structure for digital public infrastructure that's one of the key issues which has been discussed in G20 but the journey of digital public infrastructure to my mind is the journey for the world to take. It's the journey for all emerging markets and developing countries to take if they want to truly technologically leapfrog and make a difference in the lives of their citizens which India has been able to do because of this technology and the digital public infrastructure," India's G20 Sherpa explained.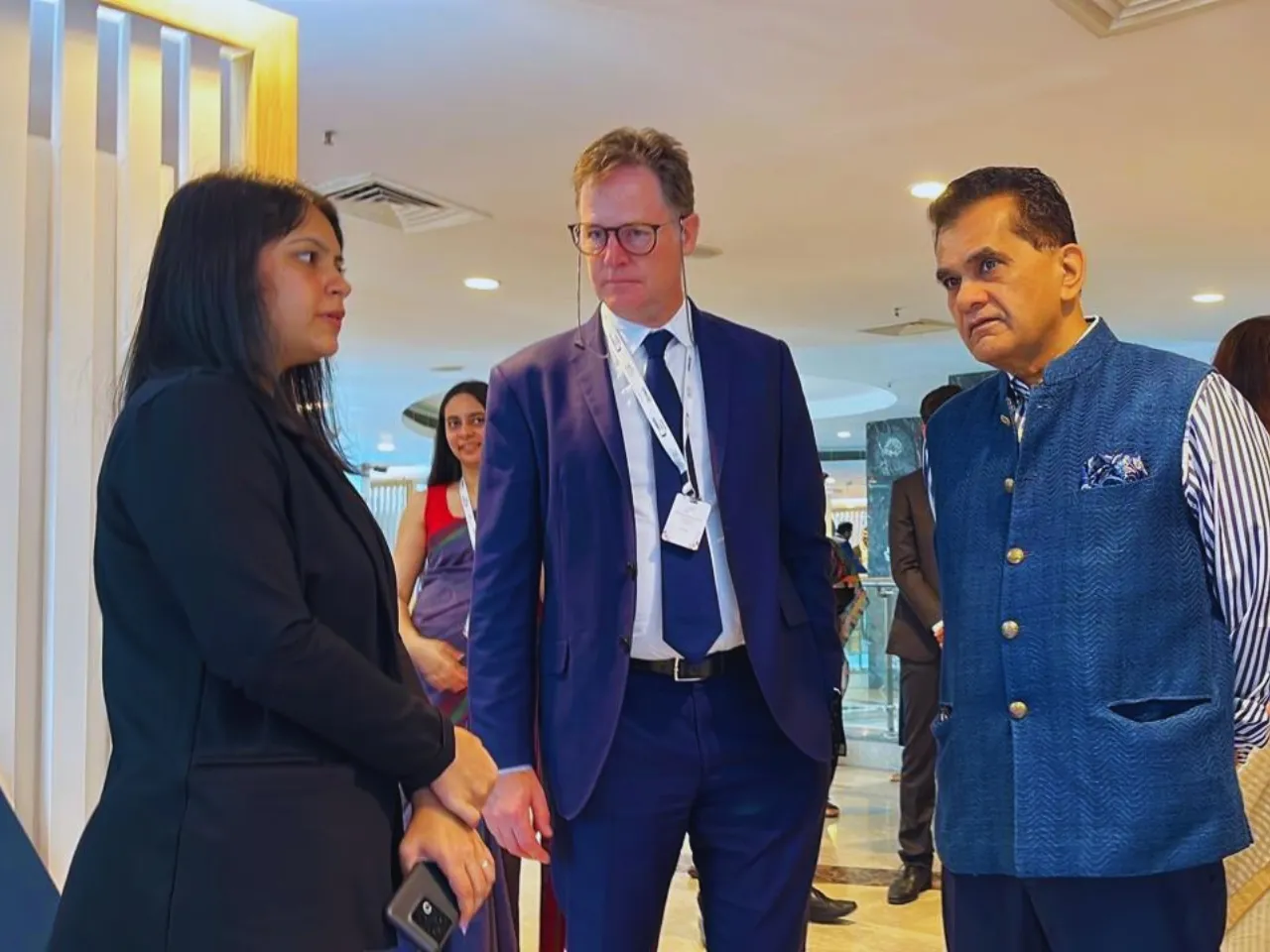 Digital Public Infrastructure: Paving the Way for Financial Inclusion
Mr. Kant passionately advocated for the adoption of India's DPI model as a beacon of financial inclusion. This visionary approach has empowered 86% of women in India with bank accounts, enabling their active participation in the economy. Open APIs have played a pivotal role in fostering innovation within the startup ecosystem, elevating them as national assets.
"Today about 86% of the women have bank accounts. And for each of them, many people said that they won't have resources in their banks. The average size of a bank account today is about 71,000 rupees. So what we've seen is women having access to bank accounts, women having access to money in their bank accounts, and a huge amount of transformation," Mr Amitabh Kant said. 

"It's just a phenomenal story of how our country could really pole vault in a very big way. And we believe in this because it's been possible simply because there is a layer of open source open API interoperability which is allowed these startups to innovate. And actually these startups, you know, it's not just their innovation, it's that they are national assets because they are truly national assets because of the digital public infrastructure that India has built up. They become 110 unicorns in India because of the digital public infrastructure, layer that India has built up. So what you're seeing in India is huge transformation across sectors. And actually, India has created business models not merely for India, but for the next 405 billion people who are moving from poverty to middle class in the world,"
India's Innovation: A Tale of Startups and Tech Giants
Unlike other countries where innovation largely emanates from tech giants, India's unique landscape is characterized by a vibrant startup culture. Notably, India is home to groundbreaking startups like PhonePe, which competes head-to-head with global giant Gpay, triumphing in the Indian market.
"India's the only place where PhonePe competes with Google Pay and beats them to it nowhere in the world does this happen," he remarked. 
Pioneering a Global DPI Model: A Path for All Nations
Mr. Kant emphasized that India's DPI model, rooted in public interest rather than government control, serves as a blueprint for the world to emulate. With 177 meetings held to develop and refine the model, India's success in bringing down costs drastically can inspire other nations to follow suit.
AI and Innovation: Striking the Right Balance
The event also shed light on the role of AI in driving transformative change across emerging economies. While Mr. Kant ardently advocated for innovation-friendly regulations, he also cautioned against excessive restrictions. Rather than stifling AI's growth, he proposed specifying use cases to maximize its benefits for citizens while keeping innovation alive and thriving.
A Synergistic Future: Where DPI Meets AI
As DPI takes center stage globally, the convergence of AI with this transformative infrastructure opens new doors to innovation. Leading AI technologies, such as LLM and ChatGPT, have already begun shaping industries like Jugalbandi and Bhashini, promising to revolutionize lives across the globe.
India's digital journey, as articulated by Mr. Amitabh Kant at the event, holds the key to a more inclusive and prosperous future. With DPI as the foundation and AI as the driver, economies worldwide can look to India's trailblazing efforts and reimagine a digitally connected world that benefits every individual. The fusion of public interest-driven infrastructure and innovation-driven AI paves the way for unparalleled transformation and opportunity, making India's story a guiding light for nations worldwide.