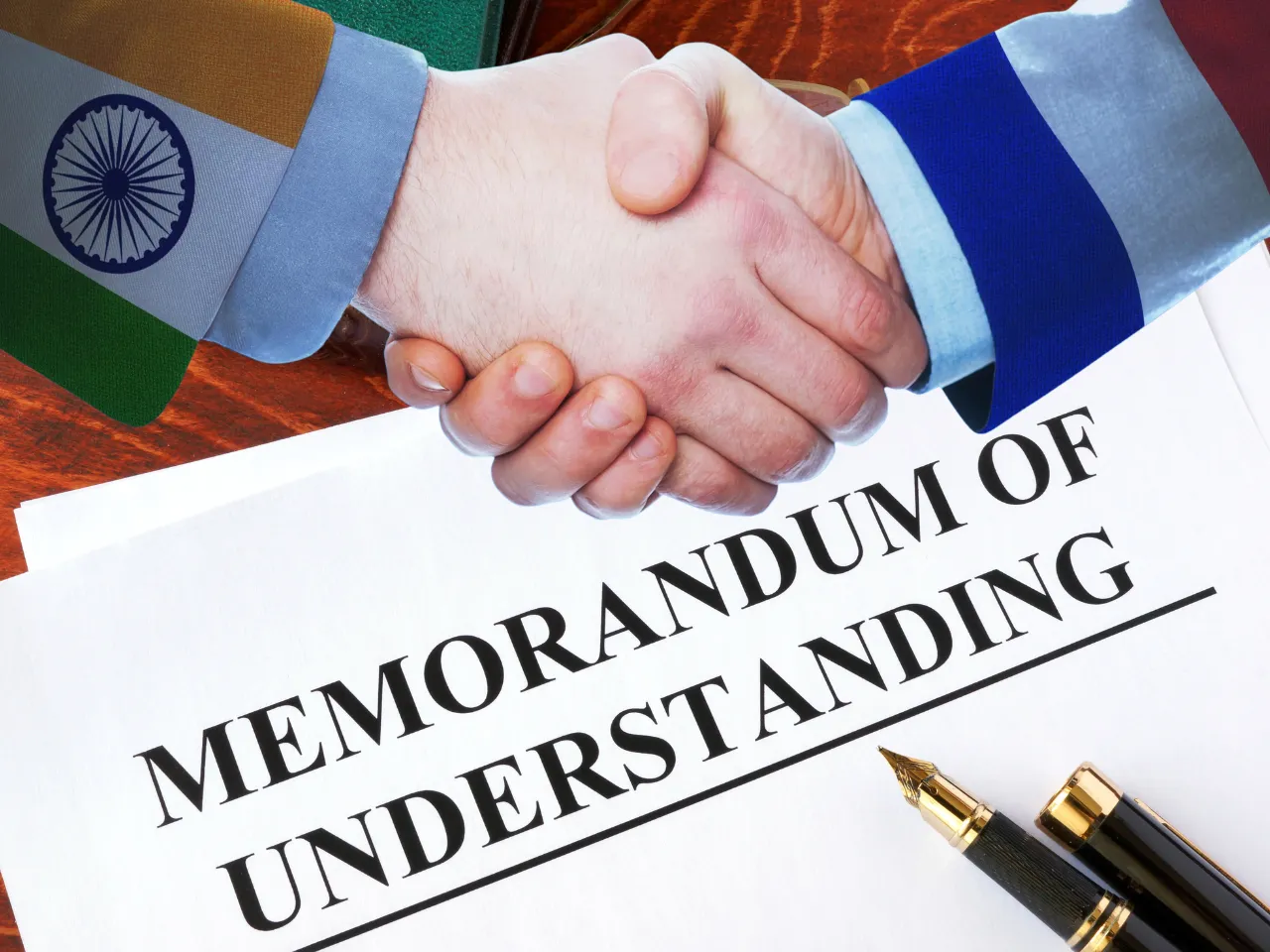 The Union Cabinet gave its approval for the signing of a memorandum of understanding (MoU) between India's Ministry of Electronics and Information Technology (MeitY) and the French Ministry of Economy, Finance, and Industrial and Digital Sovereignty in the field of digital technologies. 
Significance of the Digital Technology MoU
The primary objective of this MoU is to foster closer cooperation and information exchange regarding digital technologies. Both countries aim to support each other in promoting access to digital technology among their citizens. This collaboration is expected to enhance governmental (G2G) and business-to-business (B2B) cooperation in the digital technology sector.
G2G and B2B Cooperation
The MoU between India and France envisions improved collaboration, which, in turn, can create employment opportunities in the field of information technology. This strategic partnership will begin on the date of its signature by both participants and will extend for five years. It signifies a commitment to mutual growth and development in the digital arena.
Employment Opportunities in IT
With the ever-growing digital landscape, the demand for skilled IT professionals is on the rise. The cooperation outlined in the MoU is expected to generate numerous job opportunities, not only in India but also in France. This will not only boost the IT sector but also contribute to economic growth and technological advancement in both countries.
What is the Duration of the MoU?
The MoU's five-year duration is a testament to the long-term commitment of both nations. This period provides a stable platform for collaborative projects and ensures continuity in achieving their shared objectives. It also allows for periodic reviews and adjustments to align with evolving technologies and needs.
MeitY's International Cooperation Mandate
The Ministry of Electronics and Information Technology in India has been tasked with promoting international cooperation in emerging and frontier areas of information technology. To facilitate this, MeitY has entered into various MoUs and agreements with counterpart organizations and agencies in multiple countries. These bilateral and multilateral agreements play a vital role in fostering global technological advancements.
The Need for Business Opportunities
The quest for new business opportunities and attracting investments in the digital sector is paramount. Collaboration with France opens doors for Indian businesses to explore global markets and partnerships, thereby enhancing their competitiveness on the international stage.
Commitment to a Thriving Digital Ecosystem
The official statement emphasizes both India and France's commitment to nurturing a thriving digital ecosystem. This cooperation is aimed at empowering their citizens and ensuring their active participation in the digital age. It underlines the importance of providing access to cutting-edge digital technologies for the betterment of society.
Bilateral Cooperation on Advanced Digital Technologies
The Indo-French road map on cyber security and digital technology, unveiled in 2019, is the foundation for bilateral cooperation in advanced digital technologies. Areas of interest include supercomputing, cloud computing, artificial intelligence, and quantum technologies. This partnership can lead to groundbreaking innovations and technological advancements in these fields.
ISpA and GIFAS Partnership
The collaboration between the Indian Space Association (ISpA) and GIFAS of France is another milestone in this journey of cooperation. This partnership seeks to raise awareness about business opportunities in the space industry in both nations. By joining forces, they aim to foster innovation and growth in the space sector.
The 2nd annual Indian Space Conclave served as a platform for representatives from both countries to explore collaboration in the space sector. It focused on opportunities in the space industry and involved leaders, startups, and government officials from both countries. This marks a significant step towards enhancing space exploration and development.
Collaboration in the Space Sector
India and France have pledged to enhance collaboration between their startup ecosystems in the space sector. This cooperation is not only beneficial for the two nations but also for the global space community. It ensures that space exploration and innovation continue to thrive.
Enhancing Startup Ecosystems
Fostering innovation and growth in startup ecosystems is crucial for technological advancement. India and France recognize the potential of startups and are committed to providing them with the necessary support and opportunities to flourish.
The MoU between India's Ministry of Electronics and Information Technology and the French Ministry of Economy, Finance, and Industrial and Digital Sovereignty in the field of digital technologies is a significant step towards global technological advancement. It reflects the commitment of both nations to fostering innovation, creating job opportunities, and enhancing their digital ecosystems. The collaboration is expected to lead to groundbreaking advancements in digital technologies and the space sector, ultimately benefitting their citizens and the global community.