On the occasion of Prime Minister Narendra Modi's 73rd birthday, the Government of India has introduced PM Vishwakarma, a scheme designed for traditional skillholders. This initiative, announced during Prime Minister Narendra Modi's 77th Independence Day address, aims to uplift the livelihoods of traditional artisans and craftsmen belonging to the Other Backward Classes (OBC) community. The visionary scheme is set to launch on September 17, coinciding with the auspicious occasion of Vishwakarma Jayanti.
What Is Vishwakarma Yojana?
The Vishwakarma Scheme, a groundbreaking endeavor by the Indian government, has been earmarked for an initial allocation ranging between Rs 13,000 crore to Rs 15,000 crore. The primary focus of the scheme is to infuse vitality into the traditional occupations of skilled artisans, such as goldsmiths, ironsmiths, washermen, hairdressers, and masons, who predominantly hail from the OBC community. This visionary initiative is poised to catalyze economic growth and empower a significant segment of the population whose craftsmanship has been a cornerstone of India's rich cultural heritage.
Prime Minister Modi emphasized, "For all our workers, artisans who mostly belong to the OBC community, we will launch the Vishwakarma Yojana on the occasion of the forthcoming Vishwakarma Diwas, where around Rs 15,000 crore would be provided to them." This timely boost is expected to breathe new life into these professions, enabling artisans to thrive in today's rapidly evolving economy.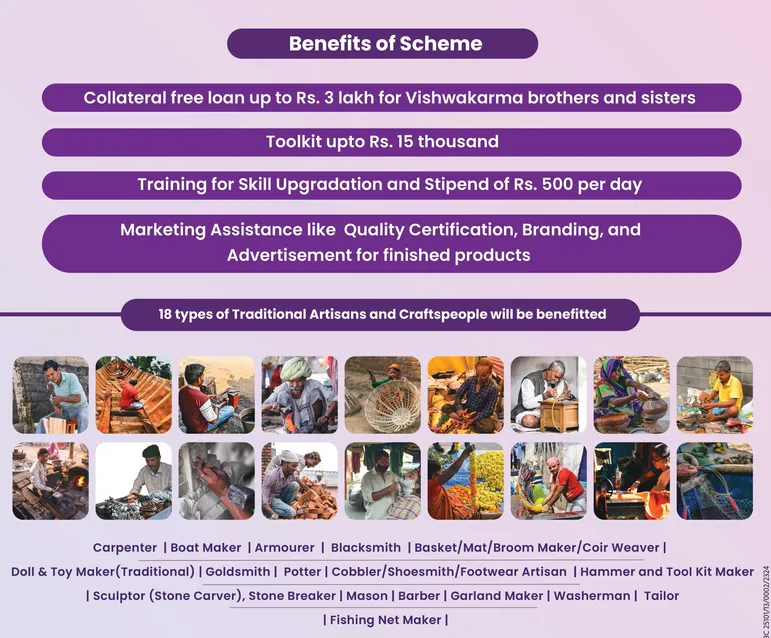 PM Vishwakarma Yojana: Previous Initiatives Uplifting Millions
In his address, PM Narendra Modi underscored the transformative impact of earlier government schemes, which have played a pivotal role in lifting millions out of poverty. Schemes like PM Svanidhi Yojana, Mudra Yojana, and Pradhan Mantri Awas Yojana have collectively led to the elevation of 13.5 crore Indians into a more prosperous future.
The Mudra Yojana, with a staggering budget exceeding Rs 20 lakh crore, has been a driving force behind fostering self-employment, startups, and enterprises among the nation's youth. As a testament to its success, approximately eight crore individuals have embarked on new entrepreneurial journeys. Moreover, the remarkable outreach of this scheme has helped 13.5 crore people escape the clutches of poverty, propelling them into the burgeoning middle class.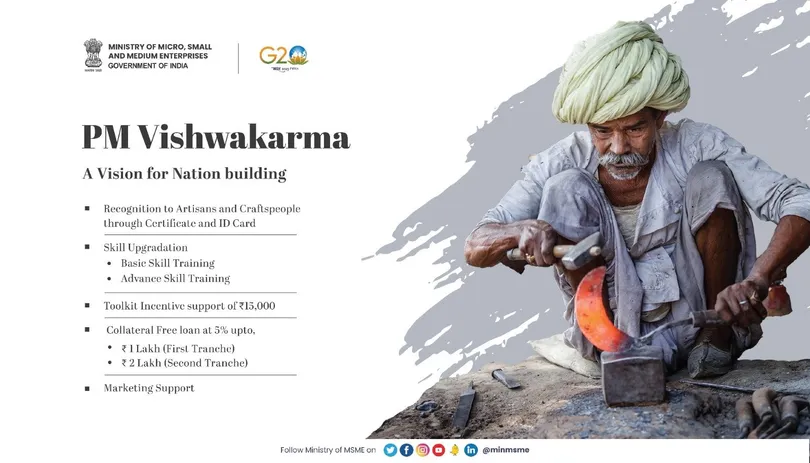 Inclusive Scope: Vishwakarma Yojana Beneficiaries
The Vishwakarma Yojana is set to touch the lives of all those engaged in traditional craftsmanship, which relies on time-honored skills and techniques. With a grand unveiling scheduled for Vishwakarma Jayanti in September of this year, the scheme will make an initial allocation ranging from Rs 13,000 crore to Rs 15,000 crore, ushering in a new era of support for these artisans.
This groundbreaking initiative was prominently featured in the Budget 2023, reflecting the government's resolute commitment to fostering economic growth while preserving India's rich cultural legacy. Prime Minister Modi, during his 10th Independence Day address, also took the opportunity to reflect on previously launched schemes that have profoundly impacted citizens' lives.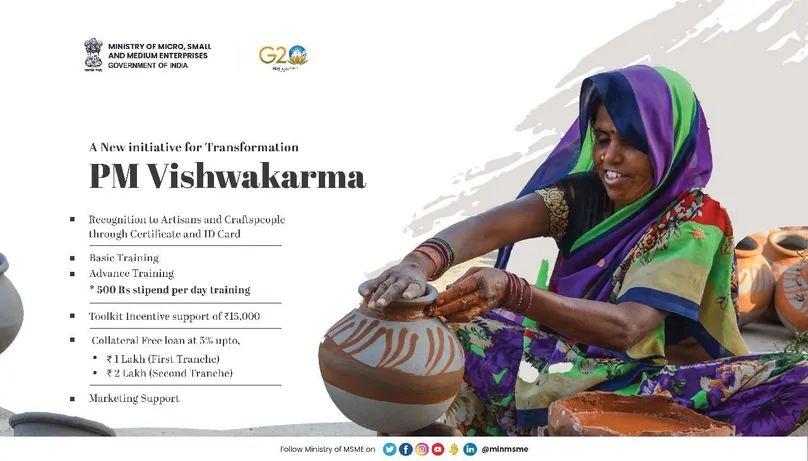 An impressive sum of Rs 2.5 lakh crore was directly disbursed to farmers across the country under the Pradhan Mantri Kisan Samman Yojana. In tandem with this, the Ayushman Bharat Yojana has seen an infusion of Rs 70,000 crore to ensure essential medical services for those who lack the financial means for treatment. Additionally, the Jal Jeevan Mission, with an allocation of Rs 2 lakh crore, is actively addressing water-related challenges, further enhancing the well-being of Indian citizens.
As India continues to chart a path toward inclusive growth and prosperity, the Vishwakarma Yojana stands as a testament to the government's unwavering dedication to uplifting traditional artisans and creating a more vibrant and dynamic future for all.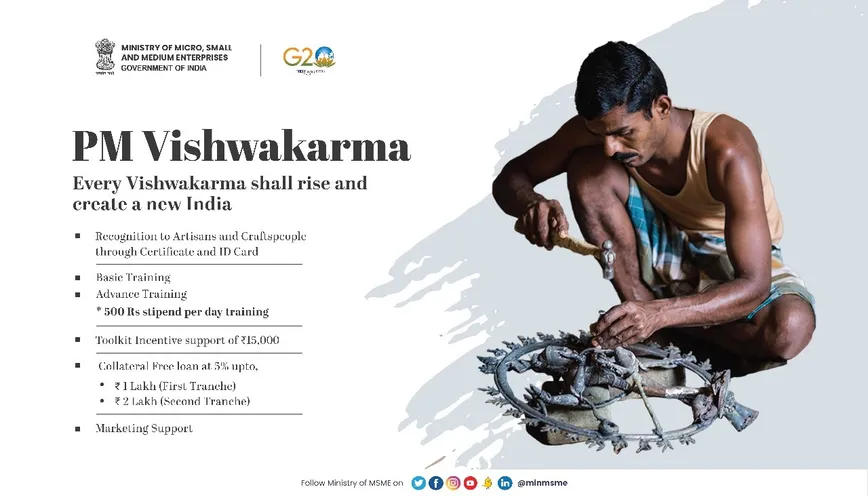 Join Our Thriving Entrepreneurial Community

Follow TICE News on Social Media and create a strong community of Talent, Ideas, Capital, and Entrepreneurship. YouTube  | Linkedin | X (Twittrer) | Facebook | News Letters