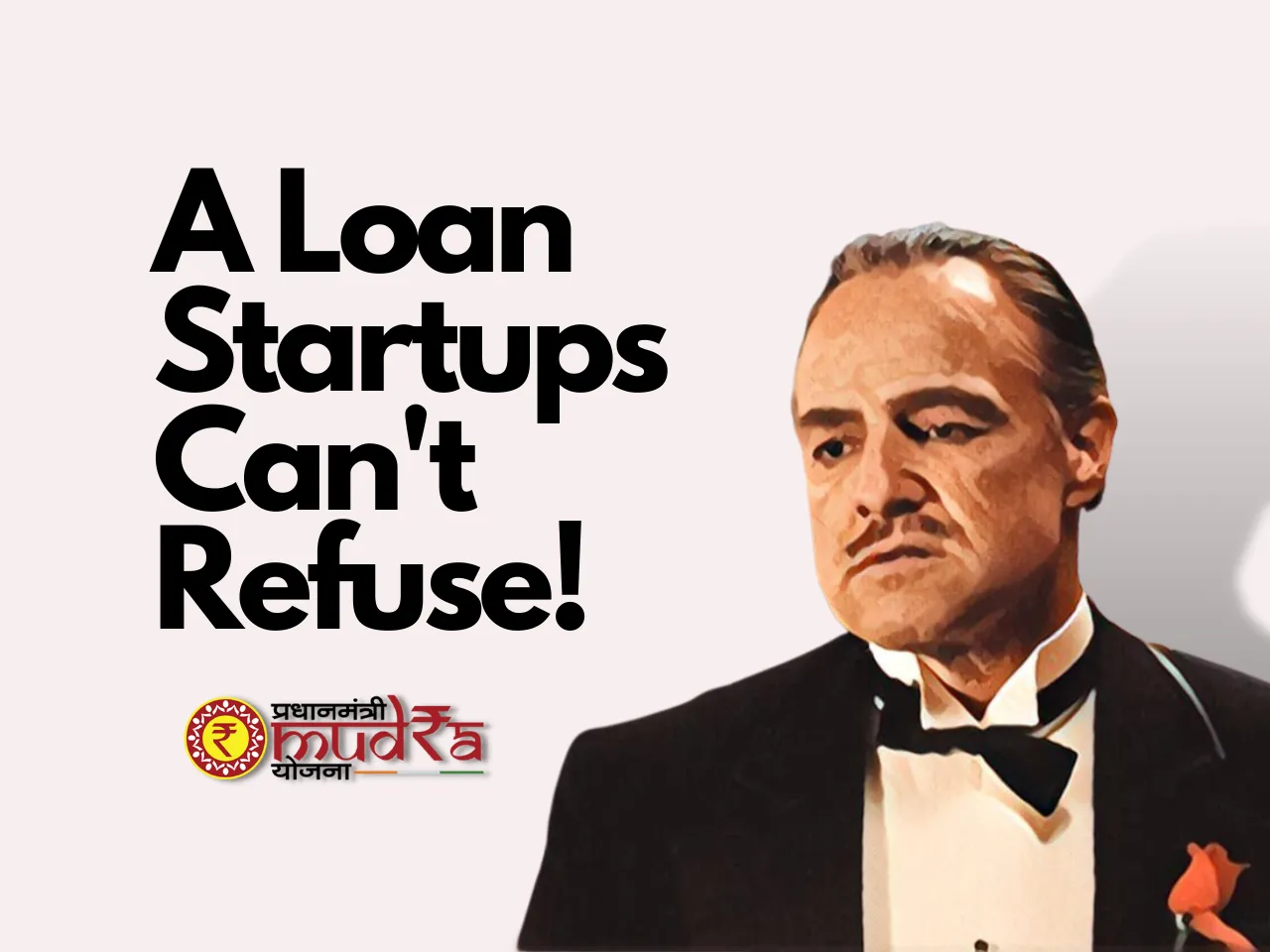 Don Vito Corleone from The Godfather once said, "I'm gonna make him an offer he can't refuse." Although Don's offer may have had negative implications in the context of the movie, from a business perspective, it was undoubtedly a win-win for both parties. This iconic line has even inspired management gurus to derive valuable lessons from The Godfather series. Interestingly, the government seems to have drawn inspiration from this famous quote, launching a scheme that's hard to resist - The Mudra Loan Scheme.
What is the Mudra Loan Scheme?
The Mudra Loan Scheme is a government initiative launched in 2015 to provide financial assistance to small businesses, startups, and entrepreneurs. Mudra stands for Micro Units Development and Refinance Agency Ltd, and the scheme aims to provide financial support to the non-corporate and non-farm sector. In other words, the Mudra Loan Scheme is designed to boost entrepreneurship in India and support small business owners who may not have access to traditional banking facilities.
What is the Objective Of the Mudra Loan Scheme? 
The scheme's primary objective is to fund the unfunded, and it aims to provide loans up to Rs 10 lakh to small businesses and entrepreneurs. The Mudra Loan Scheme is a part of the Pradhan Mantri MUDRA Yojana (PMMY), which was launched by the Indian government to promote entrepreneurship and self-employment.
How can it benefit businesses or startups?
The Mudra Loan Scheme is an excellent opportunity for small businesses and startups to get financial support without having to worry about collateral. The loans are provided without any security or guarantee and can be used to start a new business, expand an existing one, purchase equipment, or to meet working capital requirements. The interest rates on these loans are also relatively lower than other traditional loans, making them more accessible to small business owners.
Eligibility Criteria For Mudra Loan
To avail of the Mudra Loan Scheme, the business owner or entrepreneur must meet the following eligibility criteria:
The business should be involved in manufacturing, trading, or services.
The business should be a small business or a startup.
The loan amount should not exceed Rs 10 lakh. 
As long as you're between the ages of 18 and 65, and have a spotless track record when it comes to repaying loans and credit card payments, you could be eligible for the financial support you need. So don't let age or financial history hold you back from pursuing your dreams – apply for a Mudra loan today and get one step closer to turning your business dreams into reality. 
If you're a self-employed professional, business owner, woman entrepreneur, or just someone with a great idea, you're in luck! The Mudra scheme offers loans to individuals like you, as well as micro, small, and medium enterprises (MSMEs) and startups.
It doesn't matter if you're in the service, manufacturing, or trading sector, as long as you fall into one of the above categories, you're eligible for this exciting opportunity. Small vendors, shopkeepers, retailers, traders, manufacturers, and artisans, you're included too! And if you're a sole proprietorship, partnership firm, limited liability partnership (LLP), or any other business entity, you can benefit from this scheme too.
How to Apply for Mudra Loan? 
Well, the good news is that getting a Mudra loan has never been easier! You can choose to apply for the loan both online and offline.
If you're someone who prefers to do things the traditional way, then you can visit the nearest branch of the desired bank and pick up the application form. Alternatively, you can simply download the form from here and fill in all the required details. Once you've filled it out, submit the form to the bank and complete the formalities. It's that easy!
But what if you're someone who prefers the convenience of the online world? Don't worry, because applying for a Mudra loan online is just as simple! All you have to do is fill out the application form, upload the required documents specified by the lender, and submit it on the bank's official website. You can also apply through MUDRA's website. 
The best part? Once the lender approves your loan application and is satisfied with your submitted documents, you could receive the loan amount in your bank account within 7-10 working days. And if you're looking for an instant business loan or a loan amount greater than Rs. 10 lakhs, you can apply here and choose the best loan product available for your business needs, all at the lowest interest rates.
The Mudra Loan Scheme can be availed through various financial institutions, such as banks, NBFCs, and MFIs. The applicant can apply for the loan online or offline by submitting the necessary documents, such as a business plan, KYC documents, and income tax returns.
Documents Required for the Mudra Loan Application
To apply for a Mudra Loan, you need to submit a duly filled application form with passport-sized photographs.
You also need to provide KYC documents of the applicant and co-applicants, which may include Passport, Voter's ID card, Aadhar Card, Driving License, PAN card, and Utility Bills.
If you belong to a special category such as SC/ST/OBC/Minority, you need to submit proof of the same.
A last 6 months' bank statement is also required to assess your financial stability.
If you are an existing enterprise, you need to submit business address proof and vintage proofs to prove your track record.
Finally, the bank/NBFC may require additional documents as per their discretion.
Note that the Mudra loan application form is separate for Shishu, Kishor, and Tarun loan schemes.
Mudra Loans for Women Entrepreneurs
Attention all women entrepreneurs! Are you looking for a way to start or expand your business without worrying about collateral or high-interest rates? Look no further than the Mudra Yojana under PMMY! This amazing program encourages and supports women's entrepreneurship by offering collateral-free business loans at reduced interest rates. With a maximum loan amount of up to Rs. 10 lakhs and a repayment tenure of up to 5 years, you can focus on growing your business without financial stress. And if you need a smaller loan amount, the SBI e mudra loan offers up to Rs. 1 lakh with the same eligibility requirements. Best of all, women entrepreneurs receive a break on processing and foreclosure fees, making it even easier to achieve your dreams. Don't let financial barriers hold you back - take advantage of the Mudra Yojana today and start building your empire!
What is a Mudra Card? 
Are you an entrepreneur looking for a smarter way to manage your business finances? Look no further than the MUDRA Card! This sleek debit card is issued against your MUDRA loan account, specifically for the working capital portion of your loan.
But what makes the MUDRA Card truly unique is its flexibility. With multiple drawals and credits allowed, you can easily manage your working capital limit in a cost-efficient manner, while keeping interest burdens to a minimum. And that's not all - by using the MUDRA Card, you'll be helping to digitalize your MUDRA transactions and create a credit history for yourself, which can open up even more opportunities for growth.
Plus, the MUDRA Card can be used all across the country for withdrawals from any ATM or micro ATM, as well as payments through any "Point of Sale" machine.
Mudra Loan Queries 
If you still have queries regarding the Mudra Loan, there are toll-free national helpline numbers that you can call on to get your query resolved. 
1800-180-1111
1800-11-0001
Also, To check State Toll-Free Numbers for Pradhan Mantri Mudra Loan Yojana, Click here
Offer Startup Entrepreneurs Can't Refuse!
In a country where small businesses and startups often struggle to get the necessary funding, the Mudra Loan Scheme is a ray of hope. It is a loan that cannot be refused by startups or businesses, and it comes with several benefits. So, if you're an entrepreneur looking to start a new business or expand an existing one, the Mudra Loan Scheme might just be the opportunity you've been waiting for.