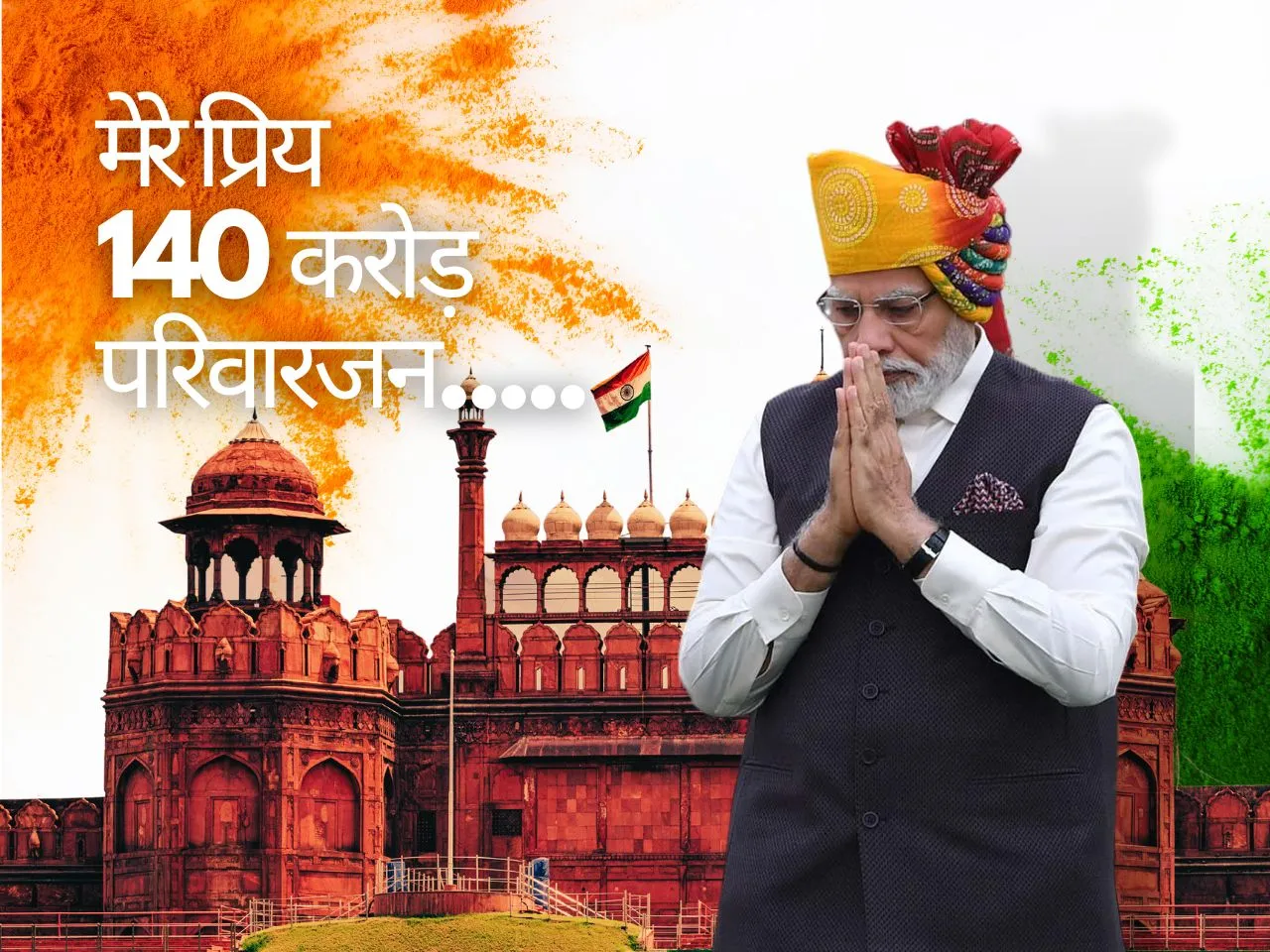 As the calendar turns to August 15, 2023, India stands poised to commemorate its 77th Independence Day, a testament to 76 years of unyielding liberty. The prevailing celebratory motif for this year is encapsulated by the theme "Nation First, Always First," an integral facet of the grand observance known as the "Azadi Ka Amrit Mahotsav."
PM Modi's Last Independence Day Address Before 2024
Notably, this occasion also witnessed Prime Minister Narendra Modi delivering his final Independence Day address before the impending 2024 general election. An intriguing touch to this year's festivities was the presence of Modi bedecked in a vibrant, Rajasthani-inspired turban, thereby endorsing the rich cultural tapestry and artistic finesse of India's diverse heritage.
"We built strong economy, stopped leakages; I am giving an account of 10 years from Red Fort" 
Modi's 140 Crore "Pariwarjan"
Switching from his usual style of addressing citizens as "my fellow citizens", PM Modi today addressed the citizens of India as his family, calling them "Mere Priya 140 Crore Pariwarjan."
"Your dreams are my dreams because you are my family"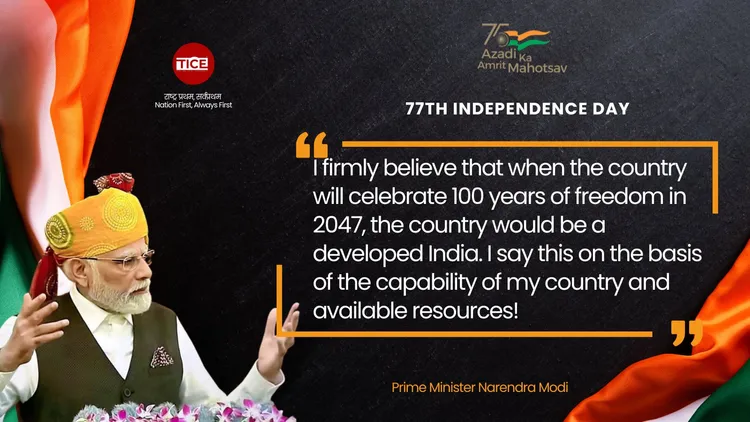 Developed India by 2047
Amidst India's Amrit Kaal, a period of significance, PM Narendra Modi implored the nation to embark on a journey towards development, with a resolute aim to achieve the status of a developed nation by the year 2047. Emphasizing the importance of this pivotal juncture, he said, "As we draw closer to the centenary of our independence in 2047, our collective aspiration must be to effect a profound metamorphosis, ushering India into the ranks of developed nations."
Modi's guarantee on eradicating poverty!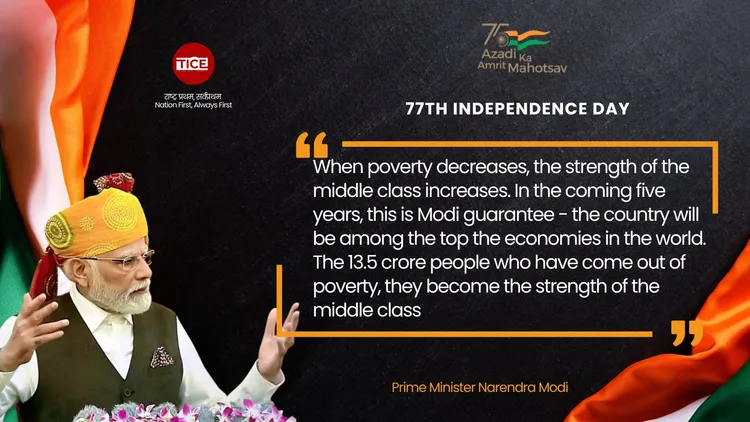 Modi Hails Indian Tech Industry
Within his address, Prime Minister Modi also highlighted the swift ascent of India's prowess in space technology, underscoring the ongoing advancements. He shared insights into the progress being made in areas such as nano urea. "India's capabilities in space technology are ascending swiftly. Our endeavors span across diverse domains, encompassing the deep sea mission, the modernization of railways with projects like Vande Bharat and the Bullet train. Internet connectivity has permeated villages, marking a significant achievement. Simultaneously, as we advance the development of nano urea, our commitment to the promotion of organic farming remains steadfast," articulated PM Modi.
"India's capabilities in space technology are ascending swiftly"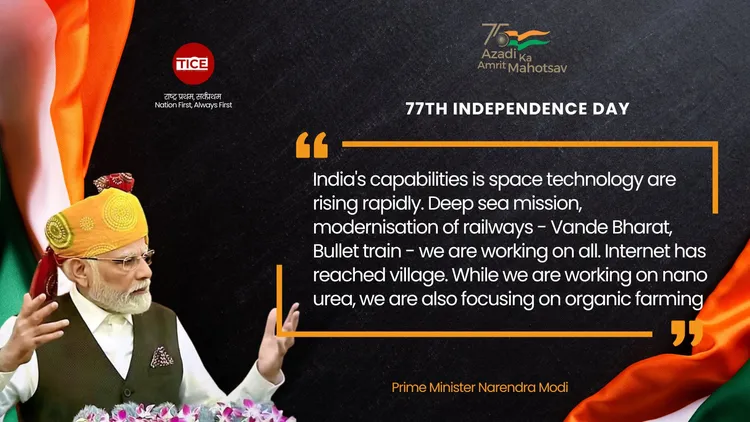 PM Modi Launches Vishwakarma scheme
While addressing the nation, Prime Minister Narandra Modi unveiled the Vishwakarma scheme, earmarking a substantial allocation ranging from ₹13,000 crore to ₹15,000 crore to empower those endowed with time-honored skills.
What is Vishwakarma Scheme?
Tailored to benefit skilled professionals such as barbers, goldsmiths, washermen, and others, this scheme, according to the Prime Minister, is set for launch in the upcoming month of September. Specifically, the inauguration is scheduled to coincide with the observance of Vishwakarma Jayanti, which falls on the 17th of September 2023.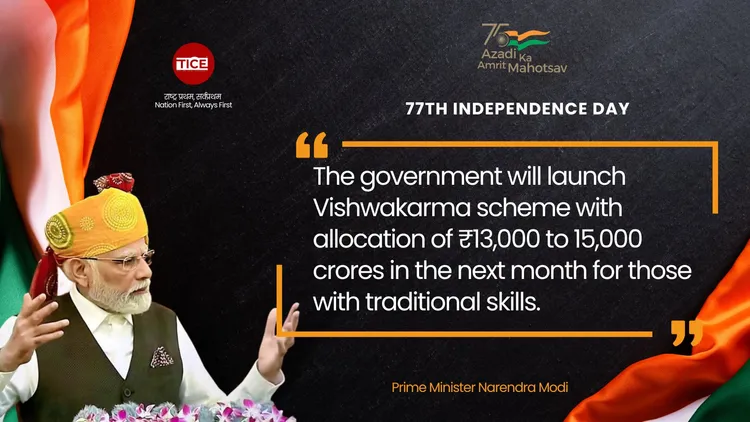 Watch PM Modi's LIVE Speech On Independence Day Here