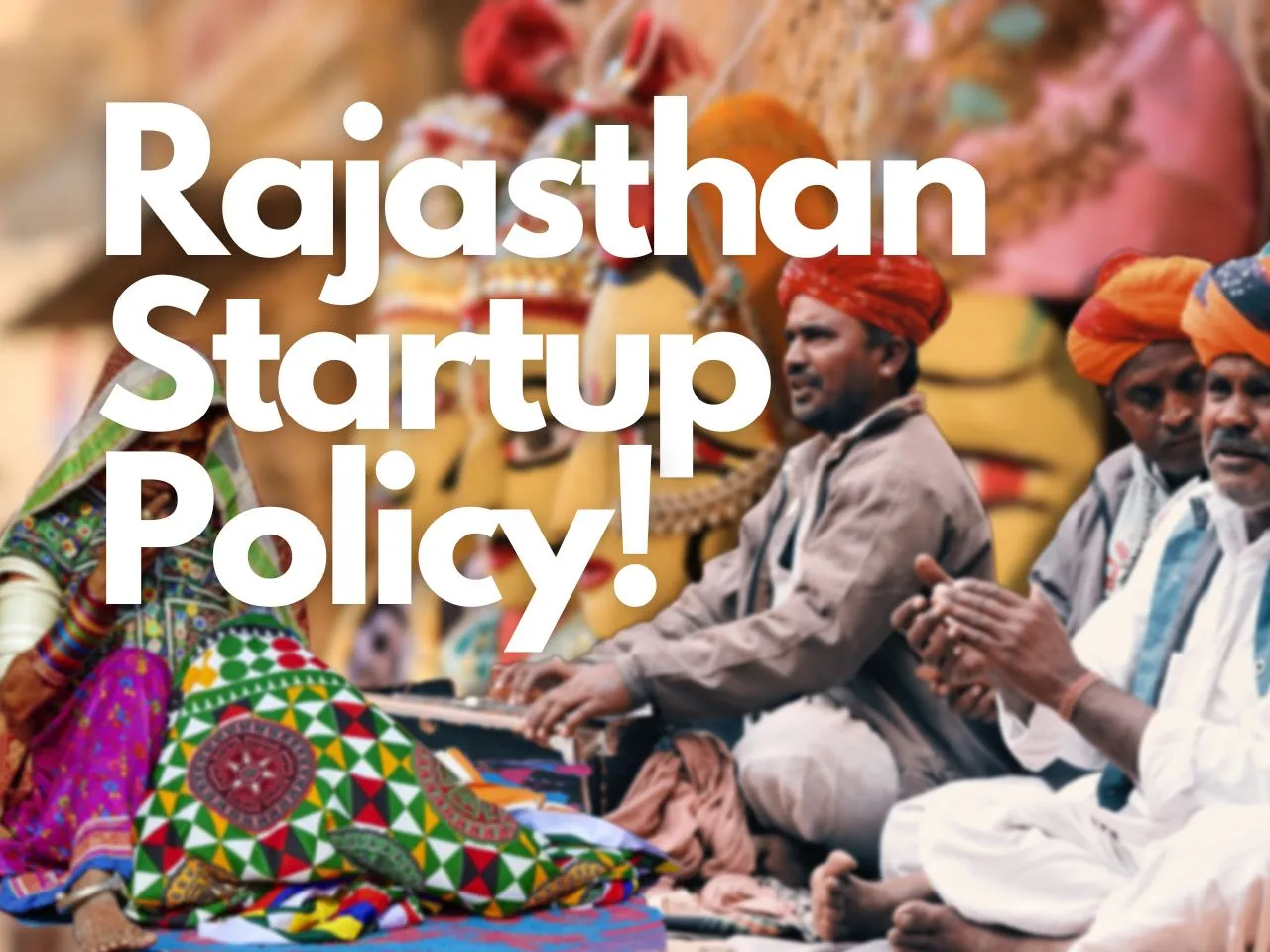 The land of Rajasthan has given birth to some of the most successful business tycoons and industrial giants known to the world. It is the cradle of entrepreneurship where dreams are nurtured and turned into reality. However, a dark shadow looms over this land of opportunities as a large number of educated youth are forced to leave their beloved state in search of greener pastures.
But hope flickers in the form of the Rajasthan Startup Policy. In line with Startup India Mission, This policy has been formulated to unleash the potential of the state's youth in creating innovative, cost-effective, and technology-driven solutions to overcome the challenges faced by Rajasthan. From the scarcity of water to the barren lands, from the lack of rural healthcare to the inefficient food supply chains, this policy aims to tackle it all.
Rajasthan Startup Policy shall apply to Startups registered under the iStart program and Startup investment funds, incubators, academic institutes, and others as defined in the Policy.
Do you also want to become an entrepreneur and begin with your own startup in Rajasthan? This article is the ultimate guide for you to understand Rajasthan Startup Policy! 
Rajasthan Startup Policy Vision
To establish Rajasthan as India's leading entrepreneurship and innovation centre by providing a conducive environment to foster a thriving and diverse startup ecosystem delivering sustainable economic and societal outcomes for the State and people of Rajasthan.
Objectives Of Rajasthan Startup Policy
To establish and implement a progressive policy designed to enable the following:
Make Rajasthan the destination with the most vibrant startup ecosystem in India.
Foster rapid job creation and skill enhancement across the State.
Position Rajasthan as the #1 state in innovation in thrust areas such as agriculture, education, healthcare and fintech.
Encourage inclusive entrepreneurship amongst women, transgenders, specially abled, SC/ST and in rural areas.
Invoke Startups in issues of governance and government reforms.
Provide an enabling environment for growth of product-based startups.
Encourage startups to develop innovative solutions for solving problems in social focus areas such as healthcare, environment and rural development.
Targets Of Rajasthan Startup Policy
Below are the principal targets of this policy:
Five hundred innovative startups to be supported and incubated.
Fifty incubators or incubator-like organisations to be established.
100,000 Sq. Ft. of incubation space to be facilitated or developed.
Development of innovation and problem-solving culture throughout the State.
Angel and Venture Capital of INR 500 Crores to be mobilised for startups.
Rajasthan Startup Policy Eligibility
Any individual or group of individuals who have an innovative idea or concept would be eligible to receive the support under the Policy.
Students of institutions and colleges of higher learning from Rajasthan affiliated under the Rajasthan Technical University and Rajasthan University, NITs, IITs and other private universities and every student enrolled in such institutions.
Universities or Educational Institutions, R&D Institutions, Incubations Centres or Private and other establishments would be eligible as an institution in order to support and mentor startups as approved by the Committee.
Rajasthan Government Support For Startups
Under the Rajasthan Startup Policy, the state of Rajasthan provides following support possibilities for startups in Rajasthan:
Prototype Stage Startup Support In Rajasthan
INR 10,000 per month would be offered to a startup as a sustenance allowance for a period of one year. However, the project of the startup must be recommended by the Nodal Institution and has to be approved by the Committee.
Incubators would provide appropriate support to the startups by offering mentoring services along with access to their laboratories, facilities and so on at free of cost.
The State Government would also recommend selected startup units to get access to Universities, Libraries, Government Laboratories, Centre of Excellence, PSUs and many more, for free.
Pilot Stage Startup Support In Rajasthan
Marketing and commercialisation assistance of maximum INR 10 Lakhs would be provided to the startup to launch its products or services in the market. The aid would be offered in the following manner.
It may be offered to a startup where they have to secure funding of a minimum 25% from a known and registered angel or venture funds, or reputed incubator. The amount would be disbursed as purely or partly grants or soft loan or equity on a case-to-case basis as given by the registered angel/ venture funds/ reputed incubators.
It may be given as matching assistance to reputed incubators established by institutions such as IITs, IIMs or NITs to fund startups as part of the accelerator programme as purely or partly grants or soft loan or equity on a case-to-case basis.
Student Entrepreneurship Program In Rajasthan
In an effort to encourage and empower students with an entrepreneurial spirit to kickstart their own ventures within the State of Rajasthan, the following forms of support will be made available:
The student or student teams who apply to an Incubator for incubation support shall be offered 5% grace marks and 20% attendance for every semester if duly accepted by the concerned education institution.
Students working on an innovation project shall be permitted to convert their project into their final year project for degree completion credits and requirements. However, this project must be incubated at an Incubator.
Students who aim to be entrepreneurs and have their own businesses shall be permitted to take a break of one year, or otherwise known as a Gap Year. This could be made after the first year of the graduation or post graduation course in technical institutions in order to pursue their ventures full time at any Incubator. This may be extended for a maximum period of 2 years and this period would be counted in the maximum time required to graduate. The 'Gap Year' option may be offered to ensure the continuity of the syllabus at the time of joining back and after an appraisal process by an Incubator where the student is attached.
To promote entrepreneurship at a college level, Entrepreneurship Cells or E-Cells would be created in collaboration with the Incubators for creating awareness and support at the ground level within the professional college campus. Colleges would be given a one-time capital grant of INR 10 Lakhs to establish and operate an E-Cell. The college is required to generate necessary financial resources through its own sources in order to continue the programs and events started as a part of the E-Cell.
State Business Plan Competition: The Nodal Institution would organise a state-wide business plan competition to invite new innovative business ideas from across various parts of the State. The top 50 winners of the competition would be selected by the Committee and would be given an award of INR 50,000 per winner.
So this is how you can also become a startup in Rajasthan and avail the many benefits under Rajasthan Startup Policy! You can access the official Rajasthan Startup Policy document here.
Also know: How To Become A Startup In Goa? Goa Startup Policy Explained!