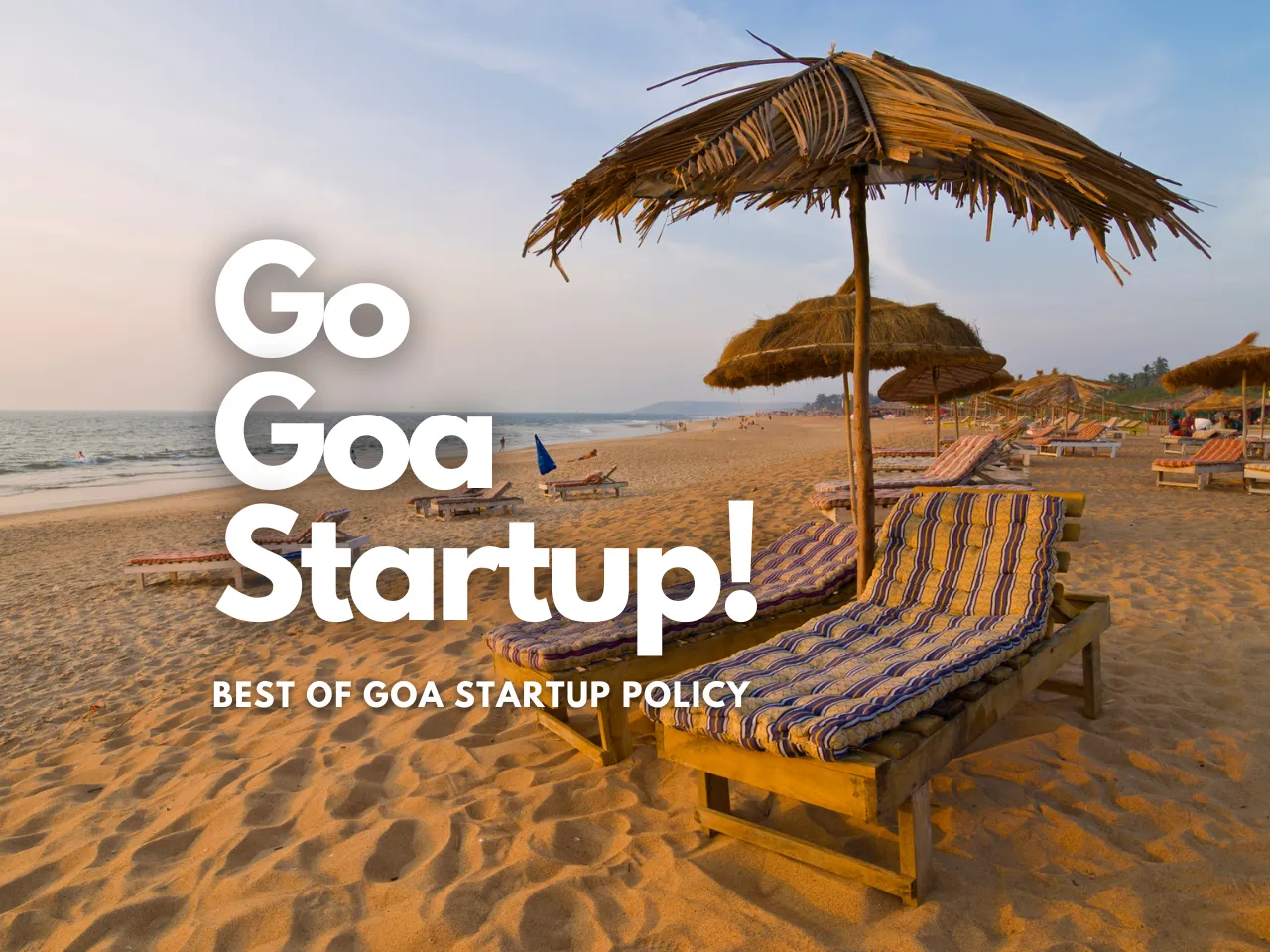 India's demographic diversity is one of its greatest strengths, but it can only be harnessed with an appropriate ecosystem that enables young people to use their skills and talents to contribute to the nation's economic growth. As a result, it is essential for the Government of Goa to facilitate entrepreneurship in order to create value and jobs. To this end, the Goa Startup Policy has been introduced to unlock economic opportunities throughout the state.
Presently, Goa is spread across an area of 3702 sq km with a population of 1458545 and a literacy rate of 1165487. As per the Goa Government, there are 111 Certified by Startup Promotion Cell, Government of Goa and 140+ Certified by Startup India, DPIIT, Government of India. 
Do you also want to become an entrepreneur and begin with your own startup in Goa? This article is the ultimate guide for you to understand Goa Startup Policy!
Goa Startup Policy: Overview
The Goa Startup Policy is committed to attracting the brightest minds in technology and entrepreneurship from outside the state, while also promoting entrepreneurs from Goa and creating employment opportunities for Goans. As the dynamics of the technology industry, human capital, entrepreneurs, and other factors linked to the startup ecosystem change, the Goa Startup Policy will evolve to remain proactive in bringing Goa to the forefront of the startup scene.
Goa Startup Definition
According to the Goa Startup Policy, Startup means an entity meeting the following criterion:
Up to ten years from the date of incorporation / registration in the State of Goa and/or operating in the State of Goa; and,
With annual turnover not exceeding INR 100 crore in any of the preceding financial years; and,
Incorporated as a Private Limited Company, a Registered Partnership Firm or a Limited Liability Partnership; and,
Should be working towards development or improvement of a product, process or service and/or have scalable business model.
Note: Entity should not have been formed by splitting up or reconstructing an already existing business
Vision Of Goa Startup Policy
The vision of the Goa Startup Policy is as follows:
"To make Goa the most desirable startup destination in the country and one of the top 25 startup destinations in Asia by 2025."
Goa Startup Policy Objectives
The objectives of the Goa Startup Policy are as follows:
To make Goa an aspirational geographical and human resources base for high value startups.
To invite the best entrepreneurial minds to make Goa their professional base, and thereby build a robust startup ecosystem in the state
To assist the Goan Entrepreneurs and local startups.
Evangelising Creation of at least 500 innovative, technology enabled startups and building sustainable services and solution oriented startups in Goa by providing requisite assistance and support in next 3 years, targeting generation of employment for at least 6000 Goans
Providing requisite assistance and support for developing technology & innovation hubs, centres of excellence, R&D labs and incubation centres in the next 3 years.
To infuse technology-enabled real-world problem-solving skills into the Goan education system through collaboration between industry, academia, and through the introduction of DIY modules as part of school curriculum, and Massive Online Open Courses as part of University curriculum.
To create an eco-system that makes it easy for Goan students to acquire technical skills required for employability and professional growth in the startup space.
To ensure continuous evolution of policy measures and creation of a responsive policy framework for accelerating growth of the startup ecosystem and incorporating new frontiers of technology enablement on an ongoing basis.
To facilitate creation of dedicated funds for providing various types of support and impetus to startups:
Idea to P-o-C (Proof of Concept) Fund
Seed Loan Fund
Working Capital Fund
Women Entrepreneurs Development Fund.
Research & Development Fund
Student Innovation Fund
Skill Development Fund
Incubation Support Fund
State Support For Startups In Goa
Institutional Support
A Startup Promotion Cell is formed under the Department of IT (Goa) as serves as the nodal agency to register/recognise/certify, the start-ups established in the state. Secretary IT is the convenor of the cell. Director (IT) is empowered to certify the start-ups.
The cell is headed by a CEO, and dedicated team of professionals and/or professional agencies to carry out the following functions:
Administration
Communication
Due Diligence of Applications
Eco System Development
Enabling Access to Finance
Incubation
Mentoring
Operation Management of the Cell
The cell will conduct Startups ecosystem programs by themselves and inviting industry expert and professions including Empanelled agencies for assisting the startups in the statutory matters regarding company formation, filings, accounting and taxes
The cell would also engage professionals/agencies for the following functions, who would provide services to the startups on a shared services model, at notified rates:
Management
Human Resources
Technical
Legal
Finance 
Goa Startup Infrastructure: Incubators & Accelerators In Goa
As part of Goa Government's commitment to promoting startups and incubators in the state, the Government would strive towards developing world-class infrastructure through the following models: 
Government Developed Incubators
Privately Run Incubators
Incubation within Government Leased Space
Incubators within Educational Institutes
Financial Incentives For Startups In Goa
Government of Goa intends to actively support the set-up, operations and growth of eligible startups based in Goa through various measures giving them access to finance by enabling an investor network, funding process and financial schemes by way of incentives and enabling provisions listed in this section.
For land, developed area purchase, leased by startups, incubators and developers, the stamp duty for land, built up area lease and sale transaction for startups would not exceed INR 100, while the excess amount paid would be reimbursed. This incentive is available only once in the lifetime of a startup.
Development of green/ brown field accelerators and incubators with dedicated facilities either in the form of fully functional or semi-functional office spaces for start-ups would be eligible for loans for infrastructure development equalling the contribution of the promoters with a limit of INR 1 Crore.
Every startup in Goa would be eligible for the interest subsided loans from the Government.
A maximum of 3 projects would be eligible for a grant of 30% of the loan interest amount, for repayment of the interest component of a loan availed, with a limit of INR 5 Lakhs per annum for the first two years. Other startups may avail an interest repayment grant of 10% of the interest amount of a loan availed with a limit of INR 2 Lakhs per annum for two years.
Startups that raise funds from a registered funding source before the product launch phase would be offered 25% of the matching funds at proportionate ownership of stock, after due diligence and at the discretion of the cell.
Startups with an effective Minimum Viable Product may receive a one-time grant of upto INR 10 Lakhs, as determined by the cell.
For startups registering patents, the cell would reimburse up to 50% of the cost incurred by the startup related to fees and all other expenses associated with the patent application if the patent is registered successfully. This is subject to a cap of INR 2 Lakhs for national patents and INR 5 Lakhs for international patents.
For startups which have entered the production delivery phase, 50% of the cost of trademark registration for the company's name and logo would be reimbursed.
For startups hiring local talent, 50% of the salary for freshers would be reimbursed with a cap of INR 10,000 per month per recruit. For startups whose workforce comprise of 60% of locals, a grant of upto 25% of the salary of the local workforce would be reimbursed.
Costs of internet connectivity, software license fee, and cloud services fee with a cap of INR 1 Lakh would be reimbursed for startups that operate from their premises without Government developed facilities. Such local startups would be provided with a lease rental subsidy of upto INR 20 per sq. ft. per month for 2 years with a cap of INR 3 Lakhs per annum.
To promote innovation among startups, 50% of the R&D expenses including the salaries of PhD holders employed by startups would be reimbursed for two years with a limit of INR 5 Lakhs per annum. The salary component should not exceed more than INR 2 Lakhs in this incentive.
Continuous availability of funds for smooth and uninterrupted operationalisation of this policy is ensured by making and transferring adequate budgetary provision into respective fund heads, through which these incentives would be disbursed by the cell to the beneficiaries.
Requirements of every Government Department for IT solutions would be routed centrally through an agency nominated for this purpose. The agency, so nominated, shall necessarily outsource a minimum of 50% of the anticipated requirements with respect to the total estimated contract value, to Goan Startups only.
So this is how you can also become a startup in Goa and avail the many benefits under Goa Startup Policy! You can access the official Goa Startup Policy document here.