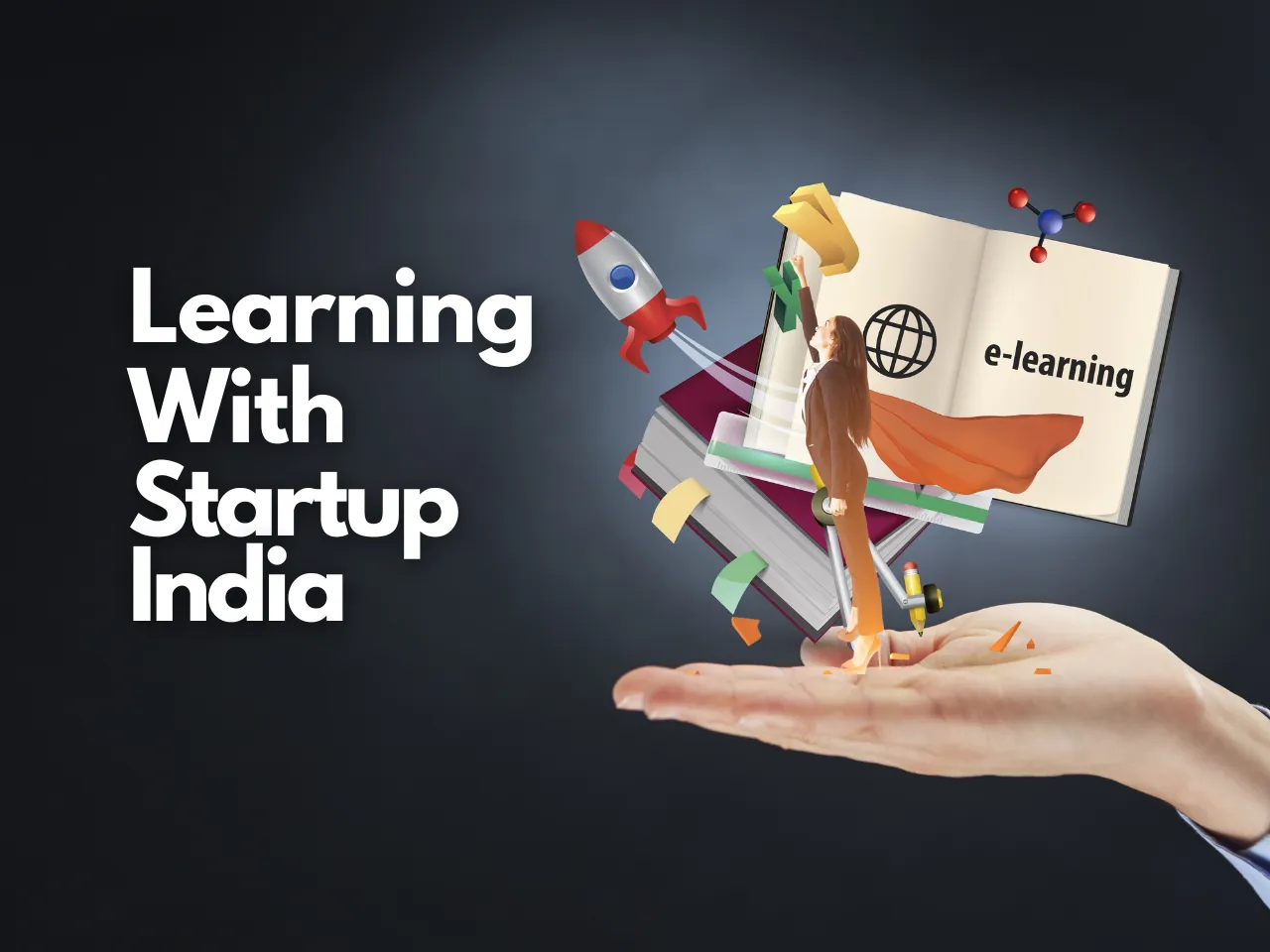 Staying ahead of the competition is not just a desire; it's a necessity in the fast-paced world of entrepreneurship and business. To succeed in today's market, entrepreneurs need to be ahead of the curve and constantly update their knowledge and skills. Fortunately, the digital age has opened up a treasure trove of opportunities for learning and growth. 
To provide these necessary skills for startup founders, Startup India has introduced Online Courses for entrepreneurs with access to an array of courses made available for startups of all stages. It unleashes a world where you can immerse yourself in a wealth of knowledge that will empower you to excel in your entrepreneurial journey.
Benefits of Online Learning with Startup India:
The online learning platform of Startup India offers a myriad of courses, ranging from business strategy and marketing to finance and leadership. Here, we delve into the benefits of online courses and explore the diverse fields of knowledge you can tap into.
Access to a Curated Collection - One of the most remarkable aspects of online learning through Startup India is the curated collection of courses available at fingertips. Imagine having access to a comprehensive library of courses that can help you gain a competitive edge in the market. Whether you're a budding entrepreneur or a seasoned business professional, these courses are designed to cater to your specific needs.
Stay Current with Industry Trends - The business landscape is constantly evolving, driven by technological advancements and changing consumer preferences. To thrive in this dynamic environment, entrepreneurs need to stay updated with the latest trends and skills. Online courses provide an avenue to learn about cutting-edge topics such as business analytics, graphic design, Python programming, and more.
Secure a Future-Proof Career - Are you eyeing a career in high-demand fields like IT, AI, or cloud engineering? Online learning equips you with the skills and knowledge required to excel in these sectors. As businesses increasingly rely on technology and automation, professionals with expertise in IT and AI are in high demand. Completing relevant courses can position you for success in these lucrative fields.
Earn Recognized Certificates and Degrees - Online learning isn't just about acquiring knowledge; it's also about earning credentials that hold weight in the industry. Many online courses offer certificates or even degrees from leading universities. These qualifications can significantly enhance your career prospects and open doors to new opportunities.
Extraordinary and Free 
Yes, you read that right. Many online courses are not only extraordinary in quality but also come with the enticing perk of being free. These courses cover a wide spectrum of topics, from Programming and Security to Accounting & Finance, Management, and Entrepreneurship. They are available to all registered users on platforms like Startup India, making knowledge accessible to all.
Diverse Fields of Study on Startup India Portal: 
The beauty of online learning lies in its diversity. You can explore a multitude of fields and disciplines, each offering unique insights and opportunities. Here are some of the areas you can delve into:
Accounting & Finance - Master the intricacies of financial management, budgeting, and investment strategies. Understand the financial health of your business and make informed decisions.
Artificial Intelligence and Machine Learning - Unlock the potential of AI and machine learning to automate processes, analyze data, and gain a competitive edge in data-driven decision-making.
Cloud Computing - Explore the world of cloud computing, harnessing its power to streamline operations, reduce costs, and improve scalability.
Data Analytics - Learn the art of data analysis and leverage it to gain insights into customer behavior, market trends, and business performance.
Economics - Grasp the fundamentals of economics, enabling you to make informed choices in a constantly changing global economy.
Enterprise Risk Management - Mitigate risks effectively and safeguard your business from unforeseen challenges.
Entrepreneurship - Hone your entrepreneurial skills, from idea generation to business planning and execution.
Information and Technology - Stay at the forefront of technology trends, ensuring your business remains competitive in the digital age.
Intellectual Property - Protect your innovations and creations with a strong understanding of intellectual property laws.
Management & Strategy - Develop leadership skills and strategic thinking to lead your business to success.
Marketing - Master the art of marketing, from digital strategies to traditional advertising, and reach your target audience effectively.
Sales - Enhance your sales skills and techniques to drive revenue and grow your business.
Security - Safeguard your business from cyber threats and ensure the privacy and integrity of your data.
Soft Skills - Develop essential soft skills such as communication, leadership, and teamwork to excel in a professional setting.
Supply Chain - Optimize your supply chain management for efficiency and cost-effectiveness.
Trusted Providers of Knowledge
To embark on this journey of learning, you need reliable sources of information. Fortunately, a multitude of renowned institutions and organizations offer online courses. Here are some trusted names:
Amazon: A global leader in e-commerce, Amazon also offers a wealth of knowledge through its courses.

Global Gyan: A platform dedicated to spreading knowledge and expertise in various domains.

Hubspot Academy: Access valuable marketing and sales courses from a leader in inbound marketing.

IRM (UK) - India Affiliate: Explore risk management courses backed by the Institute of Risk Management.

Lead Angels Academy: Learn the art of angel investing and entrepreneurship from experts.

LinkedIn: The professional networking giant offers courses to boost your career.

Microsoft: Enhance your IT skills with courses from the tech giant.

NPTEL: The National Programme on Technology Enhanced Learning offers high-quality engineering and technology courses.

National Law University, Delhi: Dive into legal aspects with courses from this prestigious institution.

Simplilearn: Master a wide range of skills through their comprehensive courses.

Udemy: Choose from thousands of courses covering diverse topics.

Upgrad & SUI: A leading provider of online education in collaboration with Startup India.

Y Combinator: Gain insights into the world of startups and entrepreneurship.
Knowledge is power. Elevating your entrepreneurial prowess and staying ahead of the curve is not just a choice; it's a strategic imperative. With the plethora of online courses available, you have the opportunity to acquire the skills and knowledge needed to thrive in your industry. From accounting and finance to artificial intelligence and soft skills, the world of online learning is your gateway to success. So, take that first step, explore, and unlock your competitive edge with the power of knowledge.