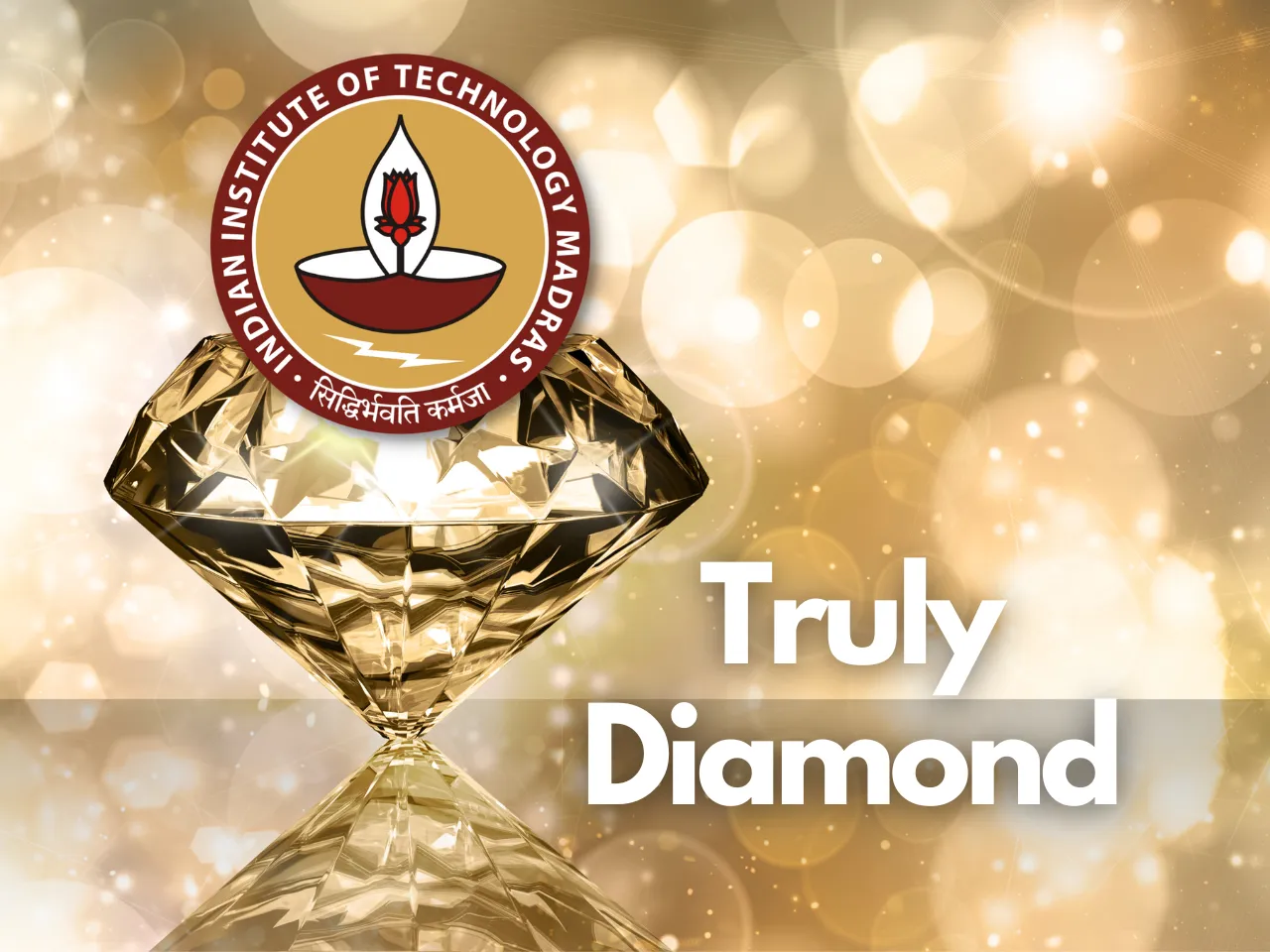 IIT Madras has been entrusted with a five-year research grant for the production of lab-grown diamonds machinery, seeds, and recipe. It is proposed to establish an India Centre for Lab grown Diamond (InCent-LGD) at IIT Madras with an estimated cost of Rs. 242.96 crores over 5 years. The project will provide technical assistance to industries and entrepreneurs in the country and will promote indigenous manufacturing of lab-grown diamonds, which will increase employment opportunities and exports, thus playing a significant role in fuelling India's economic growth. 
Also, Read - From Reel Heros To Real-Life Entrepreneurs In Tamil Nadu  
What Is Lab Grown Diamond & How It's Made? 
Lab-grown diamonds, also known as synthetic or cultured diamonds, are man-made diamonds that are produced in a laboratory setting rather than being mined from the earth. They are made using advanced technological processes that replicate the natural process of diamond formation, typically using either High Pressure High Temperature (HPHT) or Chemical Vapor Deposition (CVD) methods. Lab-grown diamonds have the same chemical, physical, and optical properties as natural diamonds and are considered a more sustainable and ethical alternative to mined diamonds. 
Why Lab Grown Diamond Research Is Critical For India?
Lab-grown diamonds have vast applications in fields such as defence, optics, jewellery, thermal and medical industries, and are used in computer chips, satellites, and 5G networks due to their potential to operate at higher speeds while using less power than silicon-based chips. Globally, the market for lab-grown diamond jewellery stood at $1 billion in 2020 and is expected to rapidly rise to $5 billion by 2025 and exceed $15 billion by 2035. The gems and jewellery sector contributes around 9% to India's total merchandise export and has been growing positively over the past decade. 
India is one of the leading producers of lab-grown diamonds using CVD technology, and its share in global trade in the financial year 2021-22 was 25.8%. However, India still depends on other countries for the supply of critical machinery components and 'seeds,' which are the raw material for producing synthetic diamonds. Developing indigenous technology for producing these critical components and seeds will remove India's import dependence and increase the production scalability of lab-grown diamonds.
Also, Read - IIT Madras Incubated Startup Launches Mobile Operating System 
Great Opportunities For Startups Entrepreneurs
The documented process parameters and developed recipe will encourage new entrepreneurs to enter the lab-grown diamond business, making it easier and cost-effective to set up the facility, start the business, and generate employment. Good quality lab-grown diamonds with qualified certification, produced from the developed equipment and process parameters, will attract many foreign customers, increasing the export volume of lab-grown diamonds.
Also, Read - How India Can Become a Key Player In Lag Grown Diamonds 
The project has been recommended by the Project Appraisal Committee under the Chair of Commerce Secretary Sunil Barthwal and approved by Piyush Goyal, Minister for Commerce & Industry, Textiles, Food & Public Distribution, and Consumer Affairs. Budget support will be provided during the course of the next five years.
The grant for the indigenous production of lab-grown diamonds machinery, seeds, and recipes is a significant step towards promoting India's economic growth and increasing employment opportunities. The establishment of InCent-LGD at IIT Madras will provide technical assistance to industries and entrepreneurs in the country and promote indigenous manufacturing of lab-grown diamonds. It is a great opportunity for India to become a major player in the lab-grown diamond industry and reduce import dependence, thus contributing towards the country's self-reliance.
* With PIB Inputs