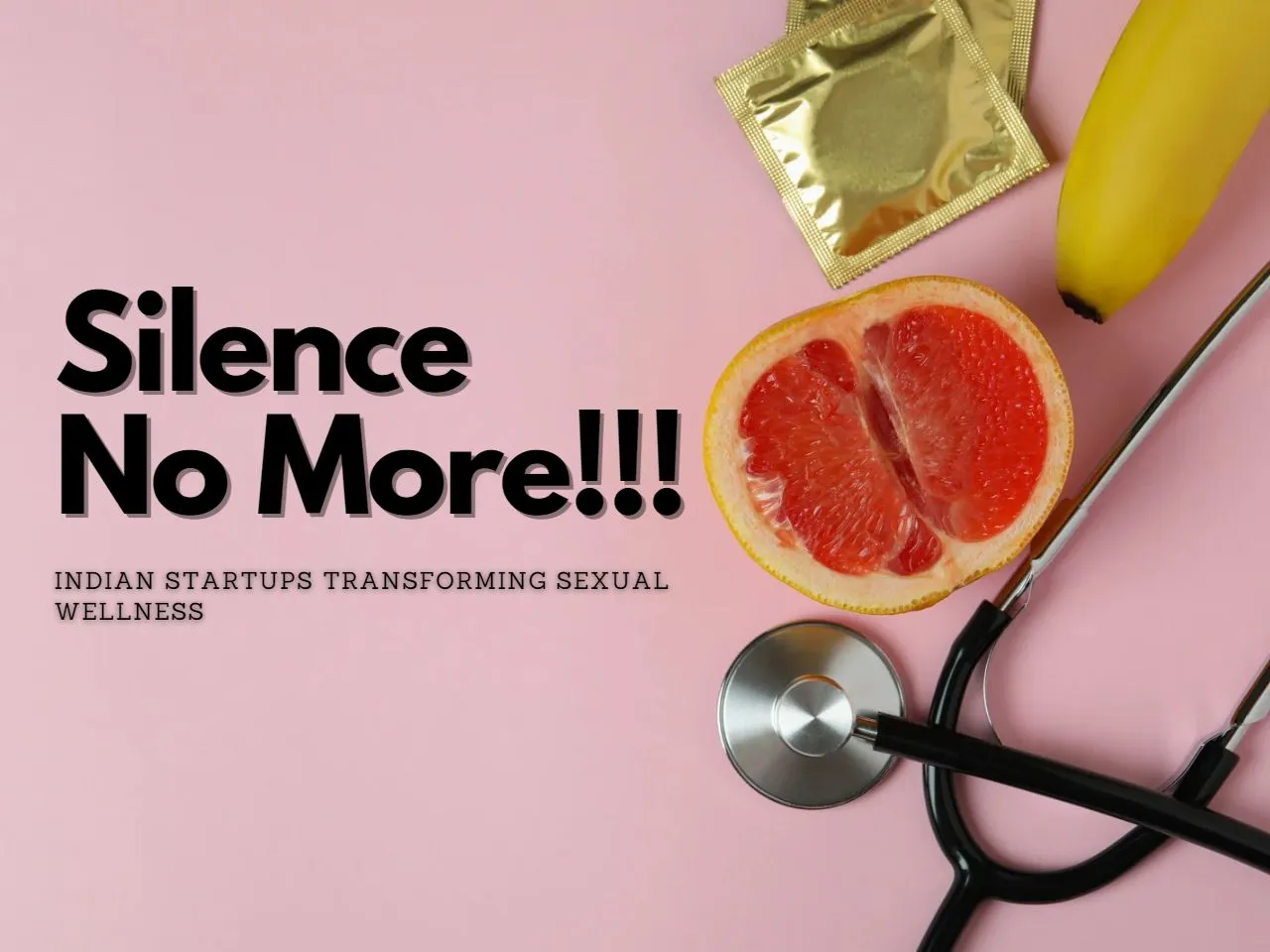 India has long been reluctant to openly discuss matters pertaining to sexual wellness. The topic has often been shrouded in silence, creating a significant taboo that inhibits open dialogue and access to essential information. However, a new wave of Indian startups is challenging these deep-rooted taboos, working tirelessly to revolutionize the sexual wellness landscape and bring about a much-needed change.
With the forecast for the sexual wellness sector to grow, startups operating in the sector have the opportunity to capitalize on the booming market and help end the taboo surrounding sexual wellness. 
What is the anticipated growth of the Sexual Wellness Sector? 
According to a report by Market Data Forecast, the global sexual wellness market is forecasted to grow at a CAGR of 9.4% between 2023 to 2028 and be worth USD 44.23 billion by 2028 from USD 28.22 billion in 2023.
• The U.S. accounted for the most significant global market share in 2021.
• The sexual wellness market in North America was worth USD 8.07 billion in 2021.
• The European sexual wellness market is anticipated to reach USD 11.7 billion by 2027.
• The Asia-Pacific region is estimated to grow at a CAGR of 11.38% from 2022 to 2027.
Sexual wellness encompasses a wide range of areas, including reproductive health, sexual education, contraception, personal hygiene, and intimate products. Despite its relevance to every individual's well-being, this sector has remained largely untouched in India, both in terms of mainstream acceptance and entrepreneurial interest. However, the winds of change are blowing as Indian startups begin to recognize the immense potential and impact they can have in this space.
What are the major challenges faced by Startups in the Sexual Wellness sector? 
One of the most significant hurdles faced by Indian startups in the sexual wellness sector is the prevailing hesitancy among Indians to openly discuss their sexual well-being. The deeply ingrained cultural norms and societal pressures often lead to discomfort and embarrassment when broaching the subject. Consequently, the lack of awareness and access to reliable information contribute to widespread misinformation and misconceptions. 
"Lack of right sexuality education and thus awareness around right sexual health. Non-availability or difficulty in reaching the right (authentic) sexual health expert. Fear of judgment while seeking treatment or discussing issues,"  mentioned Shailja Mittal, the Founder & CEO of Qurex, an Indian startup working in the sexual wellness sector. 
How Indian startups are working to end the taboo surrounding sexual wellness? 
However, Indian startups are rising to the challenge, leveraging technology and innovation to bridge the gap between sexual wellness and societal taboos. Through online platforms, mobile applications, and discreet packaging, these startups are creating safe spaces for individuals to explore their sexual well-being and gain access to reliable information and products.
"We're using our social media channels and content written and curated by specialists to create the right kind of awareness.  Innovative technical tools like Dr. Quro and SHI help individuals understand their sexual health in a non-judgemental environment and manage concerns. We handpick our sexologists and sex therapists who specialize in treating sexual health concerns. A big focus is on user anonymity and privacy. Qurex platform is designed in a way that disallows team members any access to the personal details of the user and the notes or prescriptions recommended by the experts. Even the user name is not disclosed to our team without the former's consent. Addressing sexual issues requires a comprehensive approach rather than a one-sided solution. At Qurex, we believe in a three-pronged treatment approach that involves the expertise of psychiatrists or psychologists, sexologists, and promoting a healthy lifestyle. By addressing the root cause of the problem, our holistic approach ensures thorough treatment for individuals seeking assistance with sexual issues," explained Shaija on how Qurex works. 
Education plays a crucial role in dismantling taboos, and startups are utilizing various means to provide accurate and comprehensive sexual education to the masses. Mobile applications offer a convenient and private medium for individuals to access information on topics such as safe sex practices, reproductive health, and consent. By combining informative content with engaging interfaces, these startups are making sexual education accessible, interactive, and relatable.
Furthermore, Indian startups are working towards destigmatizing the use of contraceptives and intimate products. By introducing discreet packaging and online delivery services, they are enabling individuals to access these products without facing the judgment or discomfort associated with purchasing them in person. This approach not only enhances accessibility but also encourages a more open and accepting attitude toward sexual wellness.
Opportunities for Startups in the Sexual Wellness Sector  
The potential for startups in the sexual wellness sector in India is immense. With a population of over 1.3 billion people, there is a vast untapped market waiting to be served. The rising awareness of sexual wellness, coupled with the gradual erosion of taboos, presents a unique opportunity for entrepreneurs to make a significant impact while building sustainable businesses.
"The sexual wellness market in India is projected to grow at a significant rate in the coming years, positioning Qurex to make a positive impact on countless lives. More than 200 million Indians out of approximately 1.4 billion are suffering from sexual dysfunctions and require treatment. The only problem is most of the companies working in the arena are selling over-the-counter medicines, which are quick fixes but cannot treat sexual concerns permanently," mentioned Shailja speaking to TICE. 
Startups can tap into this market by focusing on product innovation, enhancing accessibility, and offering personalized solutions. From affordable contraceptives to eco-friendly intimate products, there is a wide range of unmet needs waiting to be addressed. Additionally, startups can collaborate with healthcare professionals, educators, and influencers to amplify their reach and impact, fostering a culture that embraces sexual well-being.
Government Schemes for Startups in the Sexual Wellness Industry 
Talking about the government initiatives offering help to startups working in sexual wellness, Shailja remarked, "Qurex hasn't received any special incentive from Government yet. As far as we know Government doesn't have any special schemes for startups working on sexual health or sexuality education which is much required to encourage more entrepreneurs to work for the cause." 
Top Indian Startups Working in the Sexual Wellness Sector
Qurex health technologies pvt. ltd, Cleonova.in,  Thatmate, TheSecretKart.com, Rovnost, Janani, Mosaic Wellness, Gynoveda, etc are some Indian startups that are working in the sexual wellness sector and creating awareness about sexual wellness in India. 
The success stories of Indian startups working in the sexual wellness sector are already beginning to emerge. Their innovative solutions and persistent efforts are gradually breaking down the walls of taboo and fostering a more inclusive and progressive society. Through their initiatives, they empower individuals to control their sexual well-being and make informed choices without fear or shame.
The emergence of Indian startups in the sexual wellness sector is heralding a much-needed revolution in a country where silence and taboo have long plagued the discourse on sexual well-being. By leveraging technology, education, and innovative solutions, these startups are paving the way for a more open and accepting society. The untapped potential in this sector, combined with the transformative impact on individuals' lives, makes it an exciting space for entrepreneurs to explore.